From Bucharest in Romania, Alina Neacsa's
Flori cu Fitze Academy
aims to educate a new generation of Romanian florists.
Help in a Challenging Journey
For people who dream to open a flower shop, or want to become an event organizer, or simply intend to improve their floral design skills to bring their floral business to a higher level,
Flori cu Fitze Academy
is there to help in this challenging journey.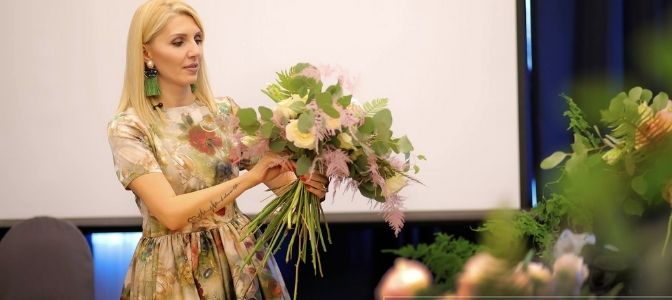 Alina Neacsa - a Little History
With almost 15 years experience in the organization of exclusive events and luxurious weddings, now famous florist in Romania,
Alina Neacsa
decided to share her floral business knowledge and started offering training courses in her company 'Flori cu Fitze', which translates roughly as 'flowers with whimsical', in a way that it has meaning also as capricious, fancy, luxury, something like that. The word  'fitze' does not translate directly into English. Her workshops are unique both in the domain of floral knowledge which covers many different topics, but also the way she teaches and the training session structure. When she started her journey there were no florist schools, no courses in Romania. Nothing that encourages florists. And now there is.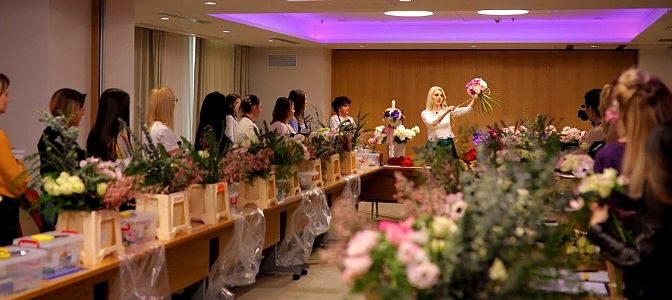 Alina Neacsa:
"After searching literally everywhere, I decided to first go and learn all about it in England. At that time, I wasn't a florist yet, but saw a lot of them. I owned 5 event venues and I also had an event organizing agency with more than 10 weddings a week, and that was my building block of what I do now."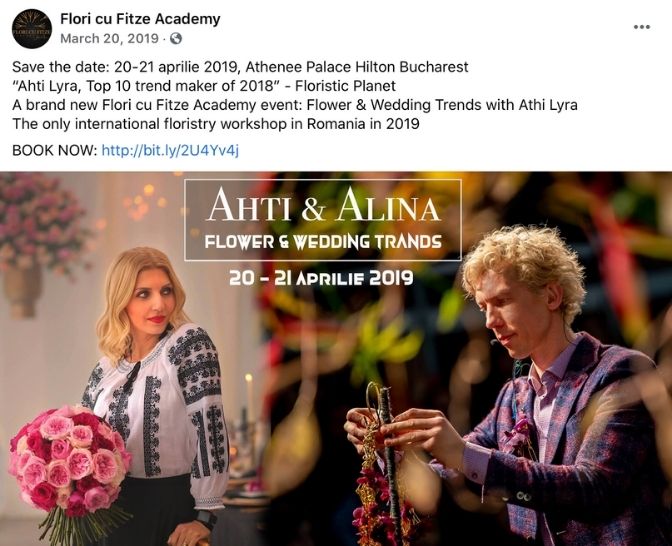 Loving to Teach
Many years later and after what she calls 'a roller coaster of traveling' all over the world in a search of events, courses, and classes, she decided to teach others. (Alina came from a family of four generations of teachers and she discovered that she loves to teach.) And because there was no proper education program or school in Romania that teaches how to be a professional florist, Romanian wanna be florists had to search for it elsewhere, and had to put a lot of effort into learning about floristry. Nowadays, it is much more advanced in Romania. The floral industry grew enormously in the last seven years. Also professionally. And it is to say
Alina Neacsa
helped to develop this.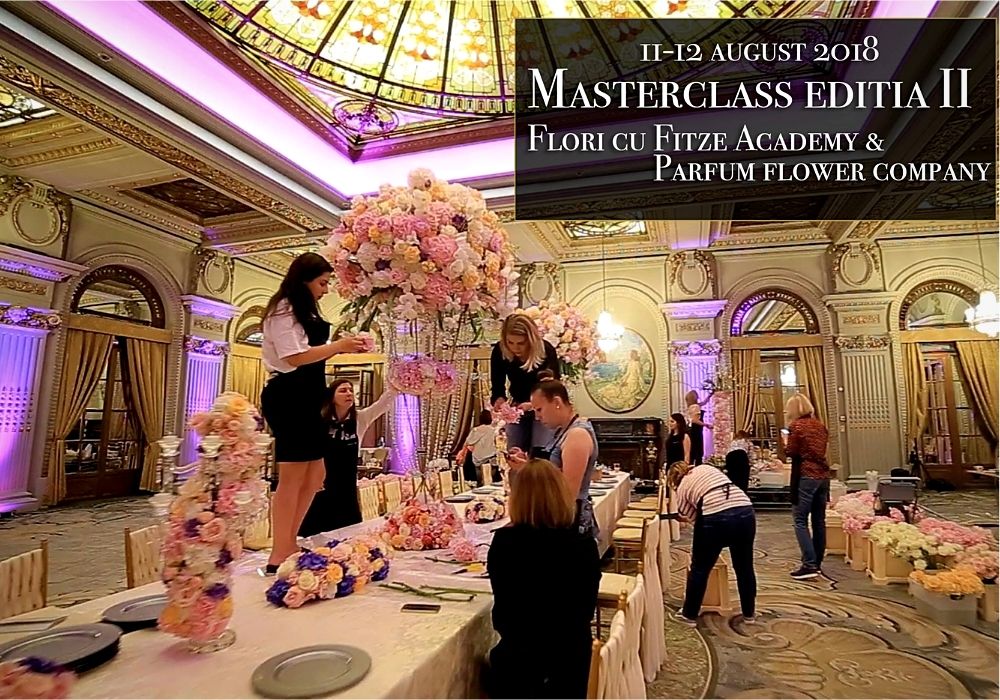 Not a Class, But a Total Experience
With her
Flori cu Fitze Academy
, she was the first to have masterclasses in 5 stars hotels. It also was an all-inclusive deal, lunch, flowers, etc, all included, and even with a special dinner on the last night. Alina sees it not only as a masterclass but more like a total experience, that everyone involved can remember.
"I don't like cold classrooms like in schools, I like my masterclasses to be an overwhelming experience and that my students feels like in a working vacation. When you feel good and comfortable, ...you learn better."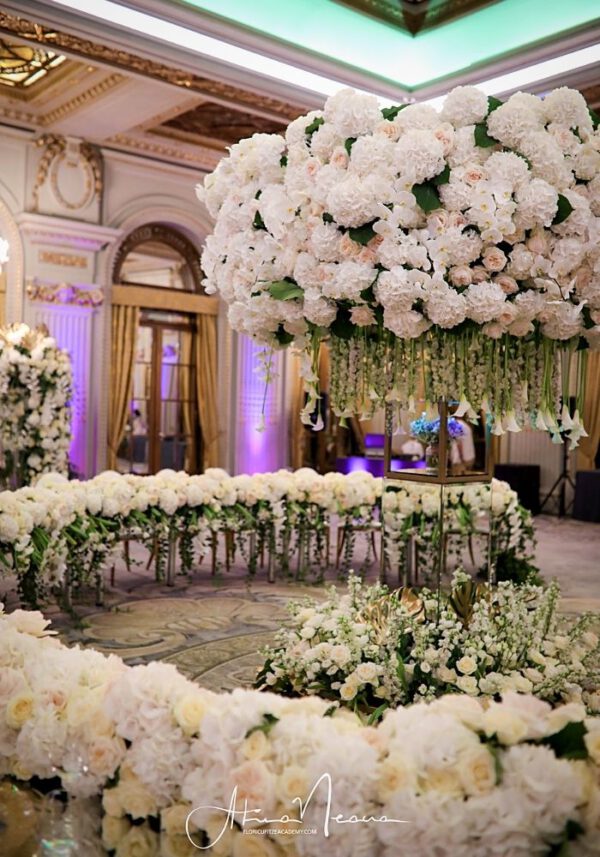 Flori cu Fitze Academy
is the school that brought the "Masterclass" concept to Romania. Working with over 15,000 flower stems! The first masterclass was held in 2017, and then they did one in each year. This year it wasn't possible due to the Covid-19 pandemic.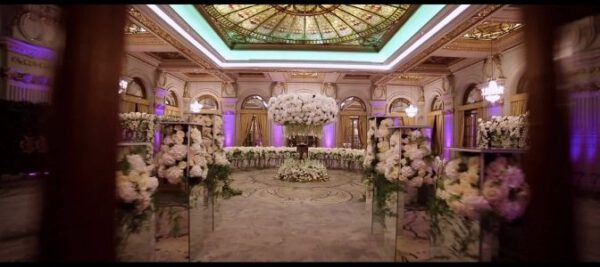 Flori cu Fitze Trip
Alina Neacsa also goes beyond teaching with her
Flori cu Fitze Academy
, and offers a trip in Holland where florist can see Royal FloraHolland, Exporters and growers, the Keukenhof park and fairs. She offers this twice a year. This is great for florists, as they can better understand the whole industry and see the 'bigger picture'. Alina:
"It's always great to be able to see how the attendees grow and learn about, not only flowers, but about the complete industry. This year unfortunately, we had to cancel our Trip to Tambuzi in Kenya because of Covid but we do hope to do it next year."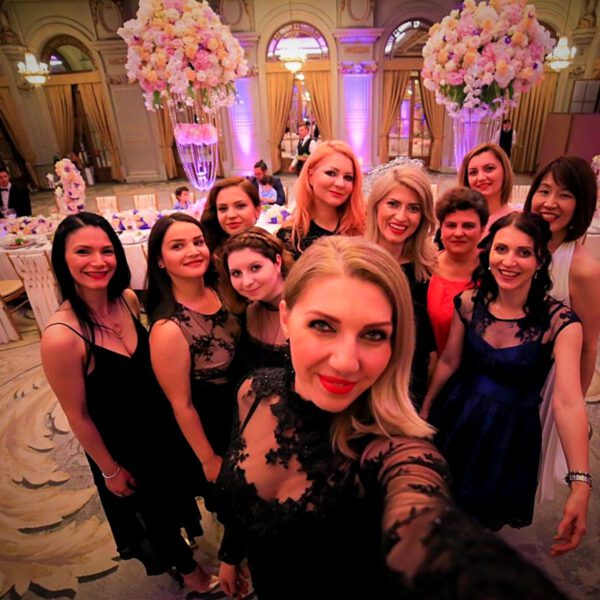 A Journey for a Lifetime
Flori cu Fitze also offers at least twice a year, well known and renowned florists from other countries to share their experience with the students. As Alina says: Flori cu Fitze Academy is a journey for a lifetime!"