Linda Nielsen, a freelance florist and teacher from Denmark and working very closely with Gregor Lersch, is not just an assistant for his team, but resonates in a lot of his designs. She followed several seminars at Gregor's home in Bad Neuhenahr. And learned a lot from that experience.
Linda gives regular demonstrations and workshops and loves entering competitions both in and outside Denmark. In the spring of 2017, she started her training to become a judge in floral competitions.
A Floral Interview With Linda Nielsen
Linda has more talents that she combines with flowers as she creates her own, unique containers complete with beautiful glazes. A lot of things she learned working together with one of the most famous floral designers in the world: Gregor Lersch.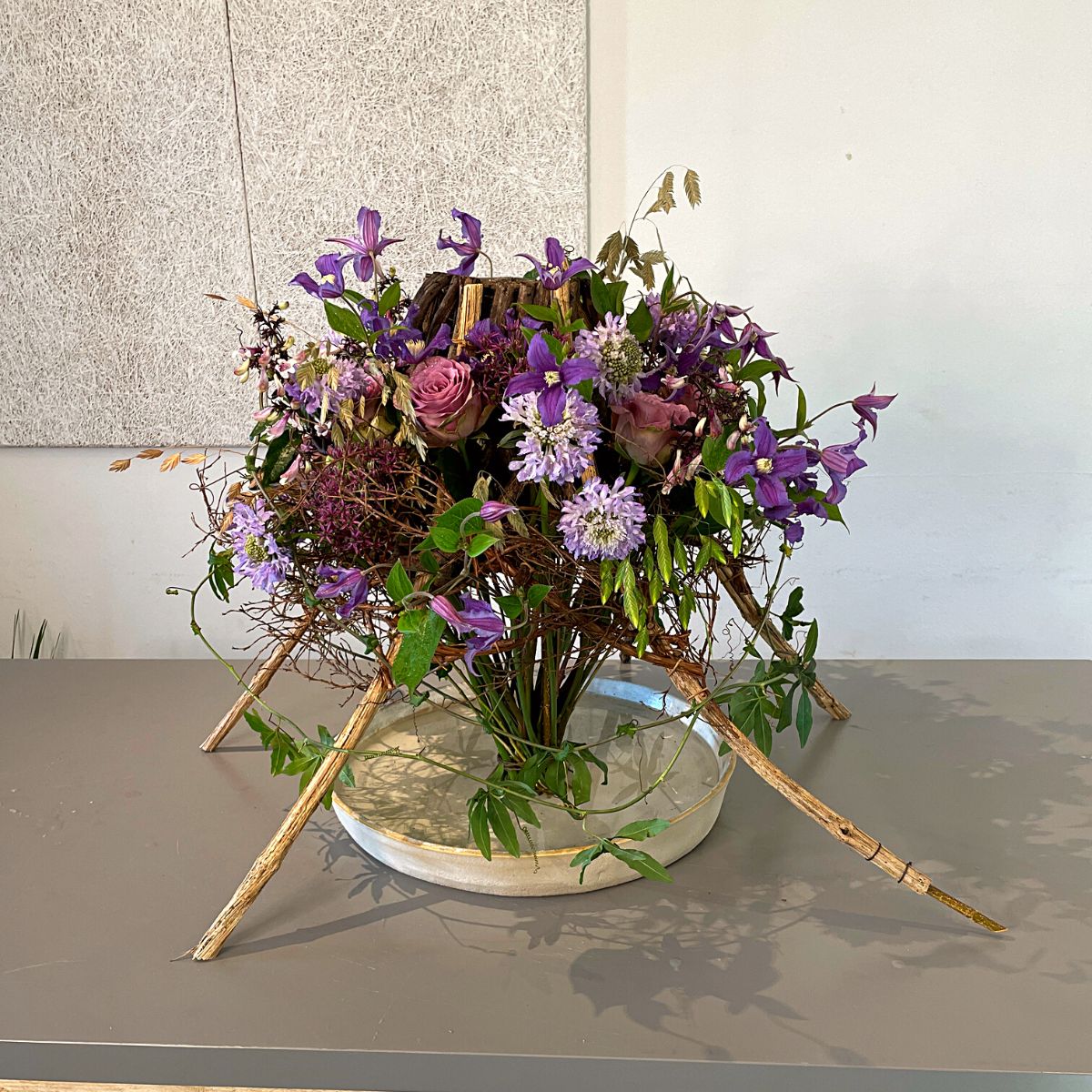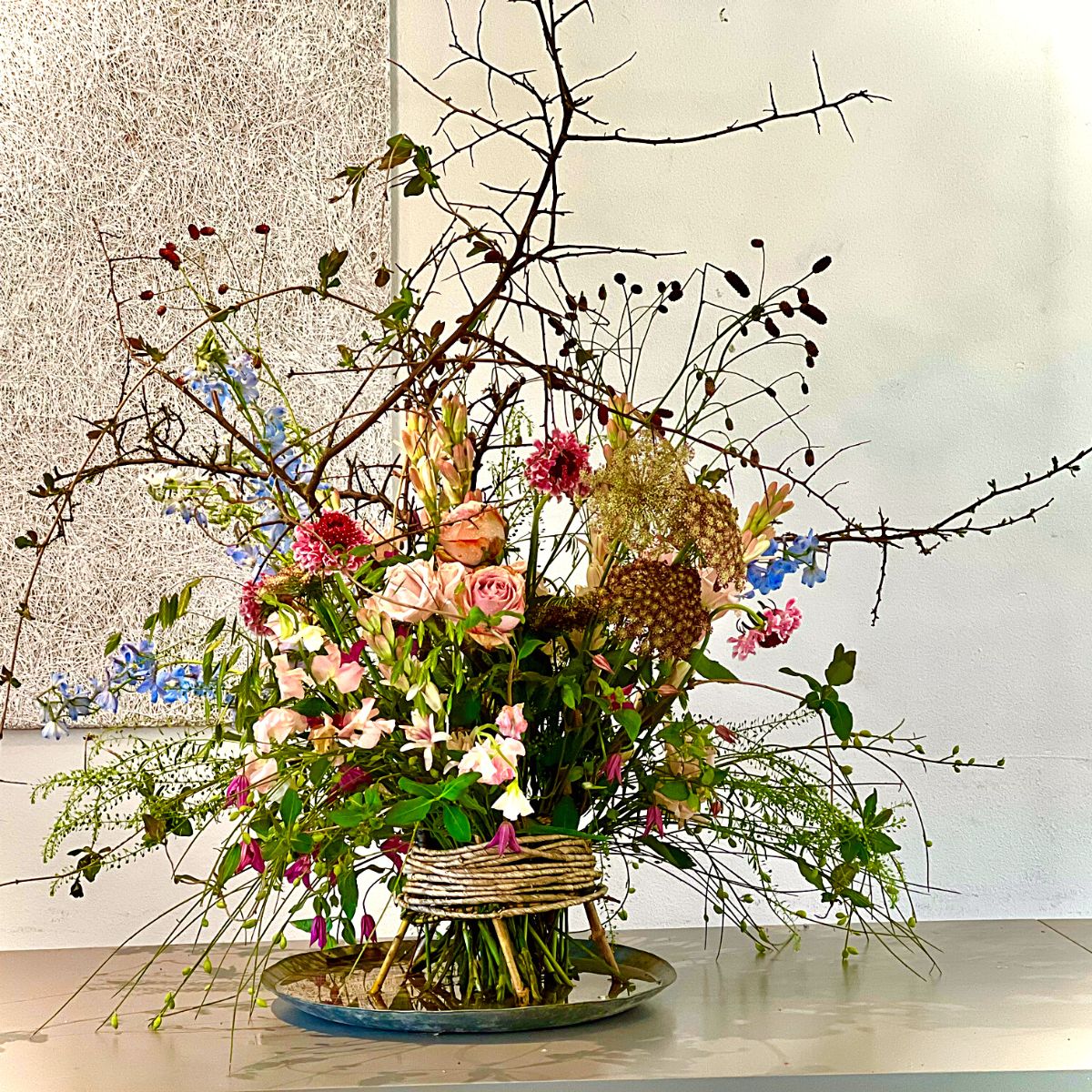 Linda Nielsen:
"I am a freelance florist, I have mostly done teaching for the last 6-7 years. Both online and physical. I have attended several of Gregor's seminars in "the old garden" in Bad Neuhenahr.

Six years ago Gregor asked if I would be part of his team for the seminars, and we have developed a great friendship, I know how he likes to work and it fits me very well."
A Theme for Each Category
In big events it's often like that: they choose a theme per category. That is easier to work with and it brings many ideas. One of the things that's very important in contemporary design is the storytelling.
Q.: Which Themes Did You Choose?
Linda Nielsen:
"Gregor and I talk on the phone about the themes. I had some wishes and he had some suggestions."

The themes were:

Day 1: freestanding bouquets bound on a point.

Day 2: Pure Organic, all, included constructions must be compostable

Day 3: Plant design
Choice of Flowers
The choice of flowers often is as important as the work itself. Many growers have several beautiful products that they want to show to the world in the perfect conditions. And events like this provide the opportunity to do so.
Q.: How did you decide on which flowers to choose?
Linda Nielsen:
"Gregor made a wishlist but I had free hands to choose flowers. He also likes to be surprised with the flowers but of course, I need to pick flowers that was suitable for the designs. We had sponsored flowers from Decofresh, Gregor recommended the roses from Decofresh and had some wishes for the colors. And we also had sponsored flowers from Marginpar.

The rest we bought in the market in Copenhagen.

The plants for day 3 we bought from a danish nursery, "Højbo Blomster" who also was helpful with the transport of flowers from Holland."
Gregor Lersch - A Legend
Gregor Lersch is a very well-known Floral designer, teacher, and author of floral design books from Germany.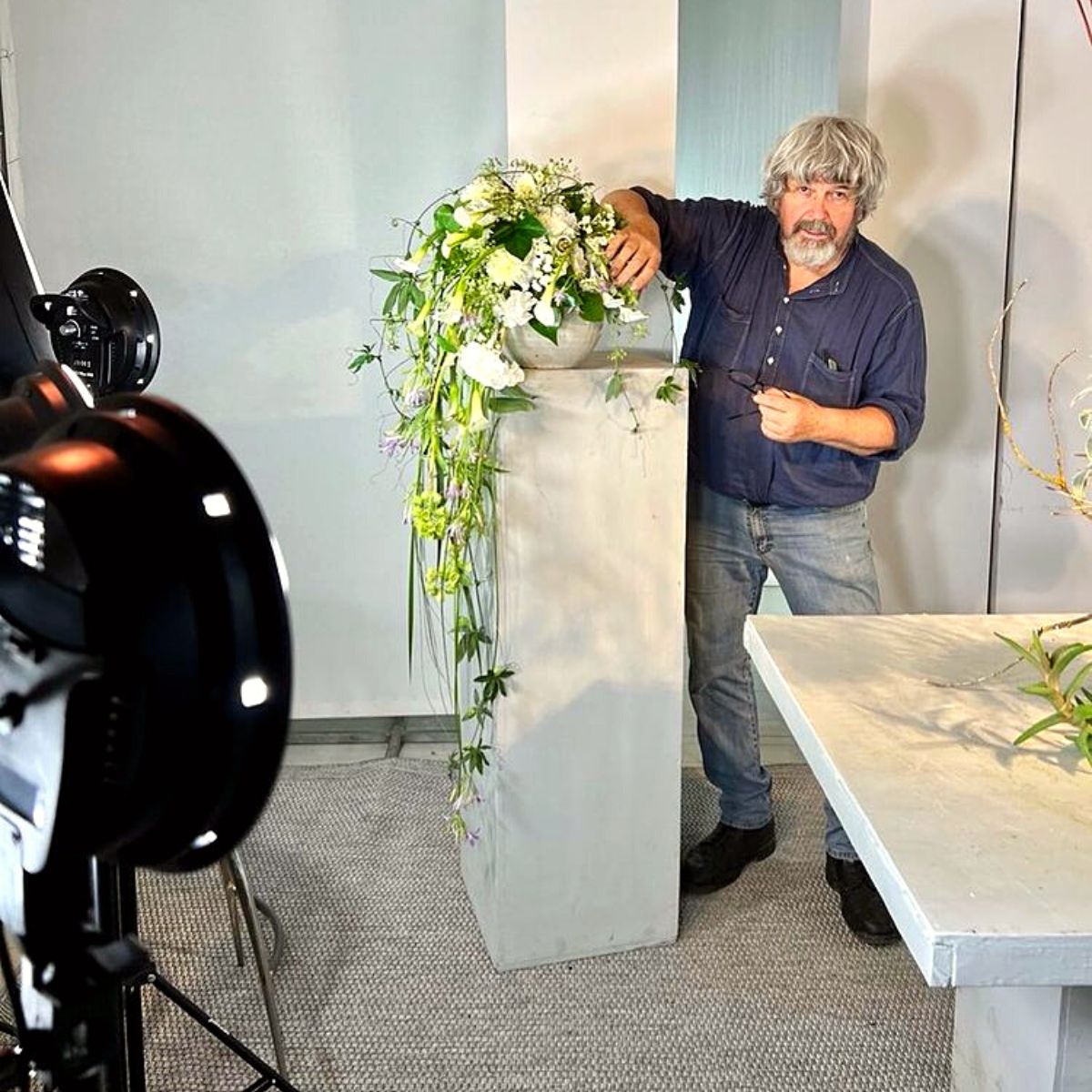 Q.: Why did you choose him?
Linda Nielsen:
"When I first found out about Gregor, during my florist training, I saw some of his designs in a magazine and I wanted to be able to do that also. I was an adult student, I started in 2008 and my exam gift to myself was a trip to a Gregor Lersch Symposium in Bad Neuhenahr in 2010 and I kept going for his seminars in "the old garden" once or twice a year after that. I learned so much by going to his seminars, more than I could ever learn anywhere else.

I very much like his use of techniques and the look of his designs and I know a lot of florists in Denmark also like his designs and the way he does the seminars.

I also admire his way of teaching, and he keeps up with what is on-trend and never stops developing."

Setting Goals
When you do something in life it's important to set goals. And to proceed and get higher on the success ladder.
Q.: What was the goal?
Linda Nielsen:
"The goal was to give new inspiration to the participants, having talks about the designs, the theory, how can we develop our designs, and of course to give the florist that special feeling it is to attend a Gregor Lersch seminar. It is always cozy and there is a good mood in the room. " hygge" as we say in Denmark but also learning a lot."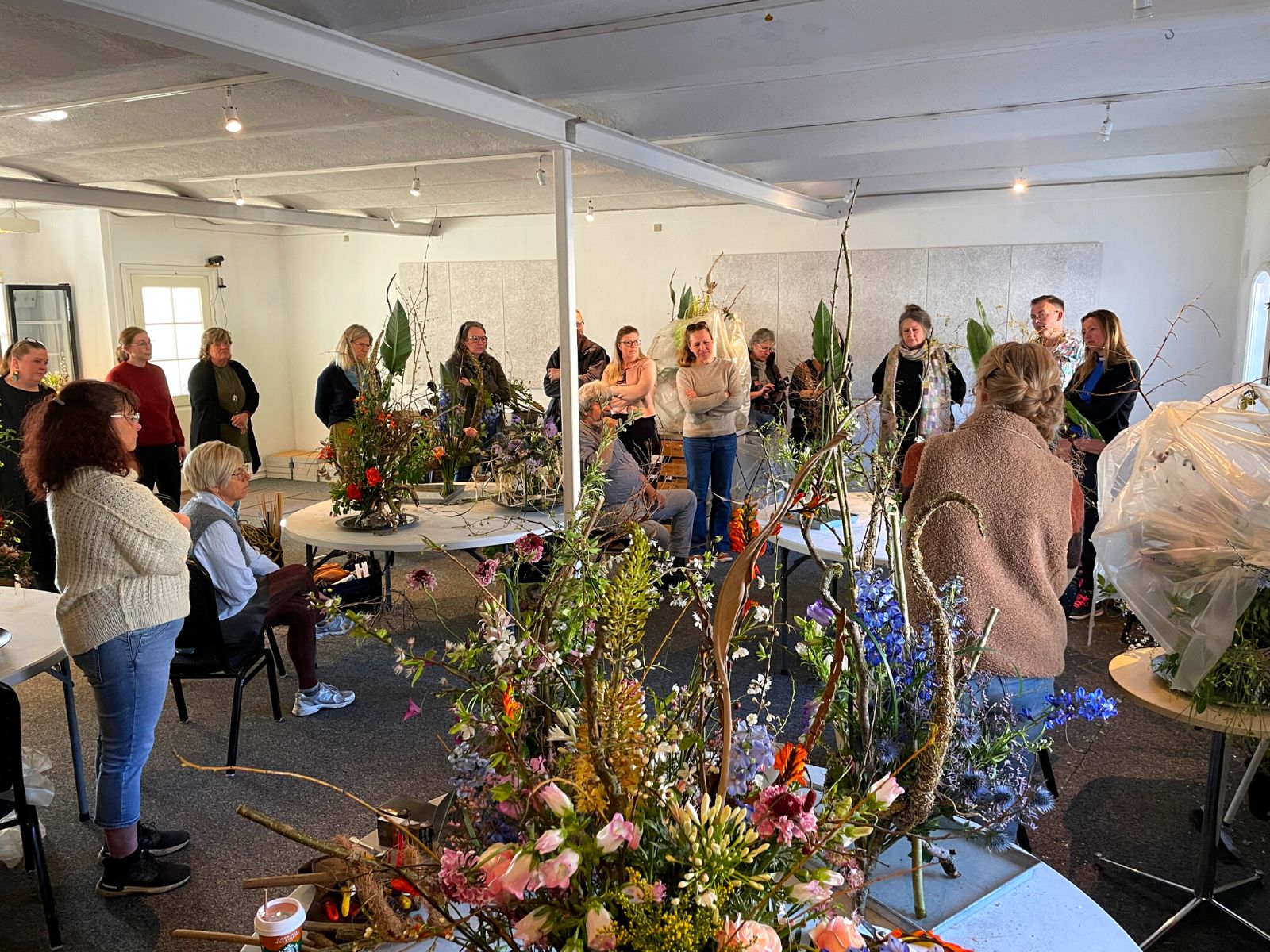 Satisfied
These seminars are so fun organizing because the return you get back from what your ideas brought is amazing.
Q.: Were you happy with his designs?
Linda Nielsen:
"Yes, I was so pleased that he made so many different designs with the same theme. Also very happy that we had three days and three different themes. He also showed good craftmanship with not-so-expensive materials for construction.

And day two with "the pure organic" theme was a good choice."
Favorites
Everyone has their own taste in flowers and finds different things beautiful.
Q.: What do you like most?
Linda Nielsen:
"It is hard to say what I liked the most. I think it is all together, the demo, the talks, the questions from Gregor to the participants, involving them, asking their opinions. The way he talks through the demo, explaining and showing so much. Also how he goes and helps, talking to the participants when they work. The laughter and the very good mood he creates in the room. Everybody feels relaxed after they first meet him, even if they are a little "starstrucked" in the beginning."