In Spain, Madrid, Sylvia has opened Madrid Flower School. There you can learn new and old techniques, work in a safe place where there is no right or wrong, with fresh flowers every day supported by experienced teachers. Or you can take online classes with zoom sessions, or you can buy really well-done videos. Plus, all you need to know about styling, social media, dealing with clients, and photography. And all this in an ambiance that makes you feel comfortable and gives you a calm feeling so you can learn a lot. Sylvia Bustamante from Madrid Flower School in a floral interview.
A Floral Interview With Sylvia Bustamante from Madrid Flower School
Sylvia was born in Chile and her family is Peruvian. Her parents were diplomats and there were several politicians in her family. Flowers have always been a part of her life. Her mom, her aunts, and her great aunt have been in garden clubs. Sylvia on the other hand has been a journalist most of her life. But when she moved to New York with her husband and four children, to do her master's in creative writing, everything changed for her. She discovered flowers. She learned, took all her knowledge back home to Madrid, and opened Madrid Flower School. But much of the school's life has taken place during the pandemic, how did it treat Sylvia? If you want to find out more about Sylvia's life, keep reading.

The Journey of Sylvia Bustamante
Sylvia's life wasn't about flowers until she went to study in New York. There she felt the need to do something with her hands, and she discovered floristry.
Q.: How did your journey as a floral designer began?
Sylvia:
"I always loved flowers but never dreamt of becoming a designer. It was only eight years ago when I was doing my Master Thesis in creative writing at New York University. I realised I needed to do something with my hands. I started with sculpture and not long after I discovered flower workshops. It was like an explosion. The amazing flower market, the level of teachers, the variety in all senses - styles, colors, textures and vases."
​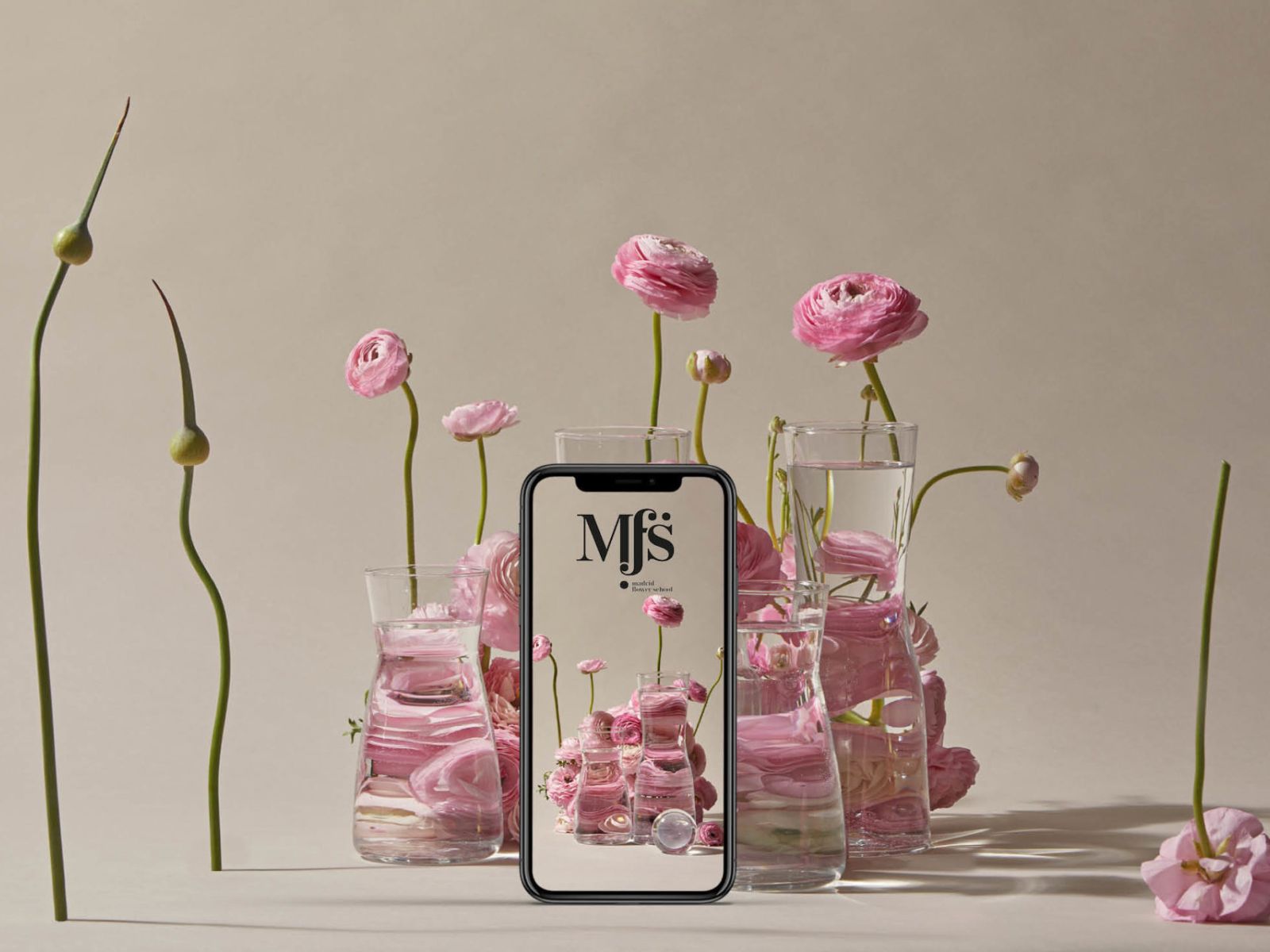 Her life in New York
With her family, Sylvia moved to New York. Initially, they would stay for two years, but it ended up being four years.
Q.: You lived in New York for four years. How did that go?
Sylvia:
"My years in the US were very important, for me and my family. We went for 2 years, we stayed 4. For my 4 children, it changed their lives: two of them stayed in the US and one of them is living here with me, one of them is in Bali, Indonesia. I took many workshops in New York, in Botanical Garden, and also with Holly Chapple, the Chaple designers, at Putnam & Putnam and what stayed with me was the generosity of all my teachers. How open they were, with their knowledge, with their personal life. Every single one of them had a story that was very touching for me. And the ambiance there was."

Big Family
Sylvia grew up in a big family, they were with 7 and so she never knew otherwise than to share. It's how she is raised, it's in her nature.
Q.: You say you liked how open your teachers in floristry were, how do you mean?
Sylvia:
"Well, in journalism it's the opposite. It's a very egocentric world. And so it felt like a relief, like a blessing to meet so many people that shared so much with me. I'm like that myself: always sharing, having no secrets from anyone. When I can help somebody, I always do. And I hope now in my school I'm building an inclusive learning environment and creating a community where all people feel comfortable."

From Big Space to Small Space to Big Space Again
When the school opened Sylvia rented a beautiful big space, 300 square meters. But because of Covid, people could not travel and so they lost their biggest audience overnight. She did something most entrepreneurs probably wouldn't do: she raised their fees. Because she wanted to give them the feeling they were all in this together.

Q.: How did it go when you had this bad setback through the pandemic?
Sylvia:
"Well, I couldn't pay for my beautiful space anymore, so I took everything to the small apartment we rented already, of 64 square meters. We did everything there. It was survival mode. We went online. We would send recipes and people in the US or in Belgium or in Poland or anywhere else could buy their own materials. Filming for our videos, the organization for sending the packages we provided for students through Spain and Portugal for the Zoom Classes, everything. All in that little apartment. I'm so happy. Now I'm renting a loft with two floors and a loft next to it, again 300 square meters. Very good bad news for us."
Floristas Del Mundo on Instagram​
When Sylvia got to know floristry and all those wonderful designers, being a journalist, she also found no channel featuring these Hispanian florists.
Q.: You started an Instagram account for Hispanian people too, how did that happen?
Sylvia:
"I'm a journalist and as soon as I discovered the flower world, I started the account @floristasdelmundo on Instagram. At that time there was nothing written or published in Spanish. I was amazed by the work of so many designers that I wanted to feature them so the Hispanian people could get to know them, their style and story. I would usually pick a floral designer that I found interesting: it can be the language, the way they looked at the world through flowers, the composition, the uniqueness, the palette, anything.

Then I research him or her, sometimes I send them questions based on what I have read. I chose photographs, tag the photographer and people who participate in any way in that event, and publish. Because of the pandemic for a long time, I didn't post anymore, but lately I started again. Also our instagram of @madridflowerschool. I know it's very important, and I know I don't post enough. But I will do my best for the future."
​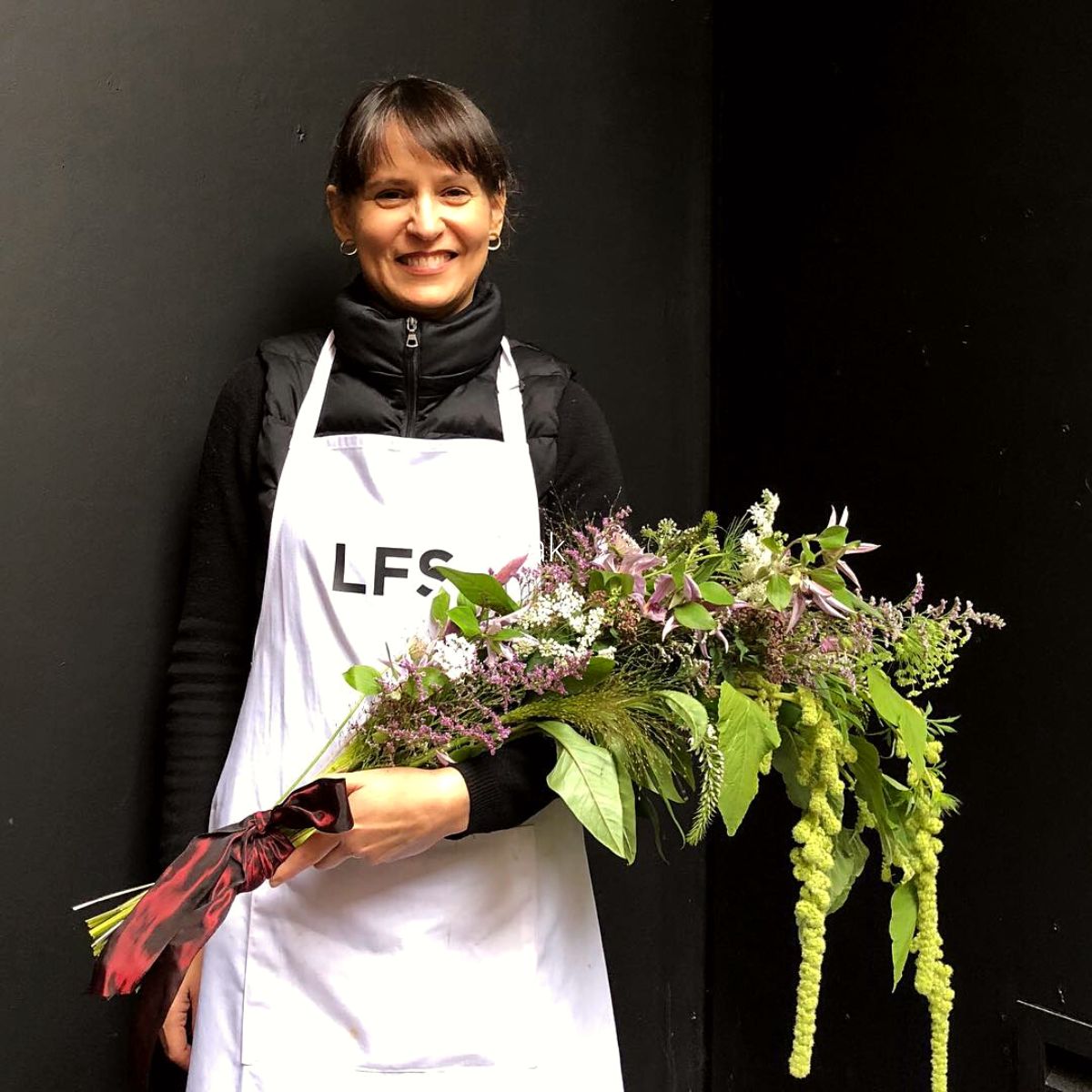 Q.: What inspires you in creativity?
Sylvia:
"I love the contrast. What is usually considered ugly with classical beauty. It can be a very big or unusual flower, with a soft palette. I missed my garden in Santiago de Chile where I had a lot of plants and vines. Generally, the same flowers that tell me what to do. Or an interesting vase because of the texture or the shape. Also, art in all its forms. I can spend hours in museums trying to retain what the artist captures on the canvas, amazed by the color combinations."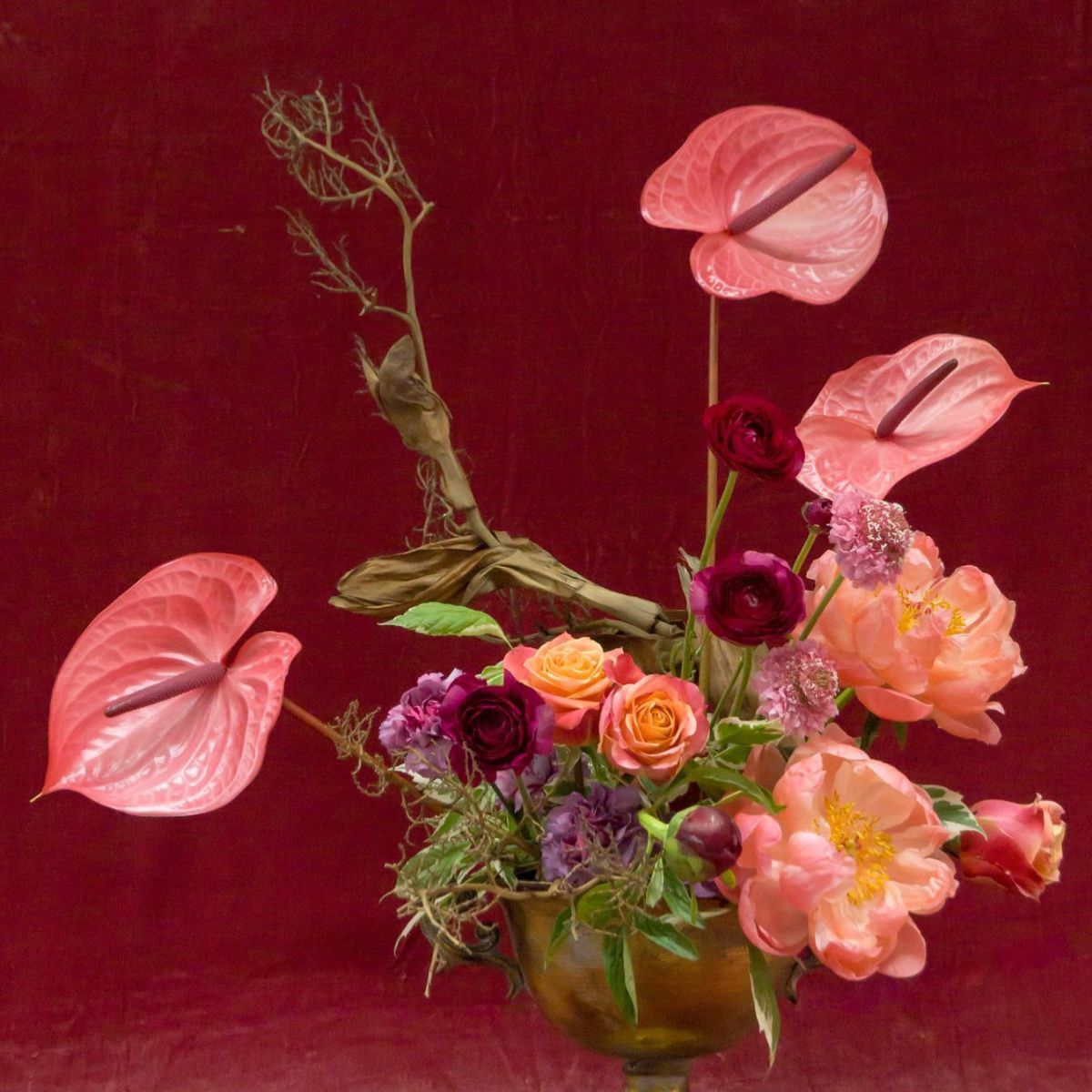 ​
Q.: What are your favorite flowers?
Sylvia:
"Dahlias and peonies for the same reason: they are show stoppers, the season is short so you are always waiting for them, the colors and varieties are amazing. Then, there is ranunculus. The good ones can last for two or three weeks and their petals can look like exquisite paper. And now we have butterfly ranunculus that has that pearl-like petal."​
Contemporary Floral Design
Sylvia is very excited when she talks about this new way of designing. Her photographer, a Brazilian florist and also an instructor at her school, made a design months ago with only dianthus, and she was so overwhelmed by the beauty of that design.
Q.: Do you think people all like this new contemporary style?
Sylvia:
"I believe that it will take time for people to fall in love with it. When my photographer posted these designs in the beginning, sometimes they really didn't have a lot of likes. But now they are big hits on Instagram. One design is all about the beauty of one or a few materials. Briljant."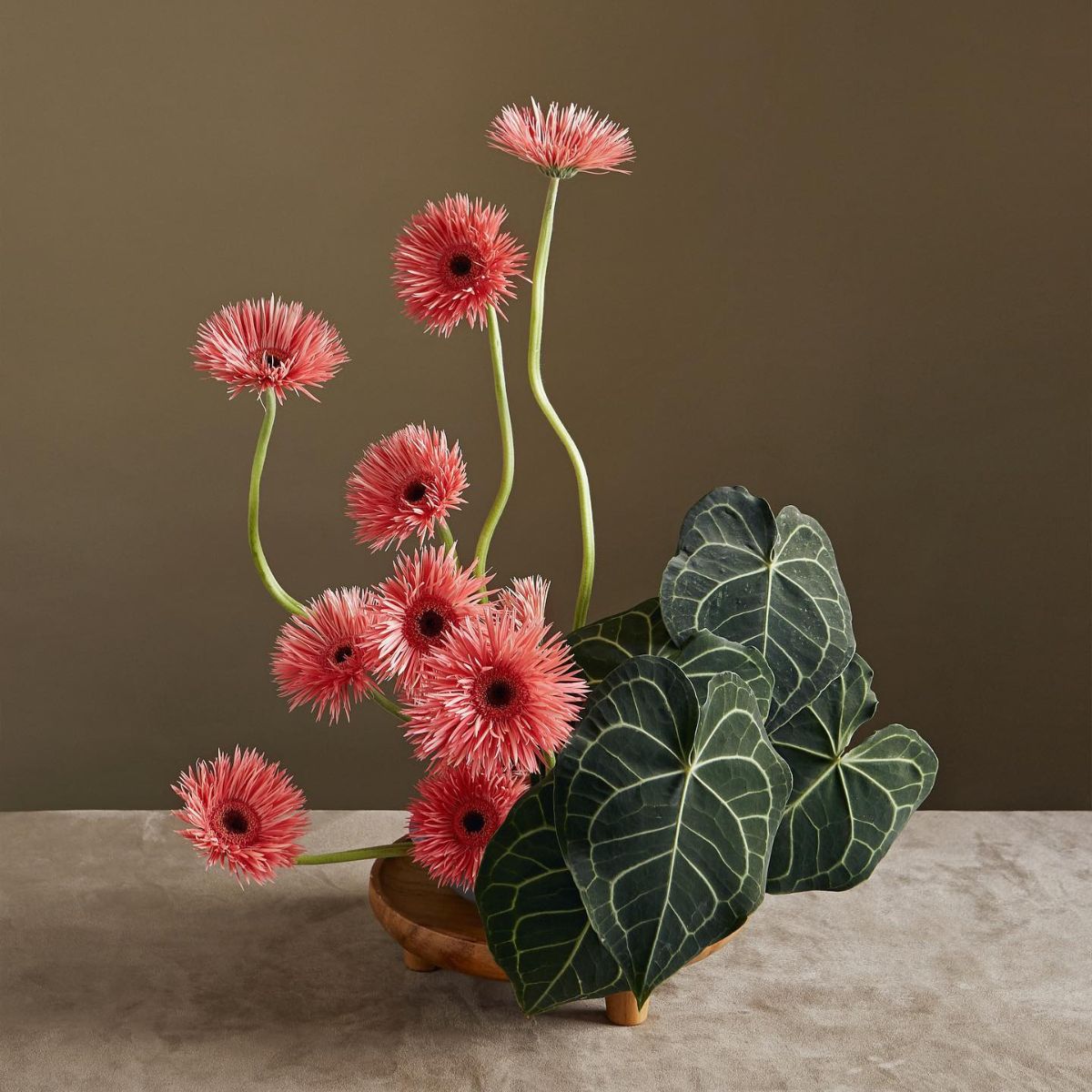 Q.: What's the most fun and happy thing in your career so far?
Sylvia:
"I've been published on Magnolia Rouge magazine, interviewed by Amy McGee of Botanical Brouhaha Podcast, worked with the photographer D'Arcy Benincosa in New York, took workshops with Holly Chapple, Putnam & Putnam, Sinclair & Moore, and many others. But above all, the highlight of my career is the florist friends that I made along the way. To have a floral family is a real gift for life."
​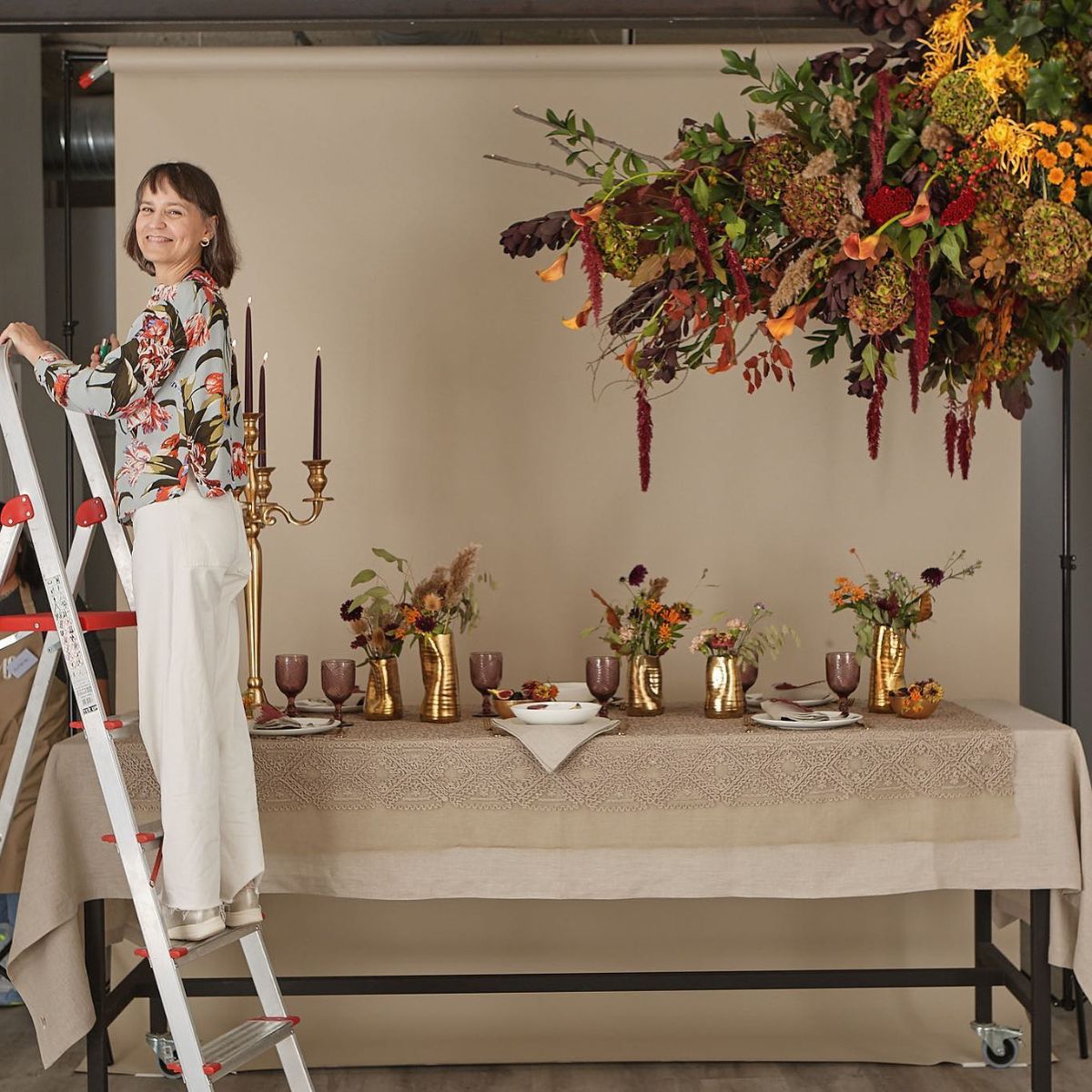 Generosity Is So Important
Sylvia believes that without generosity life would be meaningless. She wants people to feel safe at her school and loved and cared for. When students come, they are nervous about many things. Generosity makes them feel at home.
Q.: What would be your advice to young people?
Sylvia:
"My experience: the importance of ambiance and hospitality in an educational space is of great value to me. Floristry is like any other profession. You have to invest time and money in your education. And I believe that with Madrid Flower School we have created that space of ambiance. You learn more and easier in an environment like that. And all our teachers are very generous, like me. (smiling) I think that's so important. And one more thing I'm really excited about: we have a new program in English, open for the whole world. So please, come to Madrid! It is a wonderful city, and we will help you all to find everything you need."
​
Q.: What does the future hold for you?
Sylvia:
"When I step into my spaces for Madrid Flower School early in the morning, I'm captivated by everything about it. And I feel grateful that we were able to keep on educating online during pandemic, that we learned a lot about life. And I'm even more grateful about the certainty that great designers will walk away with the skills they need to be successful and embracing their own signature style. As well through online teaching as fysical at the school."