Baisakhi Ghosh
Baisakhi Ghosh is a floral artist par excellence. She discovered her love for flowers in the late '90s. A teacher by profession then, with great interest in dance, drama, and theatre, she persuaded her new-found passion for floristry and became the owner of one of India's leading floral design companies,
Baisakhi Flowers
Pvt. Ltd.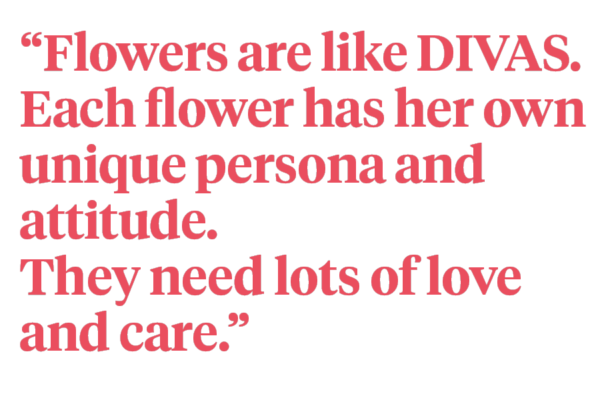 Baisakhi, known for innovation in design, finest flowers, and seamless execution, is regarded as one of the most reputed Floral Consultants of today.
The uniqueness of buds and open and full bloom flowers
Baisakhi Ghosh:
"When you see a budding flower in your garden, you hope, wish and pray and do all that you can, to ensure that every bud grows up to be a full bloom. What's the point of having flowering plants if the buds remain tightly shut? When you shop for fresh flowers, like I do at Banglarore wholesaler Om Sri Sai Flowers, you are often advised to select partially opened flower buds, as opposed to fully bloomed or those still tightly closed. Won't it be wonderful to understand the science behind such advices, to be able to make the right choices the next time you grow, buy or send flowers?"
Keeping flowers fresh is always a big challenge
Baisakhi's understanding of flowers is unparalleled. It comes with over two decades of rich experience in managing flower requirements in three key areas of her business. First, to add aesthetic appeal to events. Second, to accentuate the beauty of star hotels and third, the retail at flower boutiques and stores. Baisakhi Flowers has a prominent presence in three major cities in India. They take immense pride in creating a beautiful symphony with their flower designs. Or as they call it, an orchestrated design of flowers. For their customers like 5-star hotels in those cities and in the retailing through their three flower boutiques.
"Keeping the flowers looking fresh in public spaces like hotels and malls, for a week or more, is a big challenge. Baisakhi Flowers mostly uses different varieties Of liliums, Alstroemerias, Peonies, Tulips, Roses etc. Each one takes its own individual time and pace to bloom."
Understanding the timing for open and full bloom flowers
"Flowers are like DIVAS. Each flower has her own unique persona and attitude. They need lots of love and care. While these flowers are incorporated creatively and uniquely befitting to the design, the process unfolds the experience of enjoying the beauty!"
Baisakhi Ghosh explains that the requirements of star hotels, shopping malls, floral boutiques, clubs, and spas are similar in some ways. The mastery lies in the procurement of the flowers. Asking questions like 'how open the bud needs to be?', 'what is the right condition?', and 'how will the flower behave after she drinks through the night?' are important to be able to answer. Baisakhi can't stop stressing enough on the importance of 'understanding the timing'. That is the important game to play. She feels working with flowers isn't easy and can be extremely stressful!
"People who work with flowers will agree with me. It is as stressful as to work with the DIVAS of the town!"
A shout out to god to help the flowers fully bloom
Clients prefer complete bloom, open and full bloom flowers, as the freshness and bright colors exude positive vibes and add life to the occasion. Also in regards to commercial viability, open flowers occupy more space and give a larger than life feel. But, according to Baisakhi Ghosh, floral artists need to be extremely careful while planning procurement. Baisakhi recalls a learning experience:
"We were working on an event with 5000 pink oriental Lilies, and after profound planning and careful execution, we were disheartened to see only half of the flowers bloom, on the day of the event! The stressful day started dipping aspirin into the flower buckets and at the end, with folded hands, some of us were giving a shout out to god to please help us....One can never accurately predict how the DIVAS will behave."
Flowers are God's blessings to mankind
Baisakhi smilingly adds to her story that flowers do have an attitude. But the world of flowers is so beautiful. She calls it her wonderful world. Due to the COVID-19 pandemic, which also has a great impact on India, Baisakhi Ghosh ends with:
"It's the beautiful world of flowers. It's my wonderful world. And in these trying times I do miss the stress the divas bring me....I miss the smell of the flowers. Flowers are God's blessings to mankind."
Flowers don't worry about how they're going to bloom. They just open up and turn toward the light and that makes them beautiful.
– Jim Carrey