Life takes us through different kinds of experiences. So when we come across the word 'Avalanche' the first reaction is anxiety, one becomes anxious about the situation or surroundings. As I say life is an illusion, I would like to see life on a reverse frame.
Think Different
Instead of a dreadful white Avalanche in and around the mountain, we could dream of a beautiful white barrage of flowers in a space, where one would have memories to live with for the rest of their life. But the uniqueness of floral art is that it can create an avalanche of happiness with these Avalanche+ roses! Yes! That's possible!
The Magnitude of Floral Art Could Easily Be Compared to an Inundation
To create magnificent floral art or a floral installation which resembles a floral slide or an avalanche, one needs to adhere to a few important issues:
1. Visualization
This is the first step, which one needs to see through his/her eyes and believe in oneself. The beauty of the artist's mind is reflected in the creation. I always believe every creation in any form is from nature. So it is always beautiful.
2. Technicals
The 2nd would be to calculate the proportionate measurements of the linear structure. The color of the structure needs to be corroborated with the color of the flower to be used. Technical drawings need to be done for perfect execution.
3. Calculations
The floral brick wrapping and calculation are to be done. The flower calculation is done on square inches and the man-hour calculation is also done on that basis.
4. Execution
To make things even more perfect, for the installation, a great eye for detailing is needed. Watering the floral brick is important if the creation is to stay good for long hours.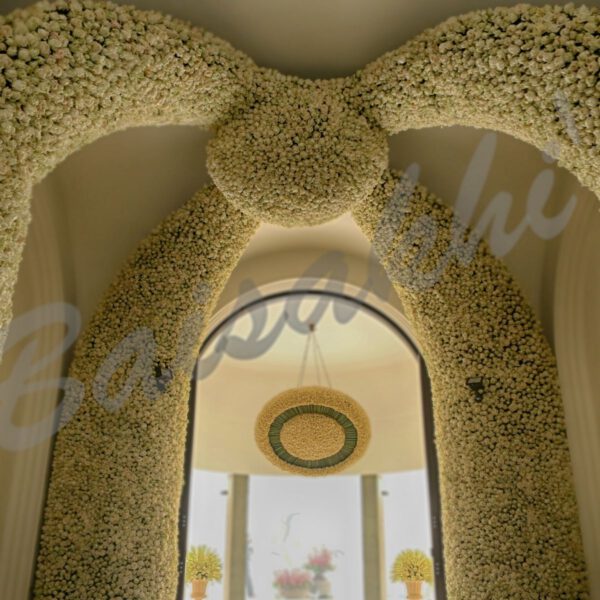 An Artistic Choir
After the tedious process of execution, the mystical experience starts. The biggest high for an artist! The artist's faith, belief, and understanding of nature. It's the artistic choir! ..... It only takes one voice, at the right pitch, to start an avalanche.