Rage, the Flower Thrower, or 'Love Is in the Air', is one of the most iconic stencils by Banksy. It shows a masked Palestinian throwing a bouquet of flowers.
Rage, The Flower Thrower
'Love Is in the Air', also known as 'Rage, the Flower Thrower' or 'LIITA', first appeared in 2003 as a large format stenciled graffiti in Bethlehem shortly after the construction of the West Bank Wall. The graffiti was made on the 760 km wall that separates Palestine from Israel.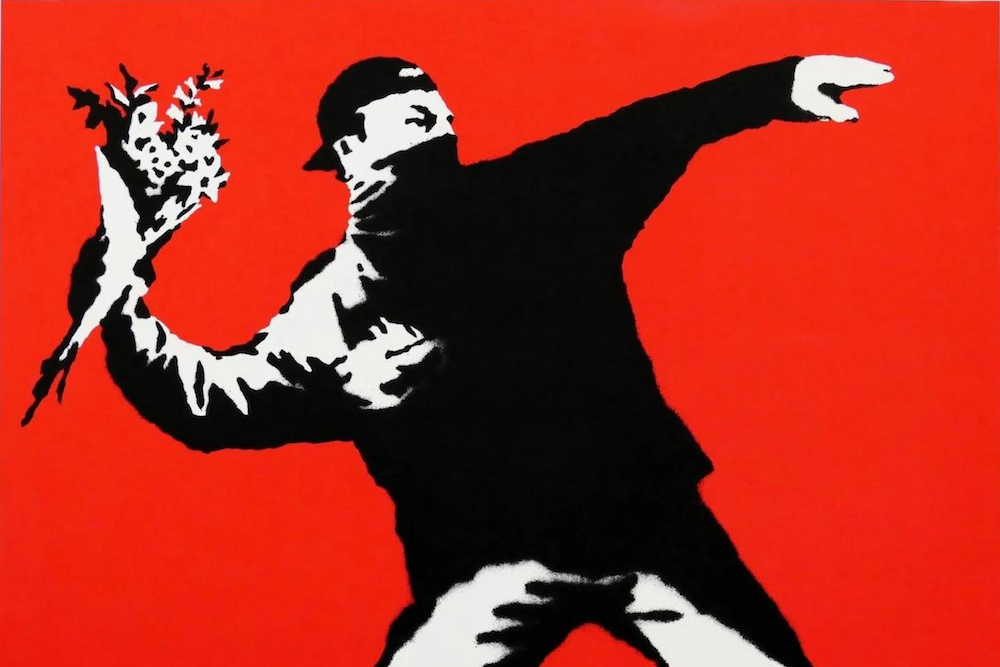 Spanning 760 km, the wall, as Banksy puts it, "essentially turns Palestine into the world's largest open prison". The wall rapidly became a giant canvas for paintings and writings protesting against its construction.
Banksy's Public Art
Banksy is known for displaying his works out in the open for the public to view, in places such as walls in the case of 'Rage, the Flower Thrower'. Still, most of his public paintings are often resold, even if it means removing the wall they were painted on.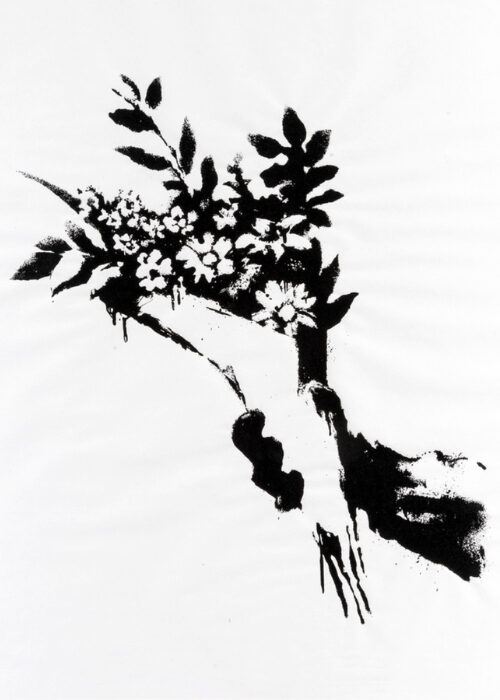 The drawing first appeared on a wall on the side of a garage on the highway from Beit Sahour opposite the Citroën/Peugeot car dealership in Jerusalem. The man in the painting is wearing a scarf and a baseball cap and appears to aim the flowers at someone(s) in rage.
The Meaning of 'Rage, The Flower Thrower'
The man and the flower wrapping are made in black and white. The flowers and the stem protruding from the wrapper are done in color. The portrait is reminiscent of the images from the street and campus riots of the 1960s. The anger and frustration can be seen in the man's posture as he tries to bomb the establishment with flowers.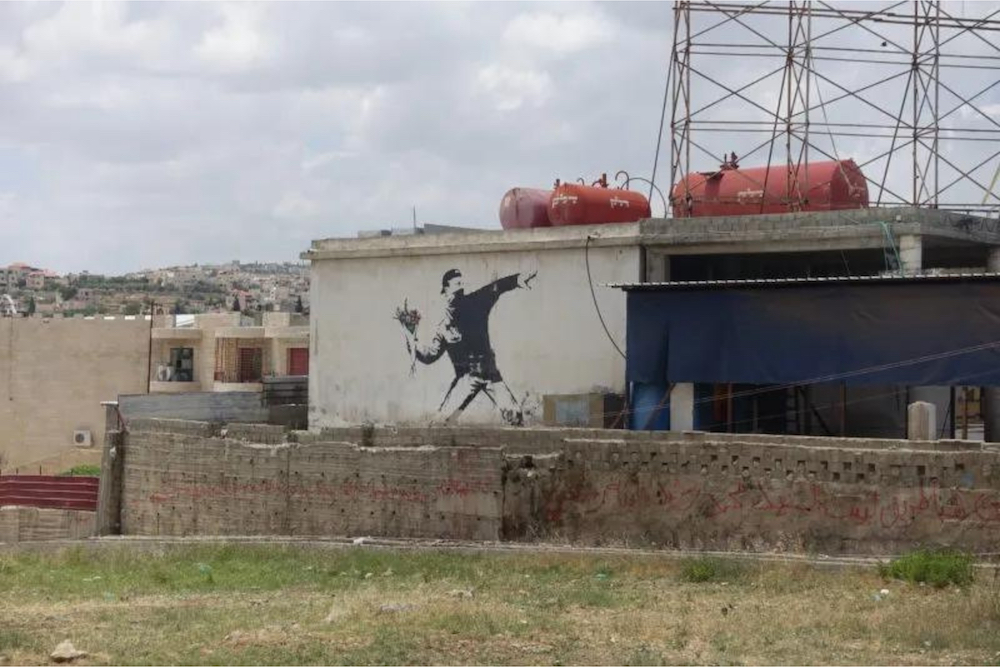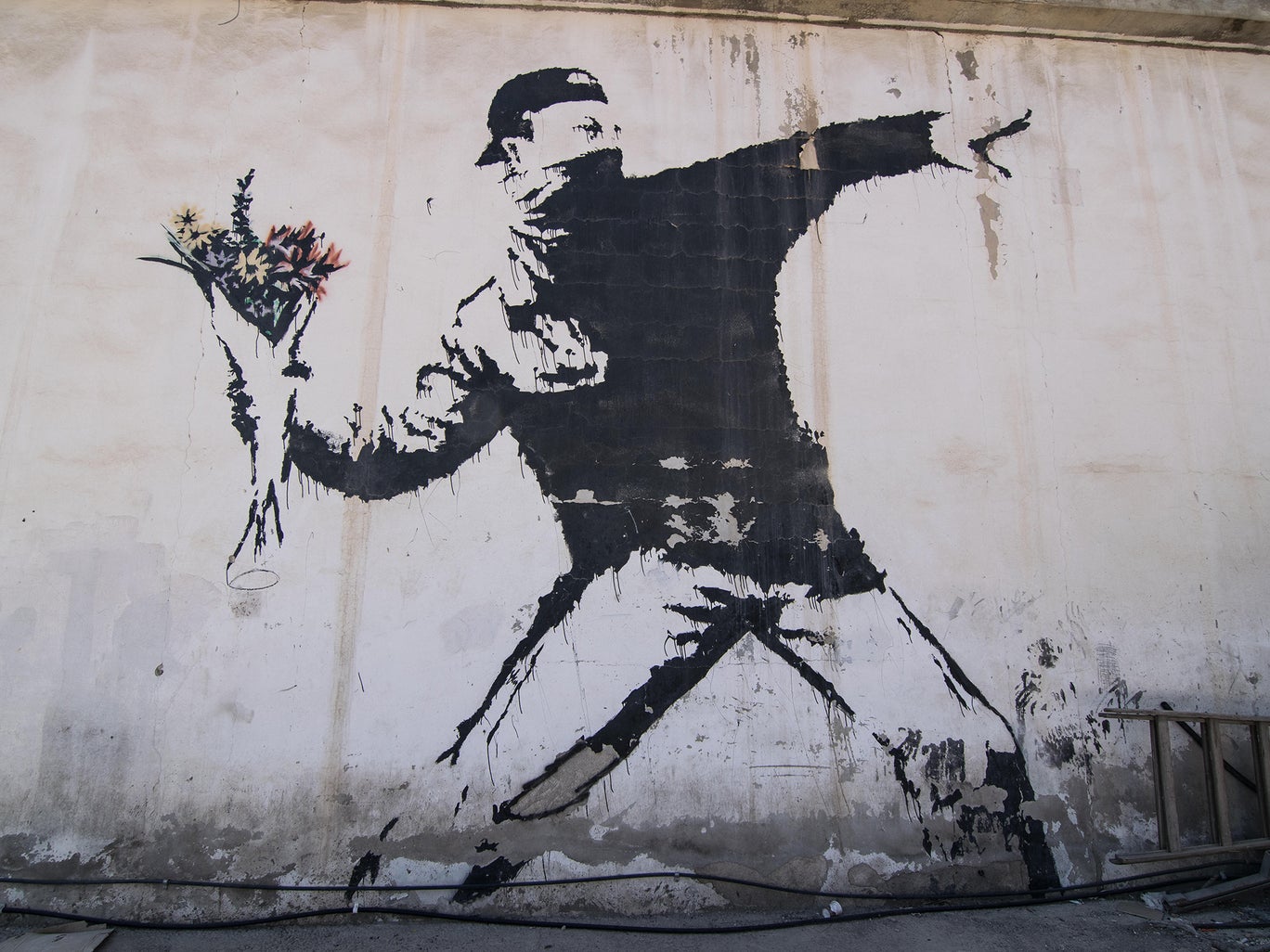 In 2005 a gay parade was staged in Jerusalem, but the participants were ambushed by protestors who stabbed three and injured many scores of others. According to many commentators, the black and white man in 'Rage, the Flower Thrower' represents a protestor or rioter.
Advocating For Peace
His gears are typically associated with violence. There are a bandana and a cap worn backward to conceal the identity, while the flowers are in color, vivid, and multi-color, which could be interpreted as a metaphor for the gay pride flag. The flowers themselves in the mages signify hope for a peaceful resolution of conflicts.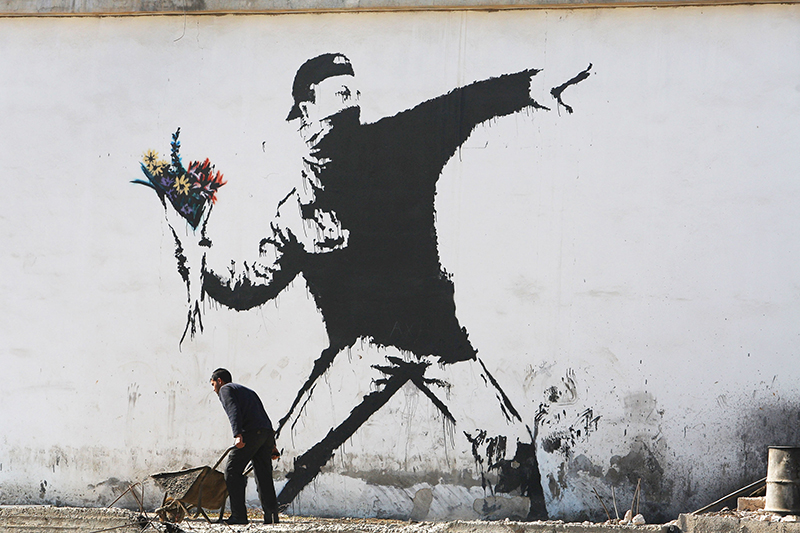 By substituting a weapon with a bunch of flowers, Banksy is advocating for peace, and he opted to install this particular message in a high-conflict area. The work also carries the message idea that peace comes with active hard work. In addition, the bouquet may also represent the commemoration of lives lost in the long-running Israeli-Palestinian conflict - and thus, his use of art to relay messages of social importance.