In order to create a tree-like installation covered in moss as the focal point of a flagship store for luxury leather manufacturer Braun Büffel in Malaysia, creative agency Spacemen turned to biophilic design concepts. This is how biophilia and fashion have met and fused at a luxury bag store.
Studio Spacemen Fused Biophilia With Fashion Creating a Moss-Covered Installation at Luxury Bag Store
Spacemen Studio used biophilic design ideas and strategies to create a tree-like installation covered in moss that serves as the centerpiece of a flagship store for a luxury leather manufacturer in Malaysia. Spacemen, a Shanghai-based design firm, aimed to develop an interior that would appeal to a younger audience and operate as 'an abstract oasis' in Putrajaya's IOI Mall. They described the store as straddling an art museum and a laboratory.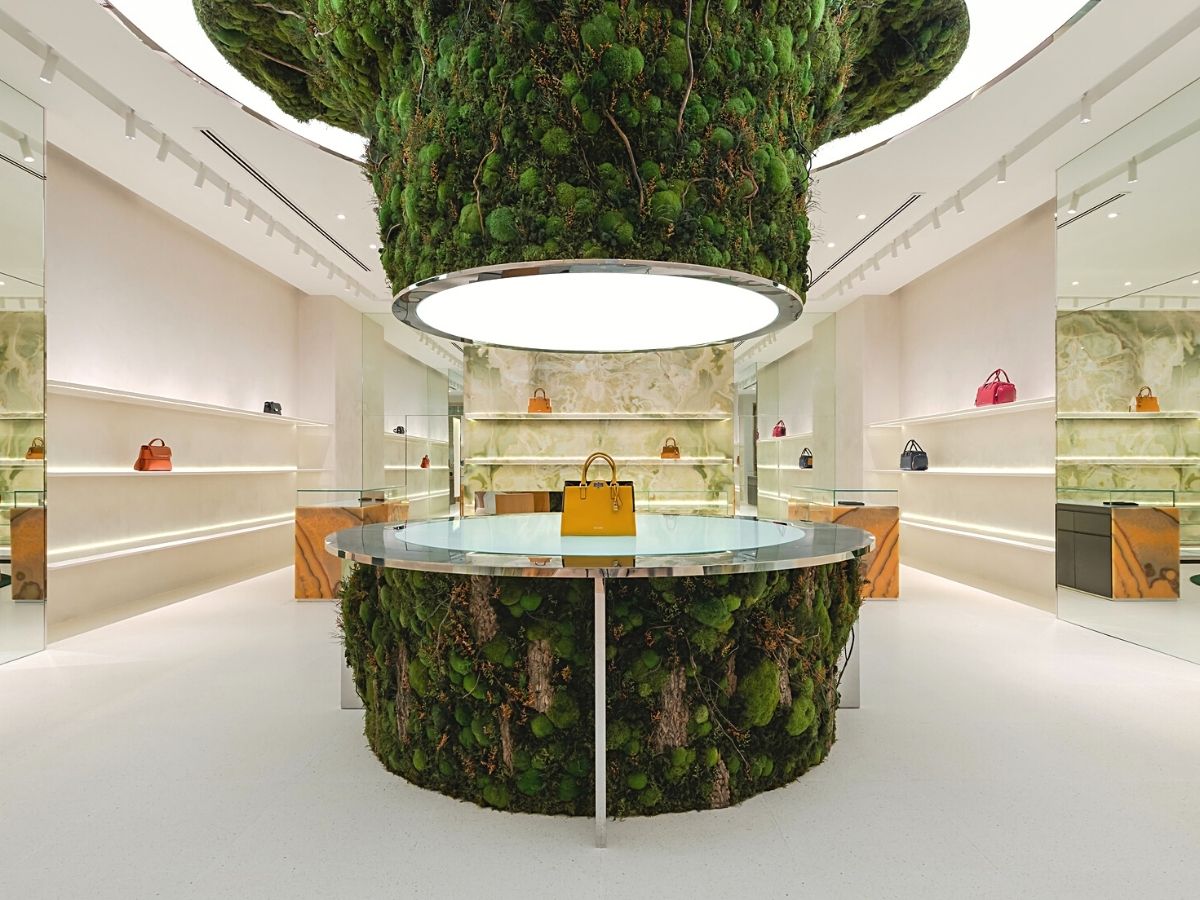 Moss-like Discs Suspended From the Middle of the Shop
The centerpiece of this design is a gigantic, organic-shaped sculpture dangling from an illuminated disc in the middle of the shop, clothed in preserved flat moss, ball moss, and lichen.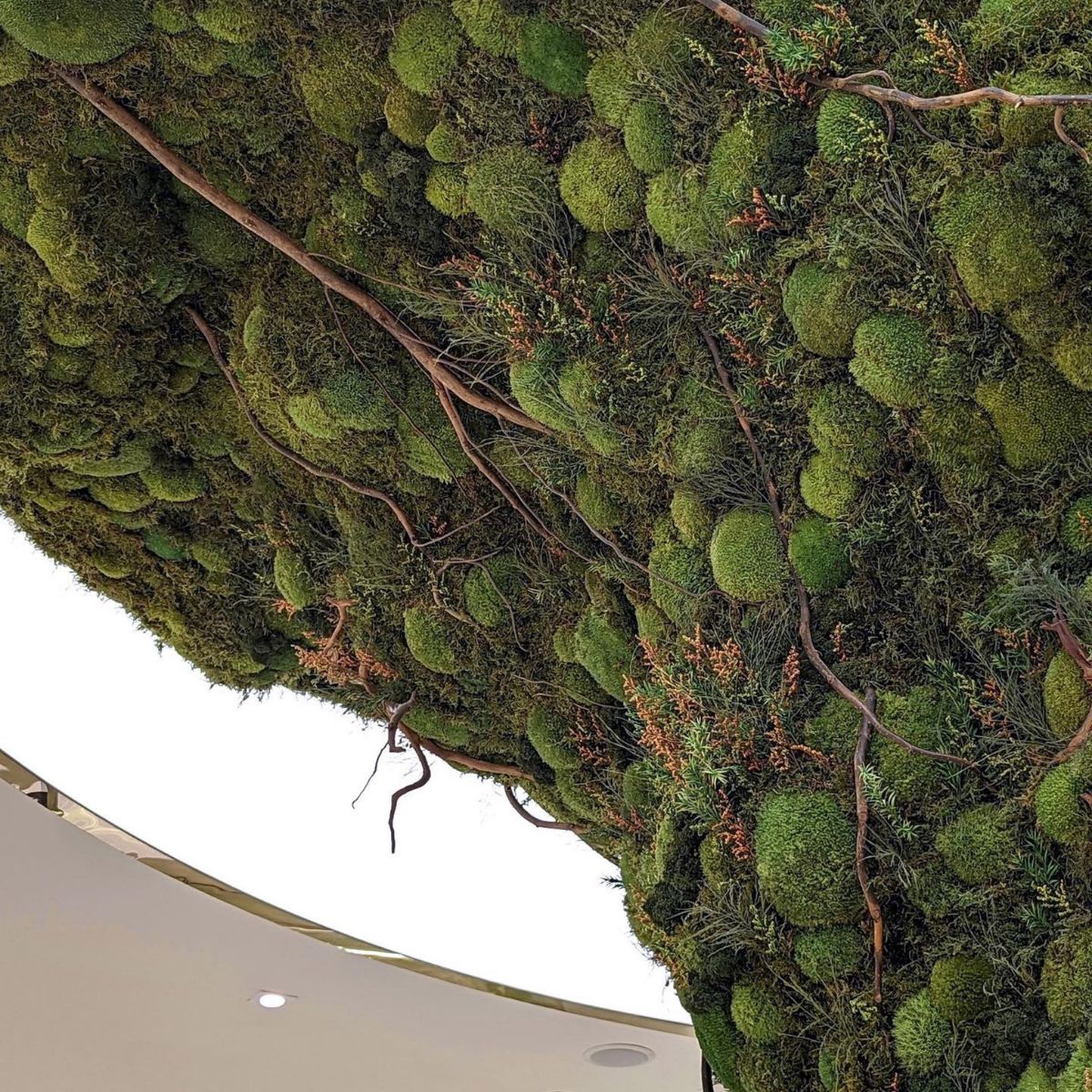 To finish the biophilic and fashionable installation at the luxury bag store, a spherical table covered in the same plants was placed right below. It also serves as a platform for Braun Büffel leather bags, which are scattered throughout the store like museum artifacts.
Biophilic Design Characterized by a Central Moss-Covered Sculpture
The sculpture is inspired by biophilic design, a concept that promotes a stronger relationship between humans and the environment while designing interior spaces. The form was created to appear to emerge from the ground towards the ceiling - towards the sun, revealed Spacemen founder Edward Tan. The final look he imagined for this work of art was a vision of an alien concept akin to something out of a Hollywood sci-fi film.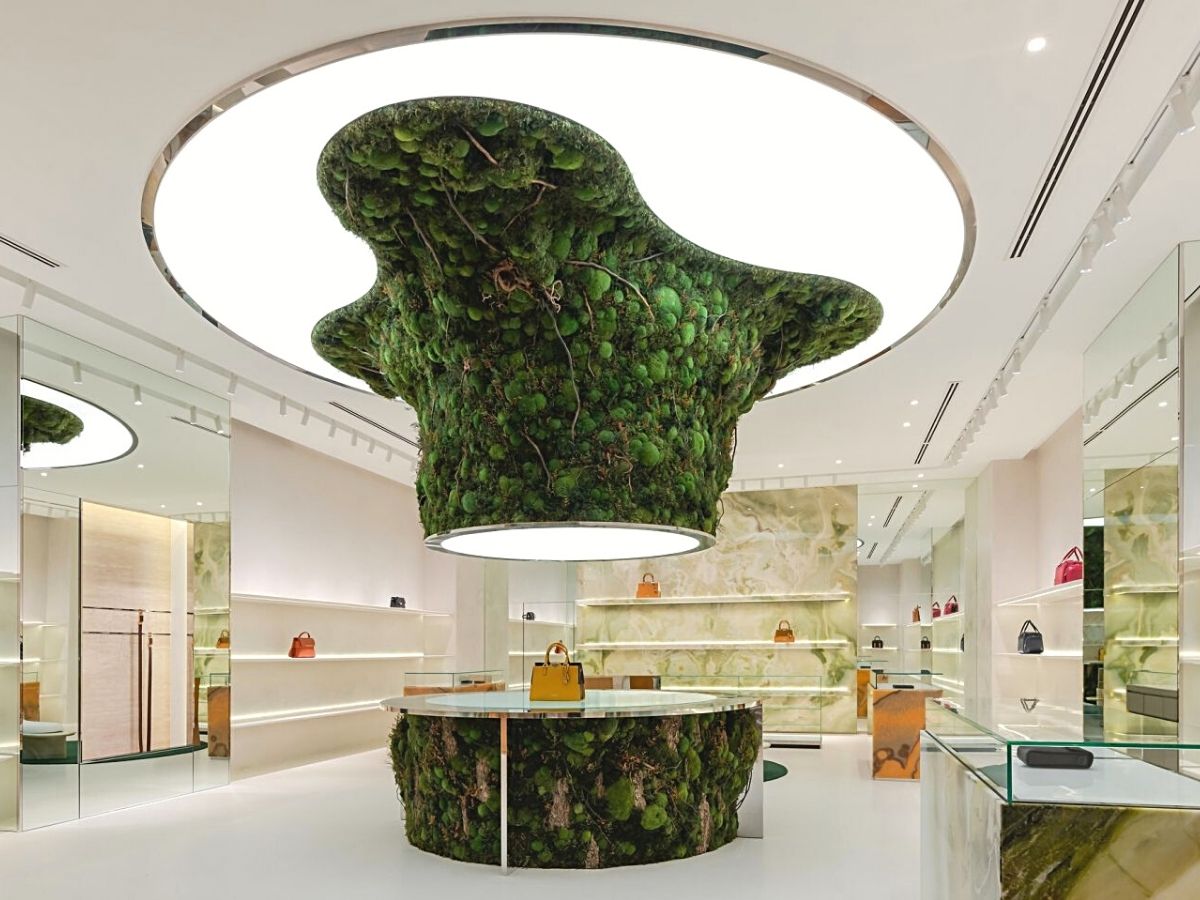 Maximum Minimalism for the Store's Interior
Tan stated that when designing the store interiors, Spacemen used a 'maximal minimalism' approach in order to challenge the bland shapes and colors commonly associated with luxury. Lime plaster walls and dazzling white terrazzo flooring are punctuated throughout the shop by numerous elaborate display cabinets and shelves accentuated by floor-to-ceiling mirrors.
The cabinetry in the store is even made from decadent slabs of swirly orange onyx and jade marble, some of which are topped with glass vitrines that reveal small leather goods.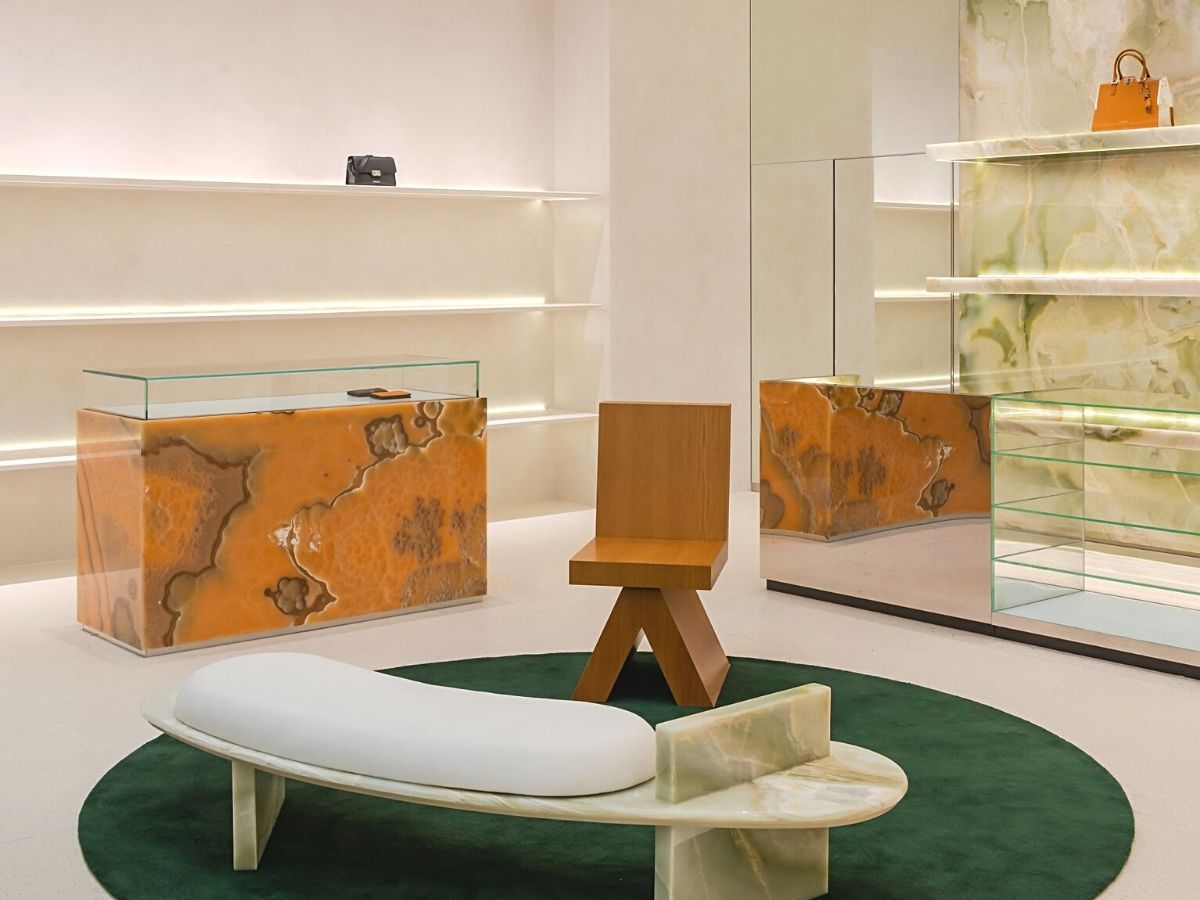 Why Did Studio Spacemen Opt for a Biophilic Design?
Tan explained why he chose a biophilic design for the Braun Büffel shop, saying he thinks with the pandemic, people have turned to appreciate nature a lot more than before. This is especially true for those who live in apartments and are restricted to office cubicles all the time, and do not have as much access to nature and greenery as they should. As a result, being able to buy lush flora and gardens within has become a new sort of luxury, making this project a huge success.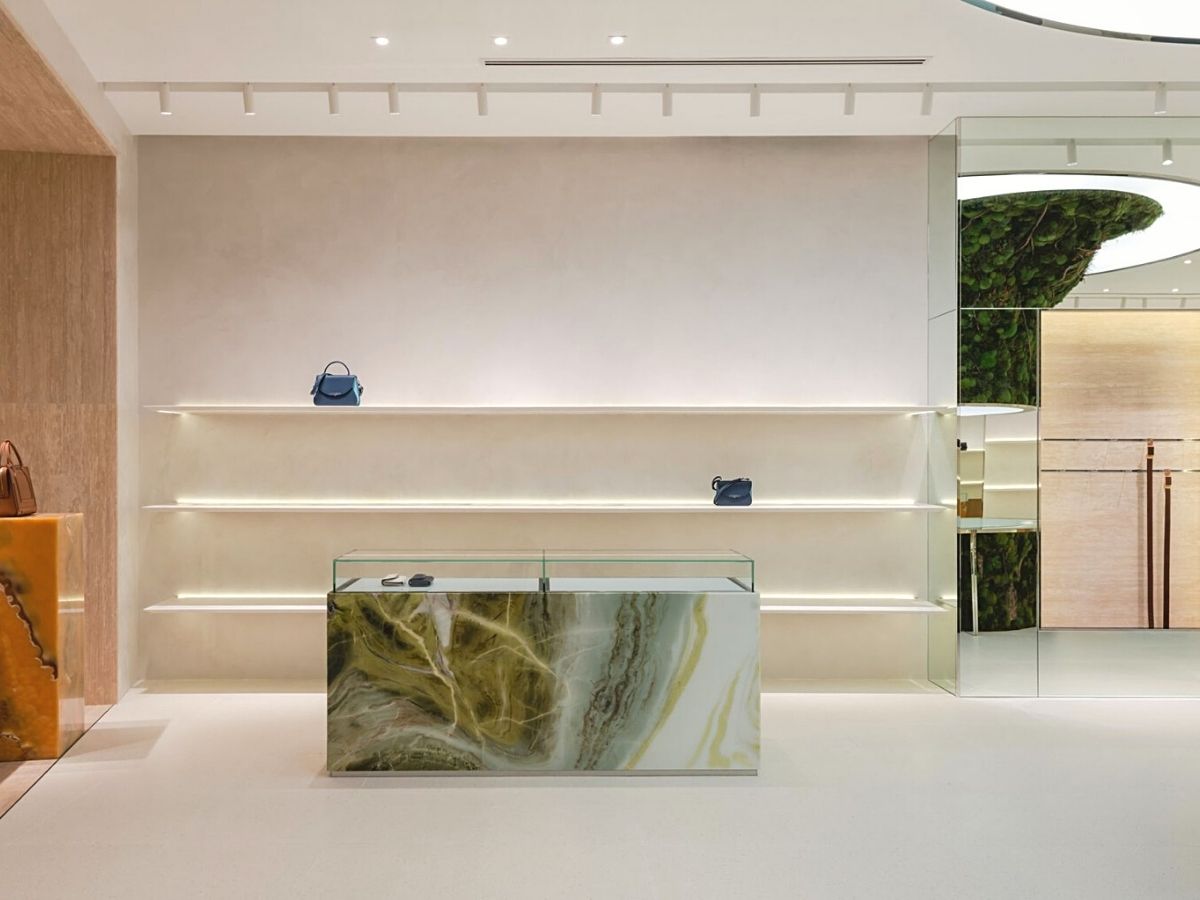 To see more of Spacemen's unique architectural work, don't hesitate to visit their website. You'll be absolutely stunned.
Photos courtesy of David Yeow Photography.