At a time when sustainability is becoming a crucial issue and cities are encouraged to incorporate trees and greenery in urban development designs, Singaporean multinational architectural industrial design firm WOHA has explored a sustainable futuristic 21st-century city living concept in its design and construction of the Pan Pacific Orchard. This is a nature-inspired property nestled amongst the malls and built-up areas that define the famous Orchard Road in Singapore.
WOHA was founded by Wong Mun Summ and Richard Hassell in 1994, and its conception of Pan Pacific Orchard easily makes this property stand out against the backdrop of other skyscrapers in the area. It features four open-air towering terraces named Forest, Beach, Garden, and Cloud, which are all inspired by nature, and appear to overhang out of the main structure in a jenga-like design. What's more, the property has more than 7,300 square meters of foliage.
So, here's what's more that's interesting about this remarkable nature-inspired building.
Aesthetics and Sustainability Combine in Pan Pacific Orchard
The design of Pan Pacific Orchard reimagines a new model for high-rise tropical hospitality. The 347-roomed building, which is 23 stories high, is a characteristic garden hotel, that adds its nature-inspired splendor to the green spectacle that the iconic Orchard Road shopping belt has previously been.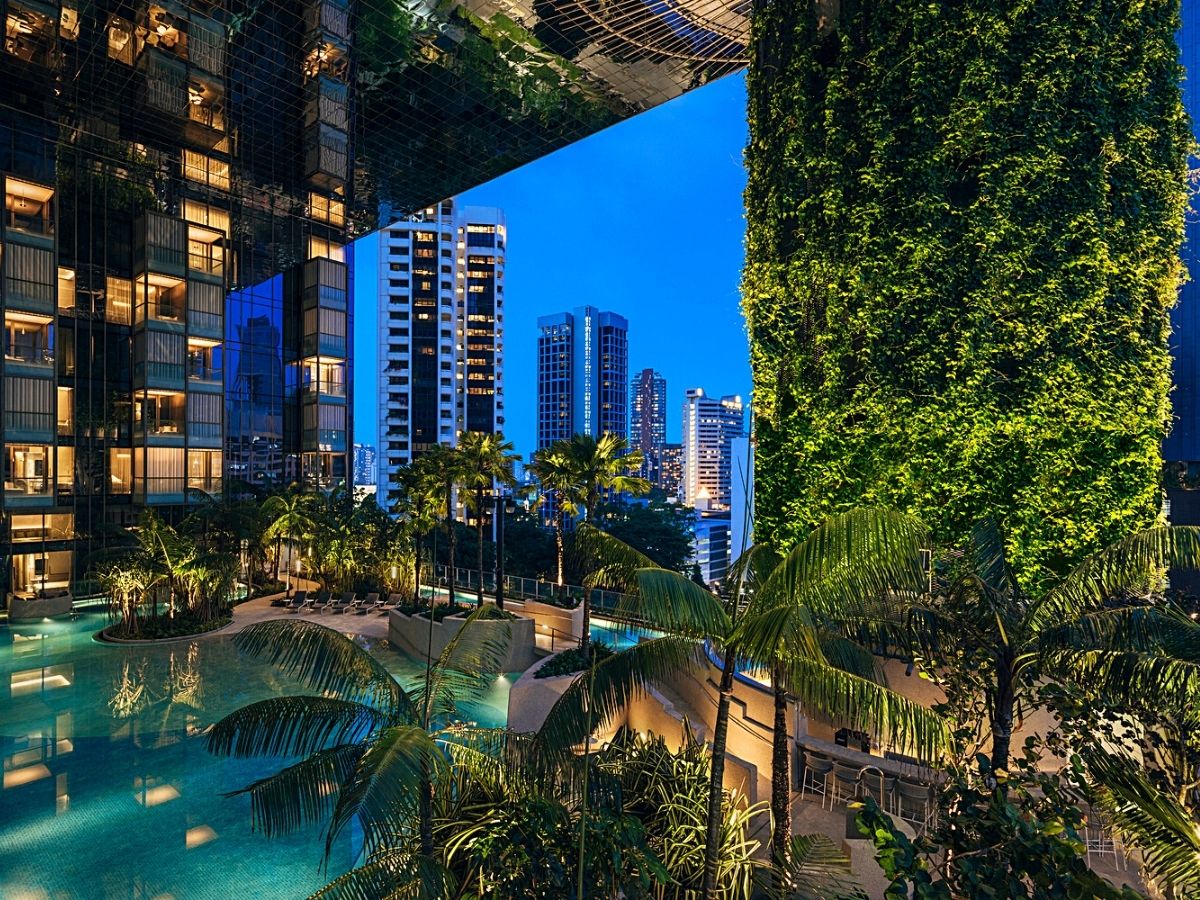 To remove the challenge of limited space in the site area and to break down the scale, WOHA's design stacks four distinct layers with three sky terraces that are inserted as elevated grounds. These layers are set with amenities that are surrounded by gardens. The guest rooms are split into three stacks that are further configured into L-shaped arrangements that overlook either the sky terraces or the city.
Its first stratum is designed as a forested terrace set between Claymore Road and Claymore Drive with a water plaza and cascades and is fringed by forest trees, creating a dramatic tropical forest ingress with an interesting urban connection. The dense foliage and cascading water features create settings where guests checking into the building, and those who inhabit it can relax and unwind amid a verdant environment where curling vines and plant life thrive.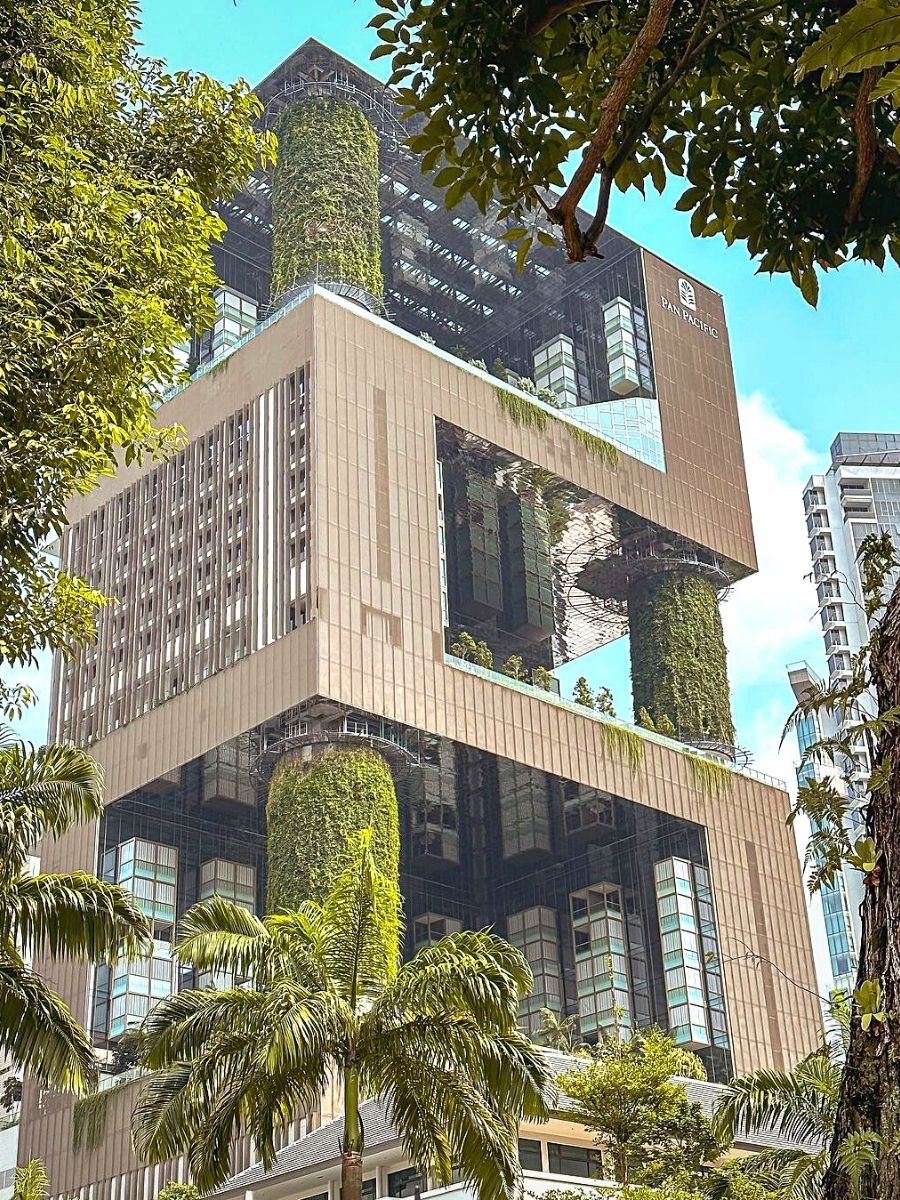 The second level is conceived as a beach terrace, that offers guests a tropical oasis, with a meandering sandy beachfront and palm groves around an emerald lagoon, set against Orchard Road. It features an outdoor pool that has replications of sandy shores, complete with tropical foliage and a pool bar that creates that ultimate beachside feel.
On the other hand, the third stratum of the building is set up as a garden terrace that is orientated towards the quiet residential estate of Claymore Hill. It is flanked by the bar and the lounge. The terrace showcases a manicured garden, complete with a verandah, lawn, fountains, and a garden.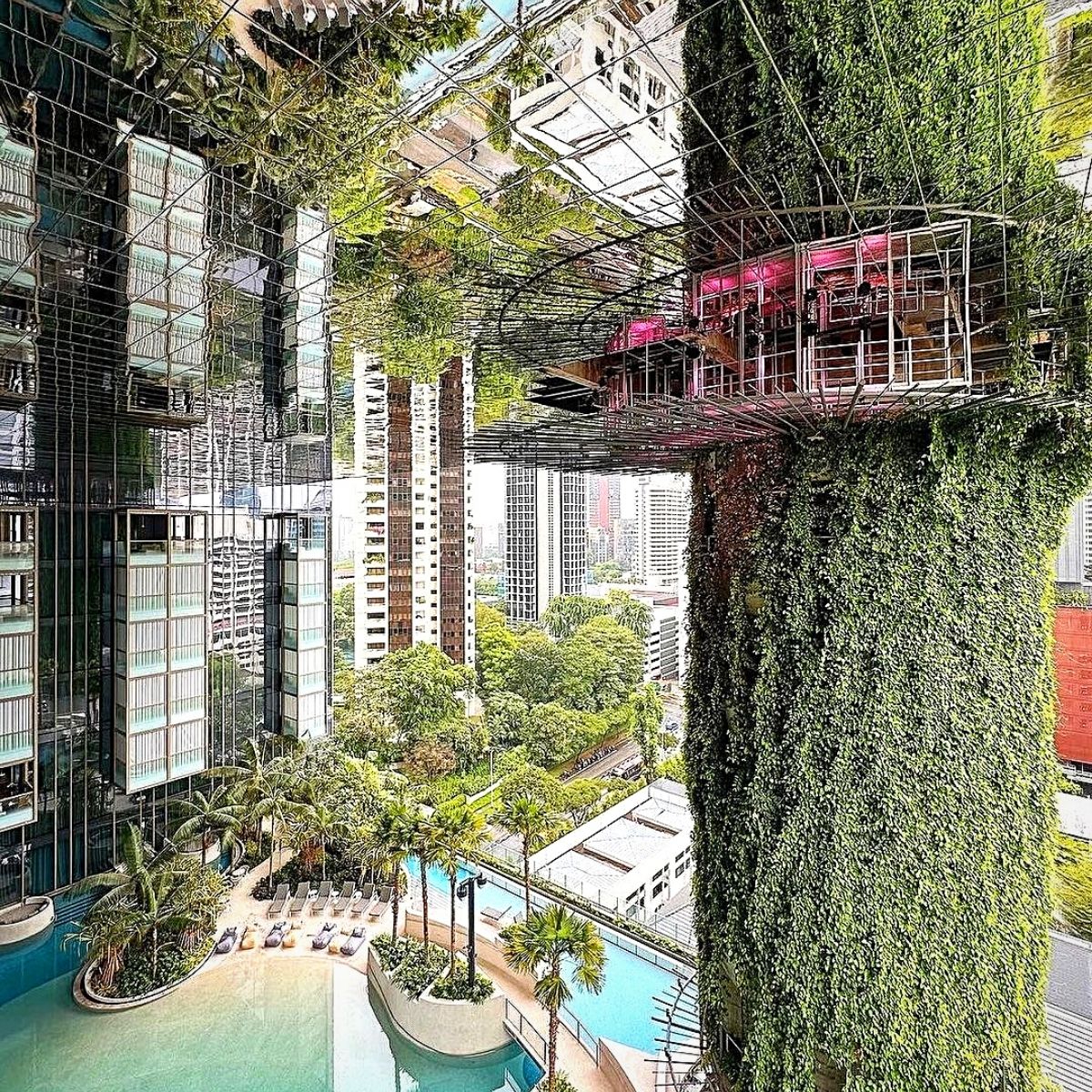 The fourth division, on its part, is envisaged as a cloud terrace comprising a 420-seat ballroom and event lawn, surrounded by mirror pools and filigree planting, splashed by natural light that filters through the photovoltaic panels (PV) roof canopy.
A Distinctive Garden Hotel and a Green Icon
The building's interiors are designed to reinforce the experience of each stratum, offering a unique boutique-scale experience. Appearing to hold these different strata, the building also has huge 'living green' columns that are enveloped in creepers that visually connect the four strata, and juxtapose against the stacked massing.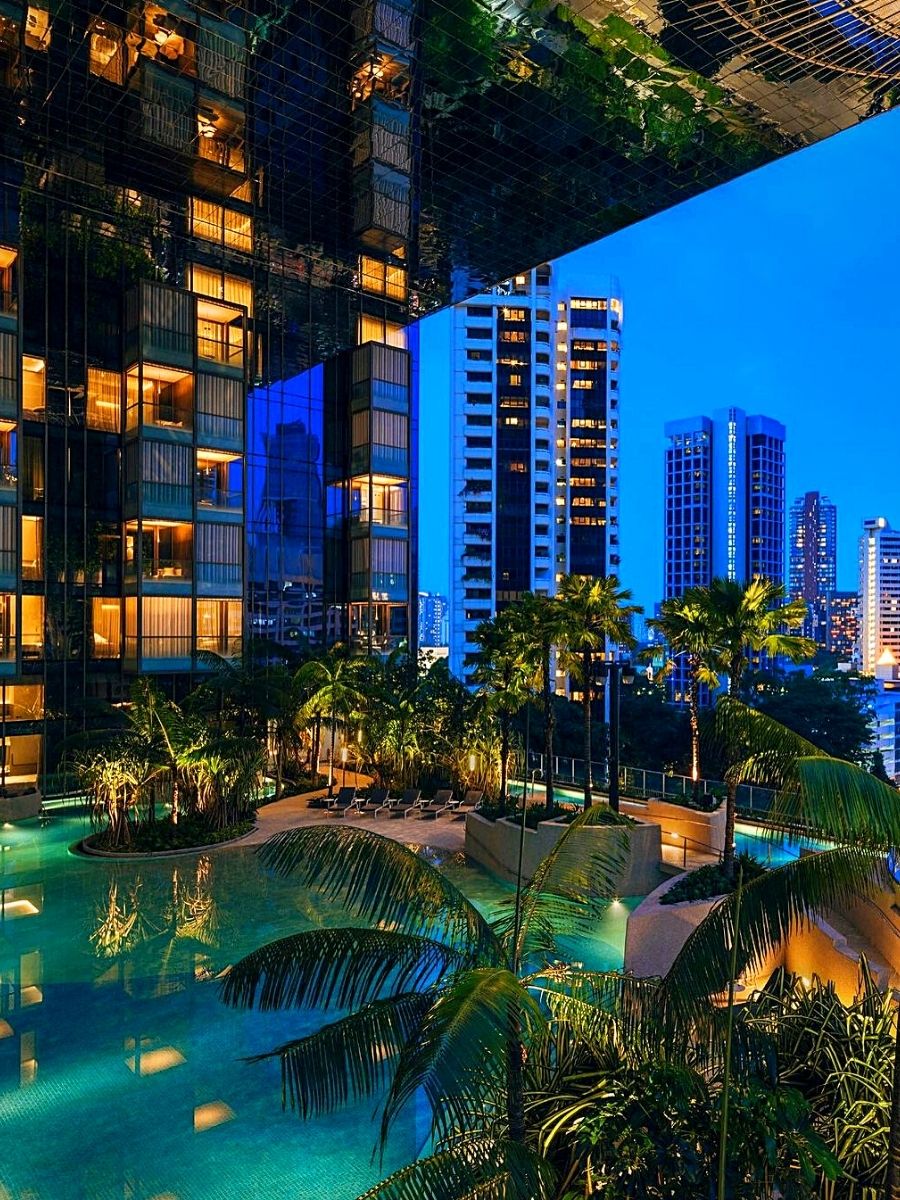 Basically, its innovative form and organization provide for high-density plant life combined with generous gardens and public spaces. The 347 rooms are distributed across the Beach, Garden, and Cloud strata/terraces, with the interiors designed to reinforce the character of each stratum and offer a unique experience.
With all these elements, the building contributes to the vibrancy of the city by revealing revelries that are normally hidden indoors. This is made possible by the open-air, cross-ventilated yet sheltered spaces, which are designed specifically for Singapore's equatorial climate, where warm, humid air, low wind speeds, and frequent, yet unpredictable, heavy rains make fully outdoor events a challenge.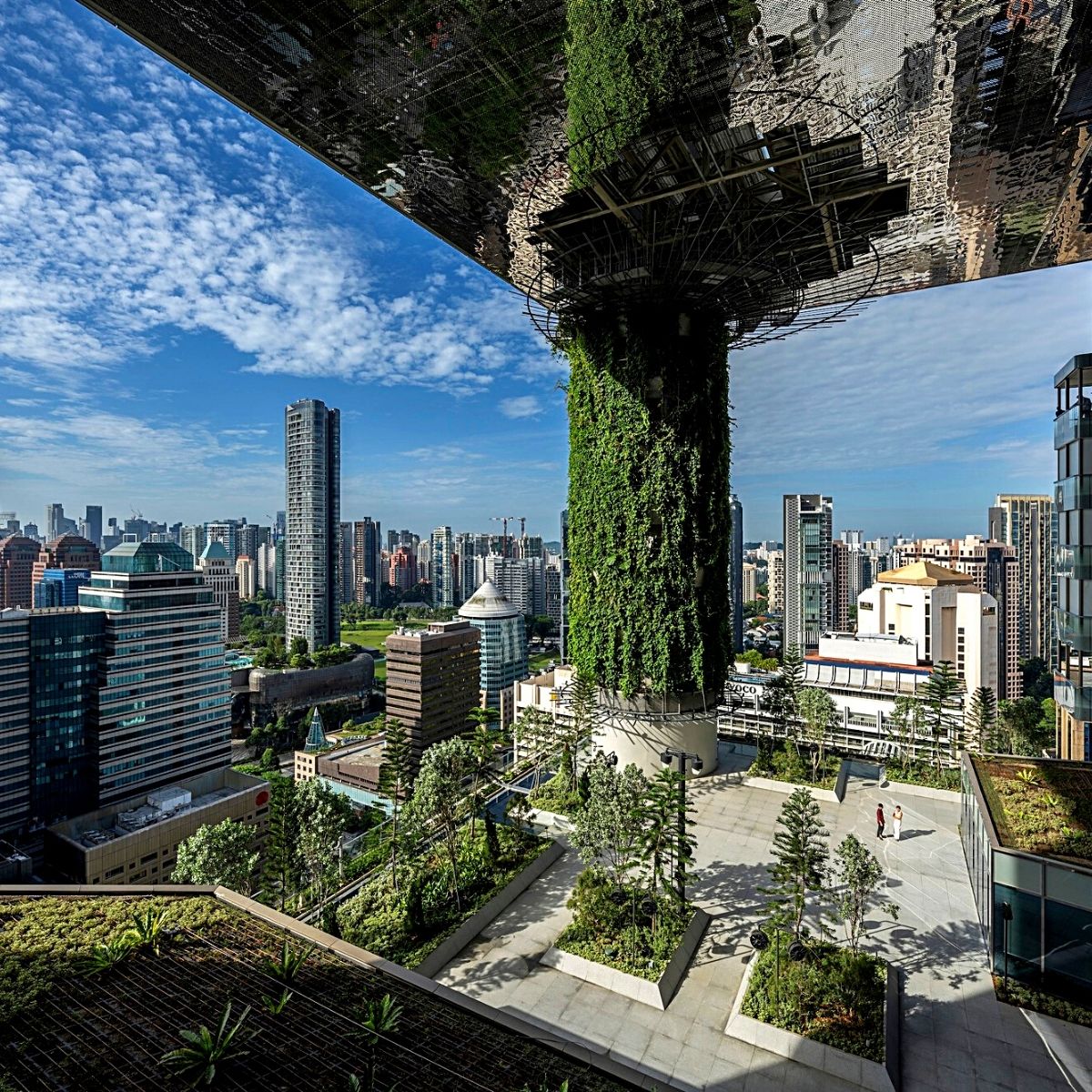 These garden volumes, accordingly, provide views for both the rooms and the neighbors, creating a spatial interplay with the neighborhood; a kind of interaction that is lacking in most high-density environments. Plus, the building's mirrored ceilings reveal the landscape and activities of the streets below.
Likewise, the signature creeper-clad columns make a powerful green statement to the concept of sustainability and nature integration, with the huge volumes of creeping plants and other vegetation working as giant sunshades to the terraces and rooms. Also, the building's reflective ceilings act as thermal mirrors, providing radiant cooling by doubling the surface area of gardens and water.
Accordingly, Pan Pacific Orchard has achieved the Green Mark Platinum rating, which is Singapore's highest environmental certification, due to its incorporation of nature active systems and passive design strategies that reduce energy and water needs. This makes it a distinctive garden hotel, as well as a green icon.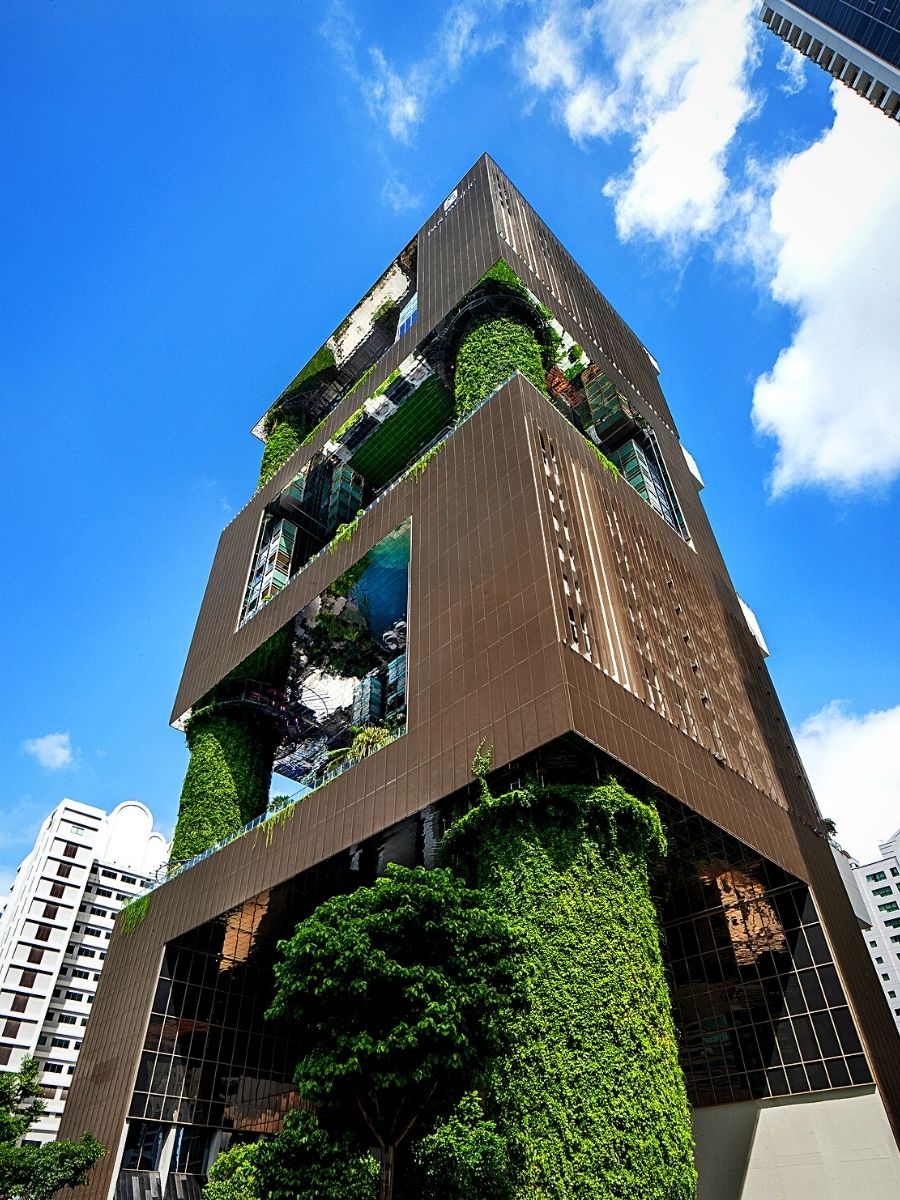 Sustainable Systems That Set an Example in Sustainable Hospitality
Not only is this property just a unique garden hotel and green icon that celebrates nature and offers verdant views on all floor levels, but it also replaces a massive 200% of its site area with greenery. This lush nature creates a luxuriant tropical setting that is attractive not just to people but also to birds and insects, and for that reason, encourages both biophilic design trends and biodiversity conservation in the city. You can also read about this biophilia-themed office building in Singapore.
What's more, the building's energy, water, and waste systems are seamlessly integrated with each other, while the roofing holds 390 photovoltaic panels that generate clean energy supplementing the building's energy usage.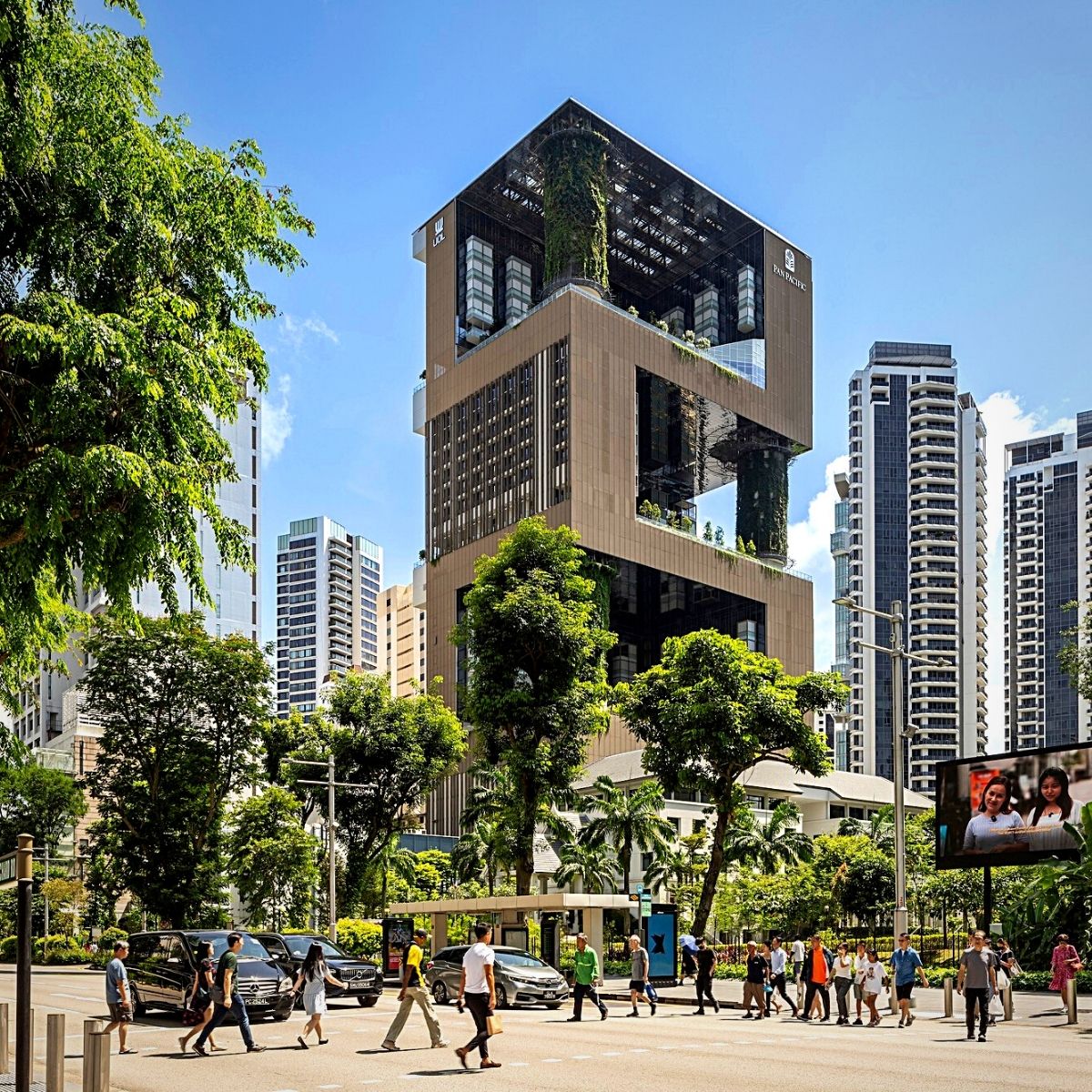 Rainwater, on the other hand, is harvested to irrigate the extensive greenery, while a bio-digester system transforms food waste into cleaning water. It is all these sustainable practices that cumulatively contributed to its earning the Green Mark Platinum rating.
Explaining the idea behind the design, Wong Mun Summ said:
"Orchard Road used to be lined with actual orchards. And we are 'bringing back these orchards' through the integrated gardens and landscaping of the hotel. The main focus, however, is to create a new hospitality experience as part of the Urban Redevelopment Authority's push to remake and revitalize Orchard Road."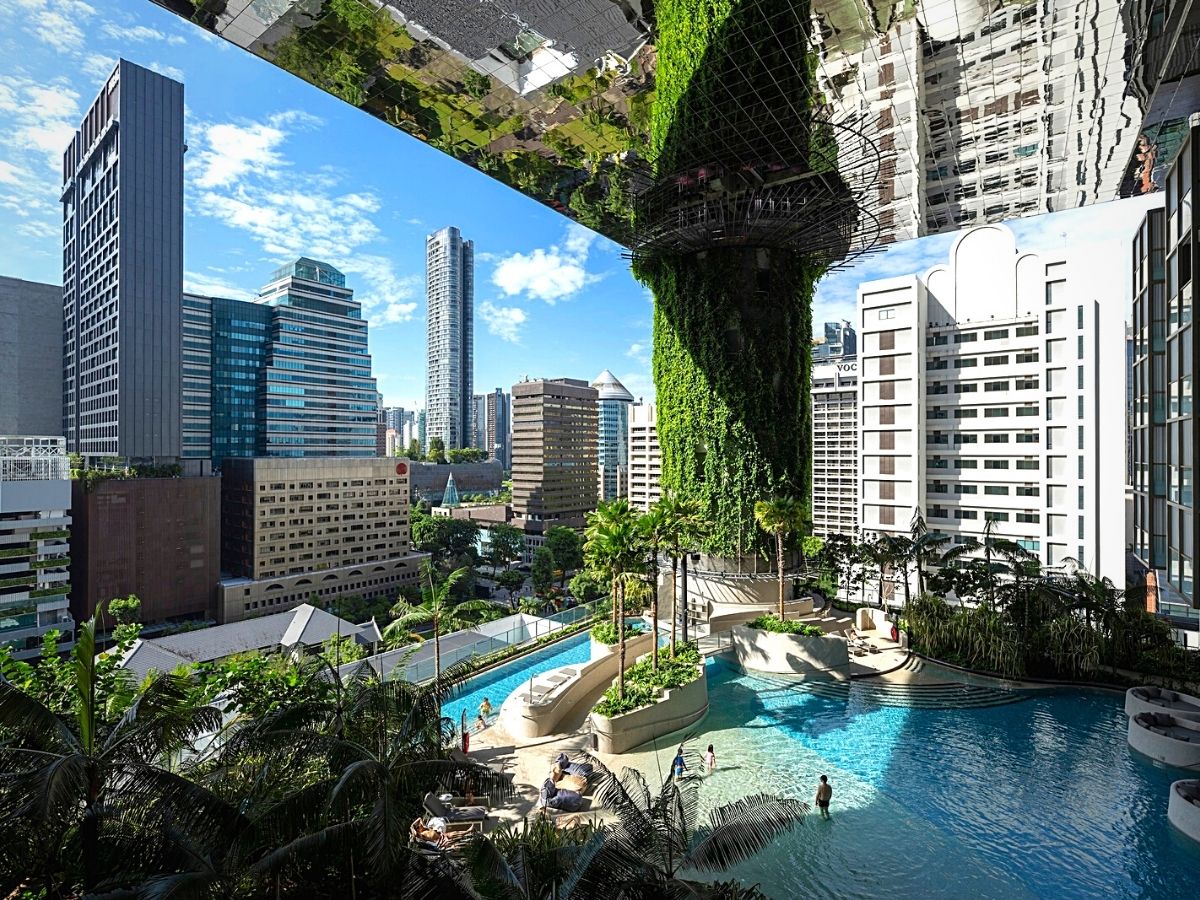 The redevelopment of Pan Pacific Orchard is, therefore, seen as a strategic move that aptly positions Singapore for a future where sustainable vacationing is given more focus. It is an investment in sustainable hospitality that sets an example for others to follow.
Photos by WOHA (@woha_architects)