Floral artistry is a timeless and special form of creative expression that overreaches cultures and generations. Through it, florists and floral designers have for generations been able to communicate diverse messages through their creations such as bouquets, designs, and floral arrangements.
The Aesthetic Appeal of the Bird of Paradise
You can, without a doubt, use this flower in a variety of ways to create breathtaking designs and arrangements that bring out the true beauty and aesthetics of any occasion.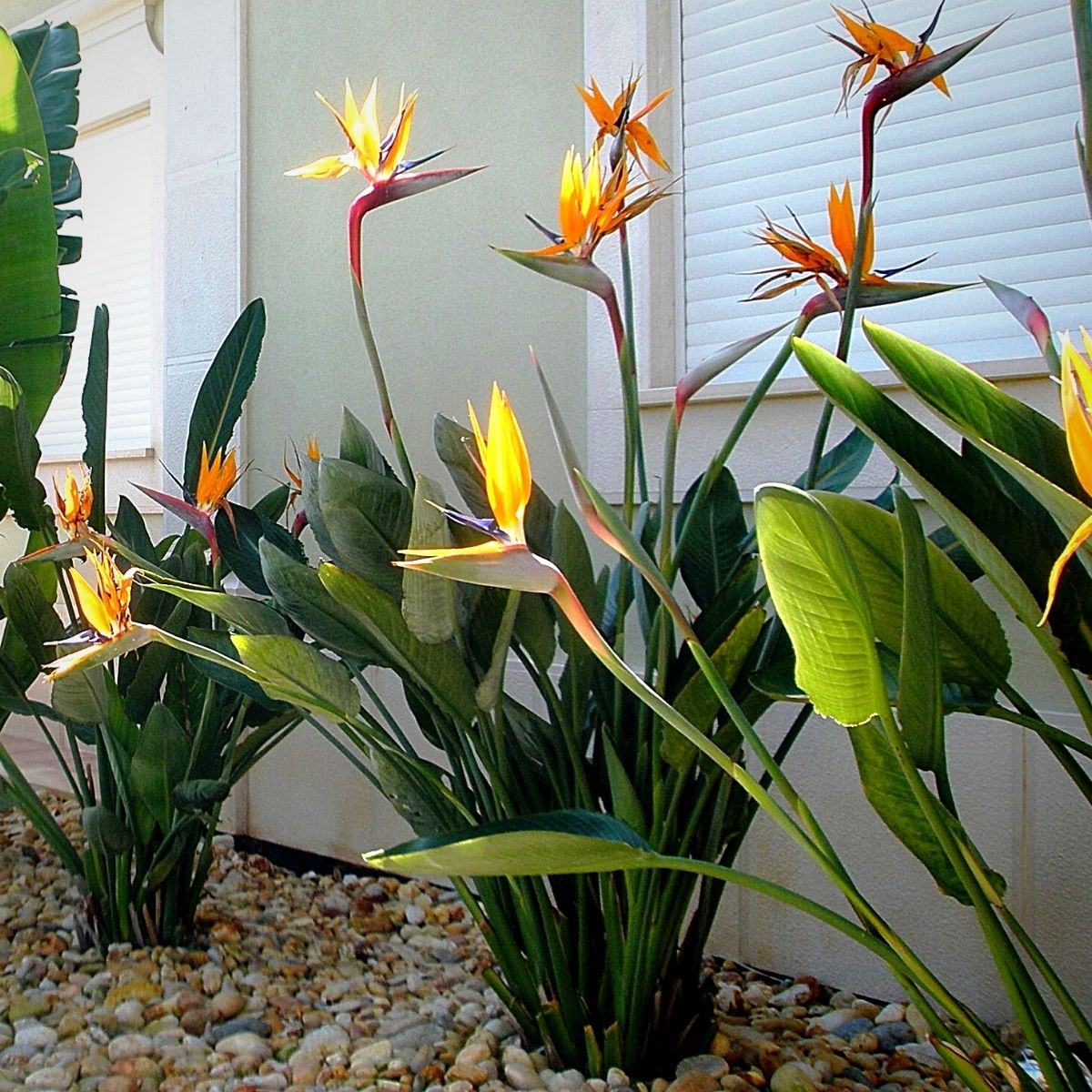 Native to South Africa, the bird of paradise flower is renowned for its extraordinary looks and unmistakable structure. It has large, paddle-shaped leaves and lively, bird-like blossoms that make it an iconic choice for both contemporary and tropical-inspired floral designs and arrangements.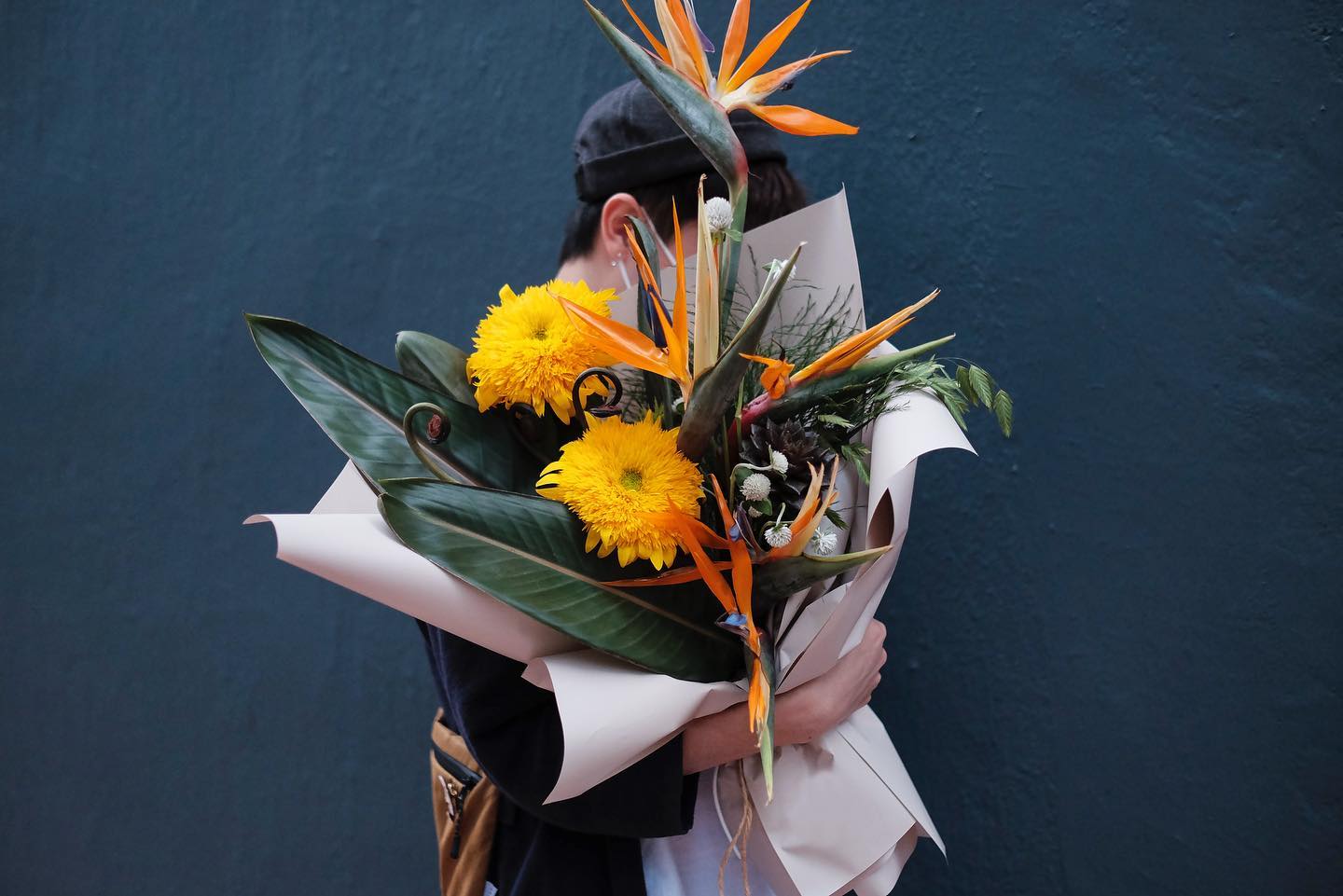 This flower's long, sturdy stems also add stature and refinement to any floral arrangement, which, among other qualities, makes it a preferred choice for creating dramatic focal points in designs.
Strelitzia flowers also have an impressive lifespan of at least two weeks when properly cared for. It is this longevity that ensures that floral arrangements maintain their beauty and freshness for an extended period without worrying about wilting too soon. Plus, the flower is highly versatile and can be used in a wide range of floral designs.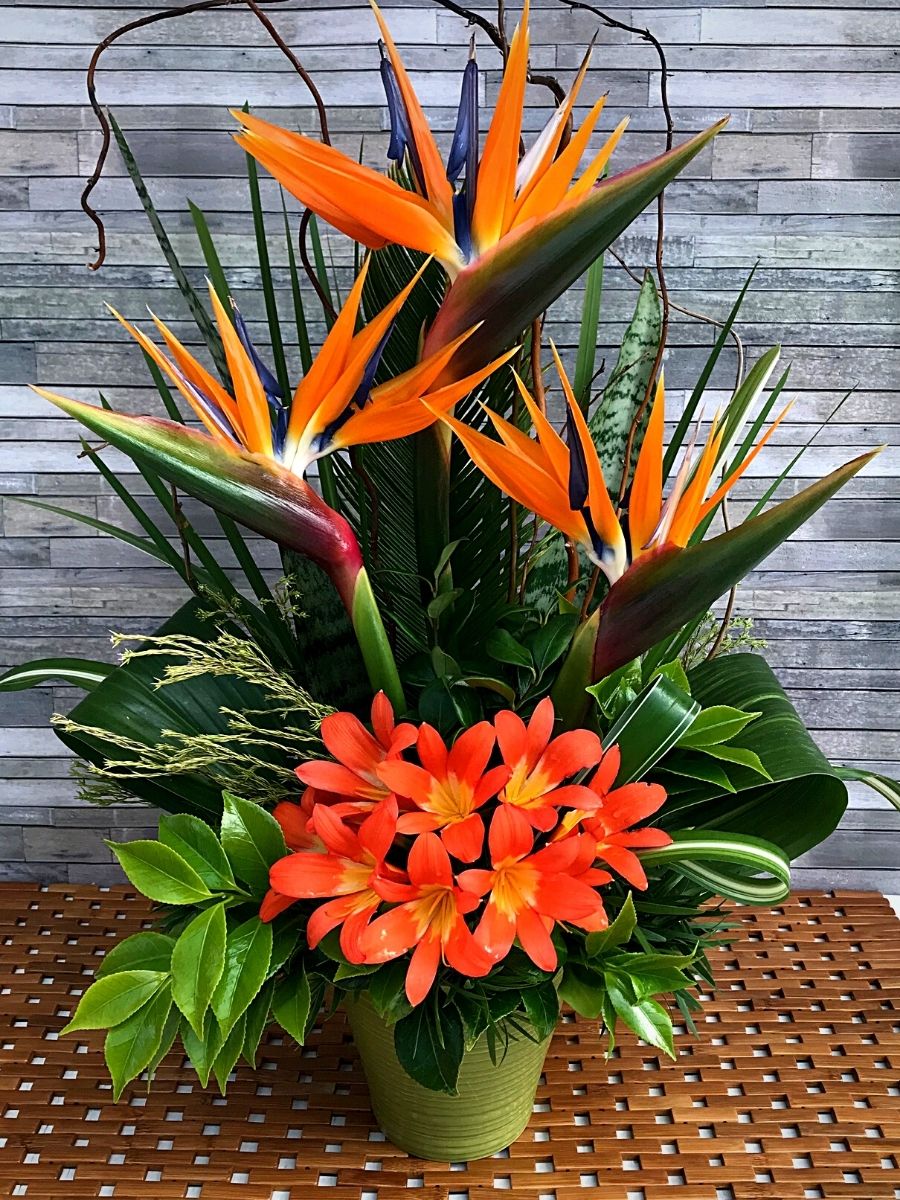 Importantly, the bird of paradise flower carries symbolic meanings including an association with freedom, magnificence, paradise itself, faithfulness, thoughtfulness, love, success, opportunity, uniqueness, identity, glamour, faithfulness, royalty, regality, having a good perspective on life, and optimism toward the future, depending on different contexts. Plus, it is a flower that is representative of the ninth wedding anniversary.
These symbolic implications add profundity and emotional significance to the floral arrangements where this flower is used.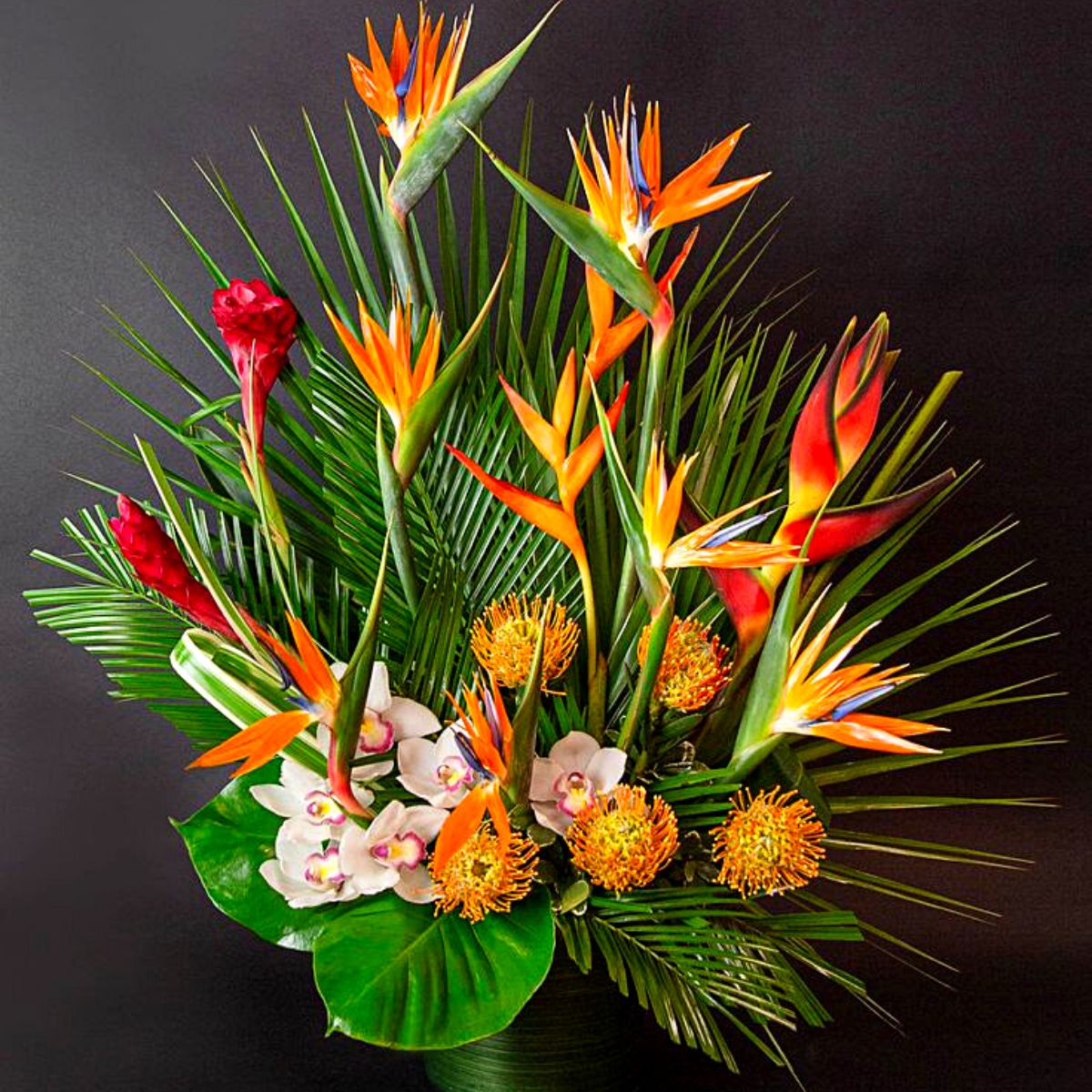 It makes the designs and arrangements ideal for expressing a range of sentiments, and emotions during special occasions and celebratory events such as weddings, birthdays, and anniversaries.
Combining Strelitzias With Other Flowers and Plants
To create captivating floral arrangements that truly speak to the essence of the occasion, it is necessary to select complementary flowers and plants that enhance the bird of paradise's natural beauty and character.
Fundamentally, it is vital to choose complementary plants and flowers that not only enhance the strelitzia's aesthetics but also the overall ambiance and theme of the composition.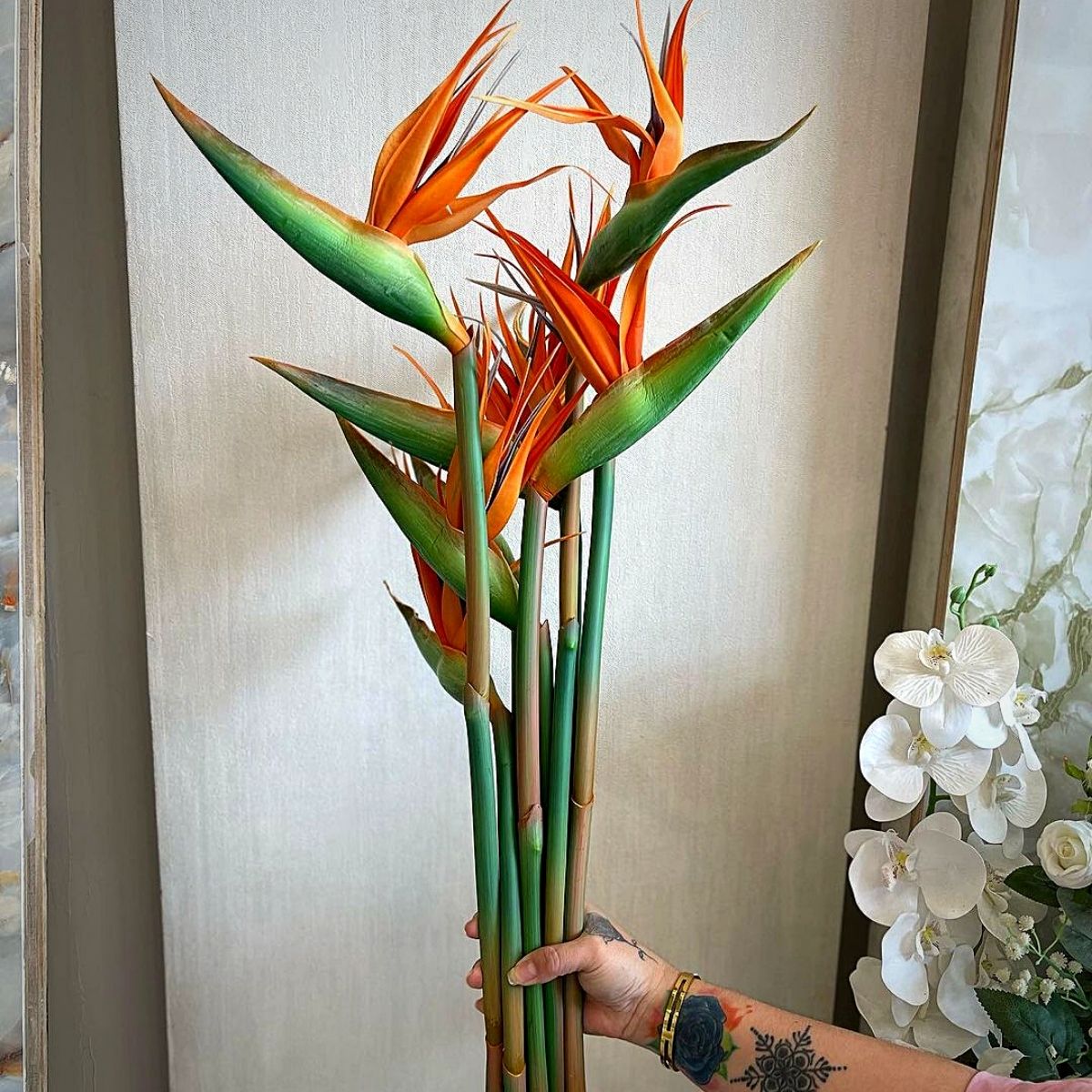 Such flowers should, for instance, be able to exude tropical vibes. Plants like tropical foliage can create a lush, paradisiacal feel. You can, therefore, opt for tropical foliage such as monstera leaves, palm fronds, dracaena and banana leaves, or philodendron leaves. These large, textured leaves add depth, vibrancy, and a sense of the tropics to your arrangement. They also complement the bird of paradise's exotic appearance.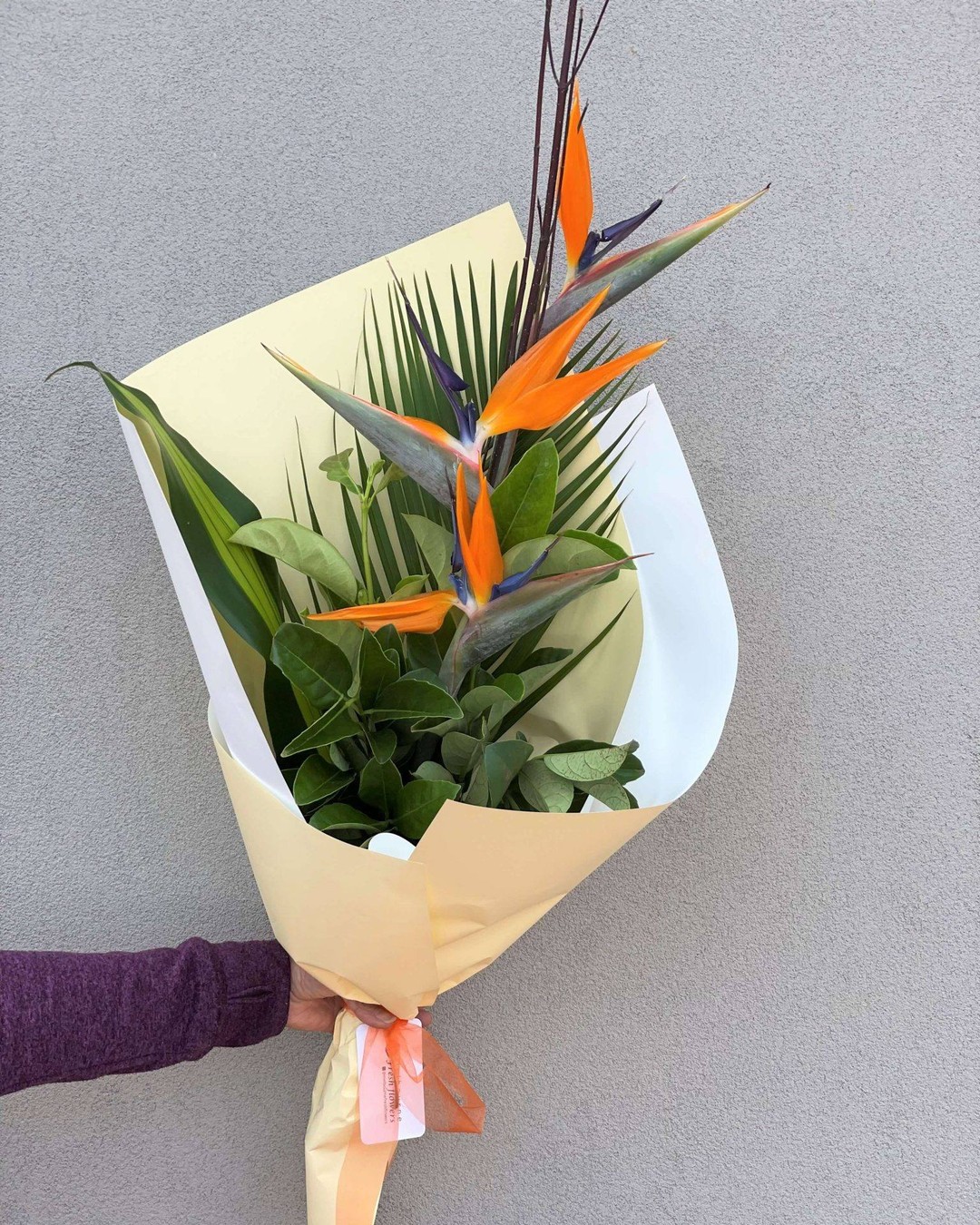 The plants and flowers also need to complement the bird of paradise. They should complete the bird of paradise's vibrant orange and blue hues. Colors like deep greens, purples, and yellows work exceptionally well. The concept of harmonizing colors creates a visually appealing and cohesive arrangement.
One also needs to incorporate plants and flowers with diverse textures to create contrast and interest. For instance, consider using blooms with varied petal shapes, such as roses, lilies, or protea, alongside the sleek, structured bird of paradise. The textural interplay enhances the composition's visual appeal.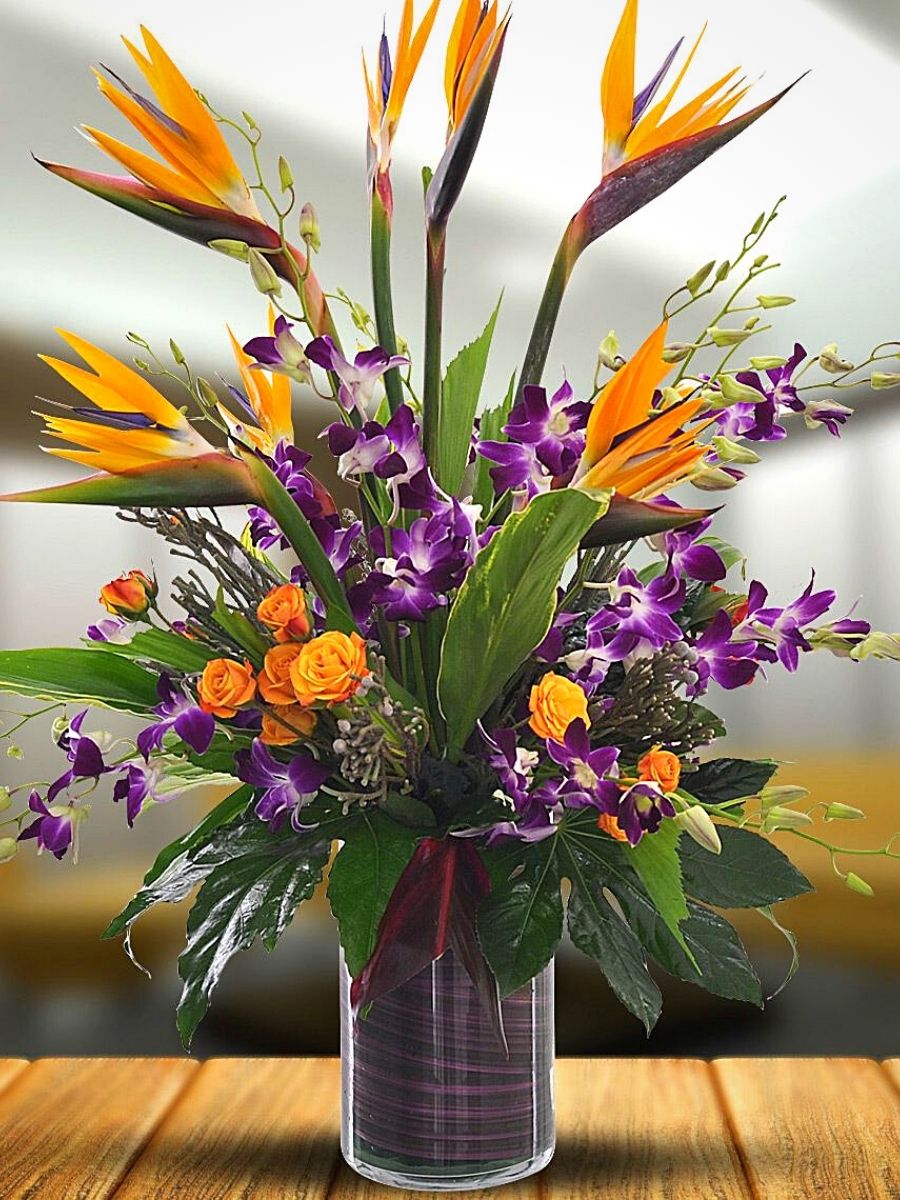 Also, given the height of bird of paradise stems, pairing them with other tall flowers like gladiolus or delphiniums can maintain a balanced, structured appearance in your arrangement. These blooms heighten the vertical presence.
You could also consider incorporating fragrant flowers like scented roses or lilies to enrich your arrangement with a pleasant aroma. The contrast between the fragrance and the bold visual impact of the flower can create a multisensory experience.
Similarly, symbolism and the theme are factors to consider. Orchids, for instance, with their elegant, exotic appearance and long-lasting blooms, make a fabulous pairing with the bird of paradise. They enhance the tropical theme and add sophistication to your composition. For a more eclectic and rustic aesthetic, consider combining the bird of paradise with protea flowers. Proteas, which are also native to South Africa like the strelitzia, and their unique forms and earthy colors create a wild and untamed beauty that complements the exotic appeal.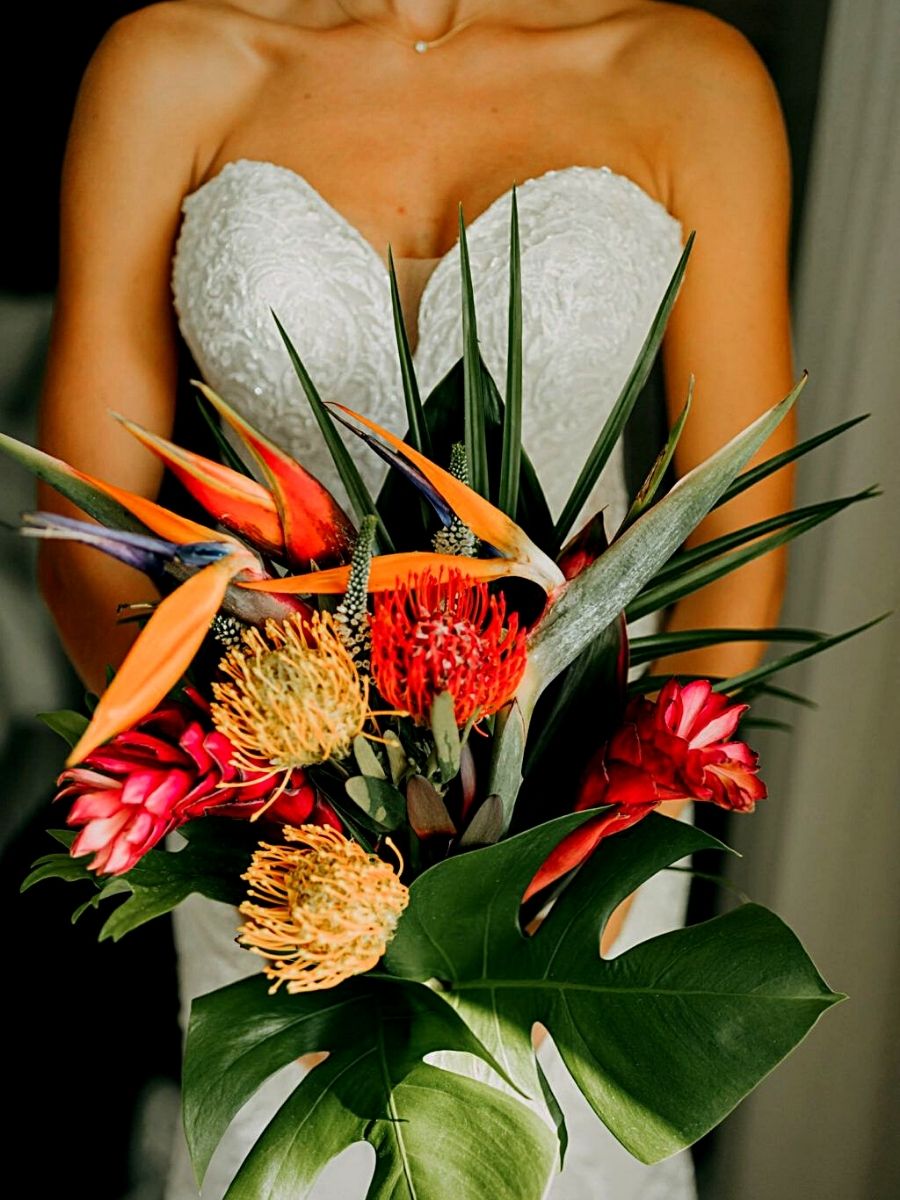 On the other hand, the archetypal beauty of roses can be perfectly juxtaposed with the hutzpah of the bird of paradise flowers in a combination that creates a timeless and urbane arrangement with a blend of classic and contemporary elements.
There is also the element of balance and proportion. Make sure that the selected flowers and plants are proportionate in size to the bird of paradise. A well-balanced arrangement maintains visual harmony and allows each element to shine without being overbearing or overpowering the others.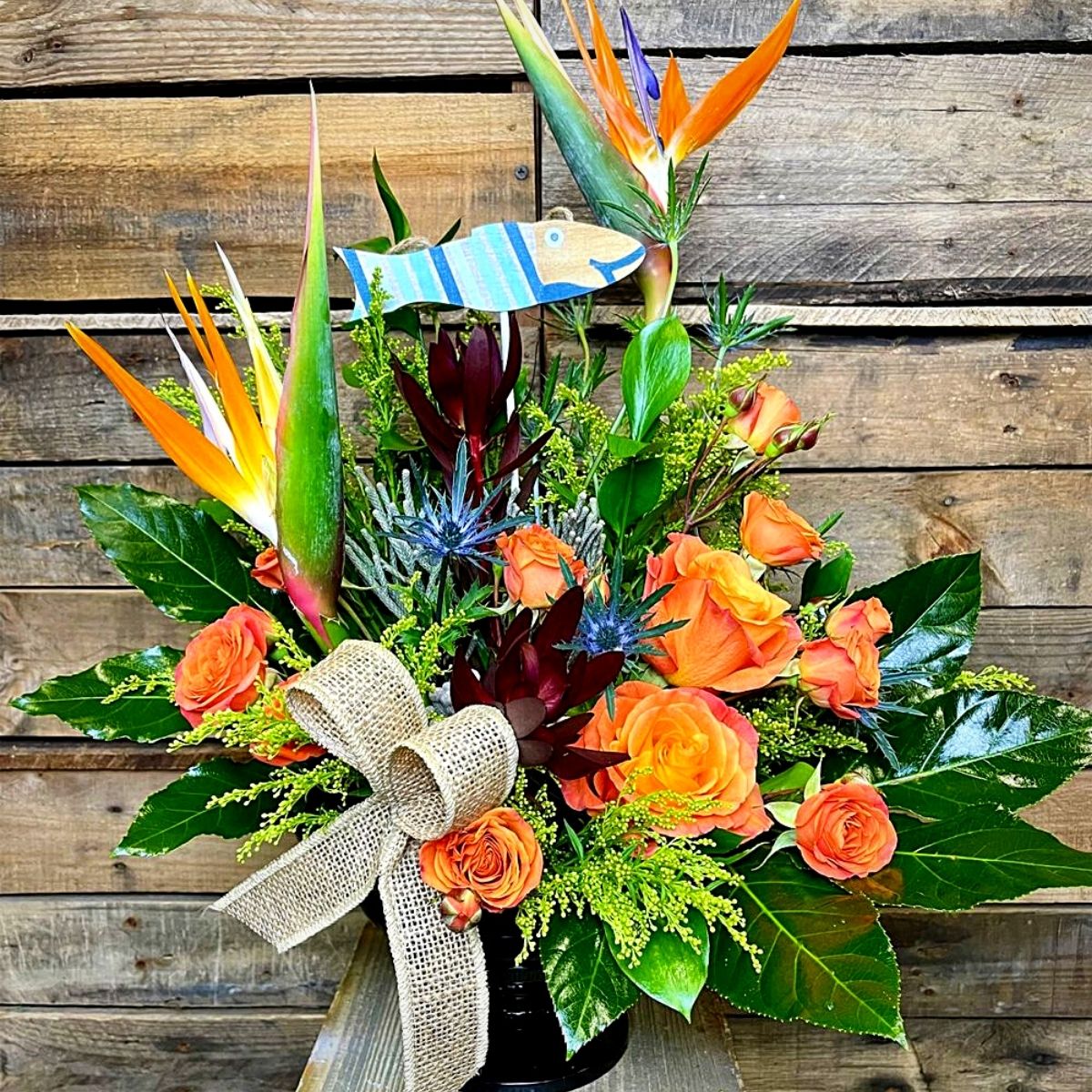 Flowers That Can Be Paired With the Bird of Paradise in Arrangements
The bird of paradise can effectively be paired with different flowers to enhance any floral arrangement where it is used. Some of these flowers are:
Tropical Foliage
Tropical foliage such as monstera leaves, palm fronds, and banana leaves can be used alongside the bird of paradise flowers to create lush, paradisiacal arrangements. These plants have large, textured leaves that not only complement the exotic blooms but also add deepness and vibrancy to the design, hence producing the lush landscapes of the tropics.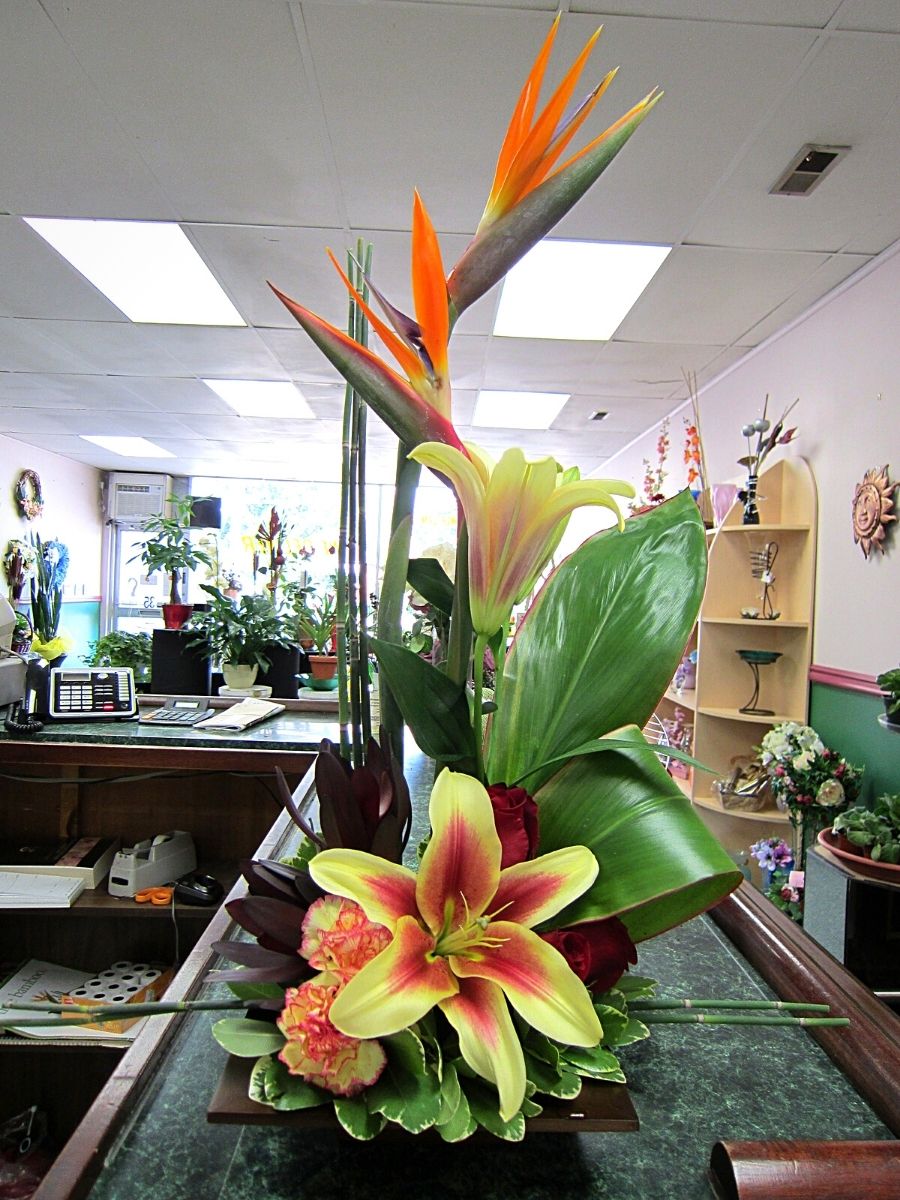 Orchids
With their elegant and exotic appearance, orchids make a splendid pairing partner with the bird of paradise flowers. They have long-lasting blooms and a variety of colors which provide endless possibilities for creating nice-looking bouquets and centerpieces. Together, these flowers can bring out the true exotic feel and a sense of tropical indulgence into any arrangement.
Lilies
Lilies are known for their elegant, trumpet-shaped blooms and captivating fragrance. Pairing the bird of paradise with lilies in a floral arrangement adds a sparkle of classic beauty to the composition. The contrasting shapes and colors of these two flowers create a visually engaging and pleasant balance.
Roses
The characteristic beauty of roses can be perfectly entangled with the audaciousness of the bird of paradise flowers. In such cases, the soft, romantic petals of roses create a delightful contrast with the fiery tropical appeal of the bird of paradise. This blend of both classic and contemporary elements results in a timeless arrangement that projects sophistication.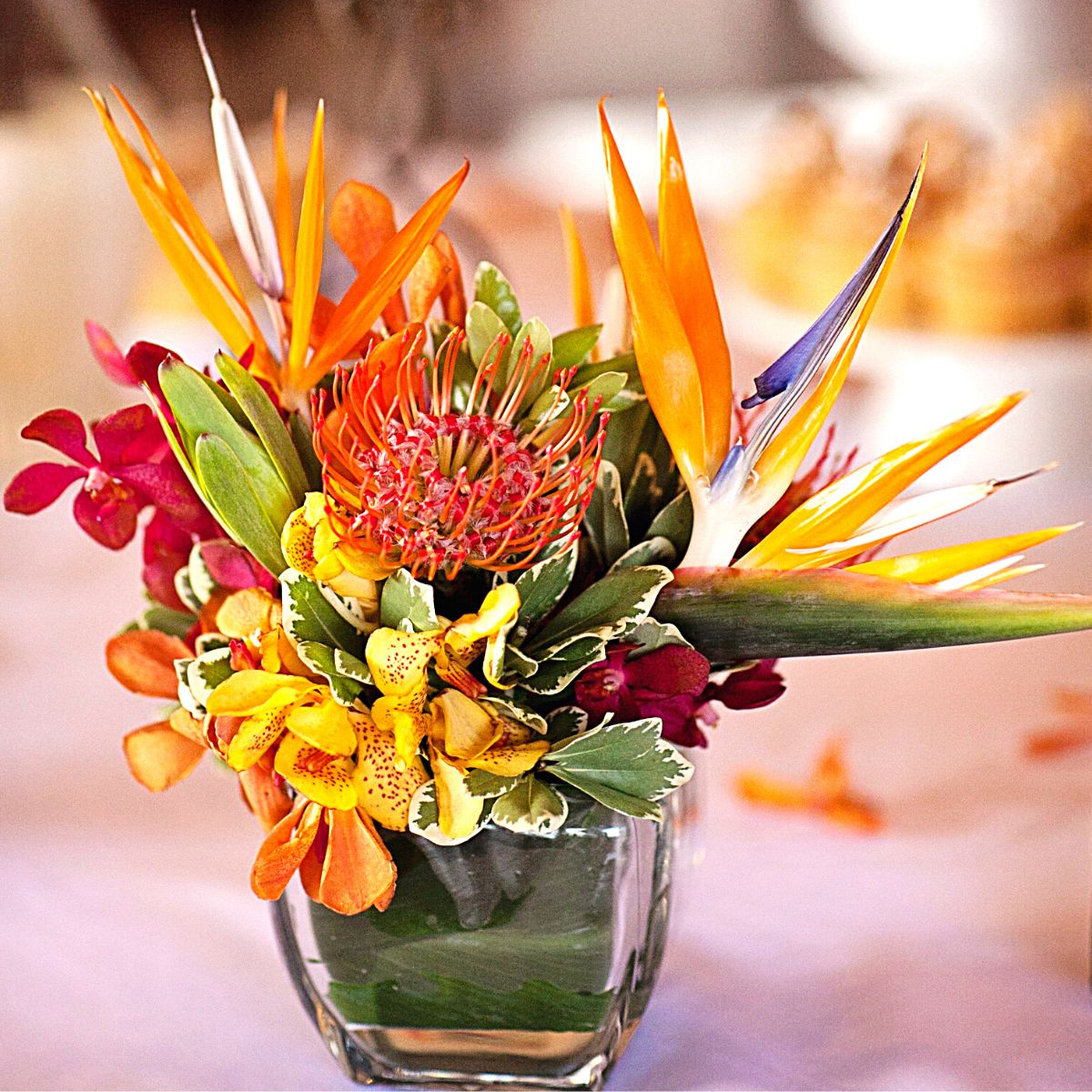 Proteas
For one who seeks a more eclectic and rustic aesthetic, consider combining bird of paradise with protea flowers. Both flowers are native to the same region and their unique forms and earthy colors make them excellent bedfellows in tropical and exotic floral arrangements. This combination radiates a wild and untamed beauty perfect for bohemian-inspired events.
You Can Try These Ideas Out in Your Floral Arrangements
Whichever way you prefer, the bird of paradise is definitely one flower that you can incorporate into your different floral arrangements to enhance the look and feel of any occasion. Just be sure to use the right mix of accompanying plants and flowers, then add to your artistic and innovative mind.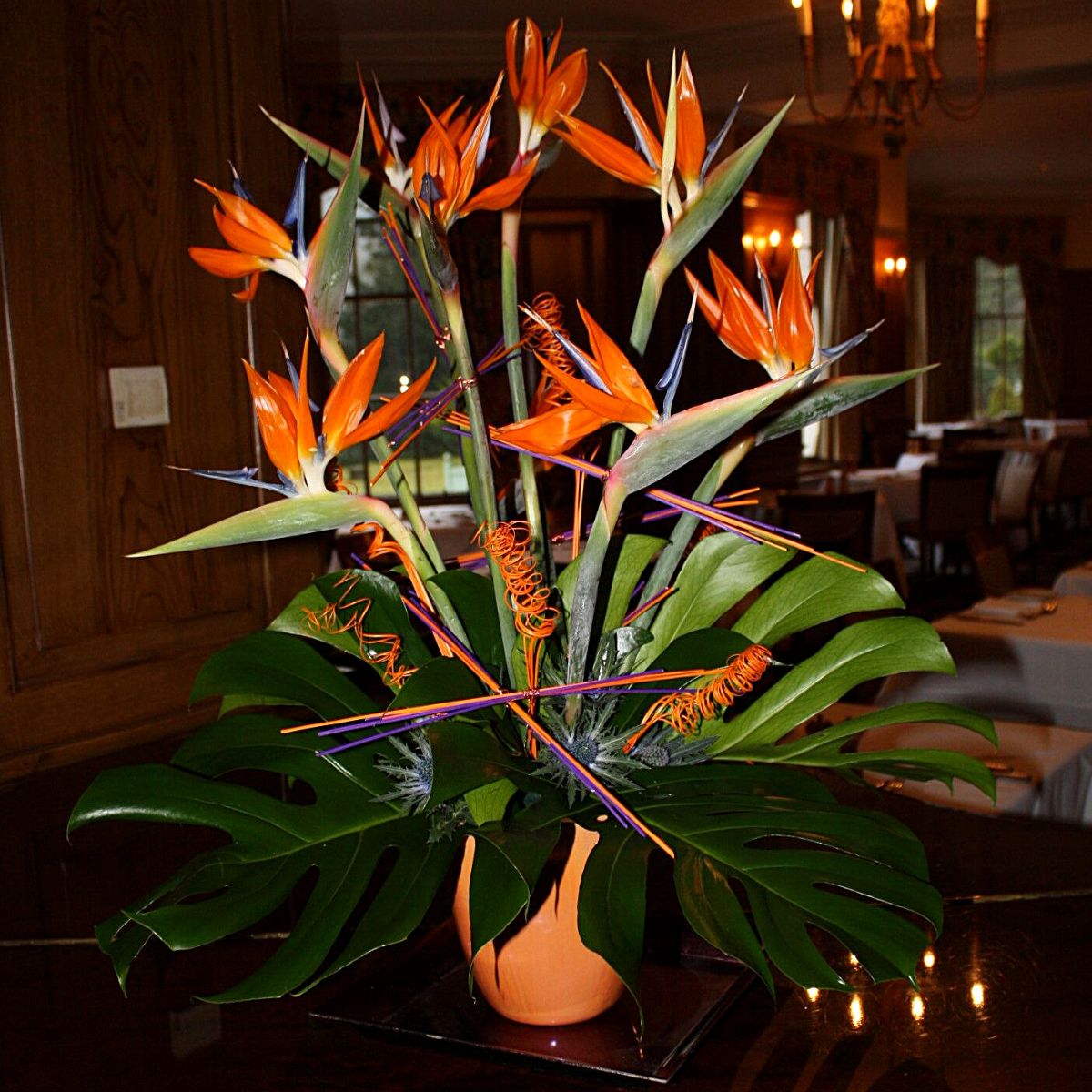 You'll hardly go wrong with this flower. And the end result will definitely be worth your efforts.