In Germany, one of the world's major flower markets, BLOOM's is a household name. When it comes to celebrating nature, creativity, and the world of floral design, few names stand out as prominently as this company. On the one hand, it is a special interest publisher for the green and decorative industry, but it also operates a full-service advertising agency for customers from the green market.
The possibilities as a breeder, grower, or hardware specialist to get your products well-targeted in the spotlight are so diverse that it might make your head spin. Klaus Wagener and his crew of outstanding floral professionals, trendwatchers, media specialists, and marketers offer more than you would dream of. So, let's make an attempt to explain what it is that makes BLOOM's stand out and what might be in it for you as a producer from wherever you are, seeking a market anywhere you want.
What is BLOOM's?
The quick reply to the question "What is BLOOM's?" would be: The cornerstone of what BLOOM's offers is floral inspiration.
At its core, BLOOM's is a brand that intertwines the beauty of nature with human creativity. Originating from Germany, the company's ethos is deeply rooted in presenting the world of plants and flowers in the most exquisite and inspiring manner. But it's not just about showcasing nature; it's about engaging with it, understanding it, and encouraging others to bring it into their lives in artistic and meaningful ways.
Probably most florists in Germany read or know BLOOM's VIEW seasonal magazines and its special editions on, for instance, wedding designs. Many flower-minded consumers read BLOOM's DECO, the first and only lifestyle magazine that is consistently dedicated to an enjoyable life with flowers and plants. There are magazines and books for practically every target group in horticulture, as well as for avid gardeners and home decorators.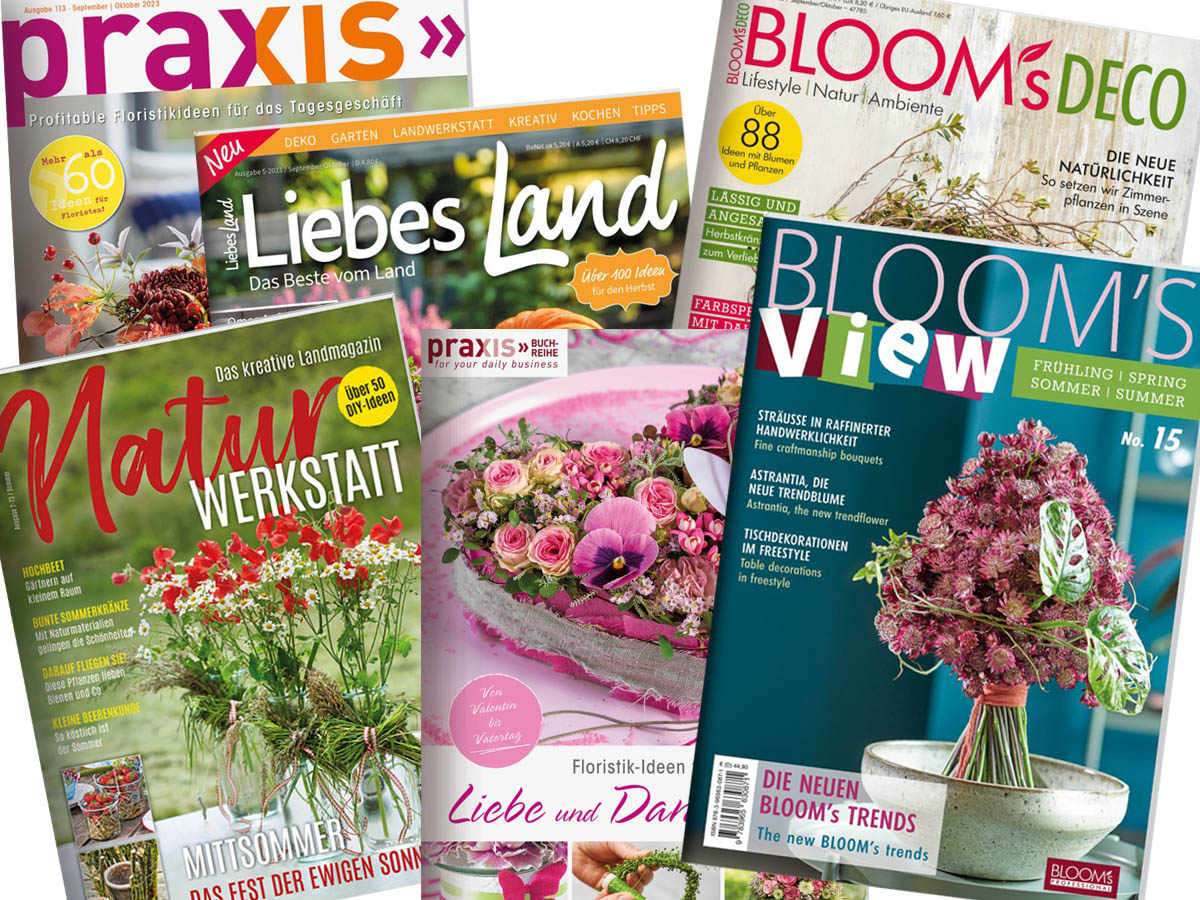 However, BLOOM's is not merely a magazine publisher; it's a multi-faceted platform that caters to various aspects of floral design, nature, and creativity. Next to a wide selection of well-read and, in Germany, widely spread glossy magazines and books, florists and consumers can engage in tutorials and workshops, enlarging their knowledge, updating their skills, and sparking inspiration.
They host and participate in numerous events, workshops, and trade fairs. These events offer a tangible experience, allowing enthusiasts and professionals to immerse themselves in the world of floral design, network with others, and learn from experts.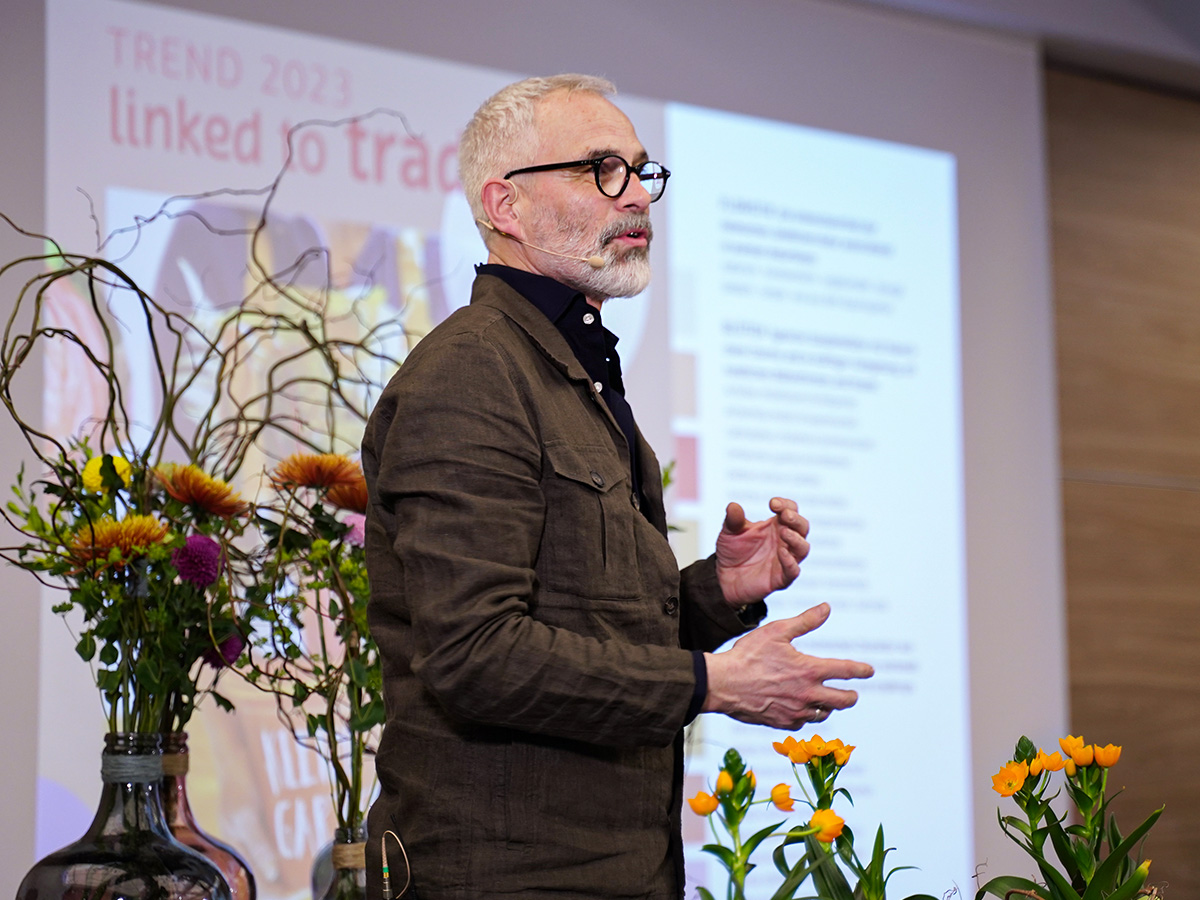 How Does BLOOM's Work?
How do they do that? Actually, that is not so difficult to explain either. They provide in many different ways content tailored to various audiences. If you zoom in here, you will see that it starts with a simple understanding: You have beautiful products that you want to show to the Geman flower markets in their best fashion. People who see this, like florists or consumers, must get that feeling of "I like this, I want this." You understand that simply showing the product, perhaps in a nice pot or vase somewhere on a table, is not sufficient. You want your product to appeal to your target audience, the decision-makers in the industry, and the end users.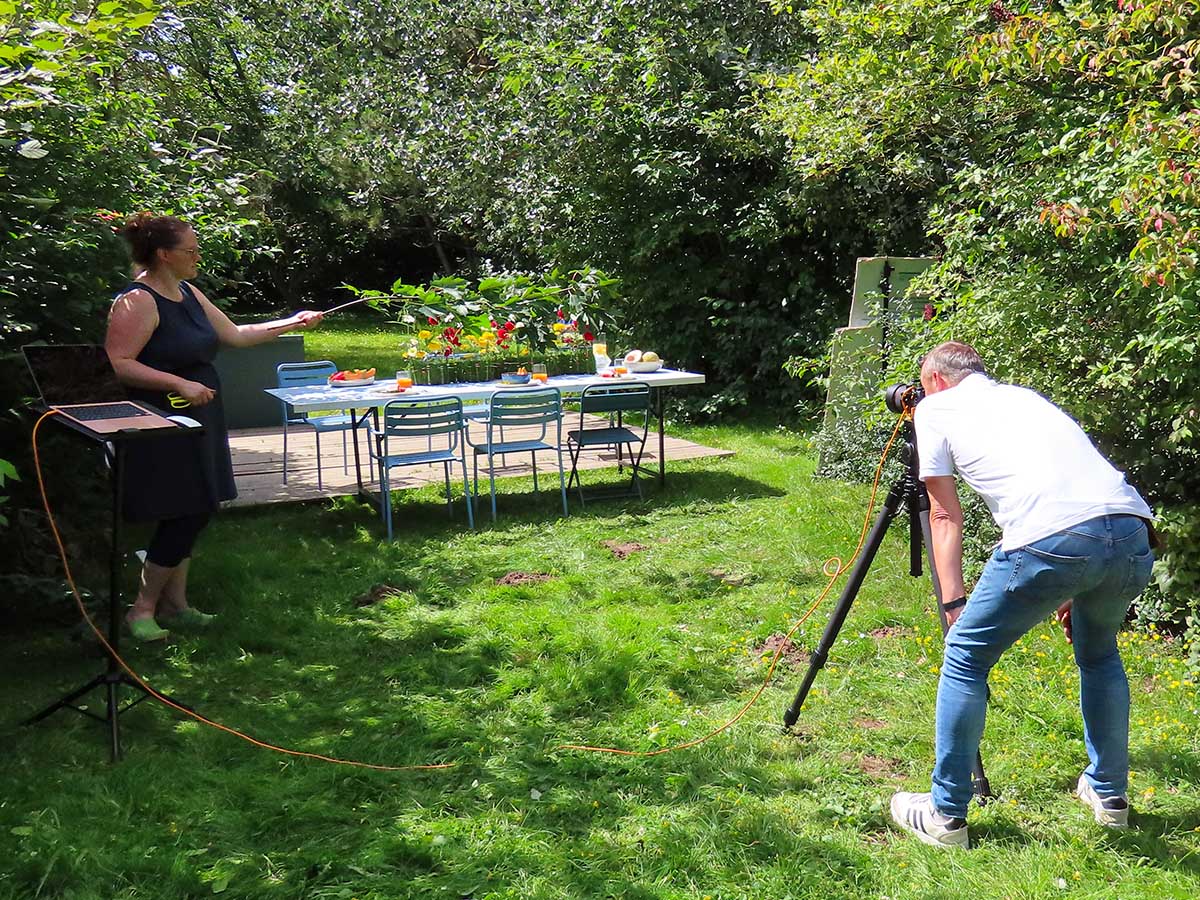 In order to get your product through the whole floral chain in Germany you must reach also the buyers at the end of this chain to create demand. These florists and consumers at the end of the chain have other reasons to buy your products than the grower or wholesaler with whom you are in direct contact. So how to get the balance right using the strategy of offering your products and creating a demand? Here is where BLOOM's comes in because they understand the full chain of the German flower industry, as well as the decision-makers at the end.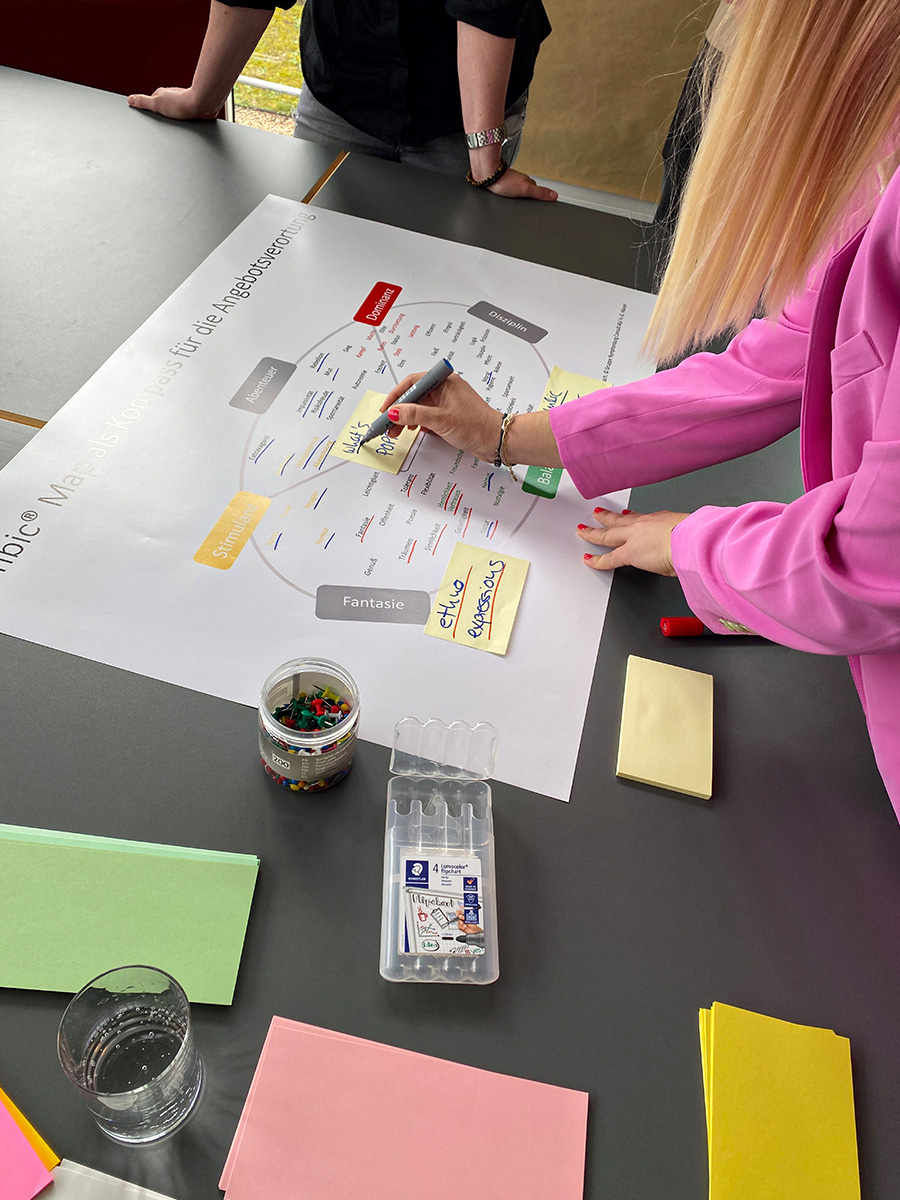 Linking to Trends
BLOOM's has already started helping you long before you ask them. They are constantly watching and collecting trends, showing these, and giving advice to their audience in their magazines, books, exhibitions, and during workshops and floral demonstrations. They are able to link flowers and plants to the latest floristry techniques, home deco fashion, and seasonal styles.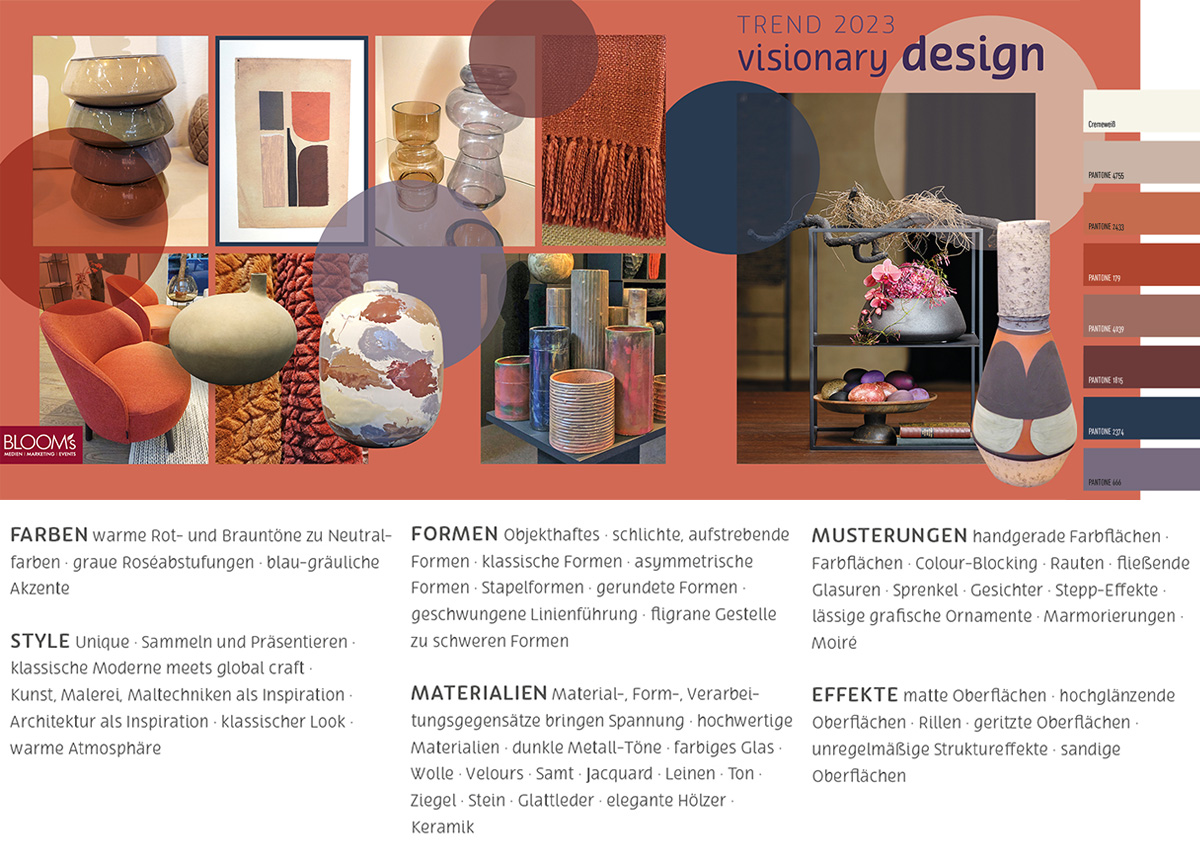 Klaus Wagener:
"Knowing the latest trends means looking around you a lot. Looking in shops, restaurants, and hotels in big cities like London or Paris to see what the fashion industry is doing, and what home decoration companies are doing. Looking around at all kinds of exhibitions, also outside the floral industry. What are the colors, materials, styles, and combinations? Understanding this is knowing how to translate this into trend and lifestyle descriptions for florists and consumers."
One Example - Showcase With Chrysanthemums
To understand the possibilities that BLOOM's offers, it is best to demonstrate this in one showcase with chrysanthemums. Take a peek into their kitchen to get a global idea of their role and what could be the outcome for you.
Chrysanthemums are one of the most sold cut flowers in the world, also in Germany. This is not only because they are beautiful, strong, and versatile flowers, but also because they are constantly brought to the attention of traders, florists, and consumers. There is a strategy behind all this in which BLOOM's plays a crucial part in the German market. Take this example of a wintery campaign.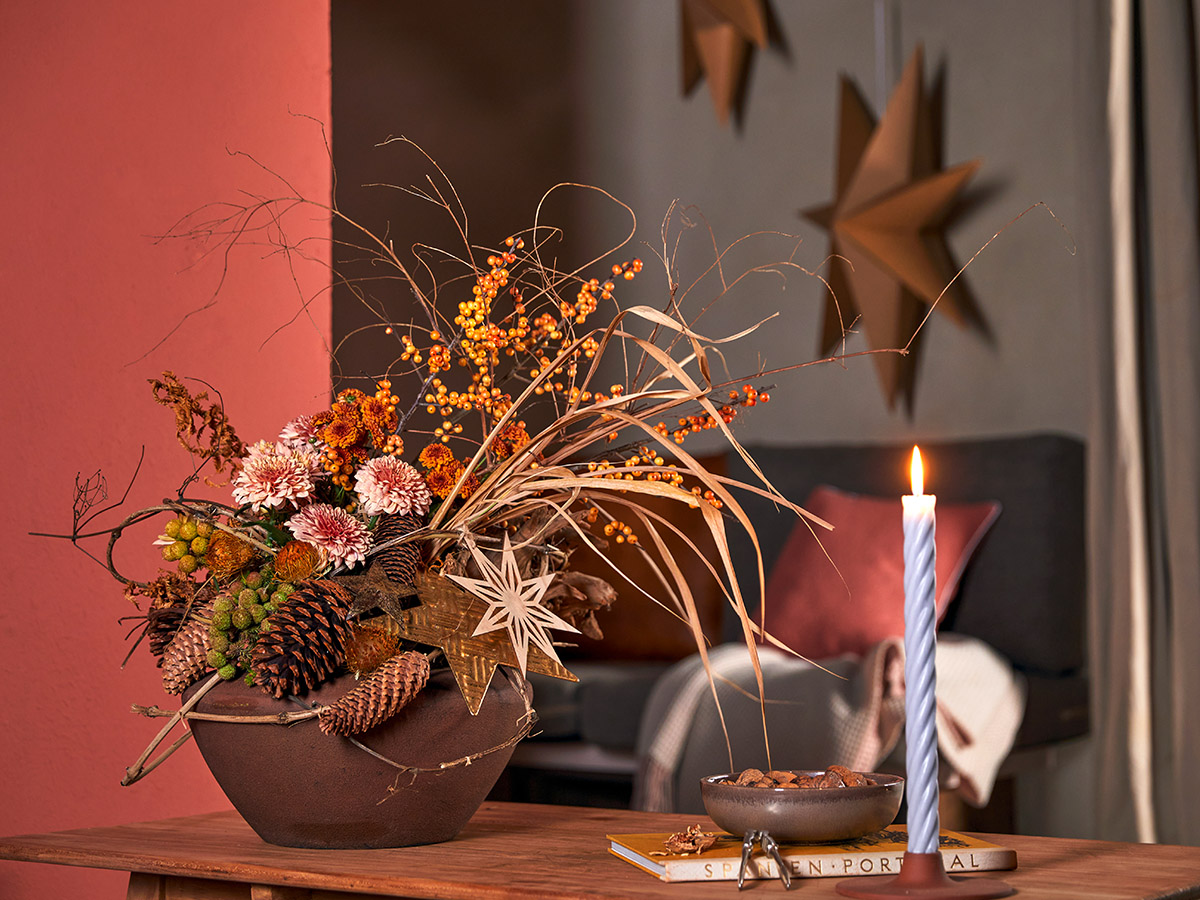 Just Chrys Project 'Winter Chrysanthemum'
The Project 'Winter Chrysanthemum' started with the Chryson Foundation, a collaboration of 5 Dutch chrysant breeders and around 150 growers, altogether responsible for 1.25 billion stems annually. This foundation promotes the chrysant in campaigns named 'Just Chrysanthemum', abbreviated as 'Just Chrys' on targeted markets, of which Germany is a big one.
Horticultural marketing agency Concept Factory has been managing and activating the Just Chrys campaigns for several years now, always looking for innovative ways to promote this product, and linking it to the current trends. For the German market Concept Factory teamed up with BLOOM's.
BLOOM's assignment is to produce an outcome that puts the chrysant in the spotlight in a trendy wintery décor. Before this is finished, several steps need to be taken:
The planning is made in order to start and finish the project in time for publication.
The outlines of the project are determined: which flowers, which (seasonal) mood, which basic color setting, which basic materials would fit, which kind of content (photo/video/text) as outcome, how much content
A 'moodboard' is made that visualizes the outlines of the project and serves as a guideline for the production phase.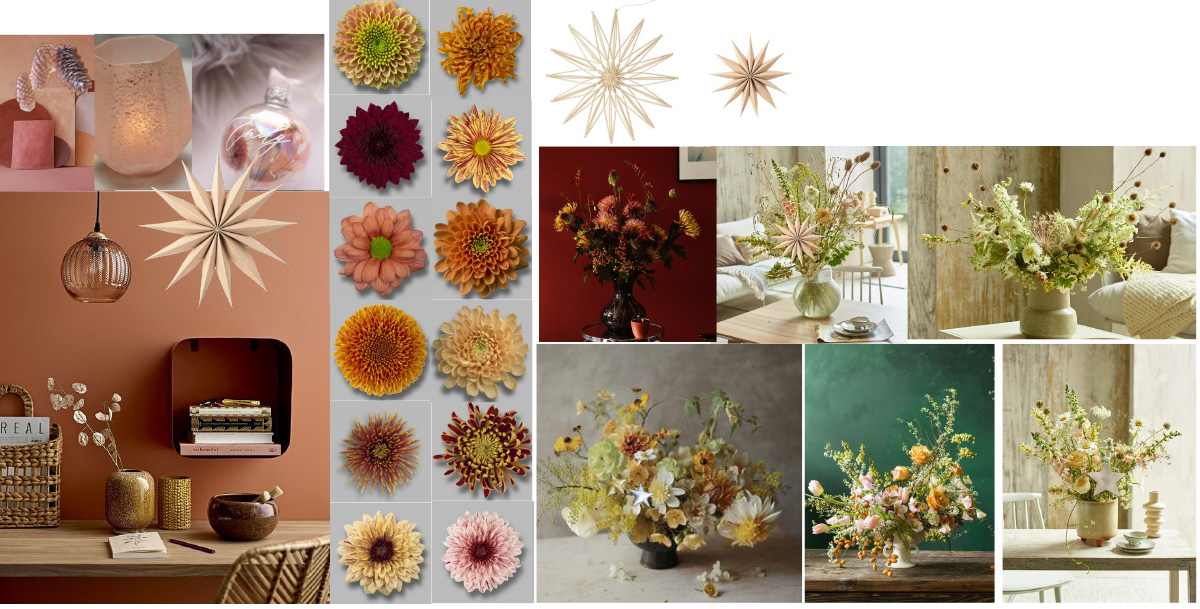 Assigning the production team, which can consist of floral designers, photographers,
Collecting all necessary items, including the chrysanthemums, in optimal condition.
Preparing the designated location that has been picked for the photo or video shoot.
So, the stage is to be set. BLOOM's has several studios inside its premises in the German town of Minden. Because of the closeby rural environment also outdoor shoots are an option. With an impressive stock of stage materials and props an empty studio can be turned in no time into a living room, a kitchen, a garden, an office, ... (you name it).
After the shoot, the raw footage is examined, categorized, and saved. Every image gets a number of tags that describe what is in the picture. This way, no information gets lost on flower varieties used in the shoot. Together with the contractors from Concept Factory, a selection is made for publication in the upcoming autumn & winter edition of BLOOM's VIEW magazine.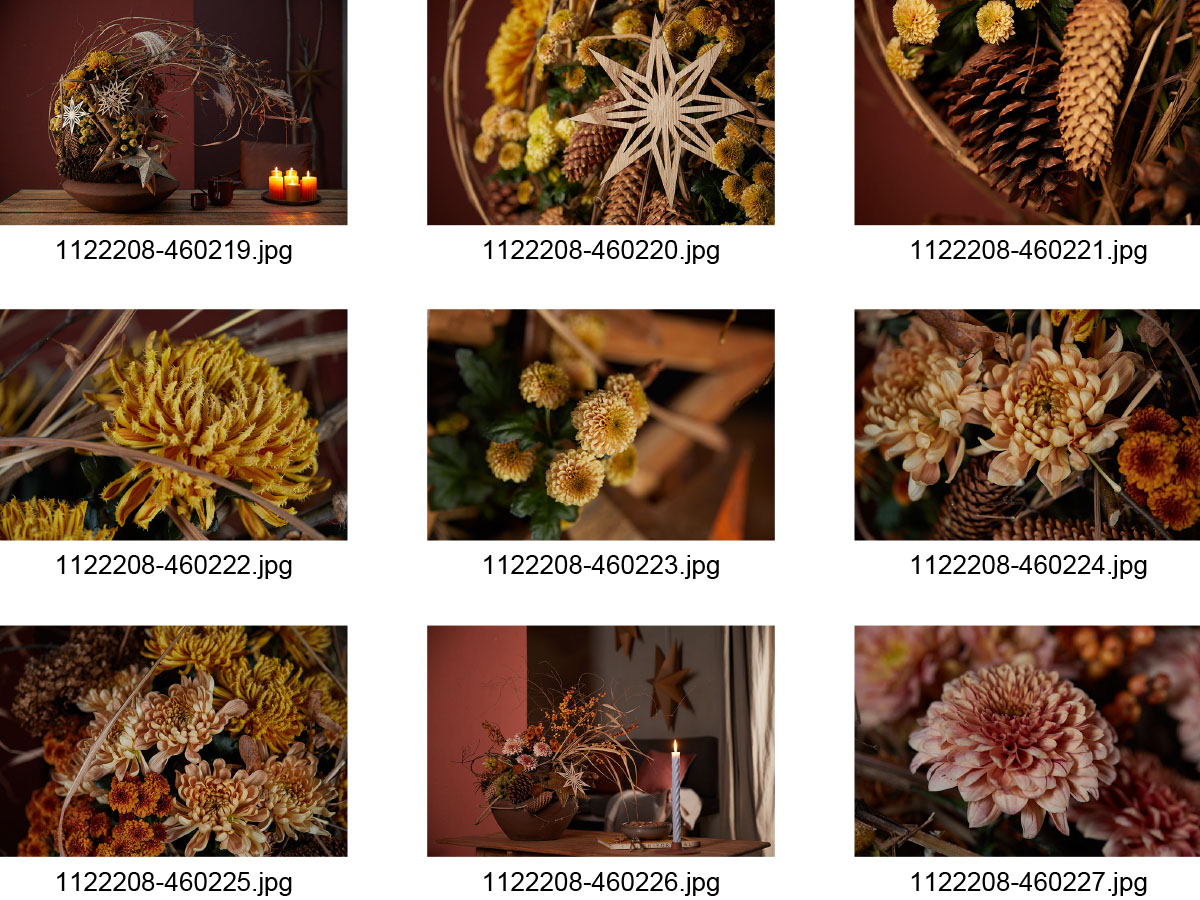 The accompanying text for the 'Winter Chrysanthemum' article is made matching the input of Concept Factory and Just Chrys with the attributes used and the information about the current winter trends. This whole picture is complete when the article is published and florists can see how trendy chrysanthemums are this winter season.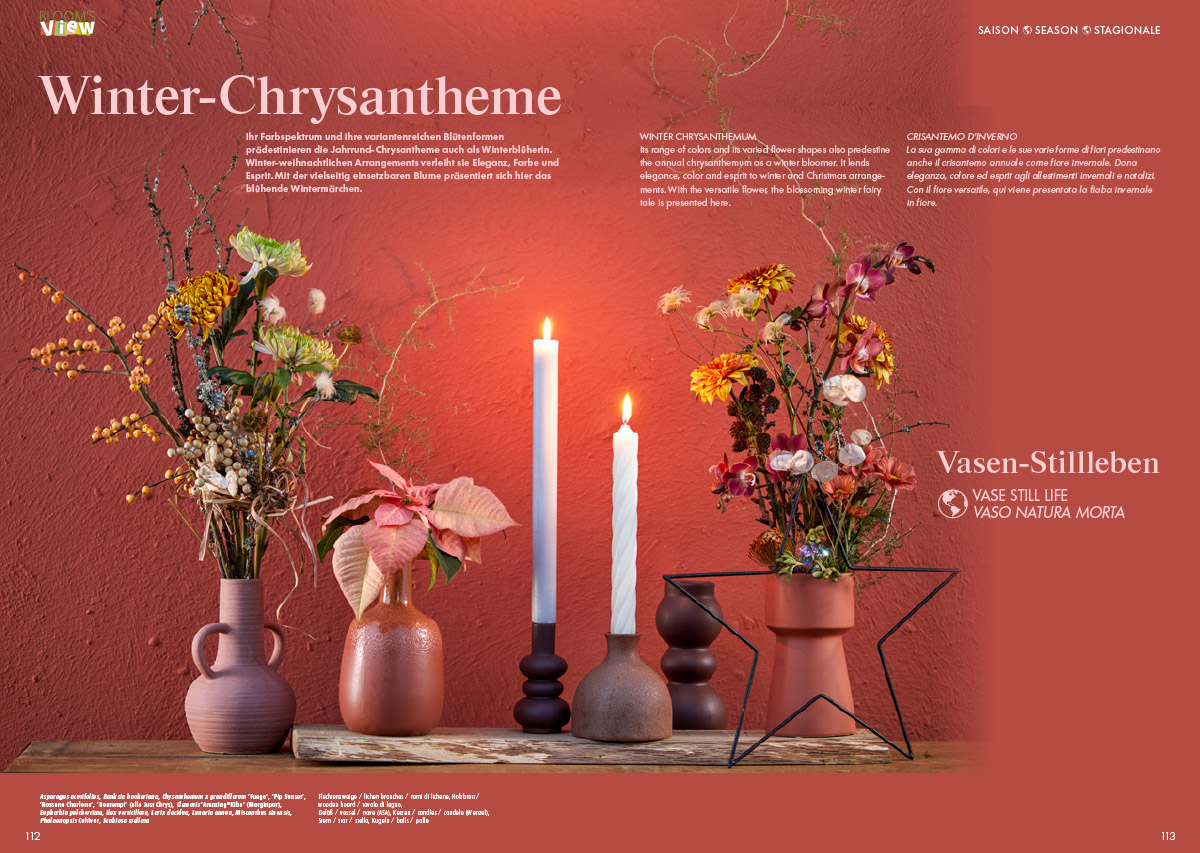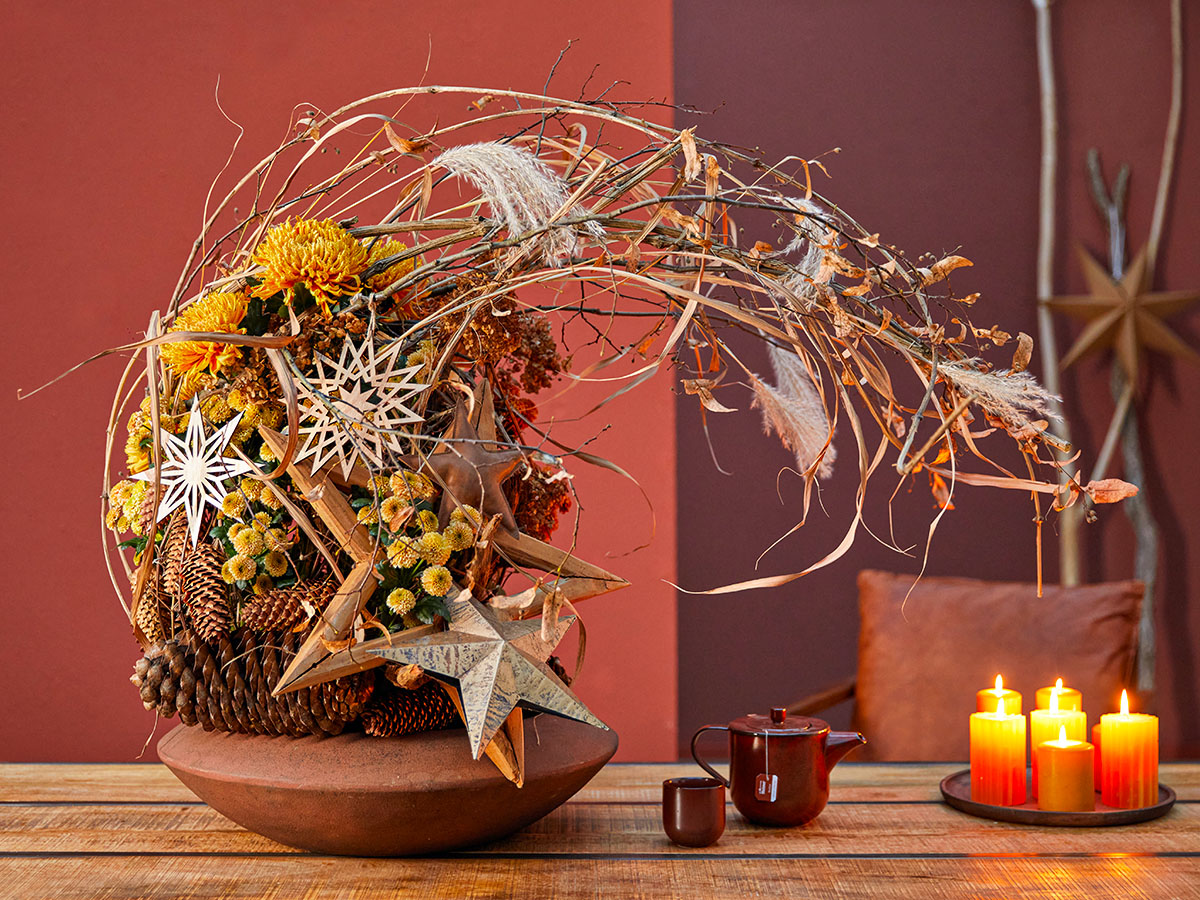 Why Would You Use BLOOM's Services?
BLOOM's is a movement that celebrates the beauty of nature and the art of floral design for the German markets. It's a wide array of communication options to reach floral professionals and consumers, from florists to consumers, hobbyists, and brides-to-be. All people seeking that spark of inspiration and innovation. Looking out perhaps for those wonderful flowers, plants, or accessories you are producing.
Would you be able to do all the promotion of your flower or plant varieties yourself? Or do you think an agency that knows how to stage your product in the right trendy setting that an audience immediately relates to and understands, calling them to action, can do this better? In Germany, there is a company with a proven track record, that actively follows, activates, and uses trends to support the promotion of your products.
With a unique interdisciplinary team, they support you from product development to successful product and brand launch and ongoing communicative support. Target group analysis? Trend consulting? Photo or video production? Seminars, workshops, or presentations? Online or offline publishing? These are just some of the services provided.
You are invited to get in touch to learn what BLOOM's can do for you.
Photos courtesy of BLOOM's and Concept Factory.