Kelly Higgs is considered to be one of the most interesting Botanical Artists today, breaking the traditional conventions of Botanical Art with her vibrant colors, contemporary style, and overdose of beauty. Her highly sought-after original works transform the places in which they are displayed, instilling a sense of peace, harmony, joy, and light.
Kelly Higgs Gives Flowers a Detailed Personality Through Her Botanical Art
Higgs has been obsessed with painting flowers since she can remember. She has spent her life researching the original naturalist masters and honing her expertise with watercolors and very fine brushes, which she employs in her work, merging classic design elements in a fresh new approach.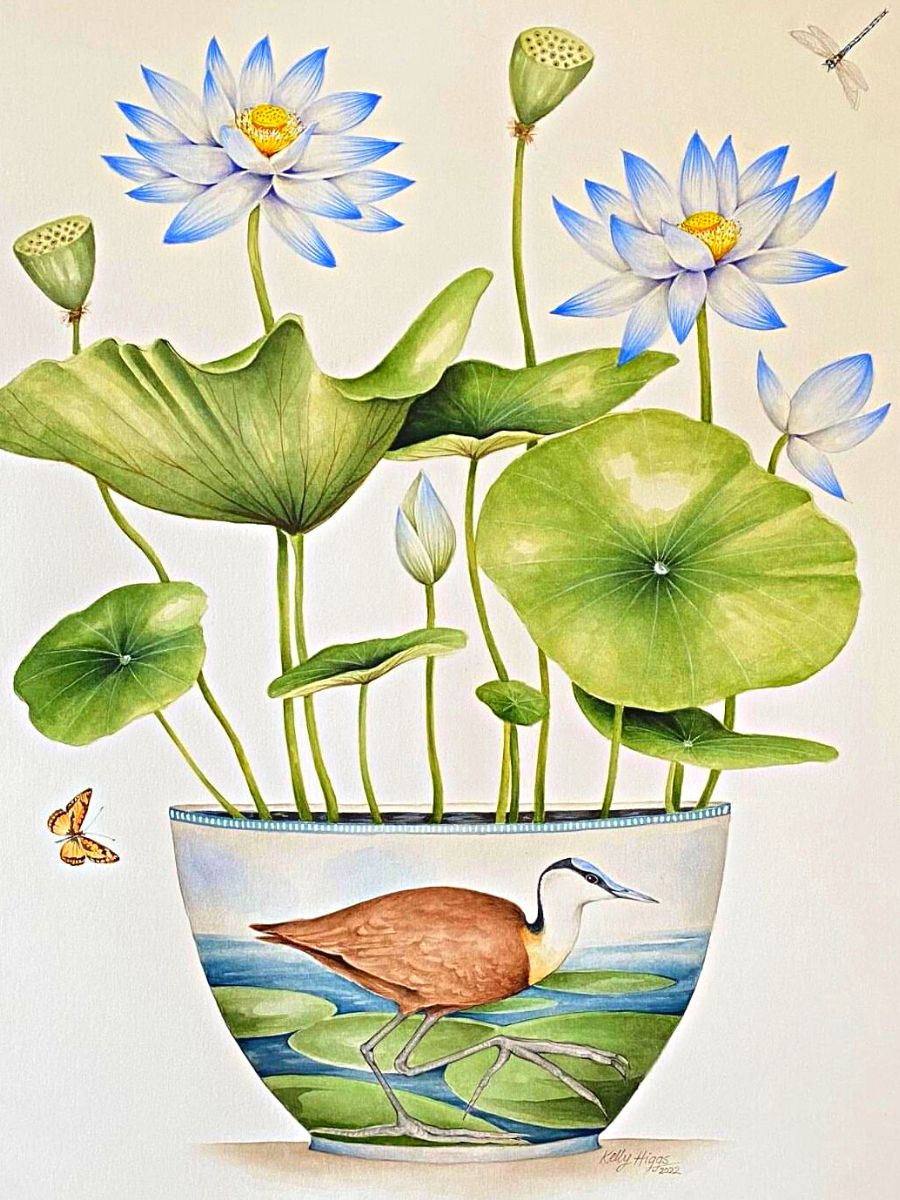 As many contemplate and buy her works of botanical art, many have come to say:
"The more you look at her paintings, the more you will see how beautiful the details are!"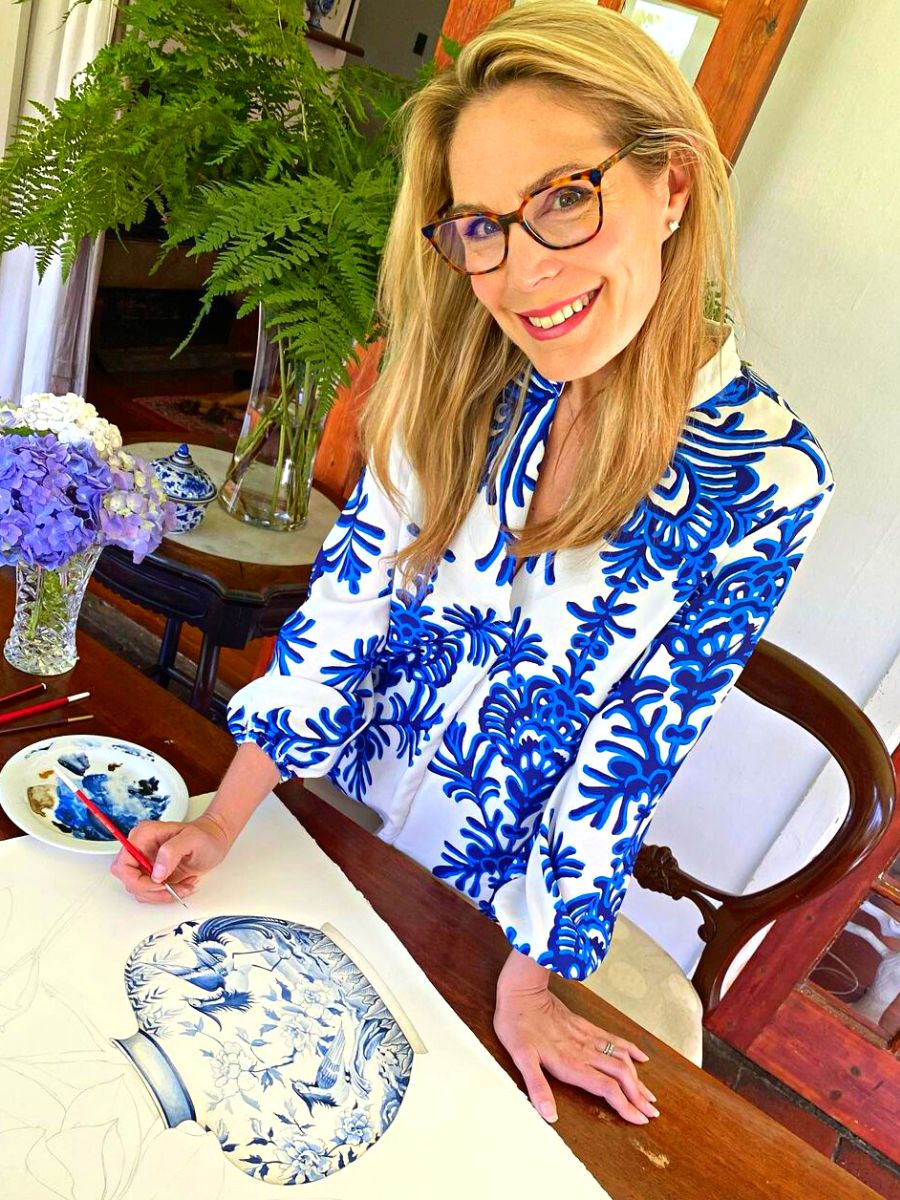 So, when did her botanical art career start and how has she come so far nowadays?
Kelly Higgs Shares When Her Passion for Plants Started and What Sparked It
Having grown and raised on a farm in KwaZulu-Natal, South Africa where there were always beautiful, colorful plants around, the artist remembers how she began painting flowers at a young age and has been fascinated by them her entire life.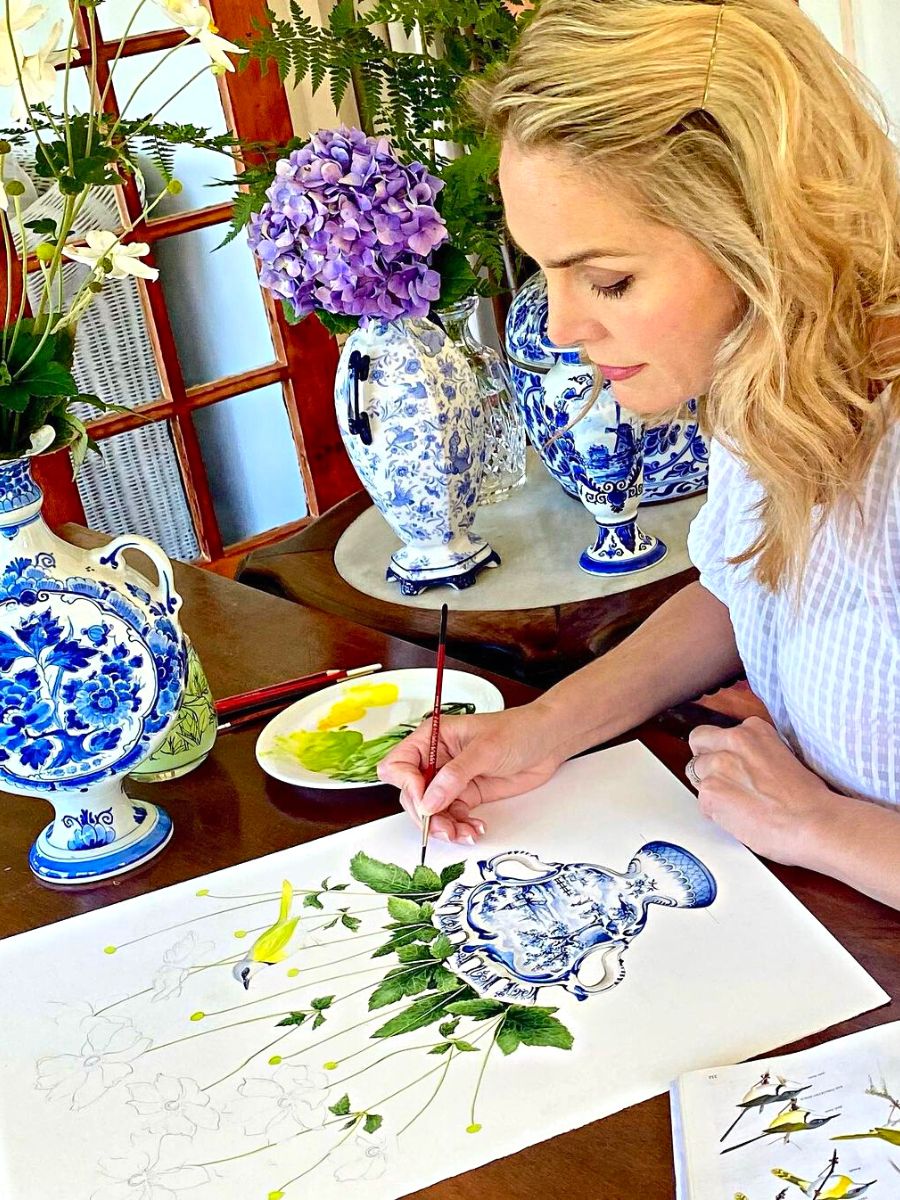 For Kelly Higgs, plants offer pure, natural, and magnificent beauty in her life and she wouldn't have it any other way! She is continuously inspired by the colors and delicate patterns of each flower, the brilliant greens of leaves, and the lovely aroma of plants. The artist shares how plants are essential in her home since they make any area seem alive and aesthetically enhanced simply by being present. Higgs' attention is pulled to the plants in the photos in every interior book or magazine, and flowers are frequently the focal point of beauty.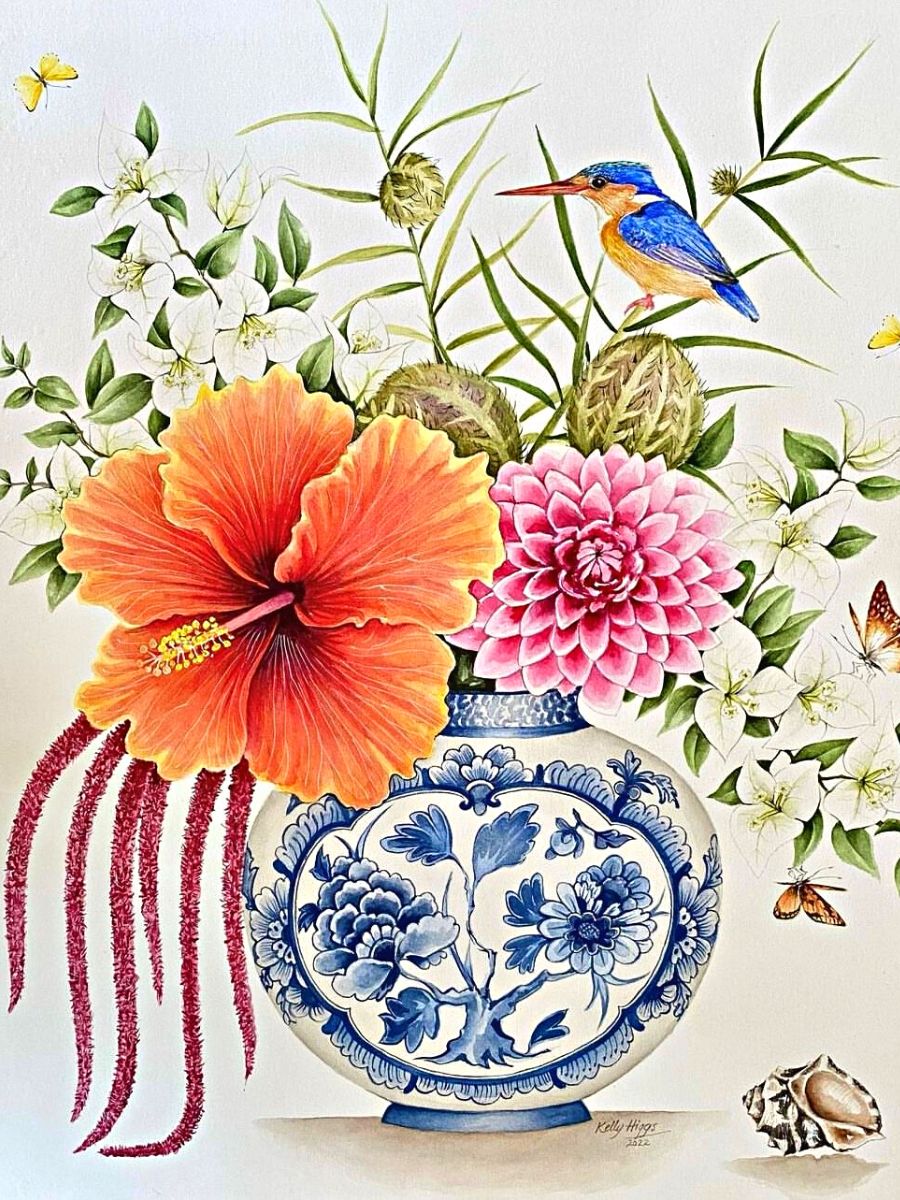 From that point onwards, she just let her hands and creativity flow while allowing herself to fully get involved in the floral art world. She is today one of the most praised botanical artists and for a good reason!
Delphimium Is a Favorite to Paint
If you're not aware yet, the Delphinium is the official July flower and Kelly Higgs is an artist who loves these flowers. Read more about the July flower in the article 'What Is the July Month Birth Flower?'. Going on, yes, Kelly Higgs is a watercolor botanical artist who has been deeply interested in flowers, Chinoiserie (a decorative style in Western art, furniture, and architecture, especially in the 18th century, characterized by the use of Chinese motifs and techniques), and interiors her entire life. The delphinium is one of this South African-based botanical artist's favorite flowers.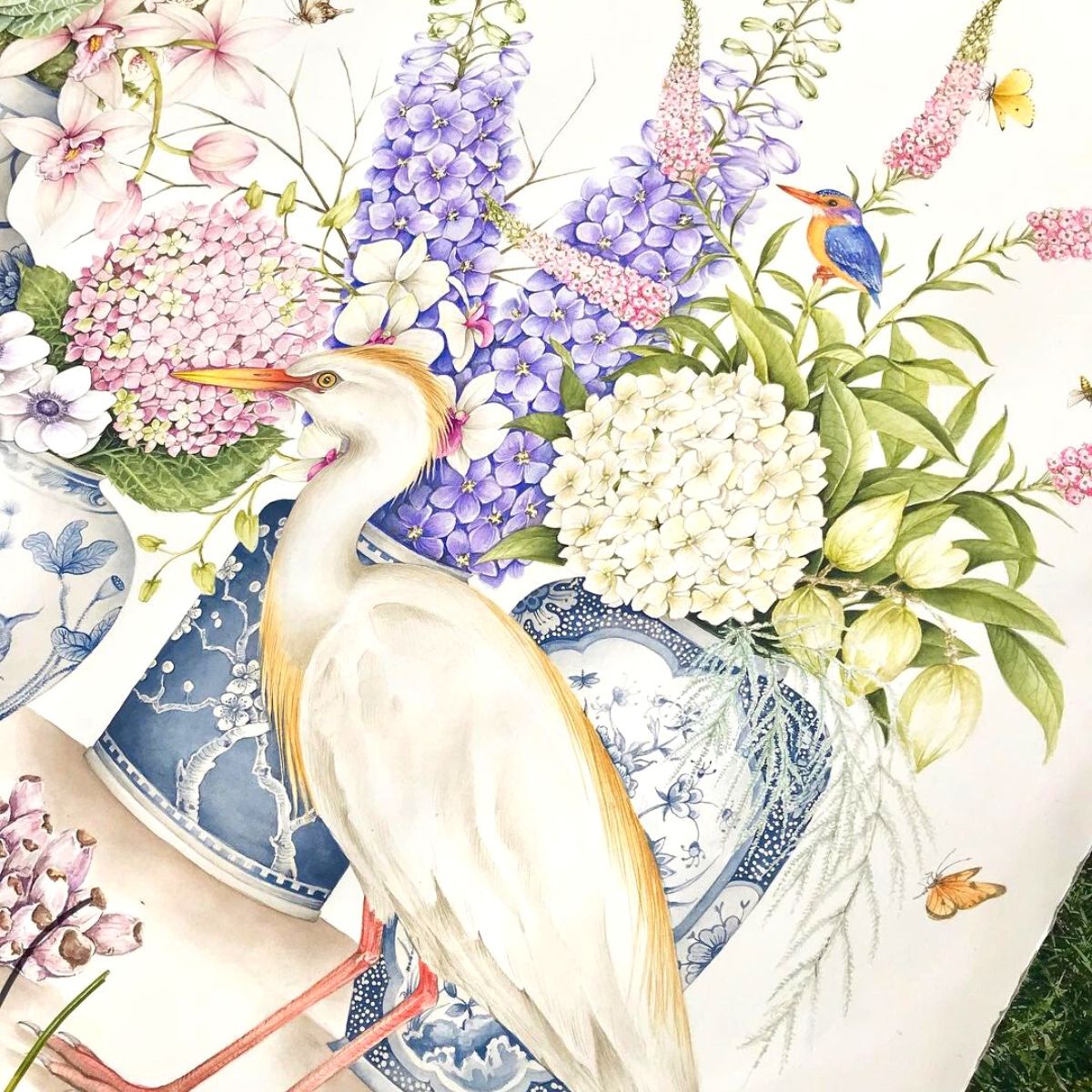 The artist expresses:

"The flimsy, delicate, layered petals and the soft periwinkle blue make my heart sing with happiness. I particularly adore delphiniums in a blue and white chinoiserie pot, the combination just works perfectly."
As far as her most popular flowers that pop up in her work, they include orchids, peonies which are her absolute favorites as well.
Kelly Higgs' Bio
Kelly grew up on a South African sugar cane farm in Zululand, part of a beloved, extended family in a close-knit, small community. Her grandmother had a Portmeirion tea-set, and blue and white Willow pattern plates, with which she was always completely and utterly in love. Her passion for beautiful floral design and Chinoiserie is a deep-seated part of her makeup.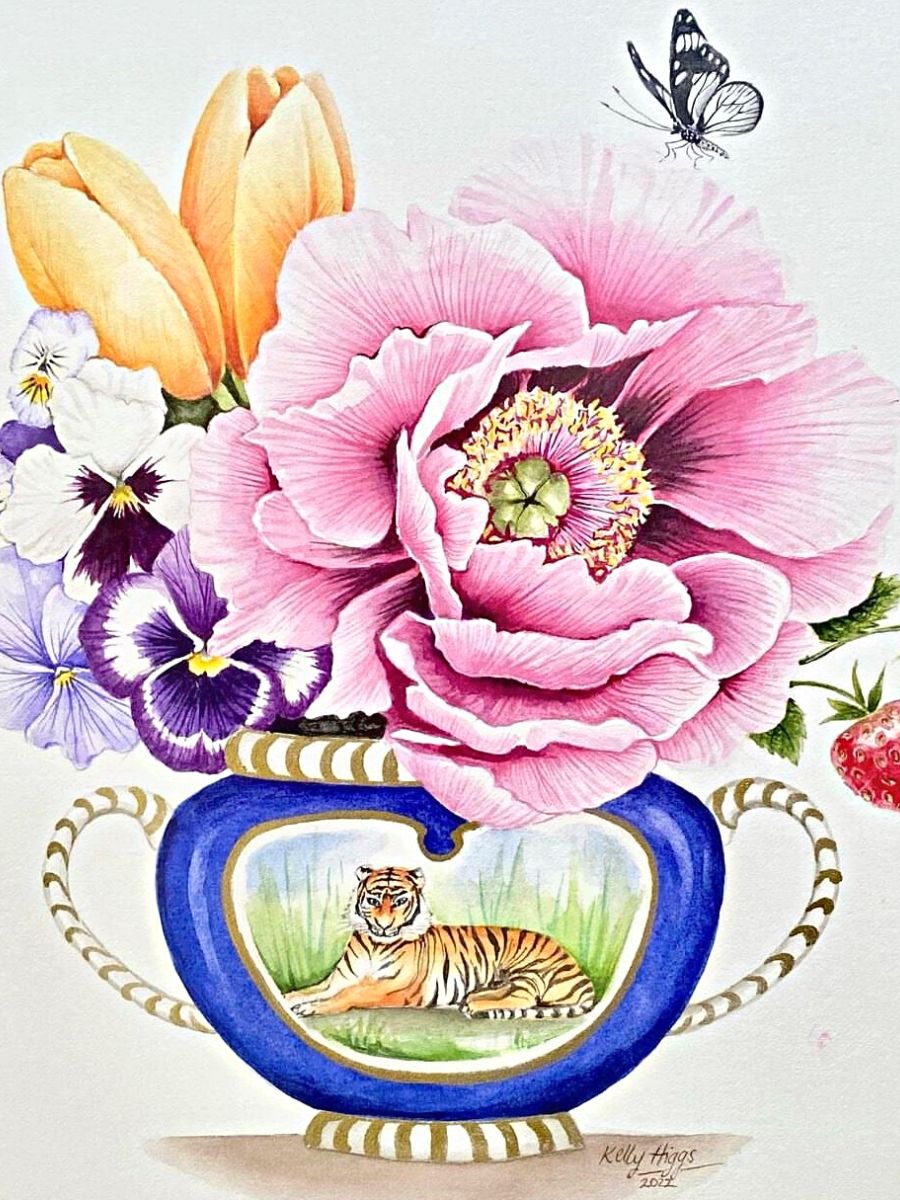 Being among flowers, in a garden or florist shop, fills her heart with joy. She joyfully admits that flowers are her greatest passion and has been obsessed with painting them since she can consciously remember. Kelly Higgs has spent her life researching the original naturalist masters, and honing her skill with watercolors and very fine brushes.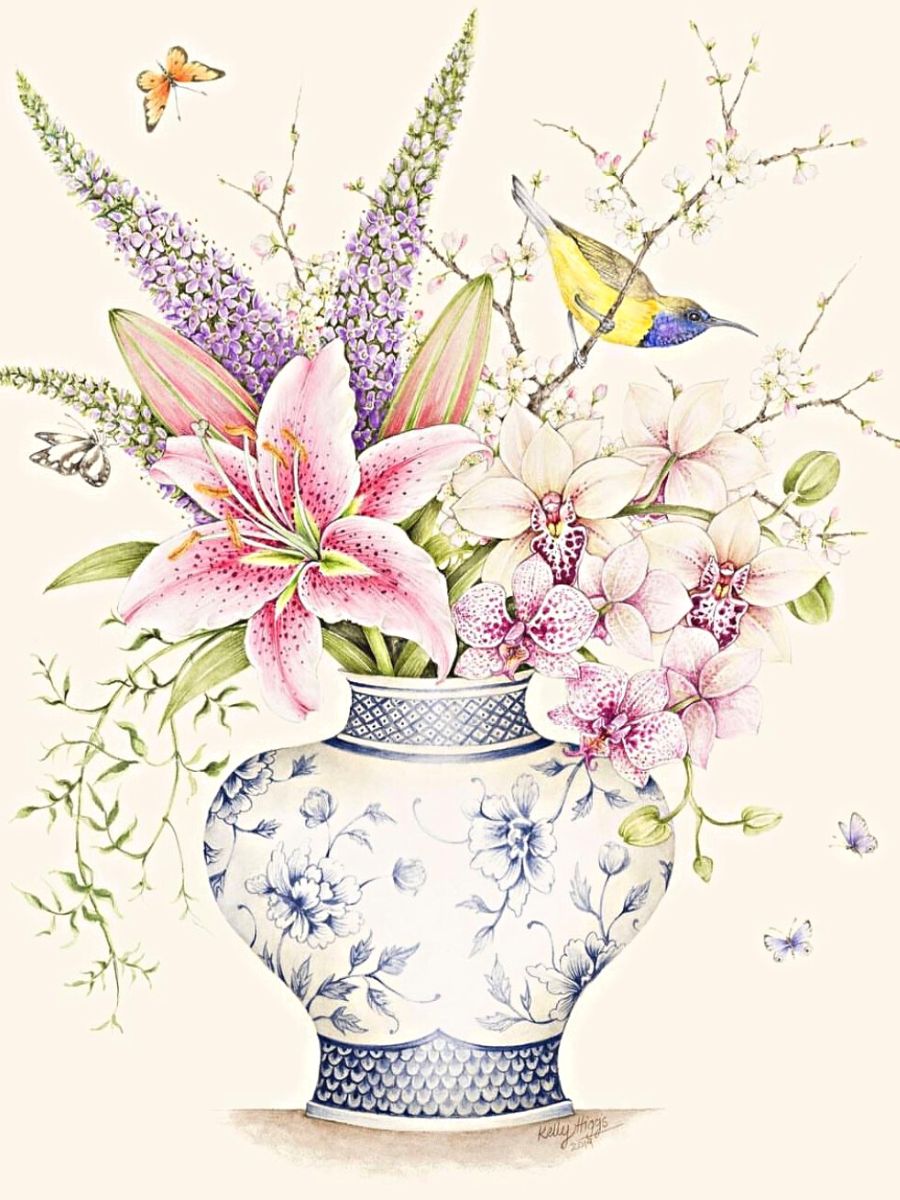 Higgs is apparently considered the Botanical Artist's Society's rebel, as she defies their strict rules by representing flowers with all manner of rock 'n roll, decorative elements, rather than sticking to the old-fashioned, scientific format, for which she has an unending respect.
Her botanical art makes obtaining a piece of her gorgeousness more accessible to everyone and you can go ahead and check out all her work as well as shopping options on Kelly Higgs.
Photos by Kelly Higgs.