One of the eyecatchers at the Royal Van Zanten booth during the 2021 Thursd Online Trade Fair Winter Edition was the pot limonium Salt Lake®. Not only people are mad about this outdoor plant novelty.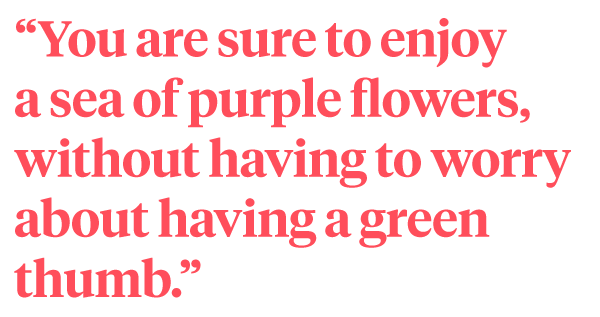 Sustainable Outdoor Plant
Like in many sectors, also in the planty world sustainability is a big issue. Outdoor plants have a special function to attract pollinators to your garden. And this limonium has a special role to play here. It owes its name to the salt crystals that cover its leaves and shine in the sun. The many little flowers and salt crystals attract lots of butterflies and other pollinators. The cultivation has a low energy impact and contributes to the sustainable and environmentally friendly character of Salt Lake®. Sustainability is no longer a trend but a requirement for a better world. These plants are our suggestions for a colorful yet environmentally friendly garden in 2021!
May to October
The special period to enjoy this outdoor plant is from May to October, when Salt Lake flowers with violet-blue combs with white mini flowers in between and reaches a height of about 70 cm. It's is a continuously flowering perennial that develops new flowers until autumn. Salt Lake is a heat-tolerant limonium, and it can even stand a mild winter when somewhat protected. Therefore, with its low-maintenance character, you are sure to enjoy a sea of purple flowers, without having to worry about having a green thumb.
Dry the Flowers
Nice to know is that you can also easily dry the flowers. The flowers can get a second life in a vase in your home. Fun fact: Salt Lake® has won the title Pearl of the Year 2020 in the Netherlands.