Take your seat to discover Cactus Jack Dior, the #Dior men Summer 2022 collection, representing a conversation between Kim Jones, musical artist Travis Scott, and Christian Dior, unveiled live from Paris.
Cactus Jack Dior
The Fashion Show, live from Paris is a beauty for the eye: Cactus Jack's desert becoming Christian Dior's family home rose garden.
The Scenography for Cactus Jack
The models appear in a desert landscape, populated by a buffalo head, cacti, roses, and giant mushrooms. The moving sky lights up with hypnotic shades. An echo of Travis Scott's homeland and the vastness of Texas canyons. Step by step, the desert turns into a rose garden reminiscent of that of Christian Dior's family home in Granville.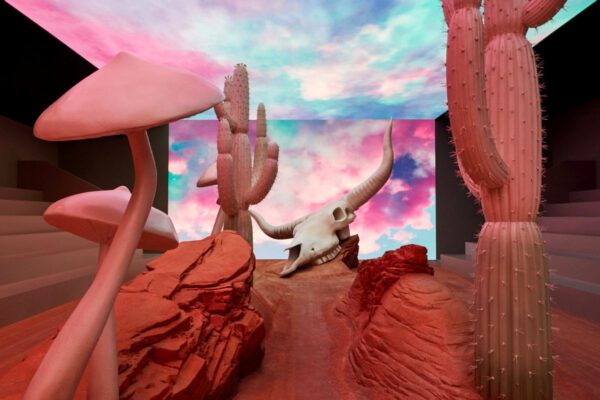 A refuge dear to the couturier-founder. Amazed by the beauty of nature, and who, among the flowers, alongside his mother Madeleine, enriched his knowledge of botany. Like an imaginary memory, a majestic portal surmounted by the letters "CJ" (Cactus Jack) intertwined is adorned with roses in degraded colors.
History for This Collaboration
The childhood of the couturier-founder and that of the American rapper thus meet in a unique dialogue echoing this Dior collection. In turn, the looks designed by Kim Jones, in collaboration with Travis Scott, blend into this vibrant decor. Like the pieces punctuated with "Cactus canvas", the Dior Oblique motif reworked with the name "Jack" or more hybrid hats designed by Stephen Jones. This scenography at the crossroads of reality and dreams, of heritage and innovation, becomes the symbol of a new beautiful world, an unprecedented fusion between two creative visions.