What is it that captures the attention of whoever has the privilege of seeing Christian Verginer's wooden sculptures? It's the keen eye for detail and the perfection of every silhouette that stays as a memory in people's minds. Through his art, Christian Verginer explores childhood curiosity and connection via whimsical wooden sculptures.
Christian Verginer's Adoration For Wooden Sculptures
Artist Christian Verginer creates figurative wooden sculptures from big pieces of basswood that combine the play and wonder of adolescence with the vitality of the natural world. A bird rests on a hoodie's zipper, leafy branches that resemble pigtails, and two little boys perched on ladders that lead to the treetops and the clouds are some of his most spectacular wooden pieces you'll want to have at home as decor.
They look just like real-life pieces that can make a great, and eccentric piece when placed in your favorite corner. The pieces are contrasting representations of children that are both realistic and magical and are textured with little gouges, either beige or a vivid green color for the latter.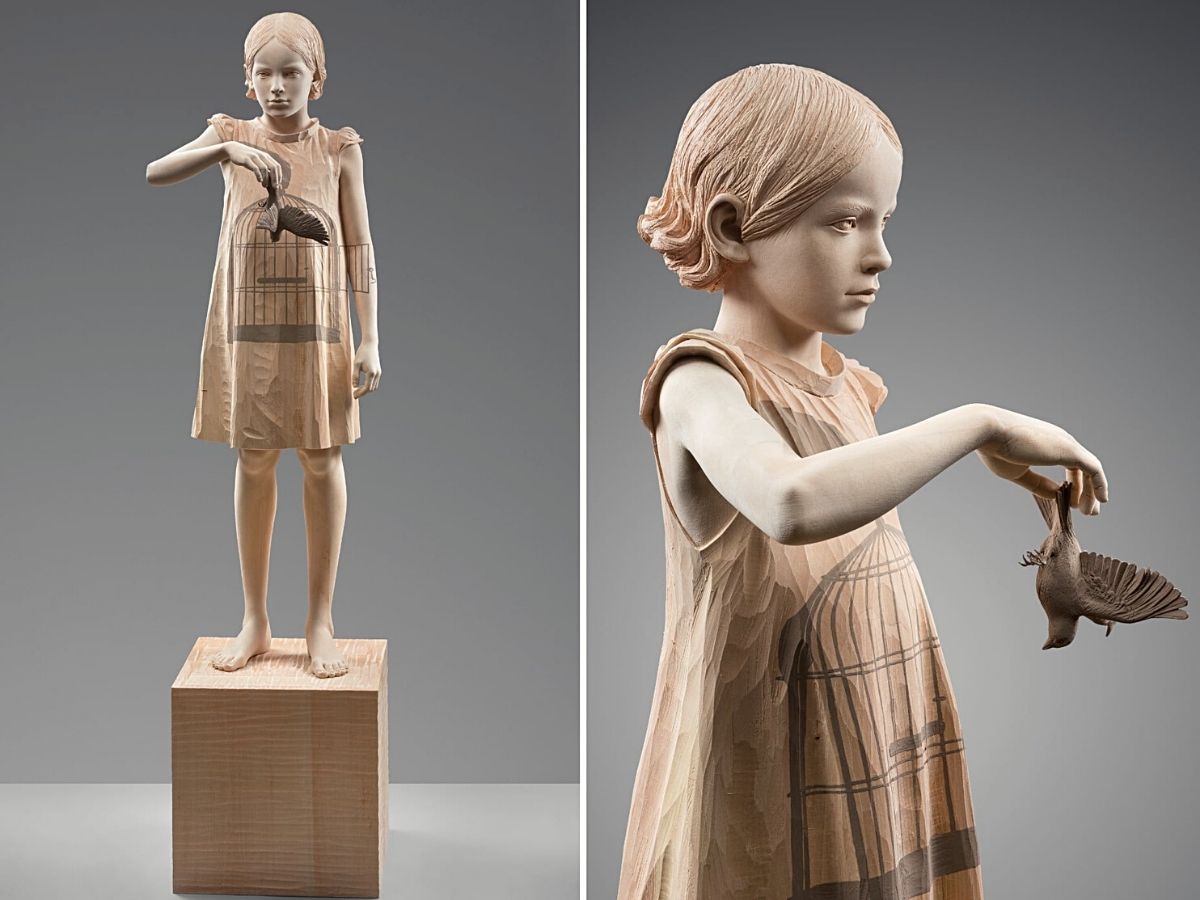 Christian Verginer Carves Wood Sculptures by Hand
If you're wondering how Christan Verginer achieves such resemblant wooden structures and human sculptures, it all has to do with the magic of hand-carved work. Verginers wood Sculptures employ the centuries-old 'Dolomite tradition' of wood-carving the human figure by hand, but the final pieces are infused with a modern aesthetic and subtext. It is clear the artist has a deep affection for plants and trees and in many of his sculptures, the human is depicted as protecting or nurturing nature.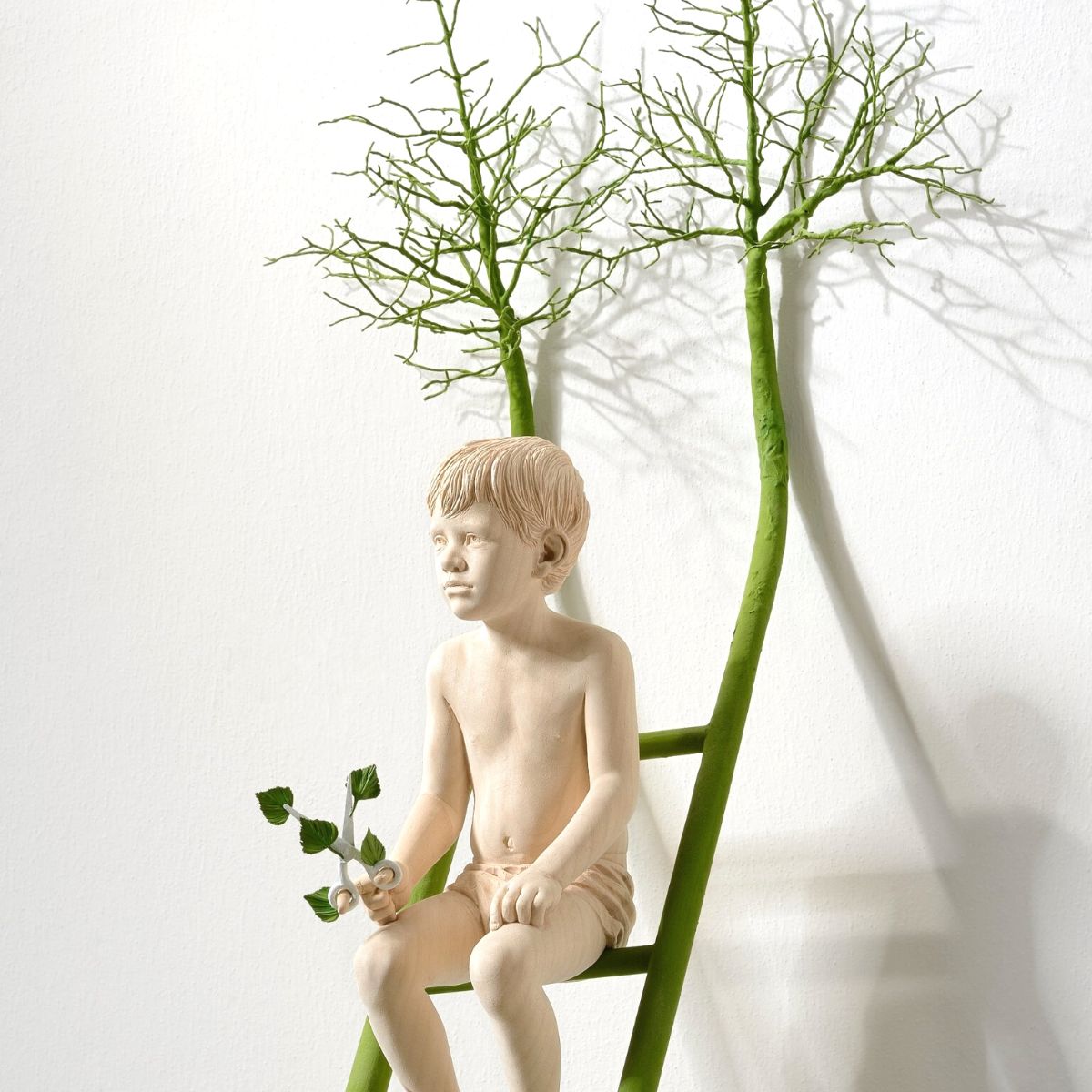 A Vital Part of His Sculptures Has to Do With Humans and Nature
Verginer expresses his general interest in the points at which people and nature converge through a sense of wonder and an embodied connection between the two.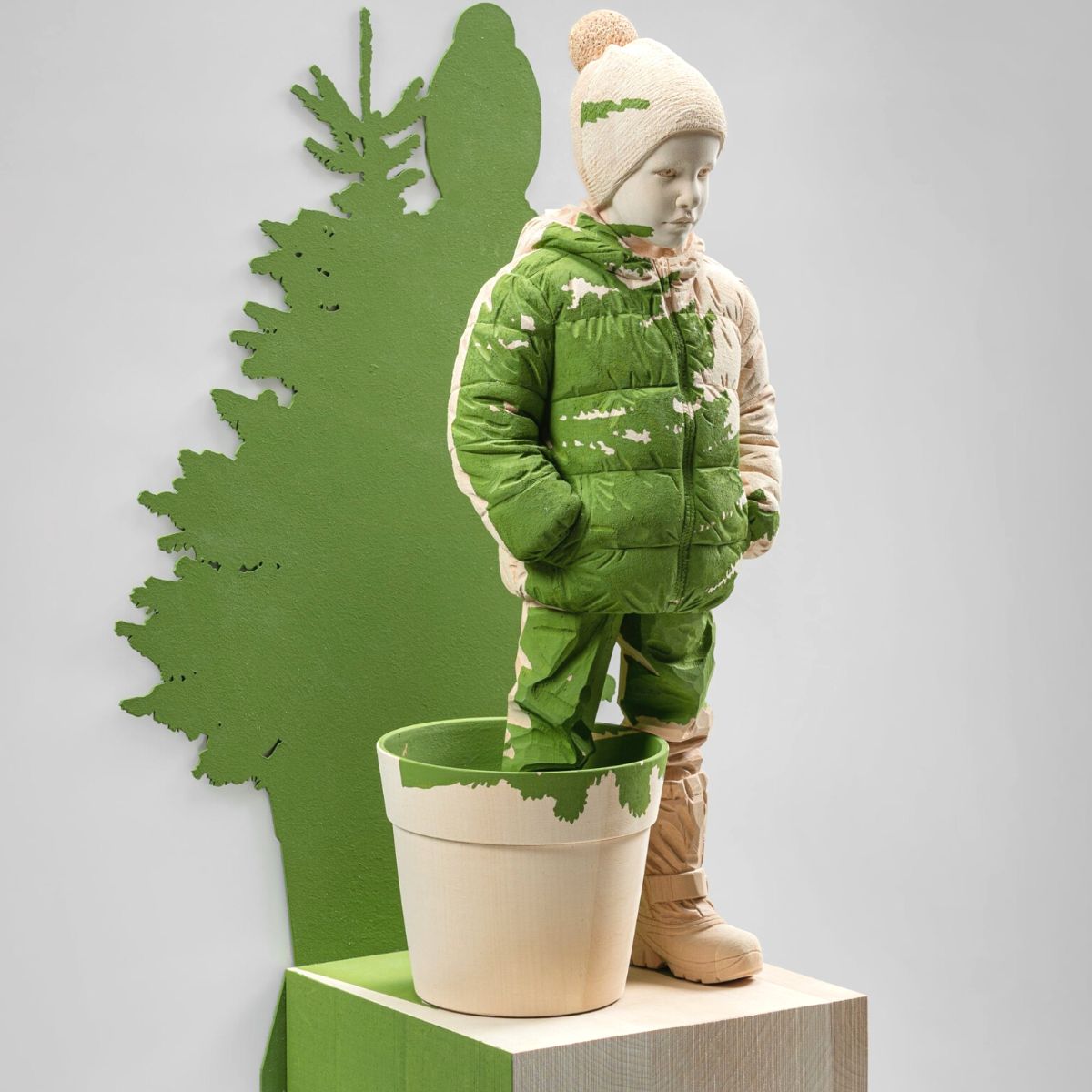 Some sculptures, like the dead bird the girl holds between her fingers in 'Different Stories', encourage these connections through the use of three-dimensional forms. Other wooden works of art such as 'Two Stories' and 'Different Time' make use of shadows by superimposing silhouettes of trees and flowers on top of the bodies of the youthful characters.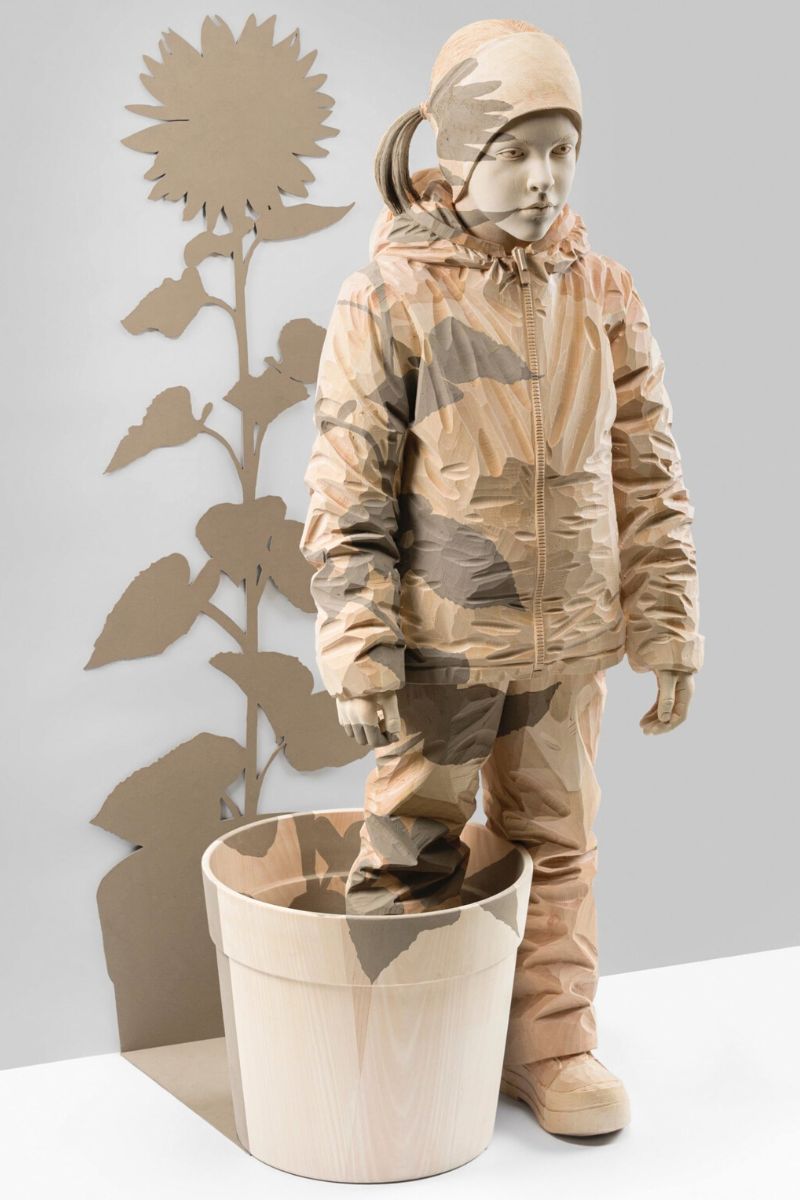 Learn More About the Passionate Wood Artist
Christian Verginer is considered one of the most valid and original expressionists in contemporary sculpture carvings. His training began by attending the sculpture department of the art school of Ortisei and then continued at the Academy of Fine Arts in Carrara.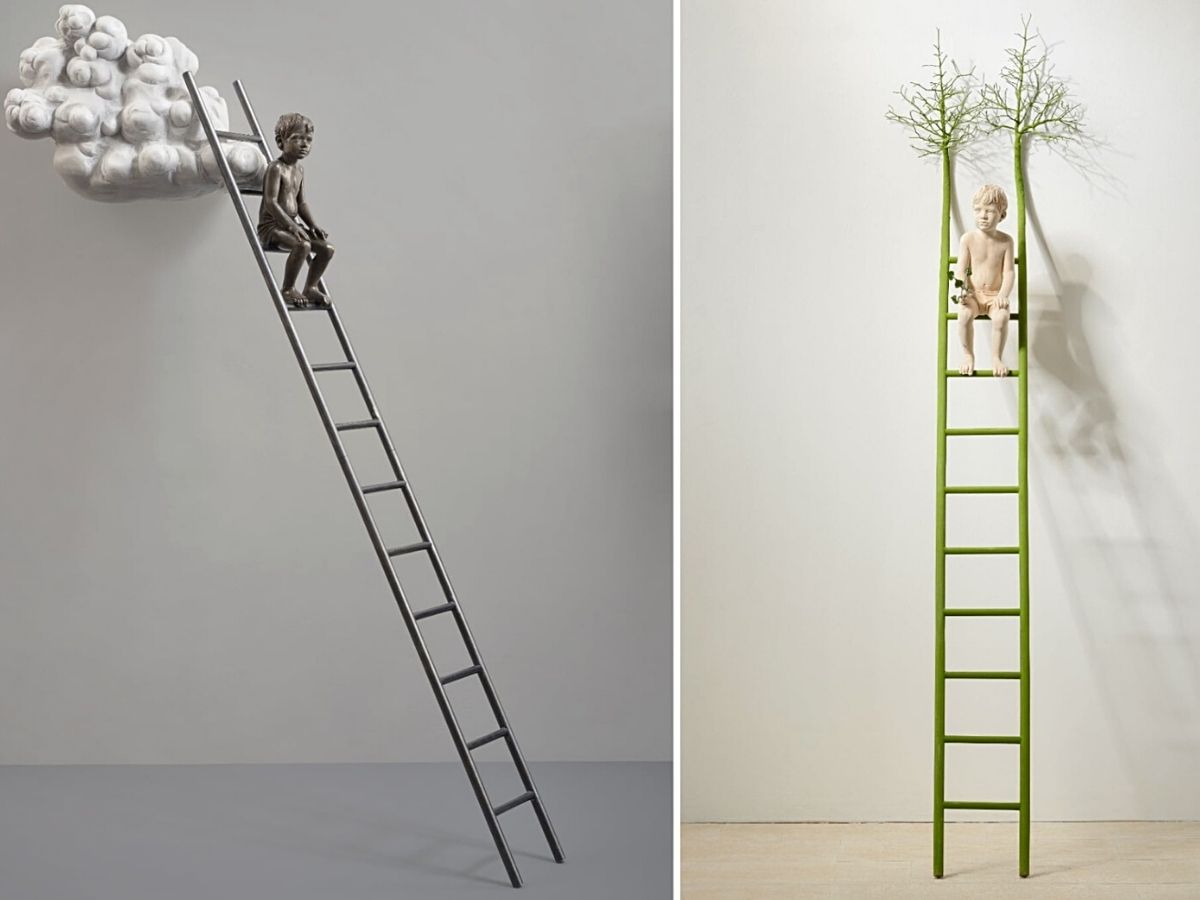 The human figure, or rather, the human figure in its relationships with other life forms, such as animals, plants, trees, or other things of the world, is the main character that Christian Verginer selects for his works of art. For every one of his pieces, he uses lime-tree wood, which is left smooth and decorated with details by brilliantly and improbably applying acrylic paint. The works' titles are humorous and satirical. Verginer stays true to the skill and accuracy of wood carving while bringing contemporary, novel, and personal subject matter, all while honoring the rich and storied legacy of the Dolomites.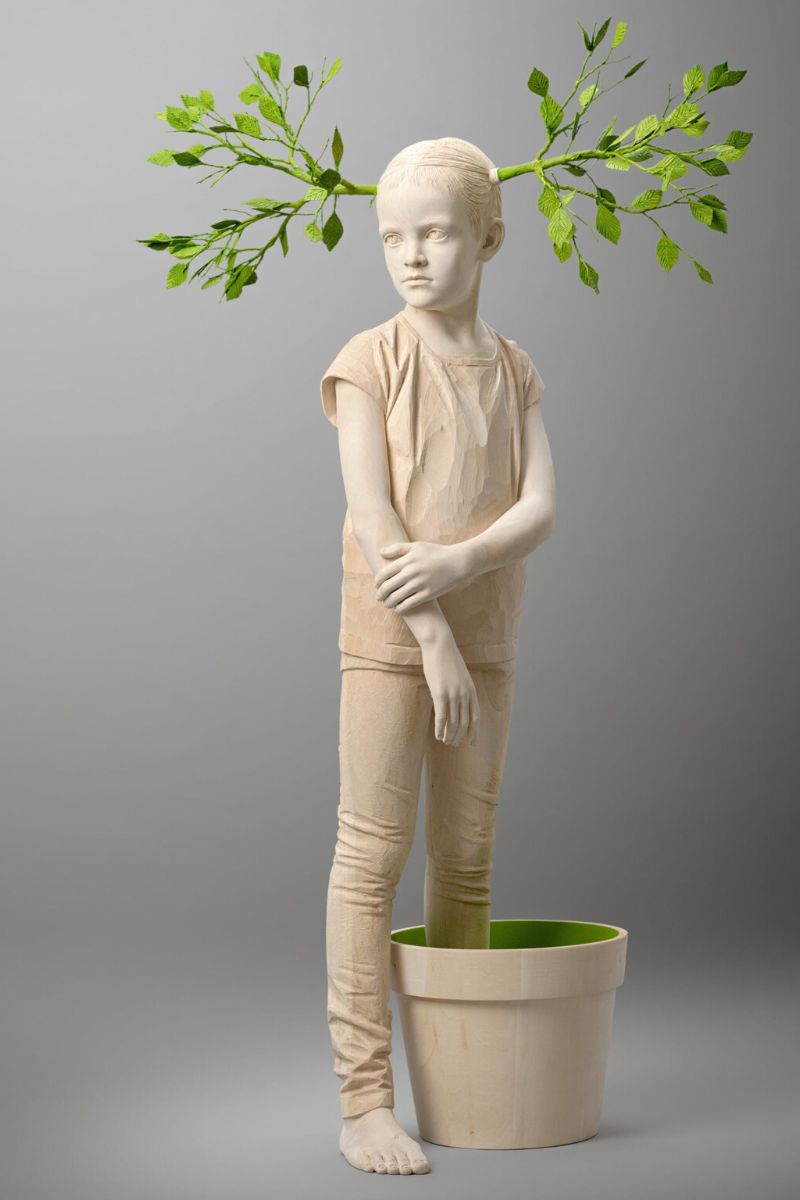 Curious to see more of his work? Head to Christian Verginer's website to enter wooden paradise.
Photos courtesy of Christian Verginer.