The perfect wedding guests were seen in BLOOM's latest wedding issue, featuring Marginpar's Clematis Amazing® flowers. Leaving guests surprised with their beauty, they also made the perfect wedding decor, colorful but very elegant and sophisticated at the same time. Get ready to be inspired by the charm and grace of Clematis Amazing® varieties along with other gorgeous flowers.
Wedding Season Is Being Conquered by Clematis Amazing® by Marginpar
Now that the astronomical spring has begun, not only animals are starting to get excited, but people too, specifically excited to get married. Besides picking out the perfect rings, people are carefully choosing the perfect dress, an amazing venue, and most importantly, what types of flowers will be present on such an important day. And for the latter, BLOOM's got extremely excited with how Clematis Amazing® changed their floral decor in ways they never imagined. They chose Marginpar's Clematis Amazing® varieties which resulted to be, indeed, the perfect wedding guests.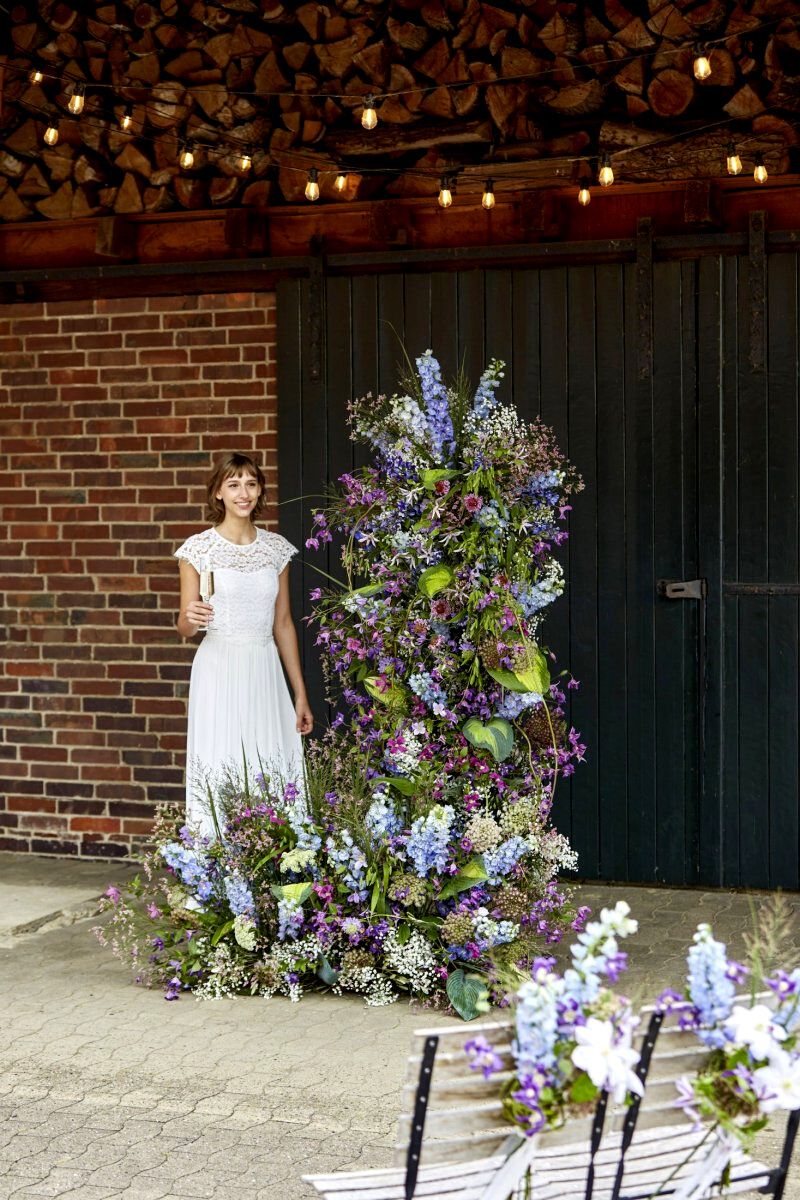 Clematis Amazing® and Other Varieties Elevate the Wedding Flower Decoration
For many, saying "I do" is the highlight of the day, however, for this day to be super special there have to be super special flowers as well. Surrounded by the most beautiful flowers and the most colorful decorations, love can grow and be sealed with a kiss, a ring, and loving words. This is how four of Marginpar's Clematis Amazing® varieties: Clematis Amazing Kyiv, Clematis Amazing Miami, Clematis Amazing Blue Pirouette, and Clematis Amazing Rome were a true delight for wedding guests' eyes.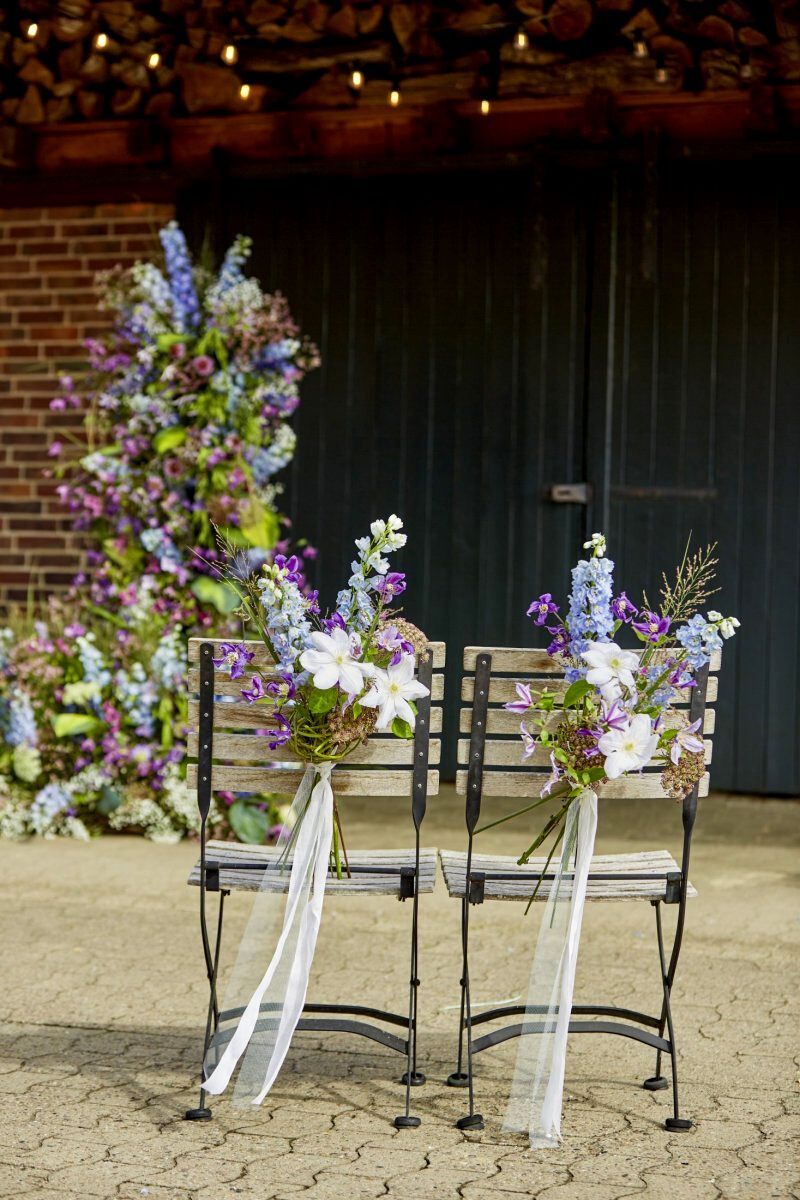 For wedding arrangements, Delphinium Blue Donna and Delphinium Guardian Lavender were also used to make the venue and floral arrangements stand out even more. The more flowers, the better, right? In addition to these stunning flowers, beautiful Daucus Carota Dara, Limonium Scarlet Diamond, Miscanthus White Cloud, and Scabiosa Focal Scoop Bicolor Pink were also given a worthy place in these decorative purposes.
Ways to Use Clematis Amazing® for Wedding Decor
It's time to celebrate love after the wedding ceremony, and of course, flowers have to be included everywhere. From center tables all the way to food plates, Clematis Amazing® varieties were seen everywhere. And you know what? Guests absolutely adored them!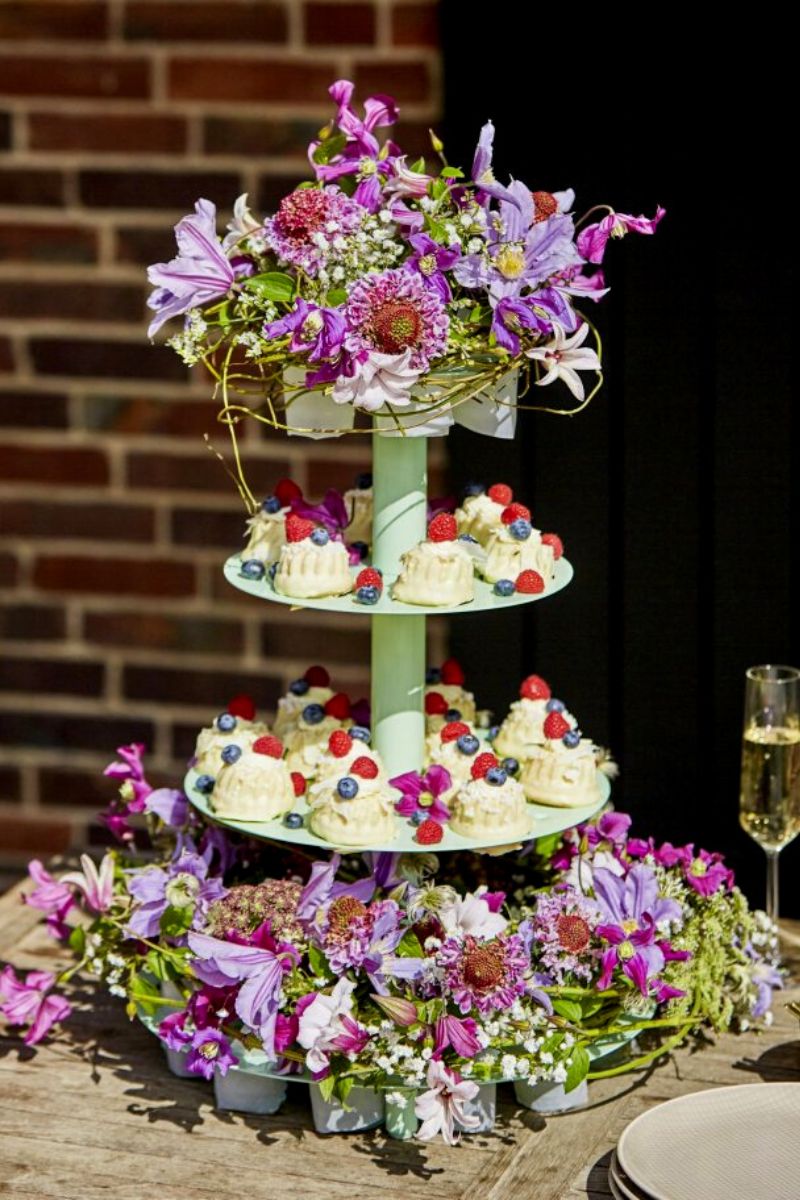 Because the Clematis is a heavy drinker, the flowers are encased in little glass vases and adorn the etagere, which is a wonderful idea if you're thinking about colorful ways to decorate your wedding.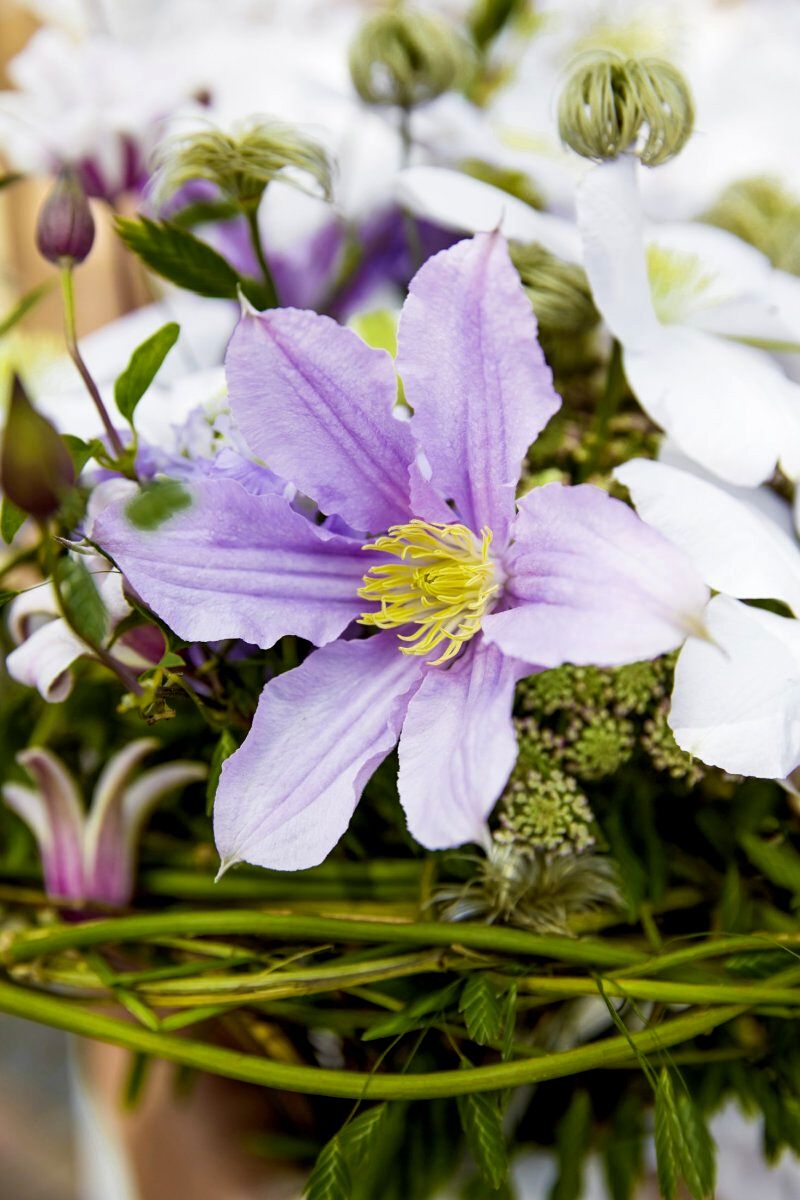 Not only can Clematis Amazing® varieties be used for decorative purposes, but they also make a great choice for a bridal bouquet. Until the 90s, it was the groom's job to choose the bridal bouquet, a tradition dating back to Victorian times. In this way, the groom could surprise the bride with a beautiful bouquet. Nowadays, most couples assemble a bouquet together, with the help of a florist. This bouquet consisting of only Clematis Amazing Miami shows that a mono bouquet wrapped in a white romantic ribbon is also a fantastic choice and that sometimes less is more.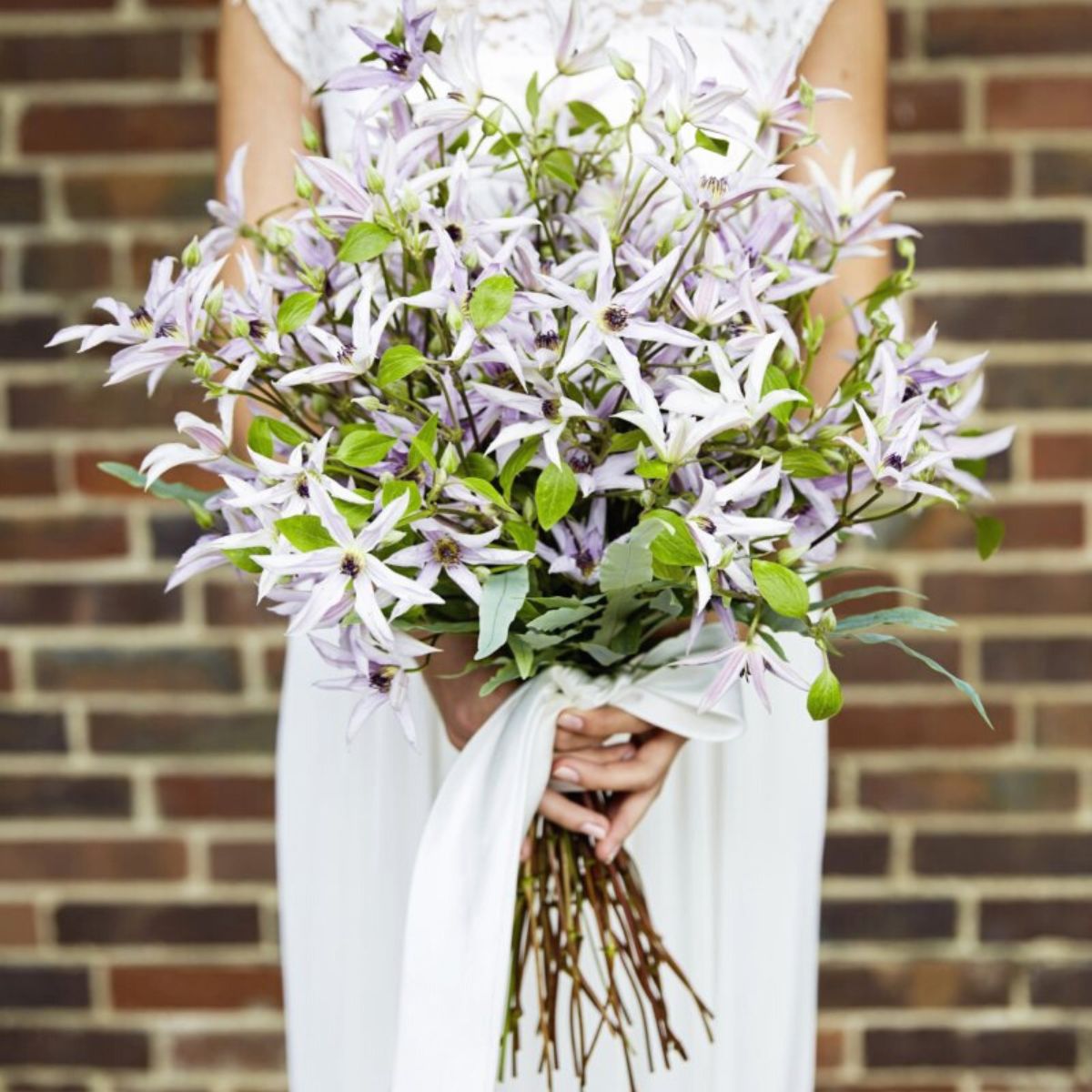 Another way in which Clematis Amazing® varieties can be used is to decorate the wedding car you'll be using. This specific car is adorned with Clematis Amazing Kyiv, Clematis Amazing London, Clematis Amazing Rome, and Clematis Amazing Star River along with other stunning flower varieties. This Volkswagen bus is ready to ride into the future with the bridal couple. The flowers are inserted into foam dipped in water and tied together with nylon threads like a garland and attached to the bus. The journey to happiness can now begin!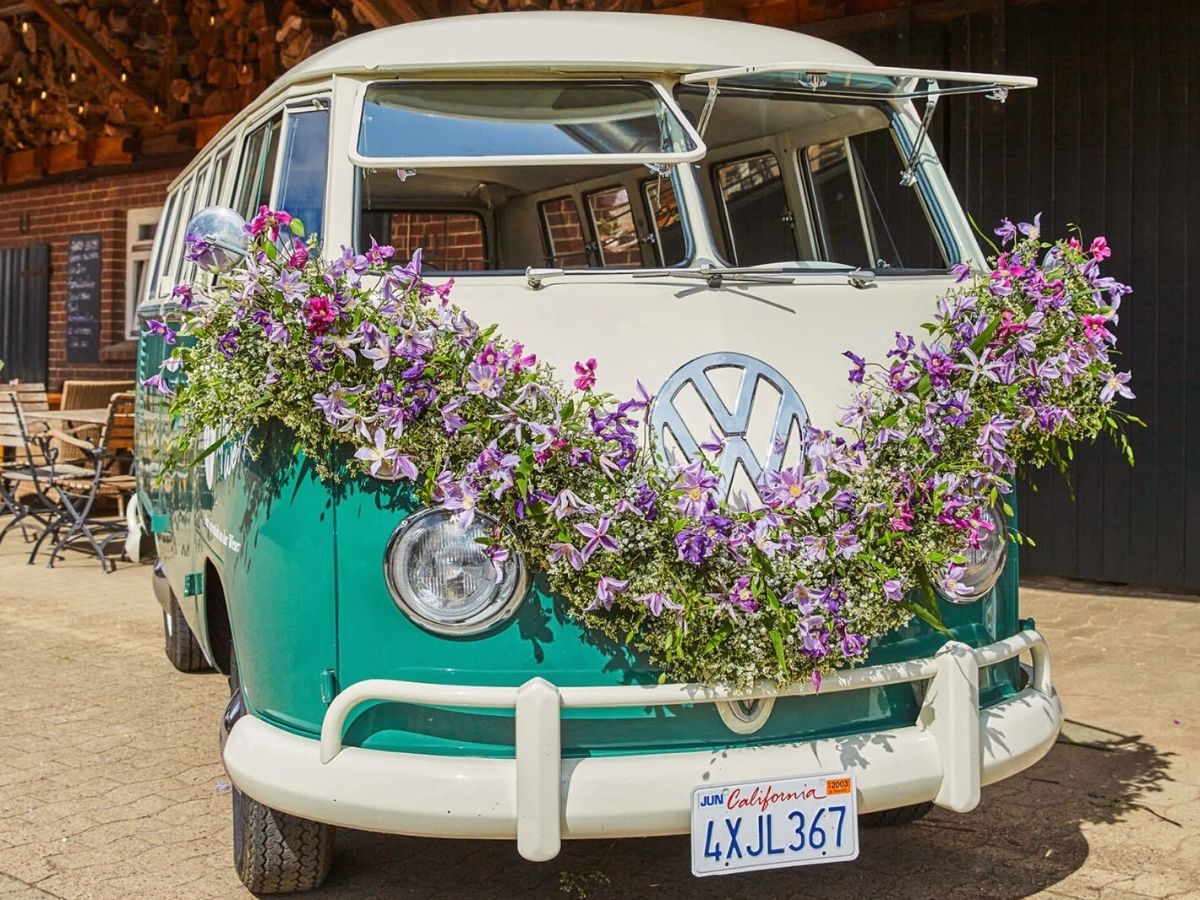 Keep in mind that the Clematis Amazing® varieties are hearty drinkers. If you are going to make any of these floral designs, remember that Clematis works best in water, so make your design shortly beforehand or incorporate tubes of water into the design.
Don't Forget to Toss Your Clematis Amazing® Bridal Bouquet!
The bridal bouquet toss began in 14th-century England. This tradition began when it was usual to gift a portion of your wedding gown to your wedding guests. To protect the bridal attire, it was agreed to throw the bridal bouquet into the air and as the legend says, whoever catches it first would be the next bride!
For this large joyful bouquet, a U-shape was chosen so that the bride does not disappear behind the bouquet. The Clematis Amazing London, Clematis Amazing Oslo, Clematis Amazing Sevilla, Clematis Amazing Rome, Clematis Amazing Star River, and Clematis Amazing Vienna take center stage in this bridal bouquet. They are accompanied by other flower varieties to give them more color, and texture and make them shine even more. All the flowers are tied together with white ribbon, making it an easy-to-carry bouquet.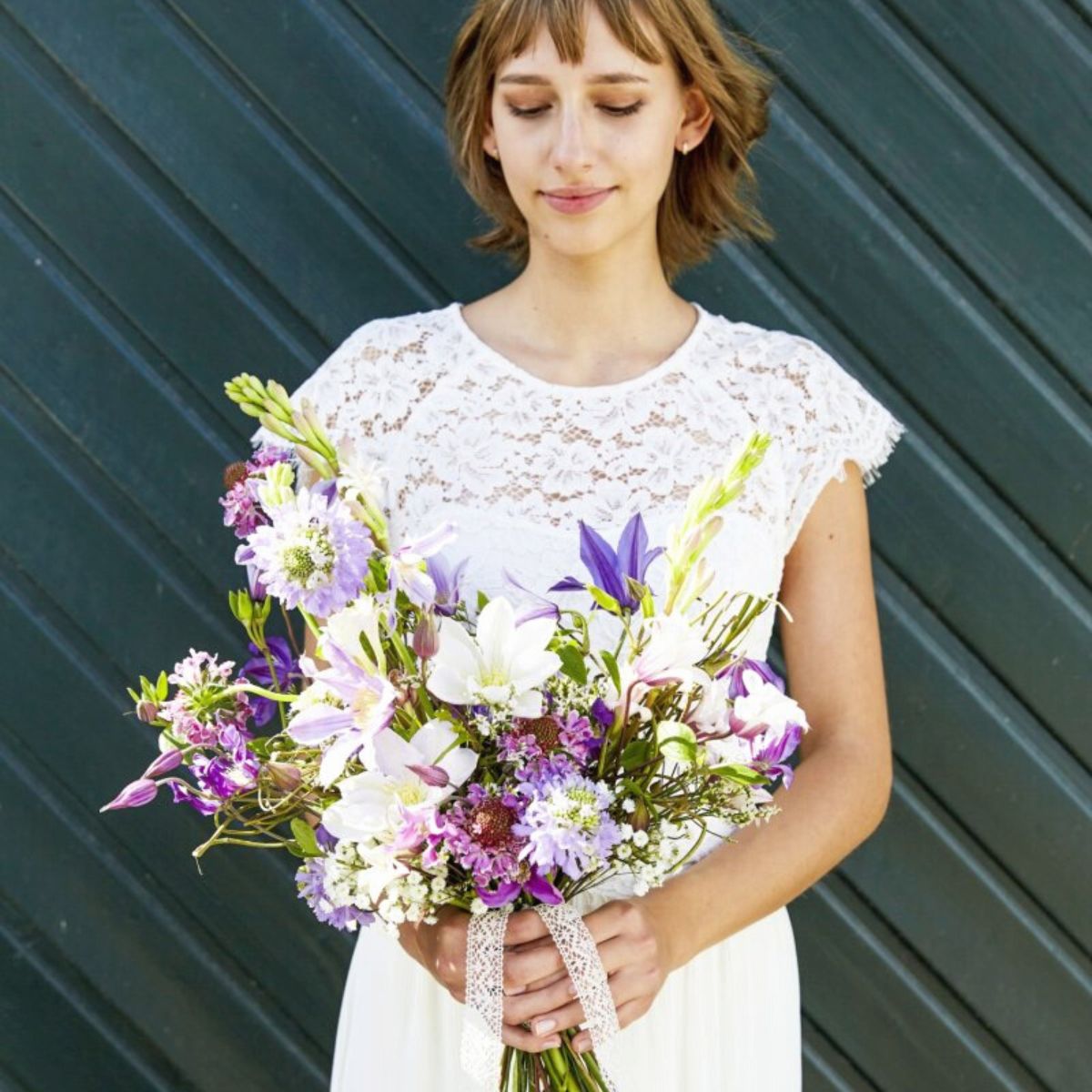 With these spectacular wedding ideas using Clematis Amazing® varieties by Marginpar, are you ready to catch an amazing bouquet of wedding good luck?