It's what many of us dream of: engage in a big adventure and succeed on the other side of the world in building a new life. this is what the brothers Neil and Mike van Steekelenburg did in the early years of this new millennium. Beautiful and challenging Canada became their new home and the place where they started their nursery CosMic Plants.
Neil van Steekelenburg From CosMic Plants
Now, almost twenty years later, Neil looks back and forward on their adventure. What did it bring him and his family? This is the remarkable story of two Dutch farmer's sons who went to Canada to seek their happiness and fortune in growing plants.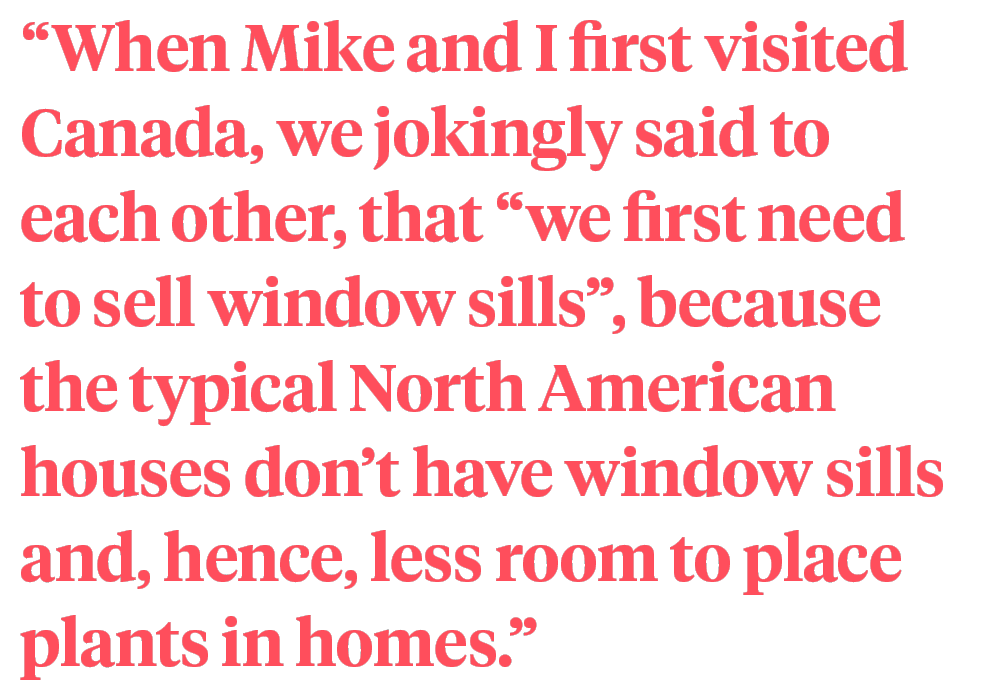 Can you tell us something about the history of your nursery? What made you decide to (1) move to Canada and (2) to start growing phalaenopsis?
"My brother Mike and I were born and raised in the middle of the Westland - the greenhouse district in the Netherlands - in a village called Honselersdijk. So, my name is Neil - short for Cornelis - and I am actually the fourth generation Cornelis van Steekelenburg, every time being the oldest son. My oldest son Connor is officially also Cornelis because we couldn't break with the tradition. 😊 Connor is since two years involved as well in our family business. I am also a fourth-generation greenhouse operator. Our greenhouse roots date all the way back to the turn of the 20th century around 1900, when my great grandfather, who was born in 1879 started his horticultural career.

The crops that my family has grown over the years have evolved from vegetables and fruit (lots of greenhouse grapes) to cut flowers, bedding plants, and eventually potted plants.
In 1990 I became involved with the family business in Honselersdijk. I was growing potted sunflowers as my main crop, combined with poinsettias, cinerarias, cyclamen, and yes, some orchids already. I really saw the potential of orchids in the late ninety-nineties, but was unable to buy young plant material of phalaenopsis. That's when I decided to grow dendrobium phalaenopsis to get a taste of it.

I was able to modernize the family farm somewhat but also realized the limitations. It was a long narrow rectangular-shaped greenhouse operation, that eventually would need reconstruction.

In those days, I was already thinking of relocating out of the busy Westland area. Other countries in Europe, like Belgium and Germany, already crossed my mind. When two close neighbors emigrated to Ontario, Canada, in 2000 and 2001, it made my wife Mary who is from Ireland, and myself very curious. To make a long story a little shorter, we visited Ontario multiple times between 2001 and 2003, did a lot of research, and finally decided to see if we could sell the family farm in Honselersdijk and start up the emigration paperwork.

Halfway through the process, my brother, Mike, decided to join us on this big adventure. Mike had followed a different career and had just returned in 2003 from a five-year stay in Arizona, USA, where he was involved in growing greenhouse tomatoes, in his last year as general manager of another location.

The first time, Mary and I visited Ontario we fell in love with the Niagara area for various reasons. First of all, it is a beautiful region, but I also saw the potential for greenhouses and growing phalaenopsis orchids in Canada. So, in 2004 in February, we emigrated in the middle of the cold winter. Mary and I arrived with our three sons, Connor 8, Liam 7, and Aidan only 3 years old and we started our new lives. In May that year, my brother Mike teamed up with us."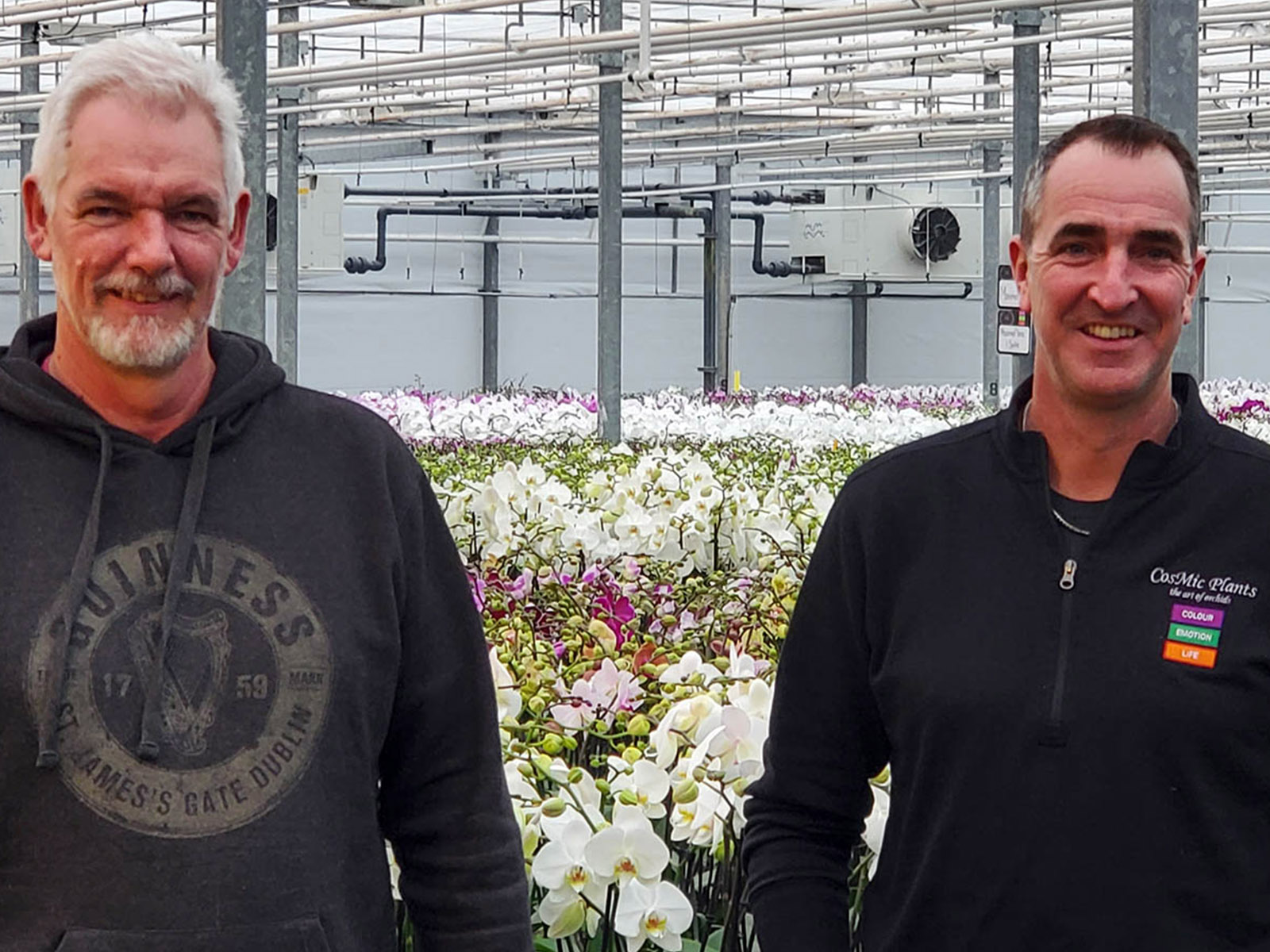 From the left: Neil and Mike van Steekelenburg
What's your specialty?
"At CosMic Plants, we are specialized in phalaenopsis orchids. We grow them from tissue culture in two different pot sizes - 8 and 12 cm - and in various categories from larger flower standard assortment to smaller abundantly flowering (multiflora) to all sorts of shapes, like cascading, circles, swans, and many more.

In 2016 we were able to acquire a second location only 7 minutes away from the original location. This increased our greenhouse area from 7,000 m2 to 30,000 m2. Between 2016 and 2020, we rented out half of the new greenhouses, but since recently the whole facilities are filled completely with orchids. From spring 2006, when we had the first orchids in flower to present day, we were able to grow our production from 2,000 plants per week to an average of 35,000 plants per week."
What is so beautiful about growing phalaenopsis?
"Phalaenopsis orchids are available in many colors, color patterns, shapes, and sizes. For any occasion or environment, it is easy to find the most suitable type. The flowers are typically very long-lasting (up to 3 to 5 months) and when able to look after them well, the plants have the ability to re-flower multiple times."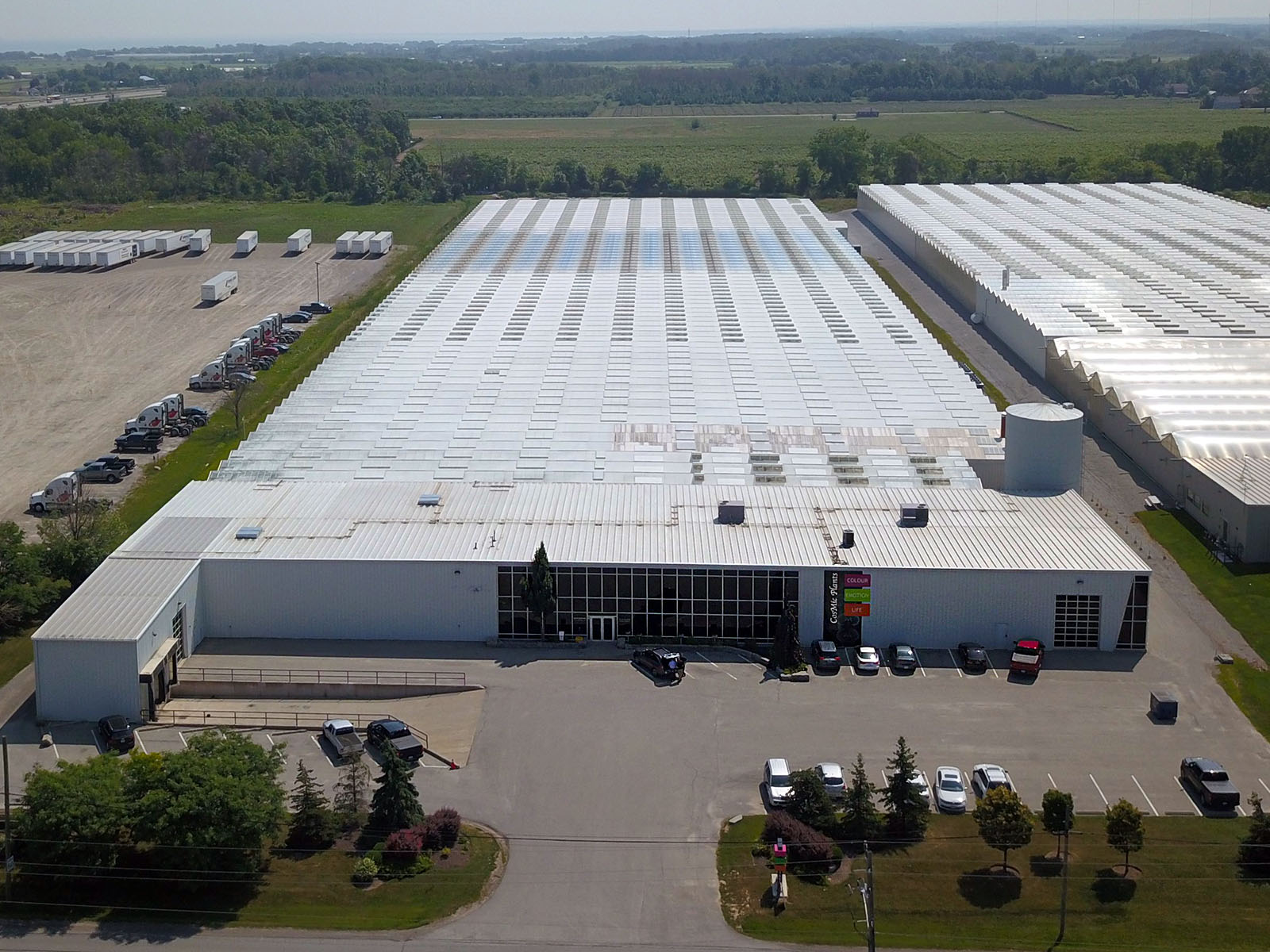 The readers on Thursd are spread all over the world, so we generally have little knowledge about Canadian floriculture. What is the current status of Canadian floriculture, especially phalaenopsis?
"Like in Europe the floriculture industry has gone through some ups and downs here in North America. Overall the consumption per capita is not as high as in Europe, but at the same time, that shows, that there might be a bit more room for growth.

Also here, the pandemic has led to a higher demand for flowers and plants and our phalaenopsis orchids are definitely in good demand. Of course, we also rely a lot on our neighbor country south from us, our big brother, USA, to which we export part of our production."
Do Canadians like phalaenopsis?
"It is difficult to generalize because some people are crazy about flowers and plants and some are even afraid of harming the plants and decide therefore to not buy them, but overall people really like phalaenopsis here in North America.

Our phalaenopsis orchids are mostly used as individual potted plants, sometimes in arrangements with multiple orchids together, sometimes combined with other plants. They are almost never used as a cut flower, but it does happen. For that, we just sell the complete plant and let the customer decide if they want to cut the flowers off.

Our phalaenopsis are used for almost any occasion, you can think of weddings, funerals, the birth of babies, all sorts of religious events, dressing up hotel lobbies, table pieces at all sorts of gatherings, something for your own house, or of course just a nice giveaway when visiting a friend. When Mike and I first visited Canada and did some market research, we jokingly said to each other, that "we first need to sell window sills", because the typical North American houses don't have window sills and, hence, less room to place plants in homes."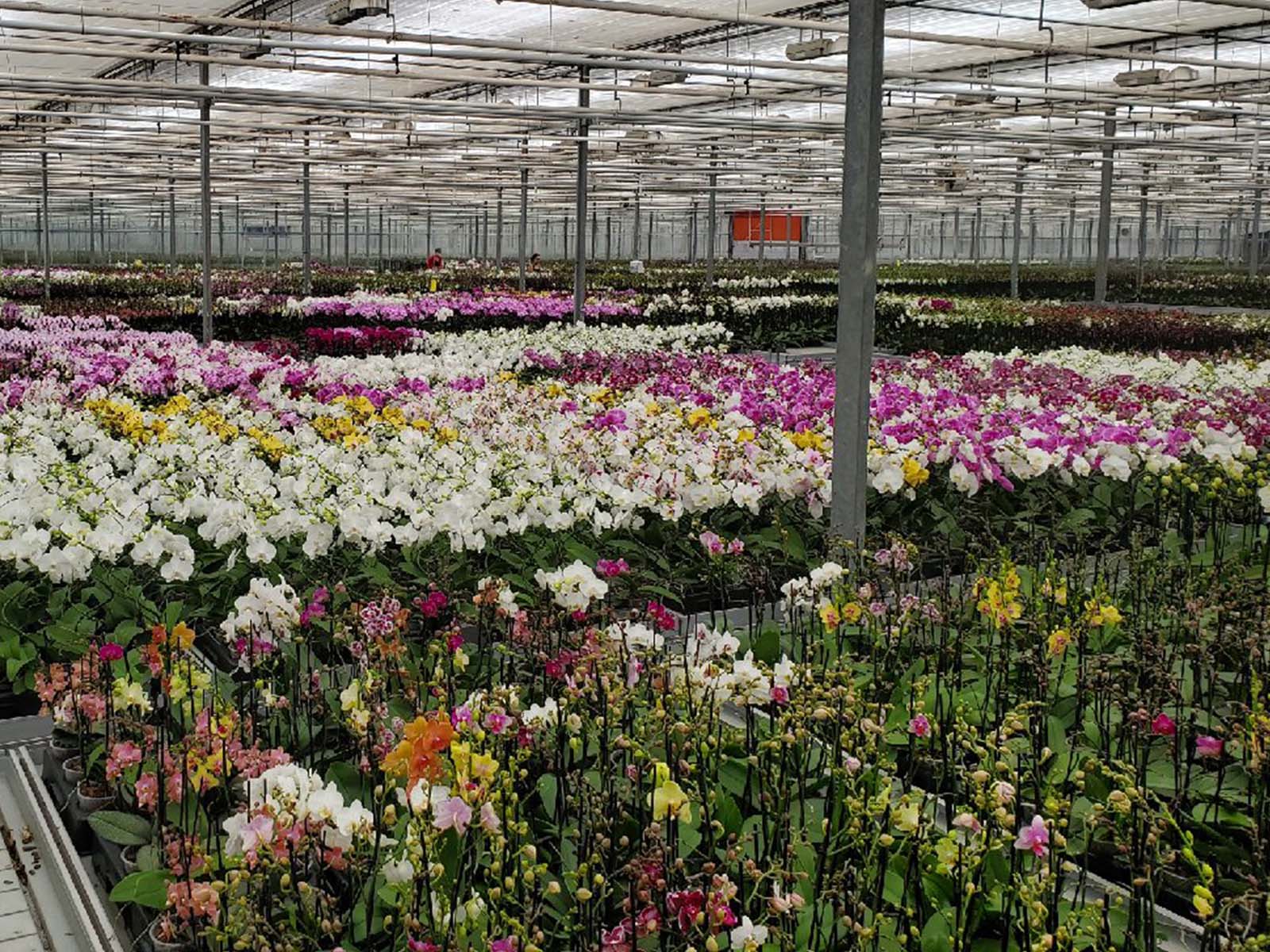 How do you sell your Phalaenopsis? Is there an auction or wholesale market to sell at, or do you sell directly to florists?
"There is no auction here like in the Netherlands, so we sell directly: from wholesalers and flower shops to large grocery store chains, among others. This also means that we need to be on top of our accounts receivables. We think, however, that we stand somewhat closer to the market and have a good feeling about what is going on.

Over the 16 years, that we are selling orchids, we have gradually built up our own market. We have seen many orchid growers come and go. There are still a good few left. But the main thing, I believe, that got us this far is our quality and service level. We are growing the orchids all year round and we are building good relationships with our customers by always committing to our promises. Of course, we also need to continuously innovate and come up with new concepts. In that regard, I think the phalaenopsis crop has still so much to offer. I myself am really passionate about this crop and its possibilities."
You grow phalaenopsis from Floricultura. What is your relation with this breeder?
"We are working with Floricultura since the start of CosMic Plants in Canada in 2004, so for almost 18 years now. Floricultura was the largest most complete phalaenopsis supplier in 2004. It was a very logical choice to make them one of our main suppliers. They are offering a fantastic array of varieties, that fit in many of our categories.

Floricultura has definitely been part of our success being our supplier from the very beginning. We grow phalaenopsis orchids from many of their product lines, like the 'Standard', 'Multiflora, 'Elastica', 'Lingua', and including tests of their 'AromorA' and 'Eccentrix' series. Overall, we carry over 100 different Floricultura varieties in our greenhouses.

Floricultura is for us one of the few top suppliers of a huge selection of varieties of phalaenopsis orchids. It is a very professional company with many highly skilled employees, who are passionate and dedicated to their roles within the company. They supply the world with affordable high-quality young plant material, so millions of people can enjoy the beautiful end result of a phalaenopsis orchid in full bloom.

CosMic Plants has a wide array of categories and varieties in multiple pot sizes and arrangements. We are the one-stop-shop for phalaenopsis orchids, growing them all year round with consistently high quality. Floricultura has always been on the base of this consistent supply and quality by being one of our dedicated suppliers of young plant material."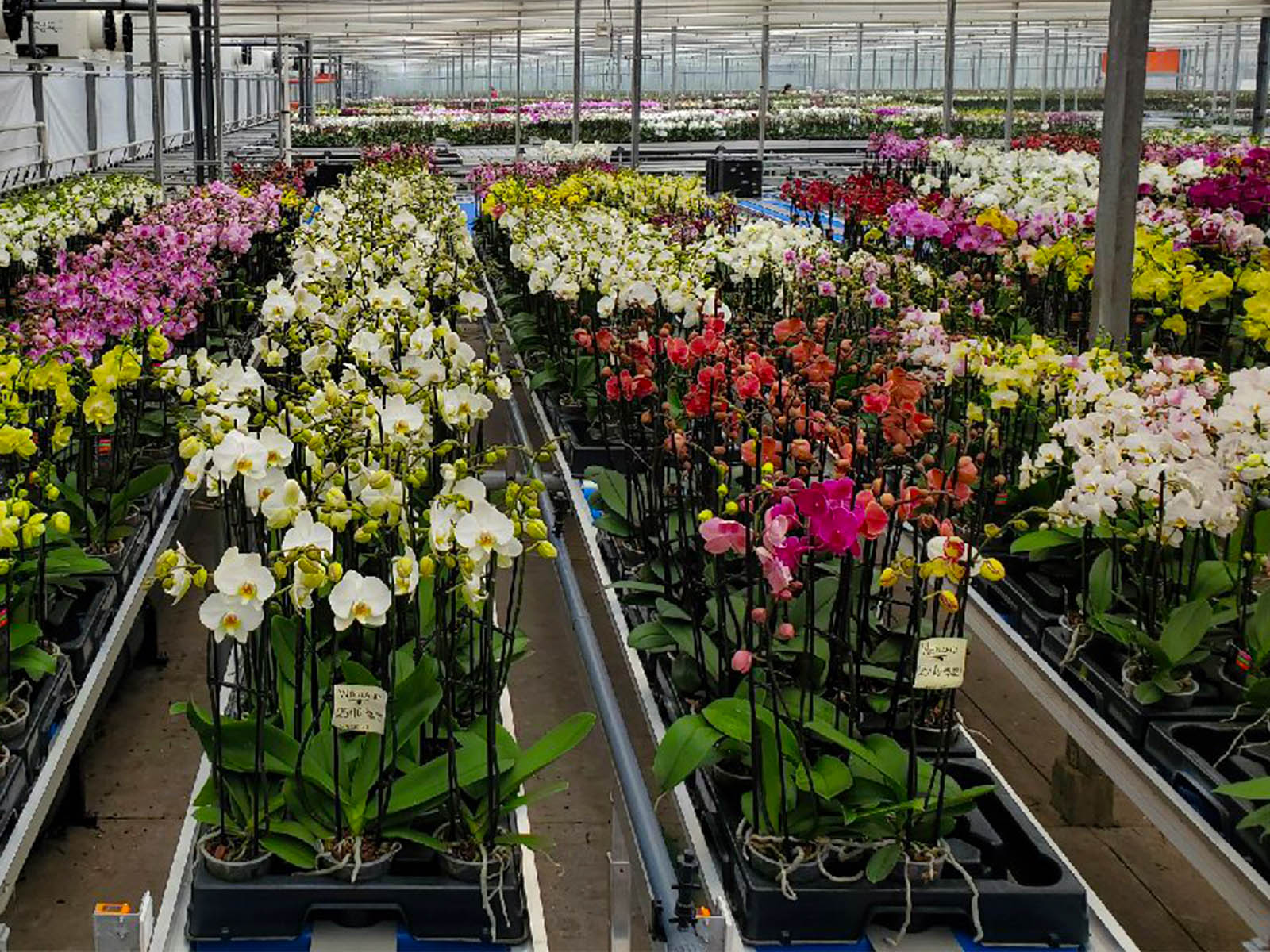 How does Floricultura support you in growing and promoting your phalaenopsis?
"The support from Floricultura has always been amazing. Like us to our customers, they also commit to their promises to us. If something is not exactly like we planned for, the communication has always been great and together we find solutions to solve the problem. After all, phalaenopsis plants are living organisms and are handled by people and sometimes nature still surprises us, even at laboratory levels, through which the tissue culture plants are propagated.

Floricultura supports us the best they can with all our growing questions, either online, by their newsletters, by phone and email, and also by visits from their experienced crop specialists. Of course, we always need to adjust our strategies to our local climate conditions, which are often more extreme, than in the Netherlands.

Regarding promotion, we have developed a strong brand name ourselves under my brother Mike's leadership. As my focus is on production, planning, internal logistics, and financing, Mike is responsible for marketing and sales, and HR matters in our company. Our logo with the words 'Colour – Emotion – Life' has become a true "seal" for quality. The words reflect what quality flowering plants do for people. Our orchids bring forth Colour, they are purchased with a certain Emotion in mind (joy, happiness, sympathy, thankfulness, etc.), and since they are real, they bring a sense of Life to their destination! On all our branding we also state: "CosMic Plants, The Art of Orchids" and in small print: "Specialized in Phalaenopsis". See also our website: cosmicplants.com.

Of course, Floricultura helps with the general promotion of phalaenopsis orchids and they have beautiful photo material, that can be used for further promotion. However, we are promoting all our categories by our own names: Phalaenopsis Magnifica for Standard, Phalaenopsis Maxima for Multiflora, Phalaenopsis Piccola for multis in 8 cm pots, Phalaenopsis Artistica for all our different shapes, and Phalaenopsis Compagnia for our plant arrangements. Within those categories, we have also created various sub-categories."
To what extent does Floricultura help to realize CosMic Plants' strategic objectives?
"When changes, mostly expansions, need to be made, Floricultura is always there to support us in our growth and adjust the assortment, where it is required. Because it is such a long-term crop, changes require a lot of planning ahead and sometimes the requested varieties are not directly available. However, by supplying alternative varieties that come close to our wishes the gaps are often filled until numbers of the correct varieties are brought up to the increased demand at the laboratory level. It is sometimes quite complicated, but with good communication, we always get, where we want to be."
What does the future hold for CosMic Plants? It is a difficult time for many growers with COVID-19?
"Like for all companies in the world, this current pandemic has led to many challenges for us as well. It has been hard to navigate through all the new rules and regulations. We have been very fortunate so far and we hope there is light at the end of the tunnel soon. We keep praying and hoping for better times. I think with a lot of positivity and keeping to appreciate the good things in life, we will get there eventually.

CosMic Plants will keep growing in the future as the possibilities present themselves. We are also looking at succession as you can't start early enough and I will be turning 60 soon, while Mike is 51 years old. This could mean, that the company will stay in the family perhaps for another generation, but it could also very well mean that another younger employee, who is not a family member gets involved as well.

For now, I personally need a little bit of a 'breather' after our last investments and expansion in the middle of this pandemic."