Immediately Catching the Eye
South Africa's position on the world map, together with its moderate climate, brings a bounty full of unique flowers that immediately catch the eye when used in a floral arrangement. Besides their unique decoration value, these flowers are also known for their long vase life. Designing with flowers from South Africa give this different kind of twist to your floral arrangements, from very big to very small. Flowers like protea or nutans stand out right away, where modest fillers such as brunia turn a regular piece into an exclusive work of art.
Protea
Of course, when you think of flowers from South Africa, perhaps the first to pop into your mind is the protea, where it also goes by its nickname sugarbush. No wonder, because this is the most popular flower from the country. Protea comes in many guises.
Text by:
Funnyhowflowersdothat
Serruria
Serruria, a.k.a. protea Blushing Bride, is one of the most sought after wedding flowers. These are truly one of a kind. Think of a tropical peony, and you get the serruria, which is actually a member of the Proteaceae, endemic to South Africa.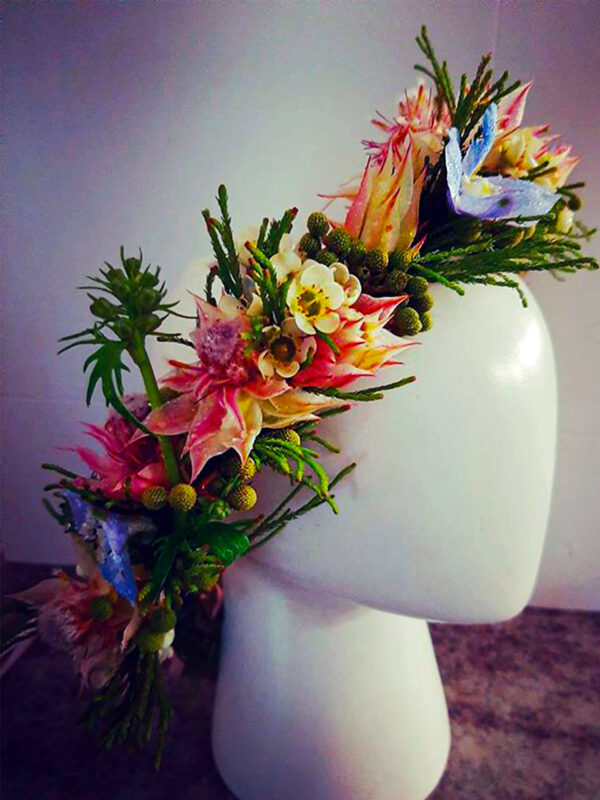 Leucospermum
Leucospermum is related to Protea, and the resemblance is clear, with its extravagant and enthusiastic stalks. This South African bloomer is officially called Leucospermum cordifolium, but many call this flower nutans as well. Luckily we can just call it pincushion protea. As you can see, the name pincushion refers to the manner in which it flowers. The fabulous flower looks a bit spiky initially, but it's soon revealed to have not pins, but extravagant and enthusiastic flower stalks.
Text by:
Funnyhowflowersdothat
Brunia
Brunia is an evergreen shrub. It has highly textured woody stems. Each stem is made up of leaves that resemble short pine needles. It is also referred to as silver brunia or silver balls. This name refers to the berries or baubles produced by the plant. The balls grow in clusters.
Helichrysum
Dried flowers of the genus Helichrysum are said to last forever, hence they are also referred to as everlastings, immortals, or sewejaartjies (seven years). There are about 600 species worldwide, and more than 240 occur in southern Africa. This flower is often used in dried floral arrangements.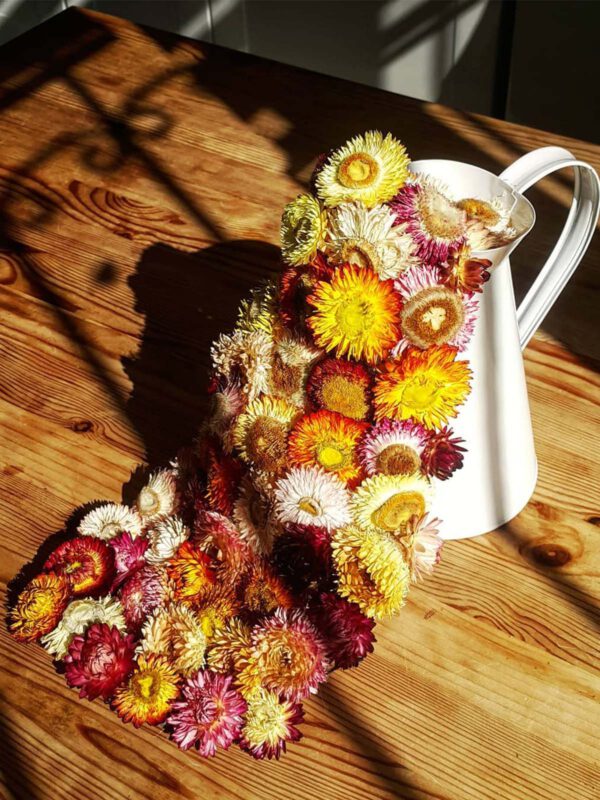 Growing up to 1m tall, this compact, much-branched shrublet has soft woody stems and branches and a thick covering of grey-woolly hairs that feels like felt. The densely crowded leaves are erect and narrowly oblong, usually about 5-8mm wide. Towards the branch tips, the leaves give way to narrow, dry bracts and finally to a solitary, conical flowerhead about 20mm wide.