Marginpar
is known for creating a unique and consistent quality of flowers. Always stylish and rich in color. For your convenience, their flowers can be divided into three categories: Seasonals that are available in certain seasons, Specials that can be categorized as surprising 'niche' flowers that are generally only available in small quantities, and last but not least, Marginpar Originals - a collection of beautiful flowers that are available year-round and in large numbers.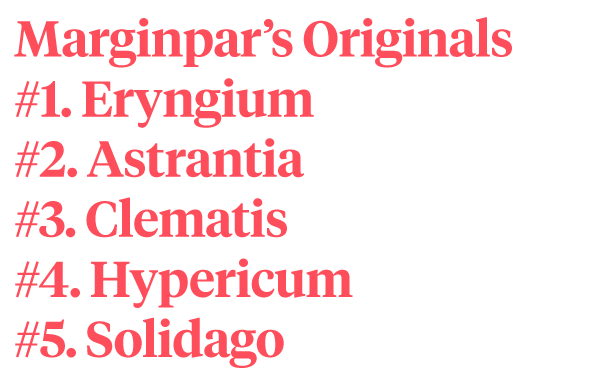 5 Amazing Varieties: Marginpar's Originals
As mentioned above, Marginpar Originals are available throughout the year and in large quantities. The five flowers in the collection range from beautiful fillers to exclusive flowers that have been cultivated with attention to detail. There is something to everyone's liking available in this collection so let's dive into Marginpar's Originals and find the next flower you'll want to work with.

Marginpar's Originals #1 - Eryngium
Eryngium, also known as thistle or sea holly (though not to be confused with true hollies of the genus Ilex), gives extra character to a bouquet or flower arrangement. Characterized by a beautiful flower that ranges from cobalt blue to a deep purple color with hairless and usually spiny leaves, it is a very popular decorative thistle due to its regular supply and cosmopolitan distribution (meaning it is grown all over the world). In the language of flowers, eryngium represents admiration, making it the perfect addition to your next floral design.
Marginpar's Original: Eryngium Aquarius Questar®
The eryngium Aquarius Questar® is a captivating blue thistle with a purplish hue from the Marginpar Originals Questar® series. It is a huge favorite for weddings and floristry work that easily adds an extra dimension to floral arrangements.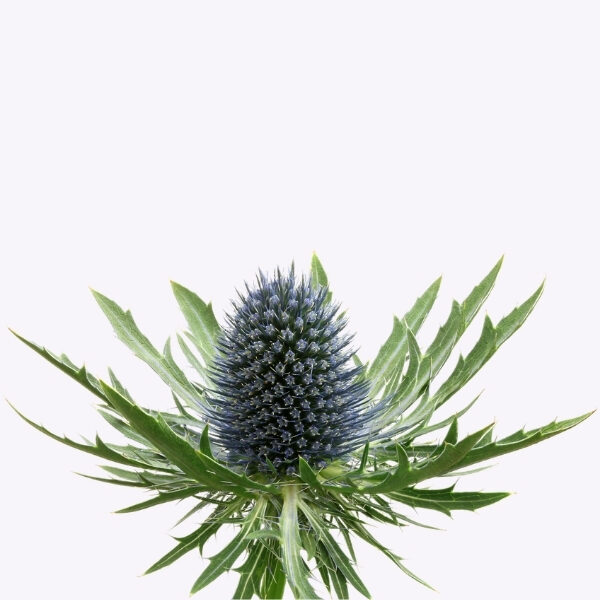 Marginpar's Original: Eryngium Magnetar Questar®
The eryngium Magnetar Questar® is a stunning bright blue decorative thistle. A popular variety in the Questar® series because it lends itself so perfectly for bridal bouquets.
Marginpar's Original: Eryngium Supernova Questar®
The eryngium Supernova Questar® is as spectacular as its name. This thistle from the Questar® series is the one with the largest flower and has a striking sky-blue color with a green top.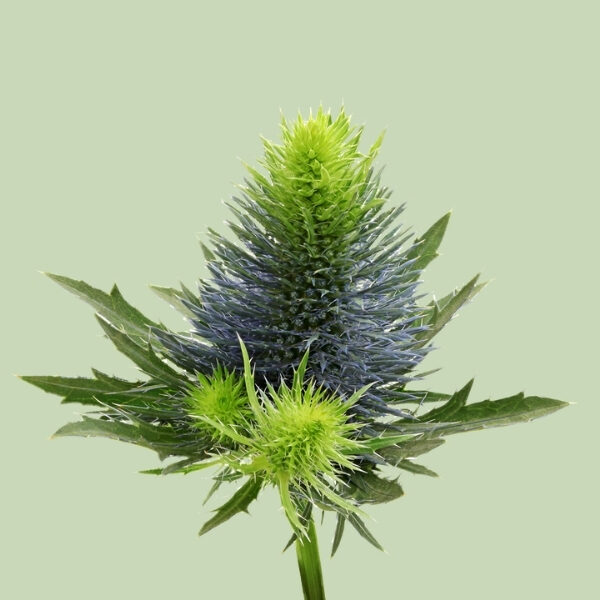 Marginpar's Original: Eryngium Sirius Questar®
The eryngium Sirius Questar® is a true specialty thistle due to its white heart. Rightfully called a Marginpar Original, the eryngium Sirius from the Questar® series is the only white eryngium on the market.
Marginpar's Originals #2 - Astrantia
From the apiaceae or umbelliferae family, the name astrantia derives from the Latin word 'aster' meaning 'star', which refers to the plant's star-shaped floral bracts. The flowers have a very fine structure. The extensive availability and excellent vase life make astrantia a wonderful product for commercial floristry.
Marginpar's Originals #3 - Clematis
Clematis is not only a wonderful addition to your garden but has also been available as a cut flower for the last fifteen years. In 2006, clematis Amazing® Blue Pirouttte was the first clematis cut flower to be traded at Royal FloraHolland. The Amazing® series has since been expanded and now consists of a beautiful clematis cut flower range in various lavender, purple, and pink shades.
Marginpar
that challenged the clematis climbing plant market and wow-ed the public with the first clematis cut flower fifteen years ago. Since then, its airy and romantic flowers have swooned over florists all over the world. Because what's not to love? Sturdiness, flexibility, and delicacy all in one stem.

Curious to learn more about these airy, romantic flowers with sturdy, flexible stems? Make sure to check out the full clematis Amazing® Series Guide via the button below or
this link
and learn about its availability, history, and all the members of the clematis Amazing® family. Curious about The creation of the clematis Amazing series? Check it out in the Marginpar article on Thursd:
The Creation of the Clematis Amazing Series.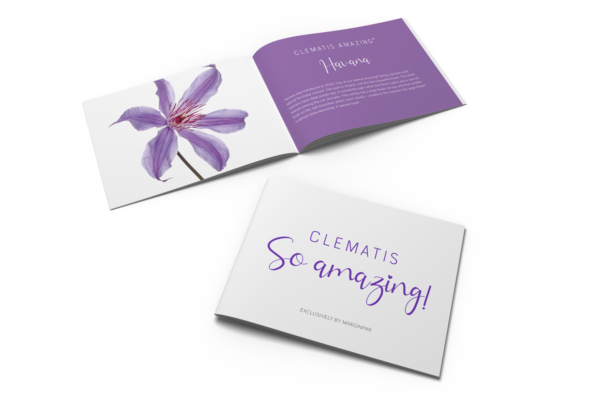 Marginpar's Originals #4 - Hypericum
Hypericum (also known as St. John's wort) possibly takes its name from the Greek words 'hyper' (above) and 'eikon' (photo), because it used to be placed above photos in the house during St. John's Day to ward off evil spirits. Hence the general name St. John's wort. It has been used for centuries in traditional medicine for the treatment of several disorders but also makes up for a lovely cut flower nowadays. The smooth, shiny berries, clustered on woody stems, come in an array of different colors from brown, green, white, and ivory to red, pink, coral, and peach. With a good vase life, hypericum is available all year round.
Marginpar's Originals #5 - Solidago
Solidago, also called Goldenrod, is the perfect filler flower. This flower is a strong and voluminous cut flower, making it ideal for use in mixed bouquets. This solidago has a very good vase life and opens nicely. The flower is available in several shades of yellow, from honey yellow to lemon yellow - there's enough to choose from. In some places, they are even considered a sign of good luck or good fortune. Solidago will make your bouquet stand out like a ray of sunshine.
More Marginpar Originals
Marginpar distinguishes itself by being innovative and offering an exclusive, trend-setting assortment. Known for their summer flowers that are not only stylish but often surprising and unique on the market, they passionately experiment with new varieties until they have found the flower that is just right for you. With over 120 different varieties of summer flowers, there is always something to discover. Find out more about
Marginpar on Thursd
or see more of
Marginpar's Originals
on their website.