Brazilian artist Melissa Meier is internationally recognized for her evocative 3-dimensional installations, found-object sculptures, collages, and photography. In her current series "SKINS", Meier has created sculptural clothing hybrids, utilizing natural materials such as leaves, stones, fur, eggshells, wheat, rice, crystals, scales, sticks, feathers, pinecones, and shells.
Dried Flower Skins
Inspired by Brazilian Carnival and Native American skin-walkers, her wearable constructions blend female empowerment with self-created mythology, developed around the idea of ancient cultures of female warriors, exemplifying strength, beauty, and unity of life lived in harmony with the elements. Her warrior women are breathtakingly sensual while radiating a searing combination of purity and power.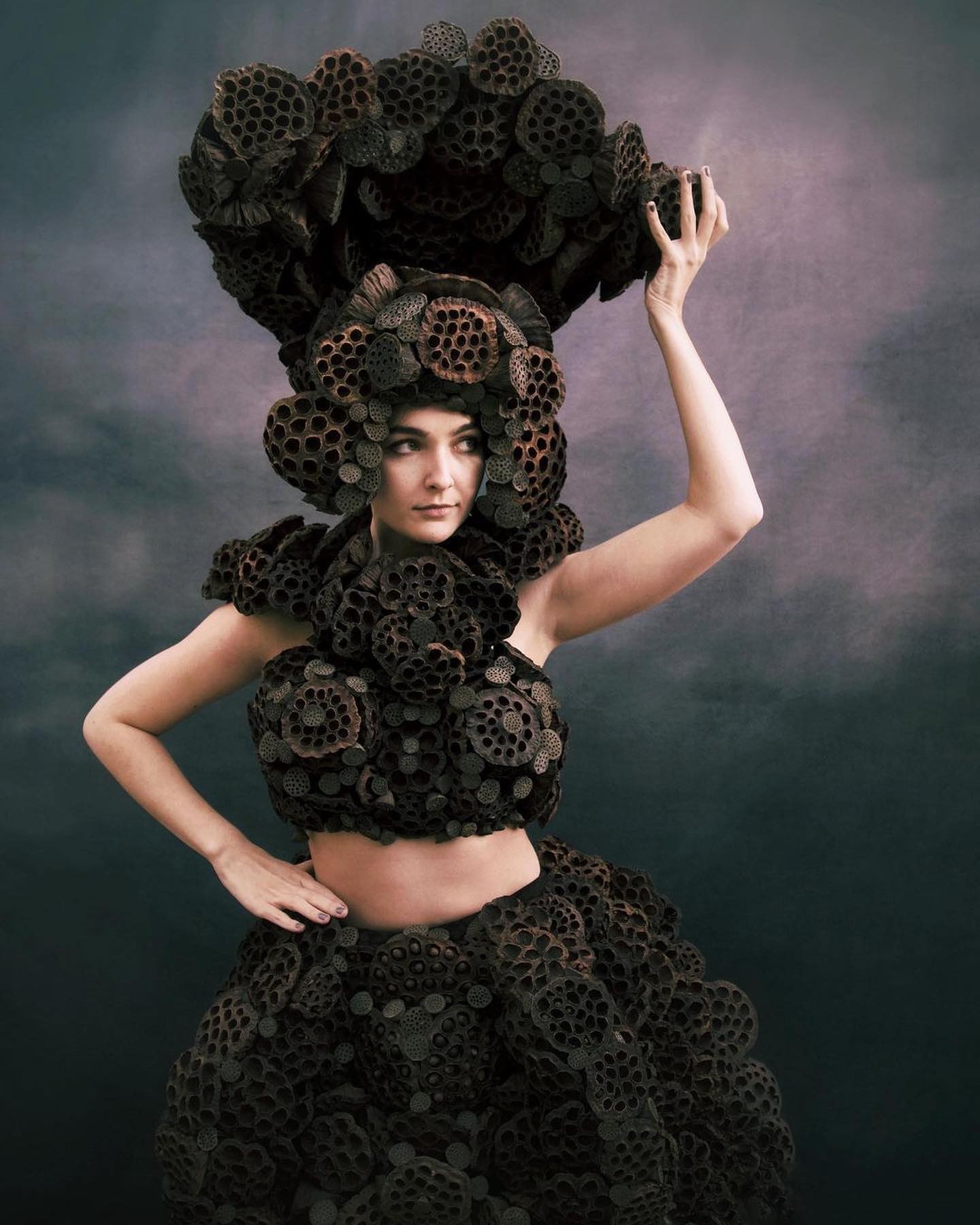 Melissa Meier
"At first I was inspired by the legends of indigenous people and how they used the skins of animals to transform into them, creating a bridge between the human and animal worlds. But as my work matured, I became equally interested in the future of fashion as an extreme form of kinetic sculpture."
The costumes are developed into moveable, wearable sculptures that are brought to life as performance artworks, serve as independent sculptures, and in their final documented form as archival fine art photographs.
This is where the work creates a bridge to the present and allows us to connect with and find ourselves reflected in her images of hidden, treasured cultures, heroines, and spirit guides, imagined and real.
Meier's latest work entitled "Skins" furthers female portraiture, this time using natural elements. Tribal ritual or the future of fashion, the "Skins" series asks the question: is there a difference?
Meier spent most of her childhood in Brazil. She received a B.A. from the Art Center College of Design in Pasadena, California. She has exhibited her work in New York City, Boston, Los Angeles, Sao Paulo and was chosen by Sotheby's for their Young International Artists group show and auction in Tel Aviv, Vienna, and Chicago. Most recently, in Los Angeles, she has shown at Gloria Delson Contemporary Arts, Bleicher Golightly Gallery, Caporale/Bleicher Gallery, and James Gray Gallery at Bergamot Station.