London is a design mecca, especially for entryway design, where storefronts are beautifully clothed in blooms to create a creative statement. These adorable installations have been popping up all over London in places like retail shops, bakeries, restaurants, and bars. Here are eight of London's most beautiful stores to see on your next vacation to the capital.
Amazing Floral Facades to Visit in London
Planning on visiting London? You must stroll by any of these eight fabulous places filled with flowers at each of their storefronts. Take note because you'll get fully bloomed and feel flourished when you visit them.
1. The Churchill Arms
The Churchill Arms, located in the heart of Kensington among the Palace Gardens Apartment, the Austen, and the Hornton, is one of London's most photographed storefronts. This flower-adorned pub represents British quirkiness. While you're in the always-charming Kensington neighborhood, stop by and check it out.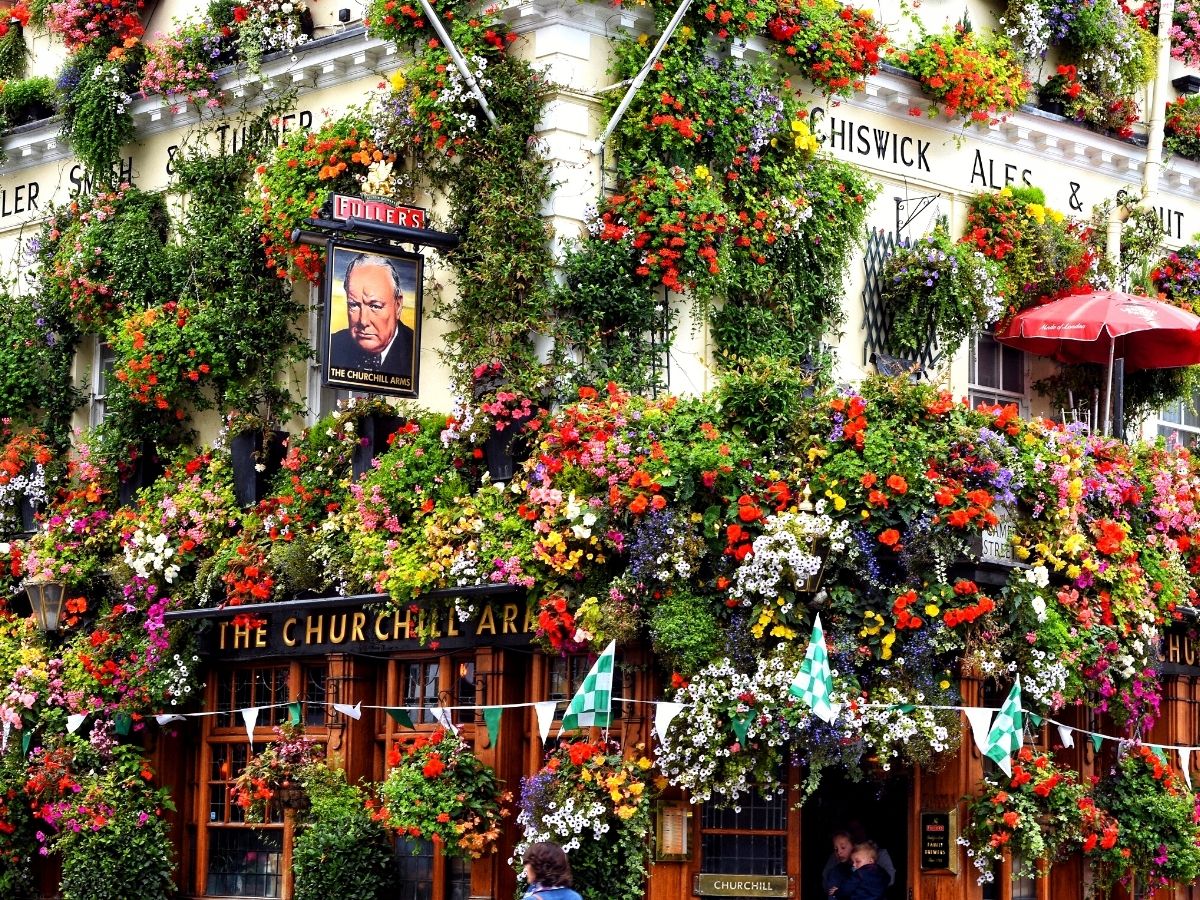 2. The Ivy Kensington Brasserie
The famed Ivy Kensington Brasserie on Kensington High Street, which is very close to the lovely York flat, is about a ten-minute walk from The Churchill Arms. Not only is The Ivy a lovely location for a photograph, but it's also a terrific place to enjoy a full English breakfast. You'll be experiencing a lovely foodie experience along with the presence of flowers.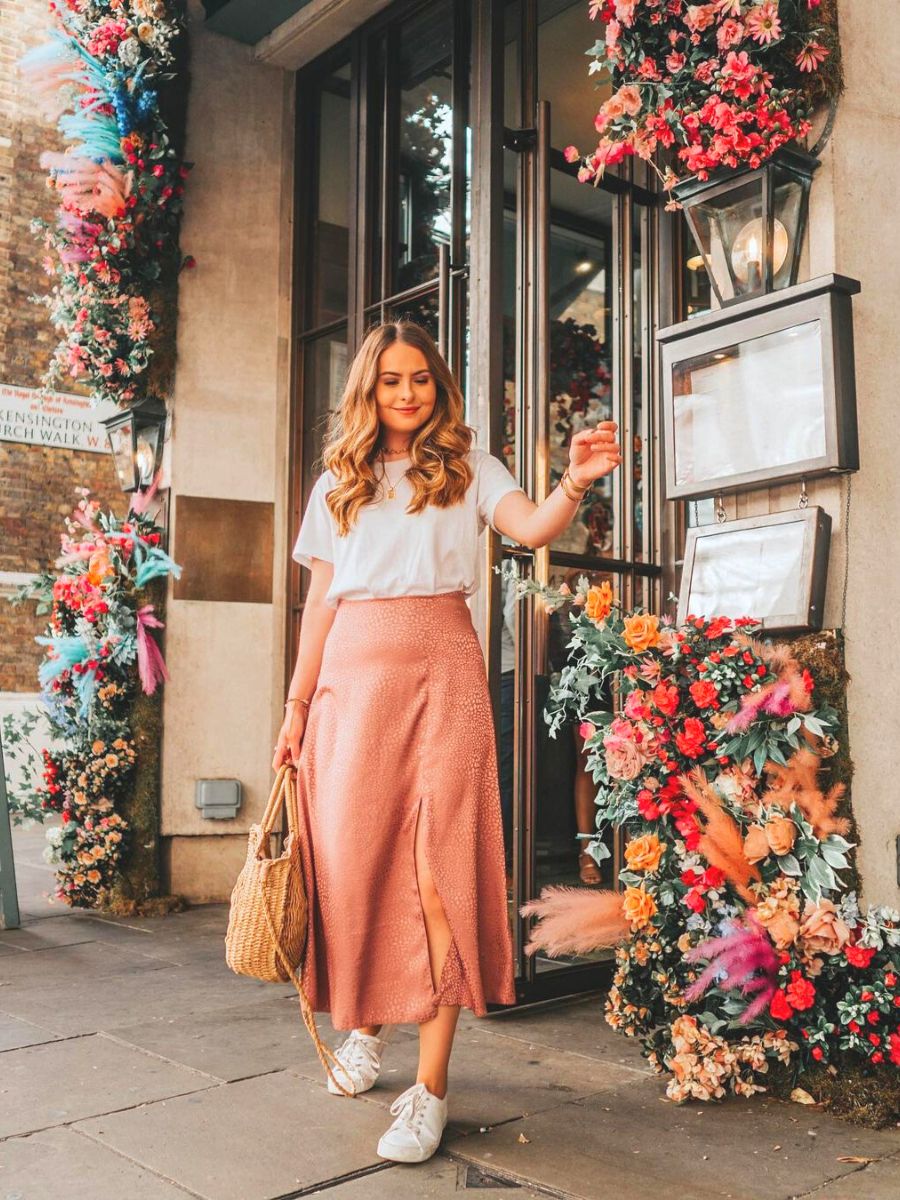 3. 34 Mayfair
There are plenty of photo opportunities in the center of beautiful Mayfair, but don't miss 34 Mayfair. You'll be entering flower heaven and paradise at the same time when you visit this location. Have you seen anything more beautiful? This magnificent grill restaurant does not scrimp on aesthetics, and it is currently brimming with flowers. This is also a great place for a fantastic lunch. On weekends, they provide the most delectable brunch, complete with a table-side bloody mary cart.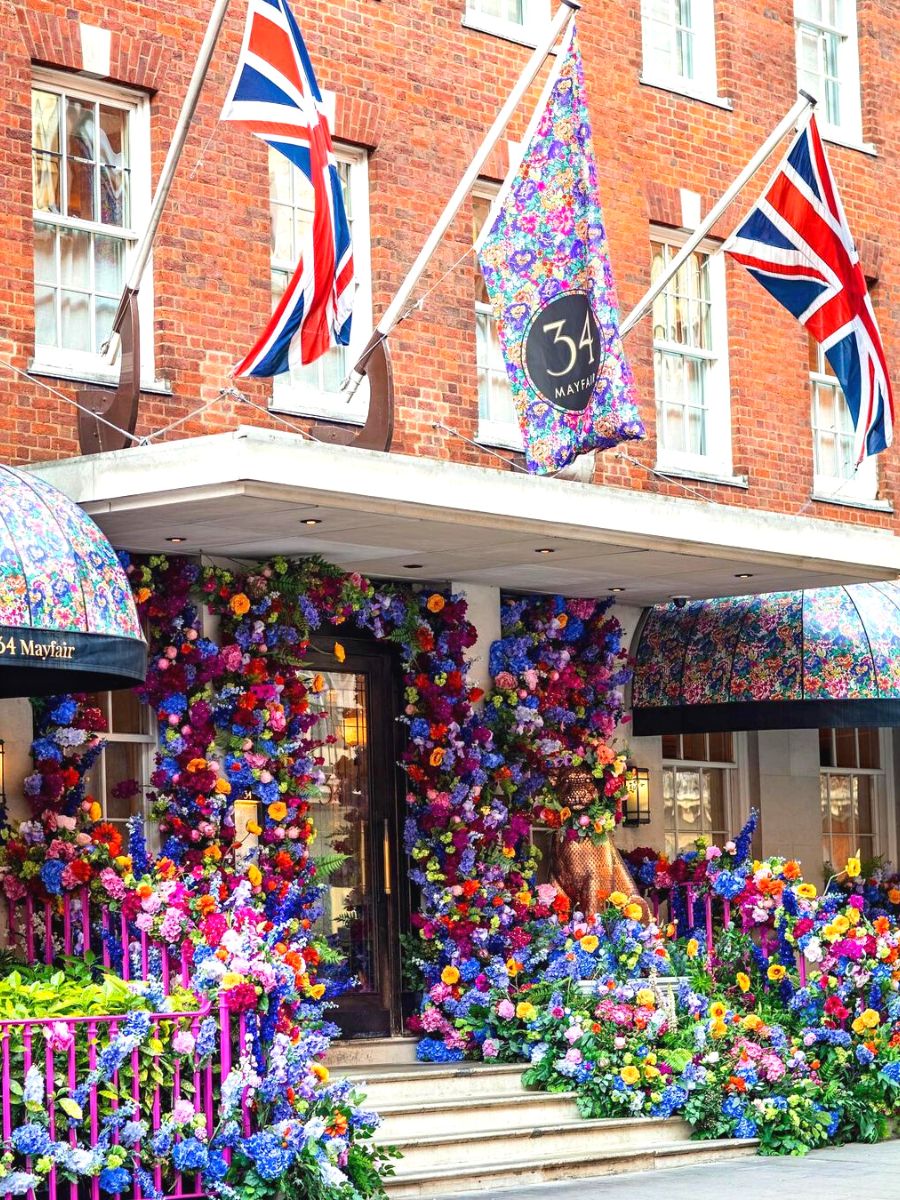 4. Neill Strain Floral Couture
Continuing with the list of eight of the most fabulous floral facades in London is Neill Strain Floral Couture, an award-winning florist with the most stunning outside displays that alter throughout the year, which is also located in Mayfair. If you're strolling through London and are passing through Buckingham Palace for some fun, don't forget to visit the floral spots through Mayfair.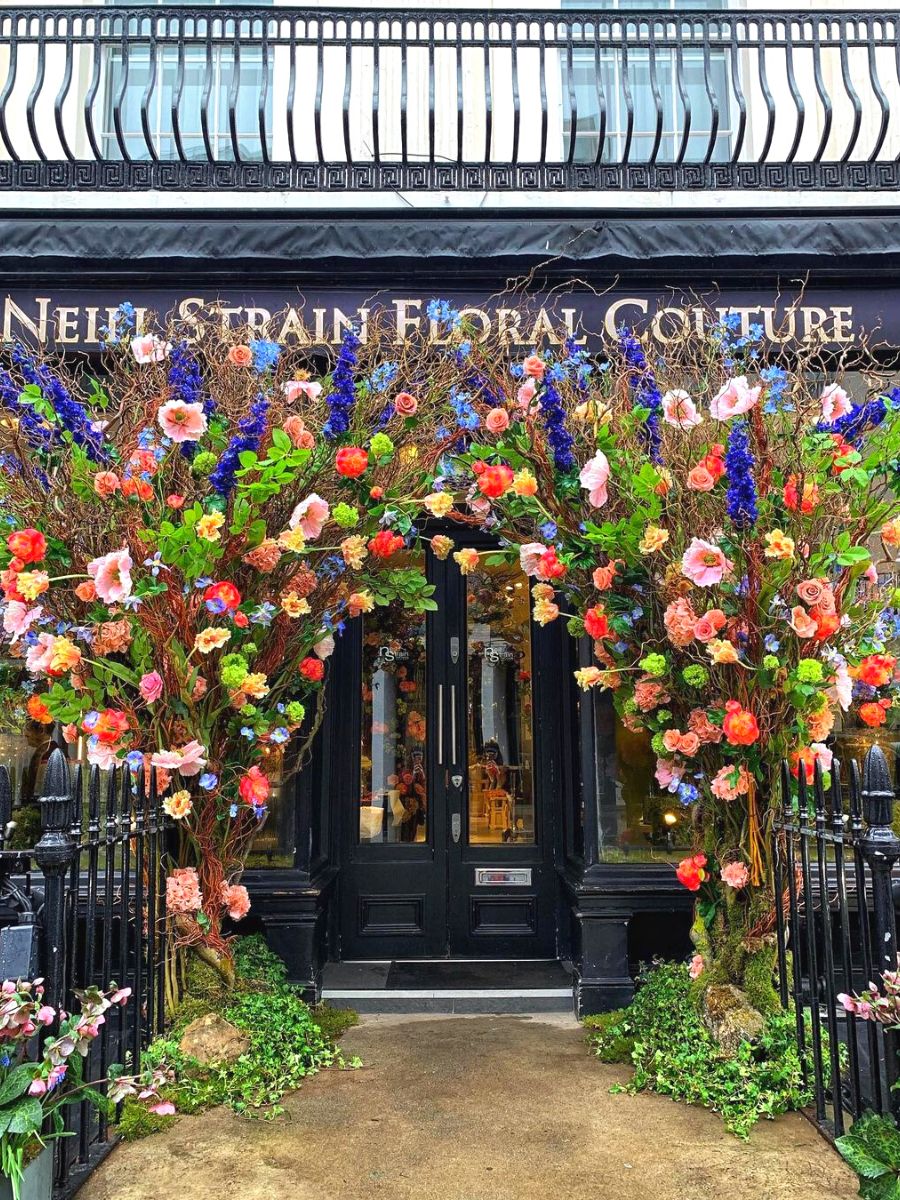 5. Minnow
Minnow, a neighborhood eatery in Clapham's laid-back area right off Clapham Common, is dressed to amaze with floral arrangements that change with the seasons. Minnow is looking quite fall right now, with warm autumnal leaves and foliage. Are you going to miss out on seeing this site?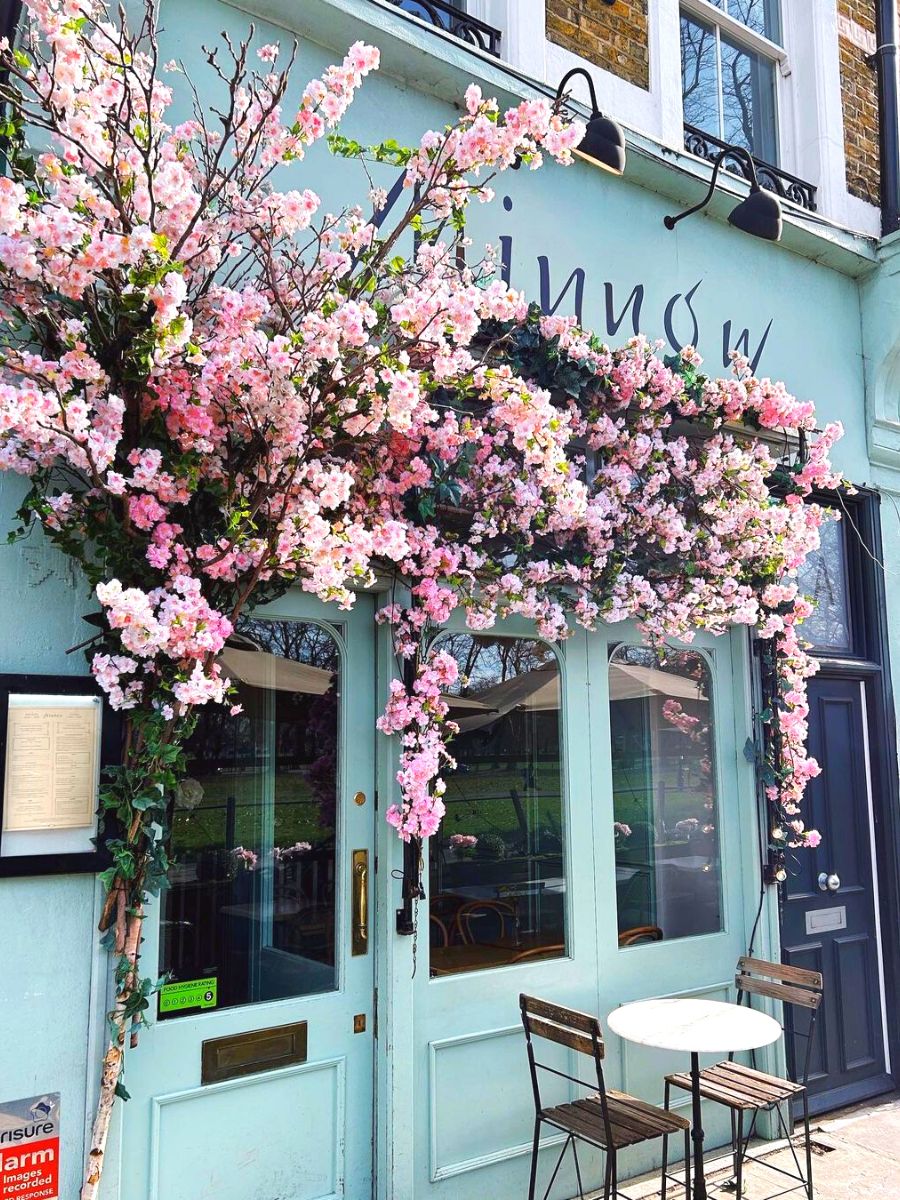 6. Saint Aymes
Saint Aymes near Marble Arch is a must-see for Instagrammers. It's been dubbed 'London's most beautiful café' for a good reason. Not only is the floral appearance a complete fantasy for floral lovers but delights like Unicorn Cloud Ice Cream dipped in 24-karat gold and hand-painted chocolates will make any social media page magical.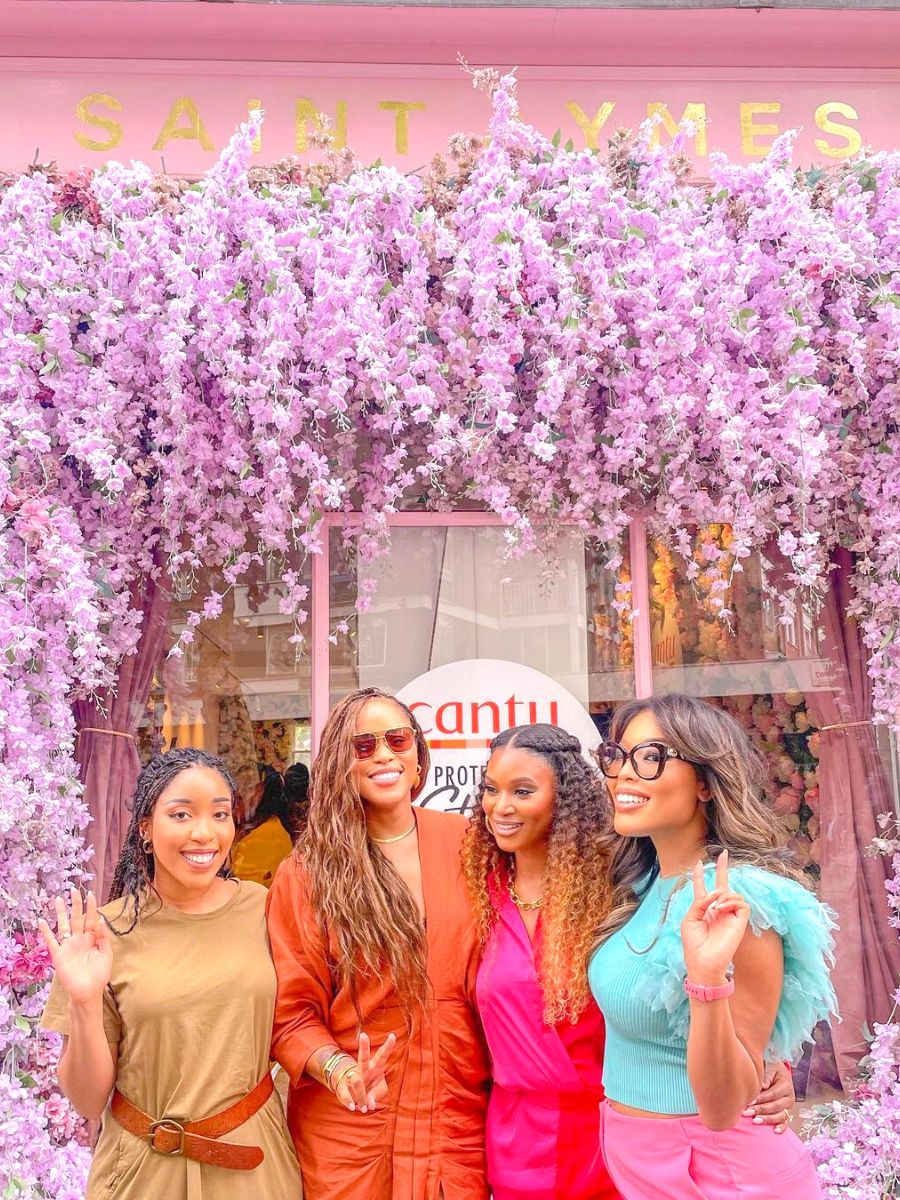 7. Peggy Porschen Belgravia
Another social media fave is Peggy Porschen Belgravia, which is directly next to the Wellesley and has a wonderful fireplace. You may have to wait in line to get a table at this gorgeous pink palace, but you will get the perfect photos given the fact it always has lovely floral arrangements on its facade. This is definitely another of the eight fabulous floral facades in London you'll want to see! Stop by and don't forget to get some cronuts while you're there.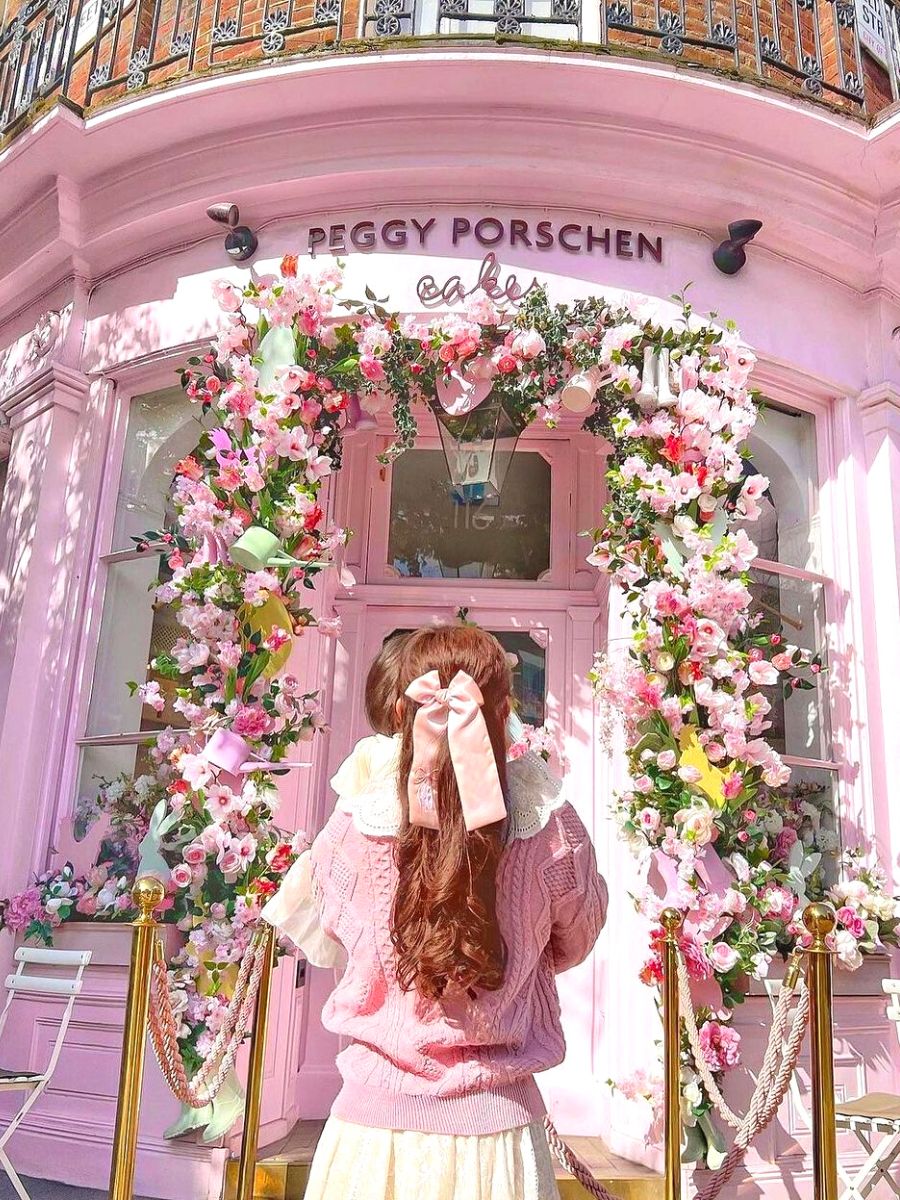 8. No. Fifty Cheyne
No. Fifty Cheyne is a must-visit restaurant in Chelsea's affluent neighborhood, with a robin's-egg blue facade and a garland of pink flowers. It's next to the Wellington, which has lovely outside space, and the elegant Pelham. You can stop by for a few drinks but also stay for dinner. They provide the most delectable native British beef, which is barbecued atop a huge grill in the restaurant's center. If you're a foodie and flower lover, you'll be getting the best of both worlds.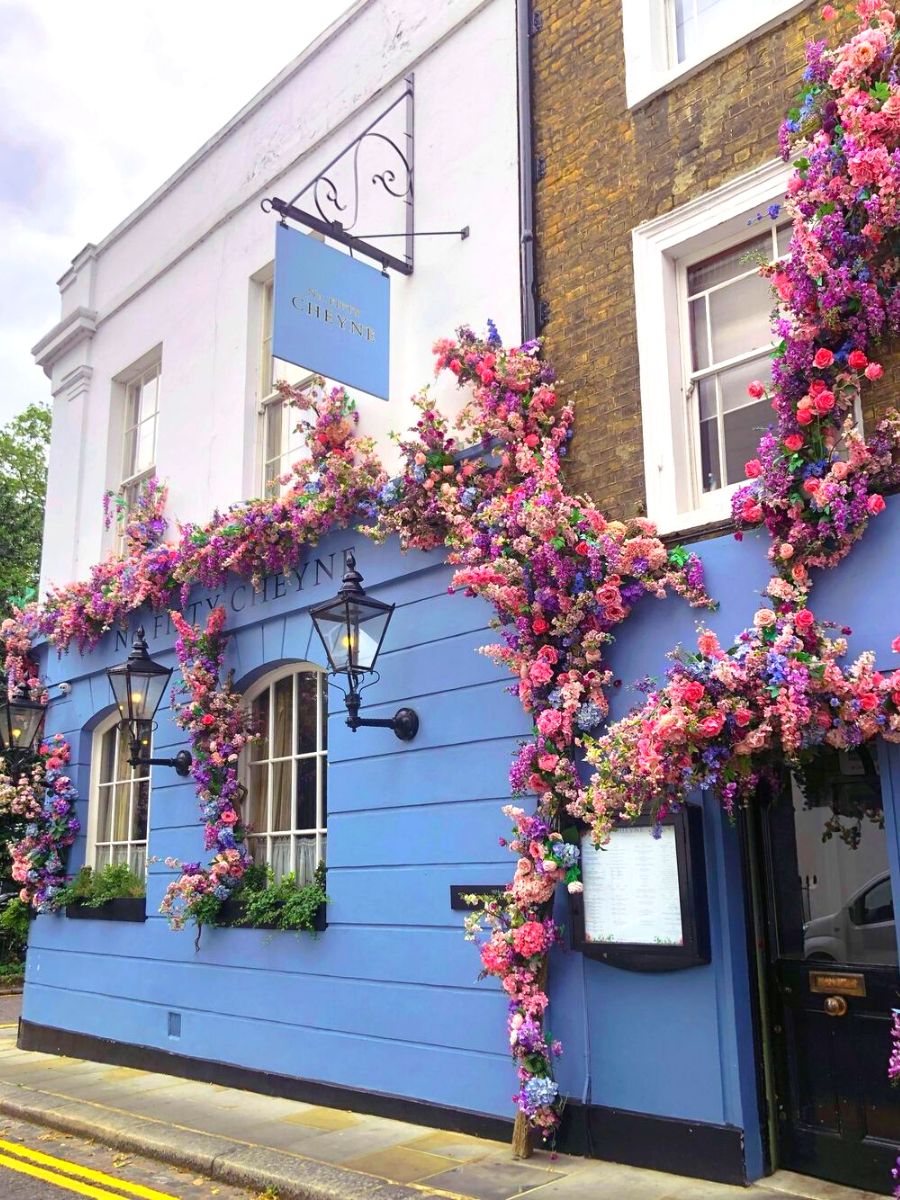 Flowers and storefronts have great chemistry and go amazingly well together as you may have noticed. Which of these spots was your ultimate fave?