Robin Rose speaks flowers. By that, I mean, the precise language, specific to people who spend their lives in love with flowers. As Robin notes, flowers are an interesting thing to love, because… well, most people love flowers. But, it's her attention to detail, her knowledge of botany, her meditative practice and her insistence on a heightened form of artistry that turns quotidian love into pure craft. We spent the day visiting her studio, Fleurotica, and caught up with her to hear all about her floral fascination…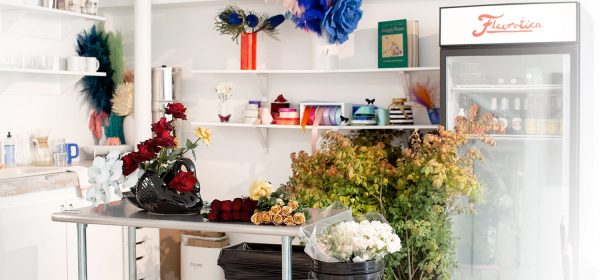 What does a typical day in the studio look like?
I tumble in early-ish, laden with boxes from the flower market, and take my time settling in. I make jasmine tea and put some piñon incense on while I unpack my supplies. Unwrapping and pruning the flowers is called "processing," and I love it – it's meditative and gives me time to get my creative juices flowing for the day.
If I'm arranging for photography, I'll take my time selecting a vessel from my vintage collection. But if it's for a delivery, I almost always use a clear glass vase with a kenzan (a Japanese-designed floral-pin base for keeping flowers in place). I arrange quickly and try not to let myself overthink it. I'm working on quitting while i'm ahead, and trusting my gut more with composition. Whenever I spend too much time on something, I end up feeling dissatisfied! I like to blast whatever random song I've got on repeat and hunker down. Then, I give the finished product her glamour shot on my little pedestal and, if I'm lucky, walk it on my own two feet to its cutie recipient...
What drew you to flowers and floral arrangements? (Although, I would ascribe the words "floral art" to your elevated take on all things floral!).
Thank you! I've always struggled with this question, as I think we're all drawn to flowers – they're like pheromones, sugar and a cloudless day in their universal desirability. I came to a preoccupation with flowers viscerally, thanks to that incredible pull and my weakness for beauty. But, I came to my current occupation with flowers like a pot at the end of a rainbow – something just clicked. I had always been an artist, and felt total confidence in my identity as such; yet, I'd never felt entirely at home working with any formal artistic medium. The first time I worked with flowers, years ago, helping a florist friend out on a fateful Valentine's Day, I felt a jolt of creative recognition – like a language in which I was mysteriously fluent, despite never setting foot in its country of origin. Since, I've spent years getting to know flowers, how they are fickle, and sweet, and singular and what they want and need. I try to treat it like working with horses (which I did as a child) – sure, I'm the boss, but it's about wholeheartedly respecting the animal. I'm always listening and making sure we have a symbiotic relationship. :)
[instagram username="fleurotica" tag="" heading="no" columns="4" count="4"]