As the weather warms up, many of us find ourselves spending more time outdoors. And what better way to cool off than with an outdoor shower? From rustic wooden structures to sleek modern designs, outdoor showers can be both functional and stylish additions to any outdoor space. In this lookbook, you'll be able to explore ten of the most refreshing and inspiring outdoor shower designs.
10 Houses With Outdoor Showers
This list of ten houses showcases various approaches to the outdoor shower including a grotto-like residence in Hawaii, a brutalist surfer's sanctuary, and a Swedish villa, among others. There are few things more therapeutic than bathing under an open sky, so take note of the following, which will have you reconnect with nature like never before.
1. Villa Pelicanos in Mexico by Main Office
The villas at this Sayulita beachside vacation complex, restored by architecture firm Main Office, have outdoor showers built into the coastal rock.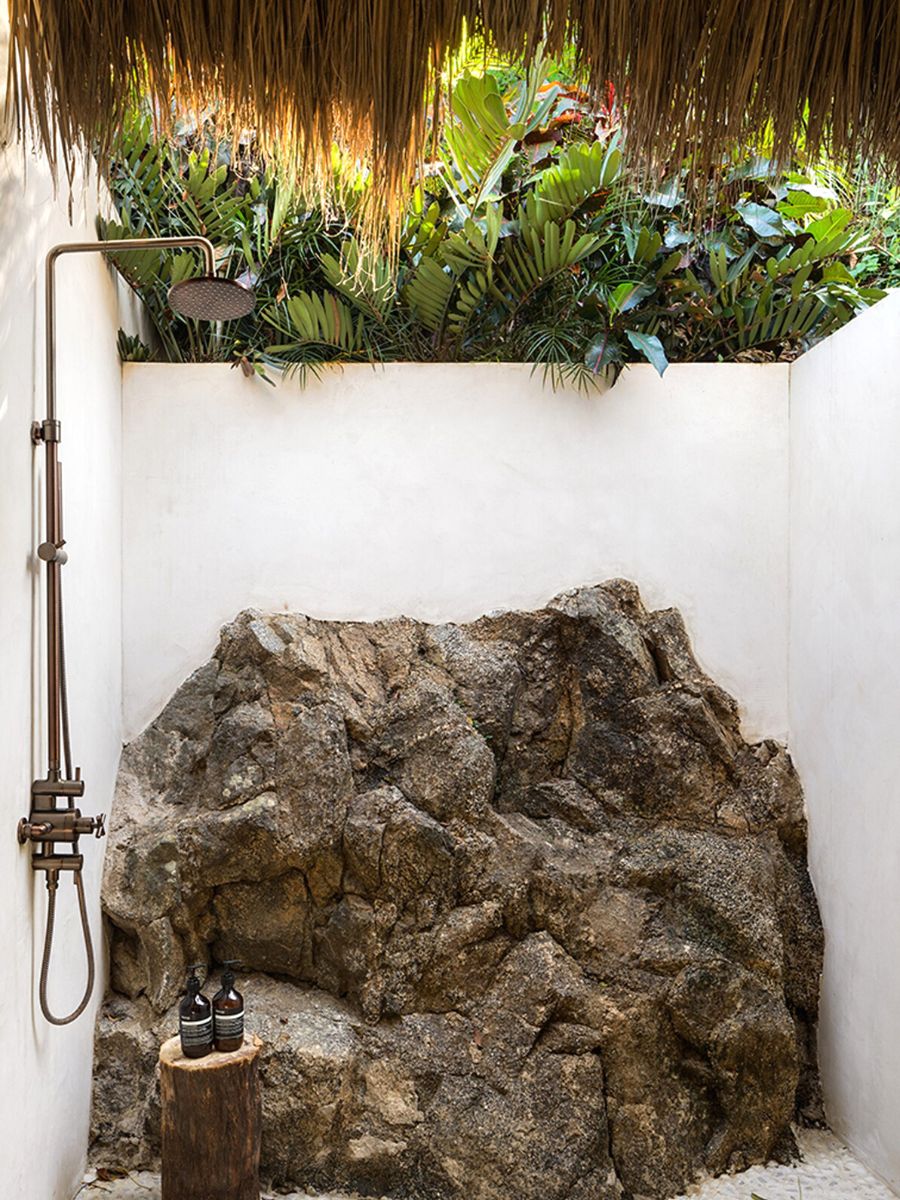 The pastel concrete walls and pebbled terrazzo floor are framed by tropical foliage and thatched roofs. Definitely one of the 10 most beautiful outdoor showers that your eyes will ever see. Just think about the delight of showering in this marvelous outdoor shower!
2. Kua Bay Residence in the United States by Walker Warner Architects
This incredible outdoor space, designed by Walker Warner Architects is located in the United States. Walker Warner Architects' Kua Bay Residence is set on a mountainside in Hawaii among volcanic rock formations.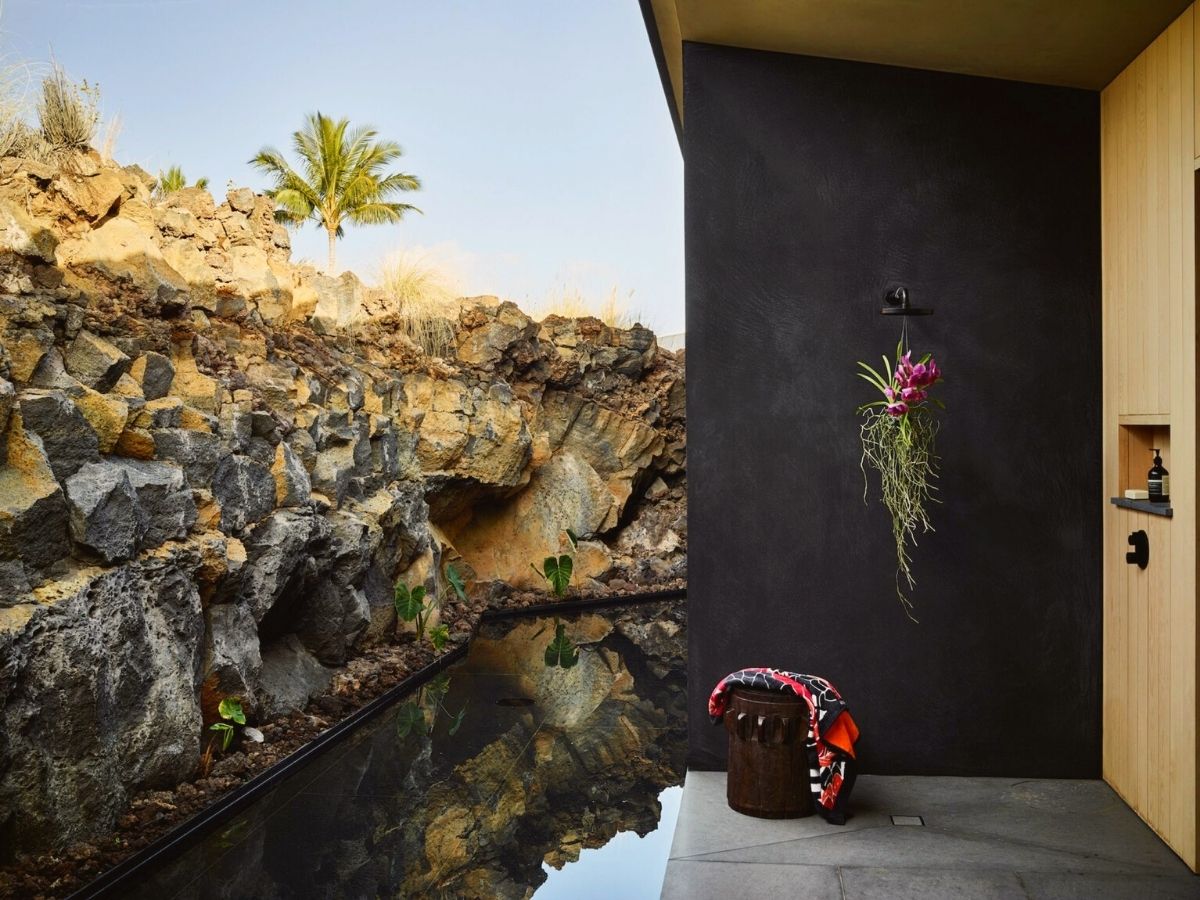 A private outdoor shower that views up to the mountains and feels like a rocky grotto, with an adjacent shallow water feature designed to resemble molten lava, makes use of the spectacular surroundings.
3. Litibu House in Mexico by Palma
This semi-outdoor shower in a Mexican vacation home designed by Palma opens up to the backyard via slatted wooden doors. The bathroom's long, narrow form, high ceiling, and dark concrete walls accentuate the appearance of the sunshine flooding in. One of the most remarkable and stunning ways of having an outdoor shower in a fabulous space for sure!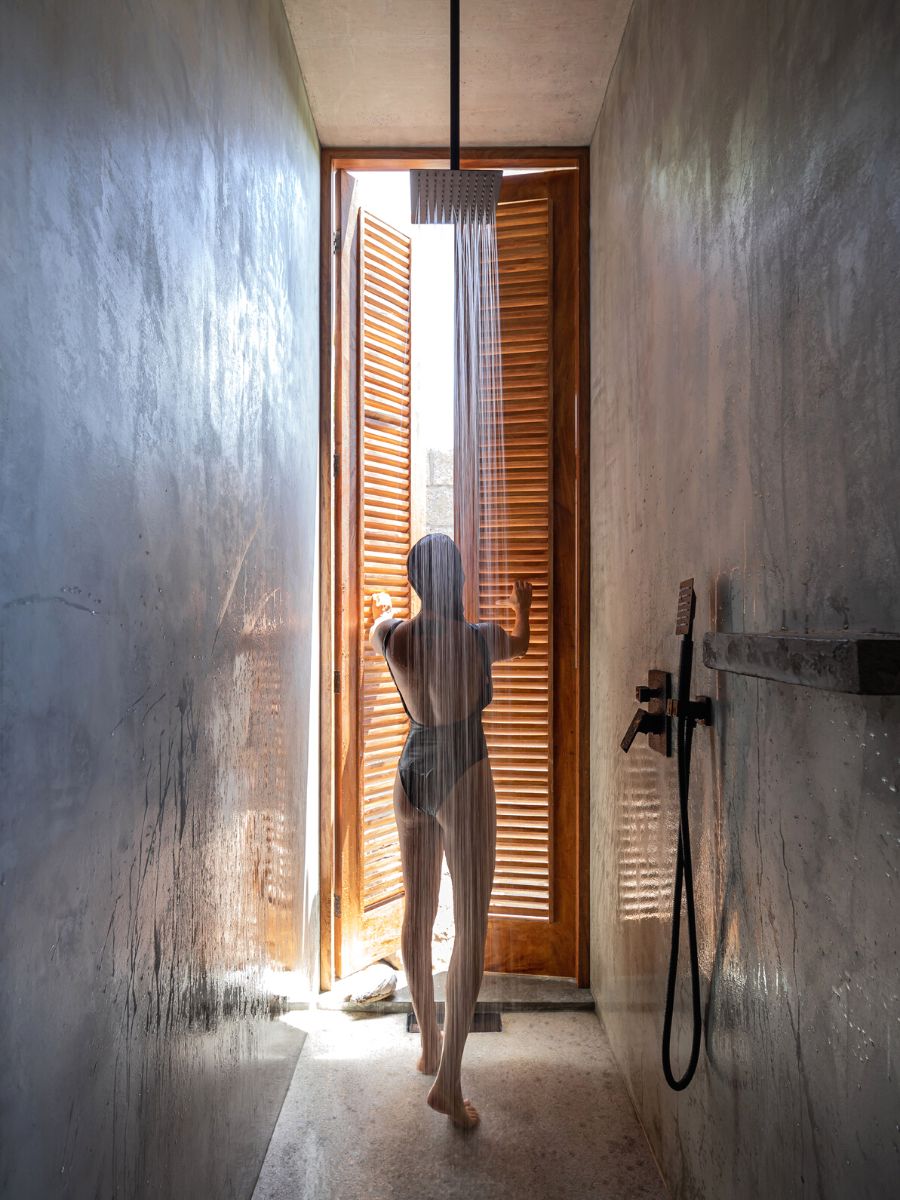 4. Casa Nu in Mexico by Chris Luce
Chris Luce built Casa Nu, also on the Mexican coast, as a functional surfers' haven. A board-formed concrete block with open-air showers for use after surfing, washing facilities, and a surfboard rack is among the outdoor places. Featuring a very natural type of architecture, this outdoor shower takes you to aesthetic shower heaven, definitely. Who wouldn't enjoy a fresh drizzle in this house's outdoor shower?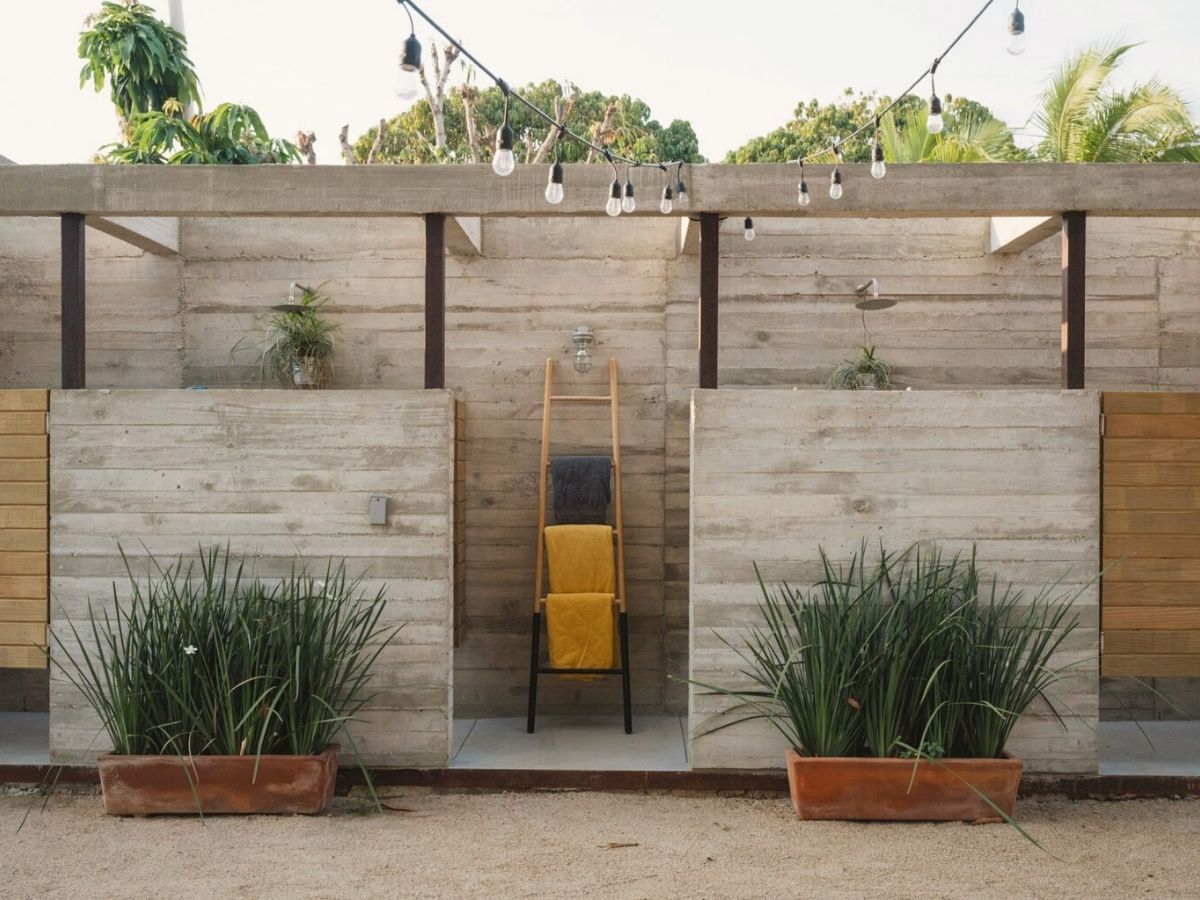 5. Villa MSV in Sweden by Johan Sundberg Arkitektur
An outdoor shower is located on a patio near the sauna and bathroom areas in this Swedish home built by Johan Sundberg Arkitektur. It is partially shaded by a larch canopy, although it is positioned on the southern side of the house to catch the sun. This one specifically, is a wooden shower paradise for all wood lovers.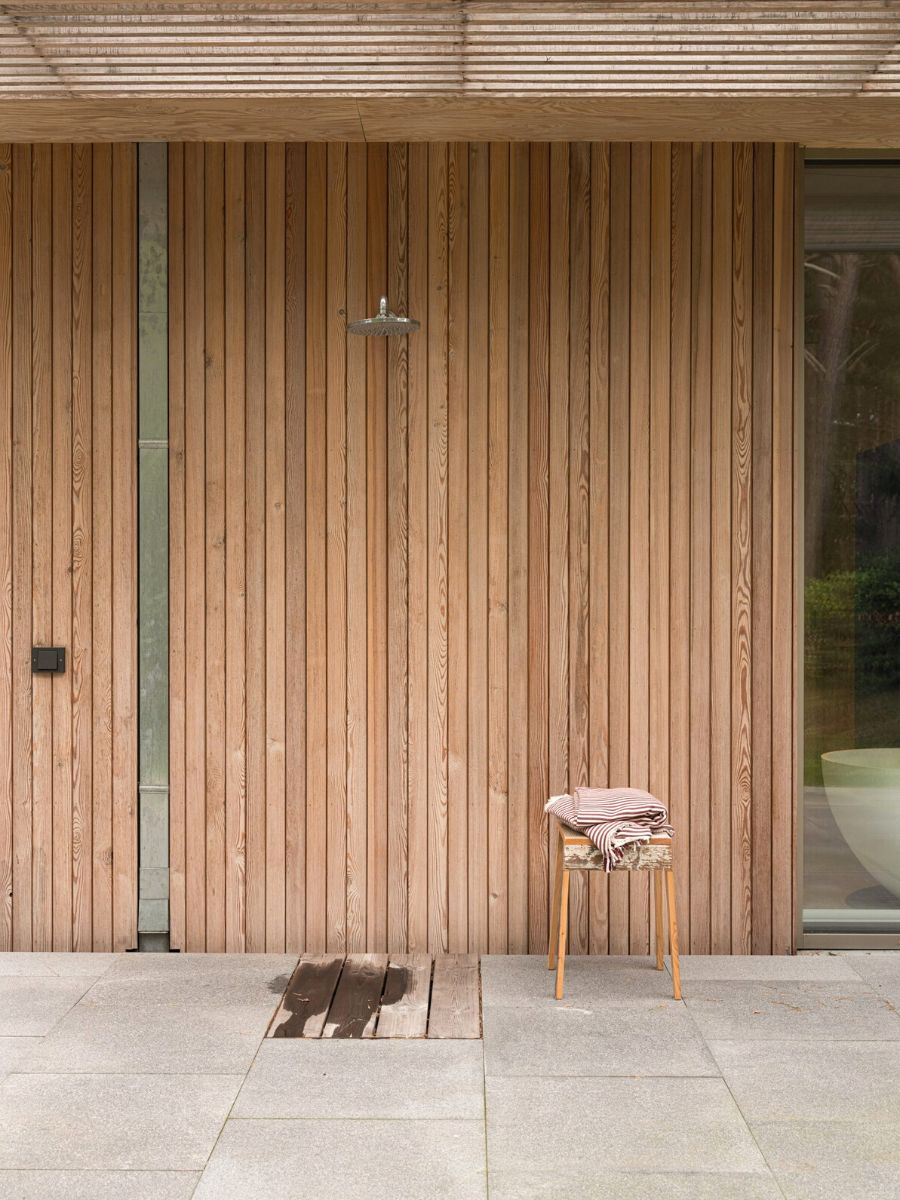 6. Salt Point Residence in the United States by Reddymade and Ai Weiwei
Ai Weiwei, a Chinese artist, collaborated with architecture firm Reddymade to build a corrugated metal expansion for a house in Salt Point, New York. The walls and gabled roof extend to form a porch at the southern end, with an outdoor shower set into a mirrored wall and a view of the landscape. A spectacular house with an outdoor shower that reconnects you purely to nature with such stunning green surroundings.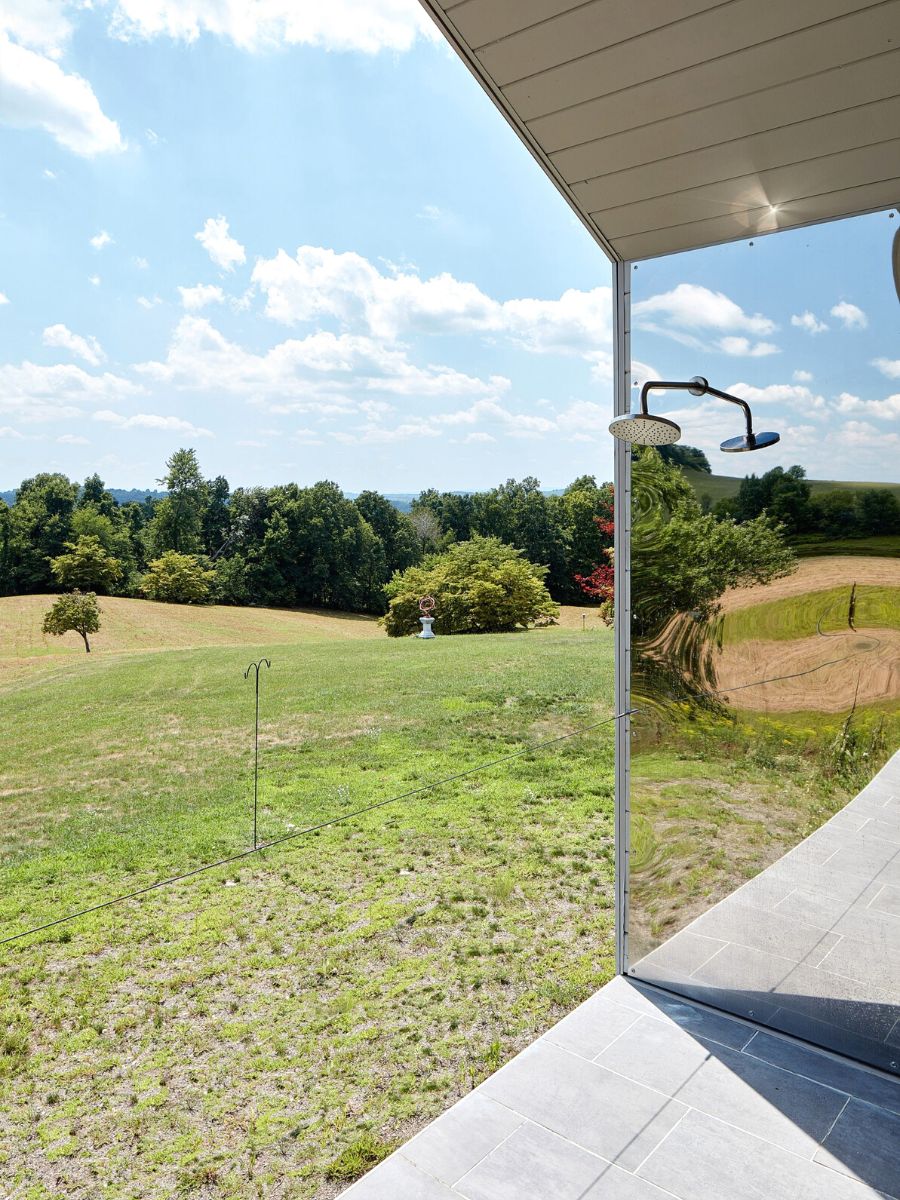 7. Coral Pavilion in Nigeria by CmDesign Atelier
Continuing with the list of ten houses with outdoor showers to get you in touch with nature is one in Nigeria, built byTarantik and Egger, who created the freestanding yellow-pipework shower outside Coral Pavilion.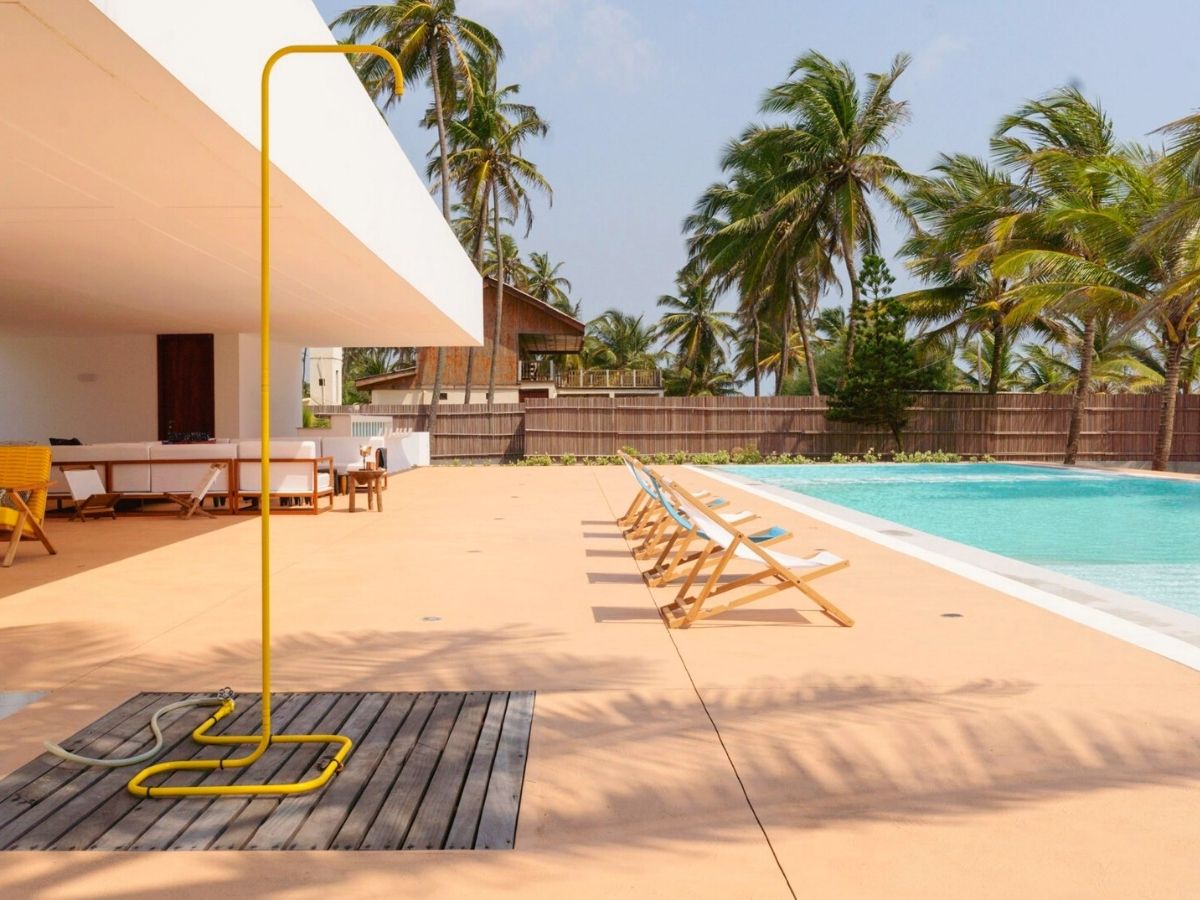 Its color contrasts with the main beach house's coral-pink concrete pool deck and plain white form, both designed by Tosin Oshinowo's company CmDesign Atelier.
8. Harrison Residence in the United States by Jeffrey Dungan Architects
At this Florida Panhandle home built by Alabama firm Jeffrey Dungan Architects, a semi-outdoor double shower drops down onto a first-floor patio.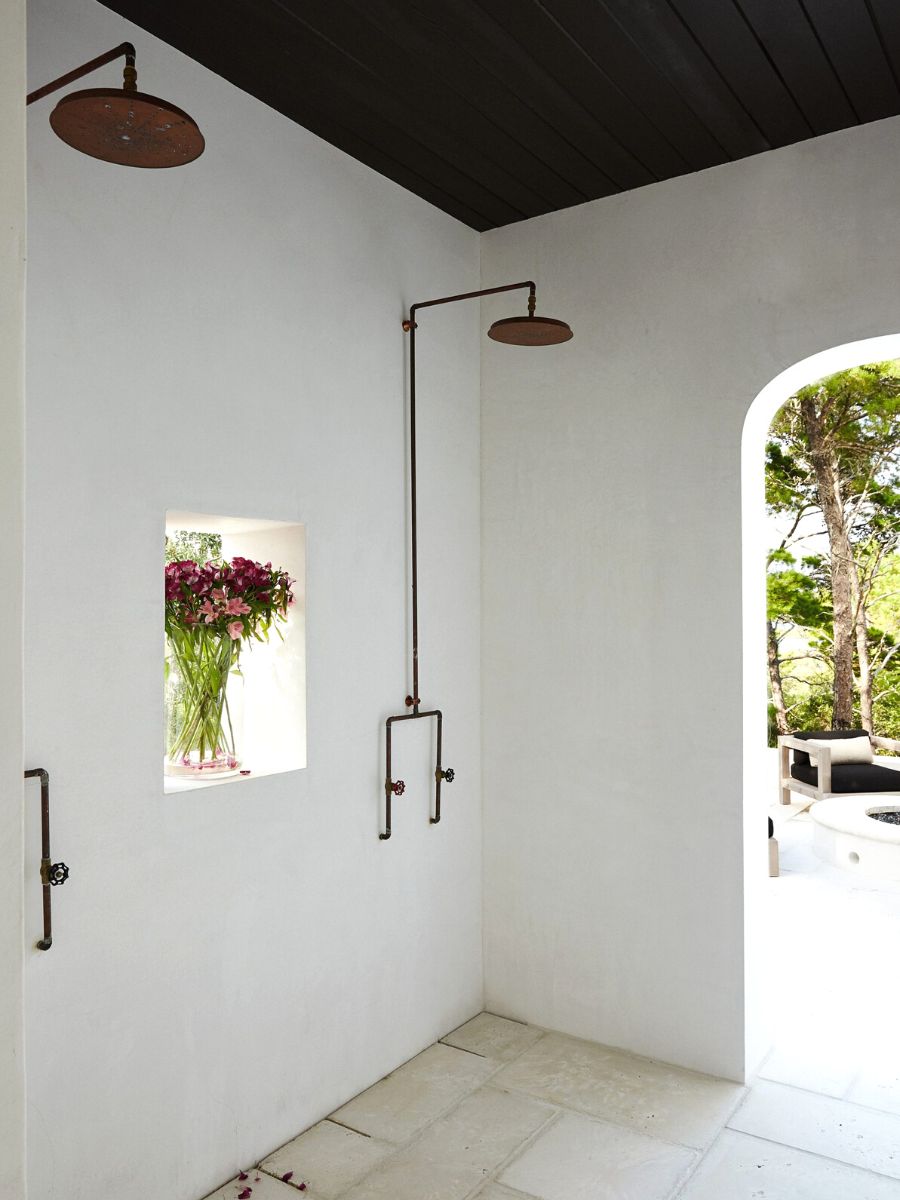 The shower room resembles a little garden pavilion with its paved floor, white-rendered concrete walls, arched doorway, and cut-out window shelf. As you can observe, flowers are placed in a little square 'window' featured in the shower, to give it a beautiful extra touch of decoration.
9. Casa Las Vistas in Costa Rica by Zürcher Arquitectos and Taller KEN
Casa Las Vistas' main bathroom extends onto a patio with an outdoor shower, tucked among enormous potted plants as a reference to the neighboring forests.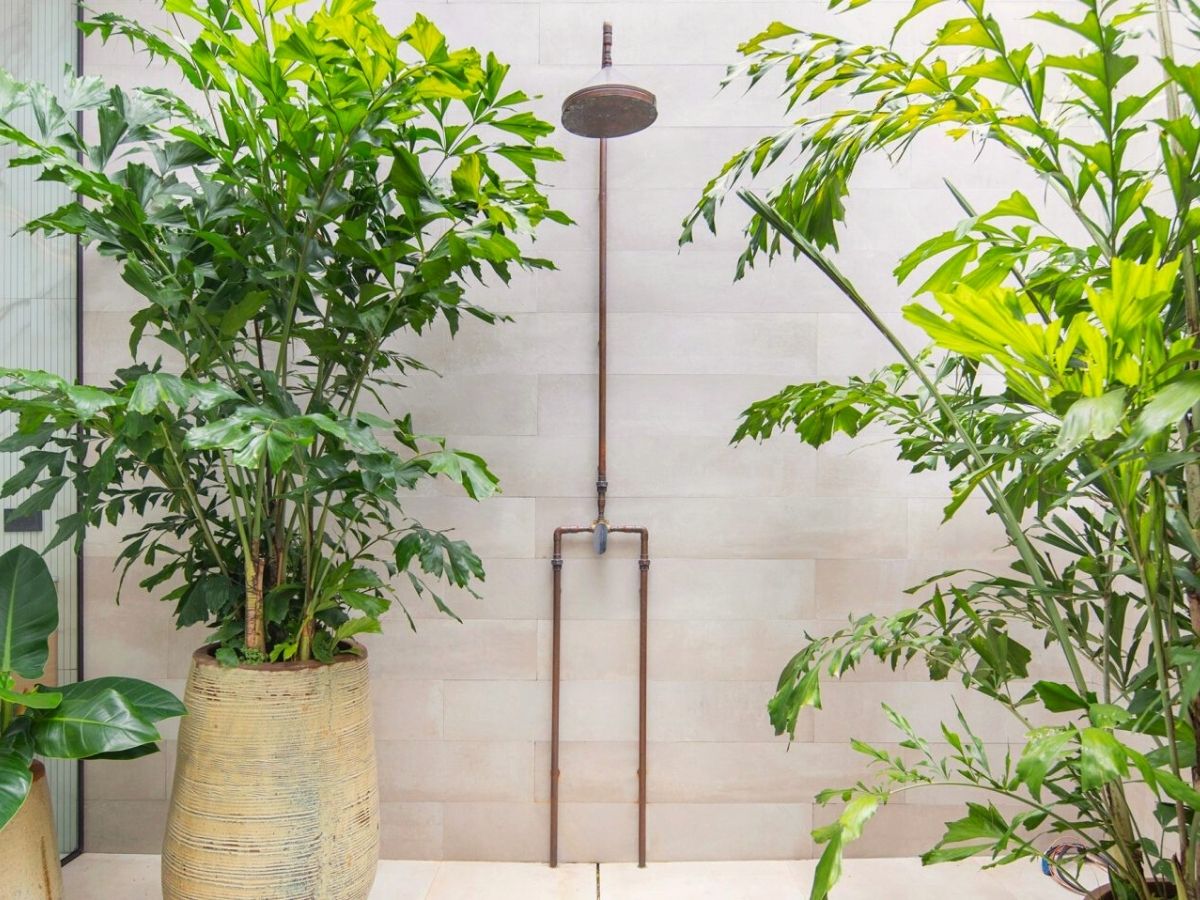 The shower's weathered copper piping is one of the few rustic details in the huge Costa Rican house built by Zürcher Arquitectos and Taller KEN. This house's outdoor shower is the purest expression of love for nature with its lush green plants and environment.
10. The Voxel in Spain by the Institute of Advanced Architecture of Catalonia
Last but not least, this house in Spain features a gorgeous outdoor shower in a wooden ambiance. During the coronavirus pandemic, students and researchers from Barcelona's Institute for Advanced Architecture of Catalonia created this wooden hut in the Collserola natural park as a site for self-isolation.

It has an outdoor shower that is lifted off the ground and placed outside the main elevation of the structure, which is wrapped with charred and slatted timber panels. The appearance of this house is much like a 'sauna', giving a feeling of pure relaxation.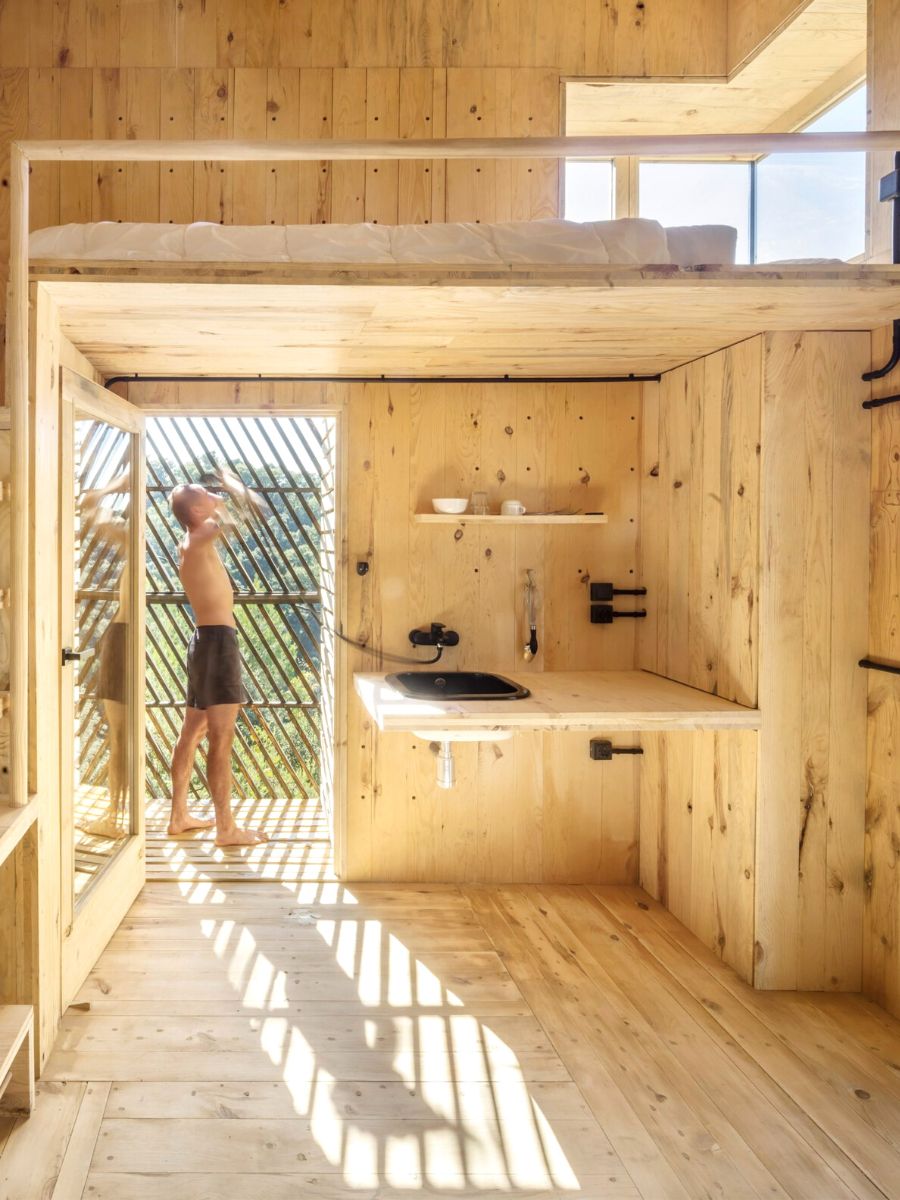 Who's a fan of outdoor showers? They are just the perfect way of remembering how important nature is for the mental health of everyone.