Captivating floral designs, cutting-edge industry insights, and enthralling networking sessions await at the 5th annual gathering of the India Florist Association (IFA). Scheduled for the 31st of July and 1st of August, 2023, the grand event coined as "IFA Meet 5" is themed around "Blooming Together," signifying the unity and collaborative spirit inherent in the floriculture industry in India.
The Panorama of IFA Meet 5
Over 200 florists and more than 100 floral decorations are expected to grace the event across India, creating a diverse and dynamic platform for sharing, learning, and inspiring one another. The Meet also aims to provide an ideal setting for B2B clients to explore and evaluate a wide range of products, thereby paving the way for novel collaborations and partnerships.
The IFA, a proud representative of retail, wholesale, online, and network florists in India, is characterized by an unwavering commitment to nurturing the country's floriculture landscape. It offers a comprehensive platform to its members for learning and growth while actively promoting the passion for flowers and the art of floristry.
Honoring Excellence and Leadership
One such stalwart member whose contributions significantly echo the IFA's ethos is Mr. Srikant Kanoi. As the Vice President of IFA, Mr. Kanoi embodies exceptional talent, artistic brilliance, and a commitment to the industry's growth. His profound influence on the industry will be keenly felt and celebrated at IFA Meet 5.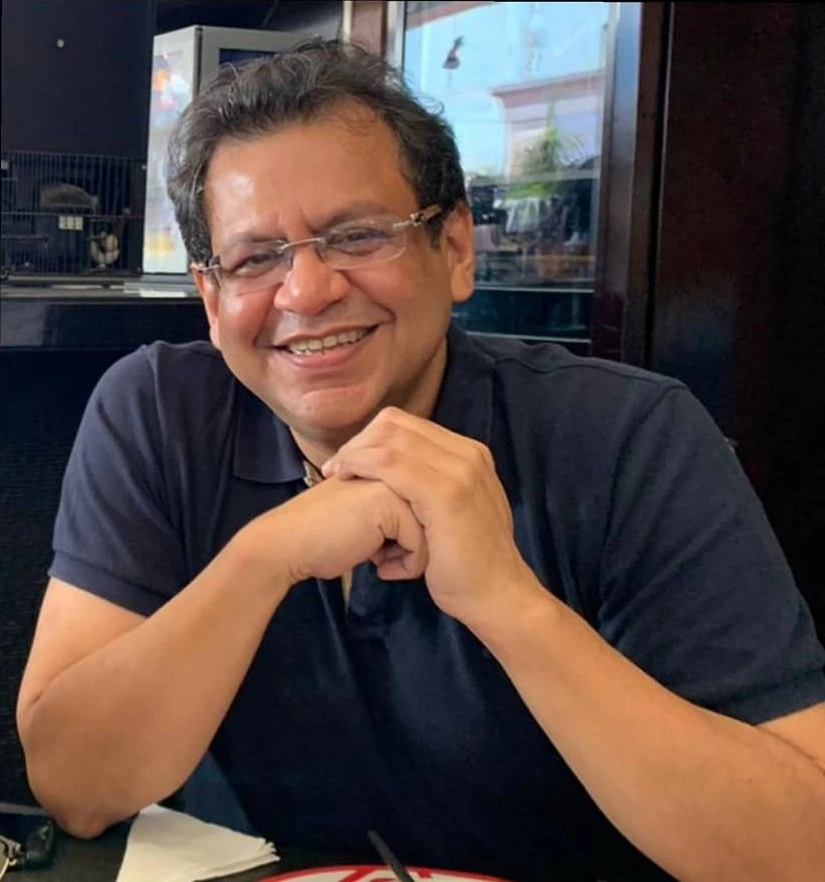 Mr. Kanoi's emphasis on intra-community networking has nurtured unity and collaboration, turning networking into a tool for mutual growth and industry solidarity. These networking efforts have strengthened individual florists' growth journeys and led to a more robust floriculture industry in India.
IFA Meet 5 will embody Mr. Kanoi's leadership and commitment to the floriculture industry. His philosophy of 'blooming together' will be the guiding theme of the event, encapsulating unity, knowledge sharing, and collective growth. Mr. Kanoi's invaluable contributions have shaped the IFA into an inspiring institution for its members.
The event's sessions have been meticulously curated to encompass various facets of the floral business. These range from open discussions about the industry's challenges to strategic insights on maximizing productivity and profitability. A tribute to late IFA members, along with recounting the journey of IFA, will lay the foundation for deeper bonding within the fraternity.
Igniting Insights at IFA Meet 5
Emphasizing the value of technological integration in business, one session will focus on harnessing Google Tools and ChatGPT to drive business growth. Subsequently, a masterclass on floral design, color composition, presentation, and photography will further hone the skills of the attendees.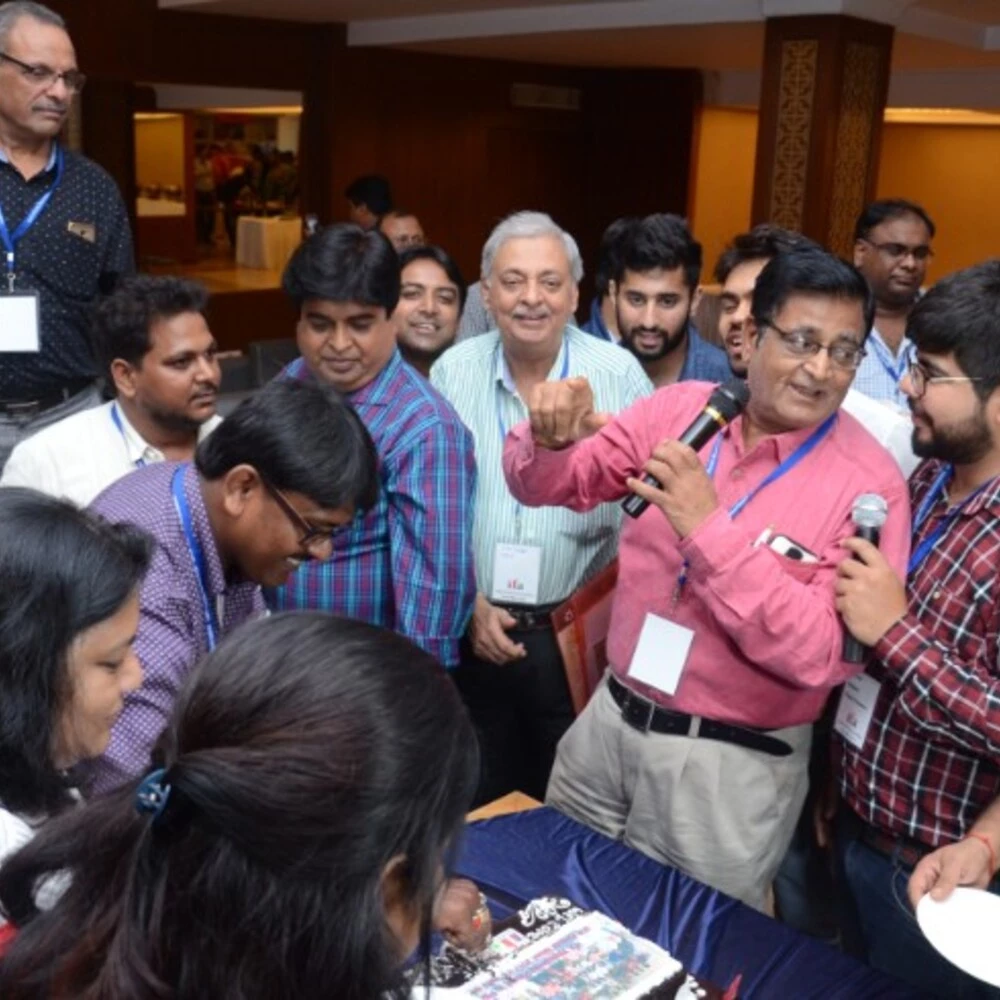 Day two of the Meet is dedicated to growth stories from fellow members and masterclasses on decoration to equip participants with the latest trends and techniques. Another open discussion will ensue on marketing, order management, and complaint handling, facilitating a mutual learning environment.
Celebrating the Spirit of Floristry
IFA Meet 5 concludes with an award function recognizing outstanding contributions to the industry, followed by a vote of thanks. As the curtain falls on this monumental event, the essence of the gathering – 'Blooming Together' – will be etched in the hearts of all participants, inspiring them to keep growing and blooming in their respective floral businesses.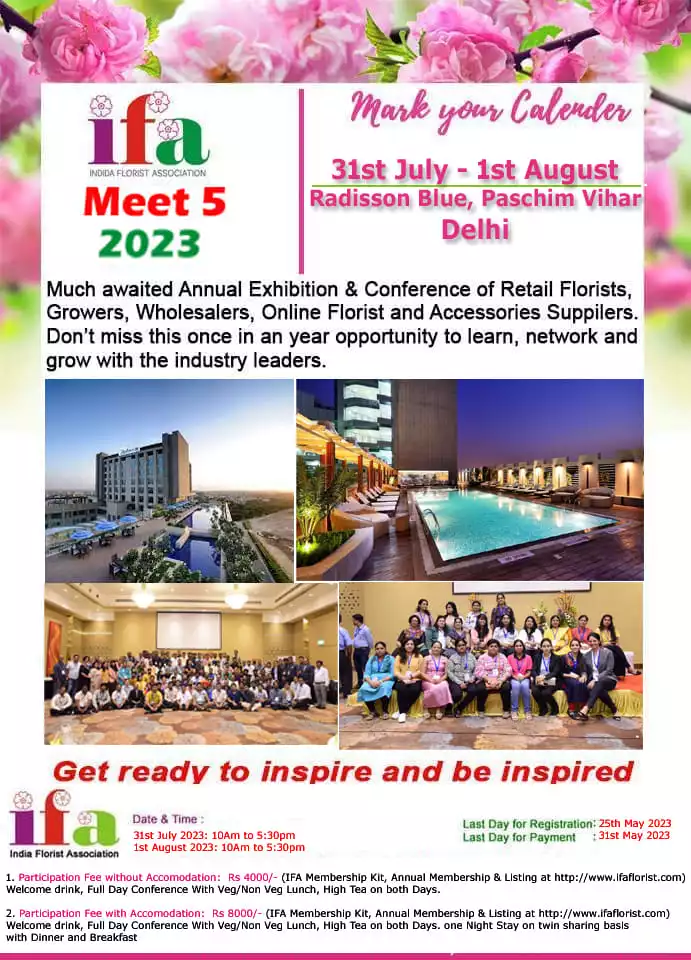 IFA Meet 5 Venue:
Radisson Blue, Paschim Vihar, New Delhi. (More details provided on registration)
IFA Meet 5 Schedule:
Day 1 - 31st July 2023: from 9:30 hrs. - 18:15 hrs.
Day 2 - 01st August 2023: from 10:30 hrs. - 16:00 hrs.
With a promise to inspire, educate, and facilitate networking, IFA Meet 5 sets the stage for a new chapter in India's floriculture industry. The event is a testament to the IFA's dedication to propelling the industry forward, fostering the growth of its members, and championing the love for floristry.