Ever been to the Atlanta Botanical Garden in Georgia, USA? Let's go for a short online stroll! Since the garden opened its doors in 1976, it has become the emerald jewel in the crown of Atlanta culture, and one of the most impressive botanical gardens to visit in the world. It is not only an ever-evolving destination where horticulturally-minded and nature-inspired people can come together to feel human again, but the Atlanta Botanical Garden is also famous for its incredible botanical sculptures - some temporary and some permanent - that are displayed through various exhibitions.
Temporary and Permanent Botanical Sculptures
Renowned plant collections, beautiful displays, and spectacular exhibitions make the
Atlanta Botanical Garden
the loveliest places to visit. An urban oasis in the heart of Midtown that includes 30 acres of outdoor gardens, an award-winning Children's Garden, the serene Storza Woods highlighted by a unique Canopy Walk, and the picturesque Skyline Garden. But the Atlanta Botanical Garden is also home to some of the largest mosaiculture exhibitions in the world.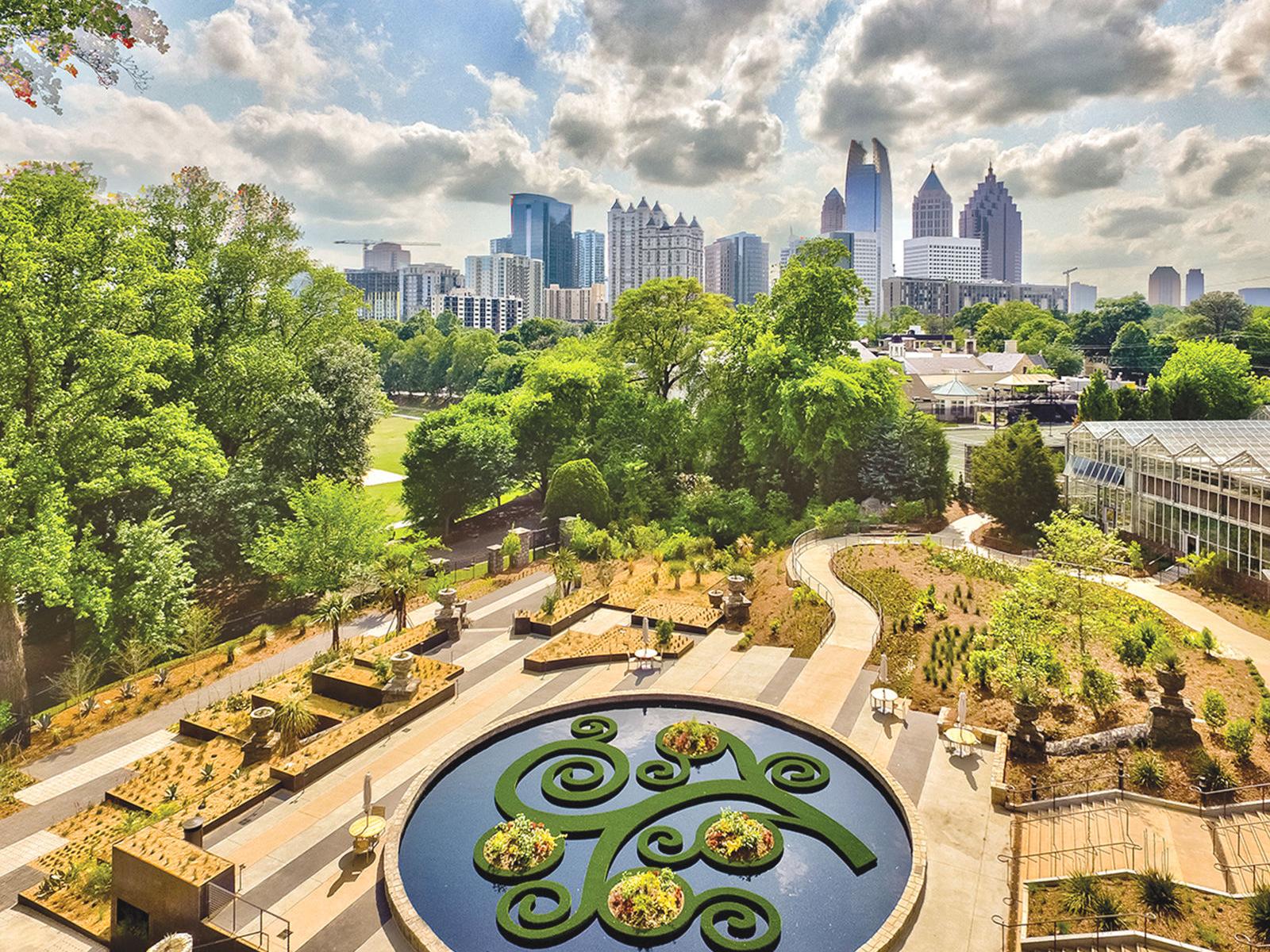 The Art of Mosaiculture
Mosaiculture is the horticultural art of creating giant topiary-like sculptures using thousands of annual bedding plants to carpet steel armature forms. It is an excellent art form for those among us when the green thumbs and the space to do it. A great example of this complex but beautiful art would be the mosaiculture exhibitions at the Atlanta Botanical Gardens – these elaborate and massive green structures create mystical and fantastic worlds that are lush with beautiful flowers and plants.
Thousands of Meticulously Groomed Annuals
"Each sculpture is a living, sophisticated evolution of the traditional 'stuffed topiary technique," states the Garden. "Thousands of meticulously groomed annuals are planted into soil-and-sphagnum moss-filled netting covering the steel forms – hidden works of artisanship themselves – to carpet the skeletons in colorful patterns. Complex irrigation systems beneath the surface of the sculptures allow the plants to grow – and the creatures to flourish – in Atlanta's summer heat."
The Earth Goddess
In 2014, the Atlanta Botanical Garden displayed the largest living plant sculpture ever in the United States, called Imaginary Worlds. Other well-known exhibitions from the past are the New Kingdom, Plant Giants, and Alice in Wonderland. Although most sculptures reside at the gardens temporarily, some of them have become a permanent fixture, such as the Earth Goddess; an almost 8 meters tall botanical sculpture made up of 18,000 annuals. If you ever find yourself in the Atlanta area, be sure to visit the Atlantica Botanical Gardens. Although they're currently not running a mosaiculture exhibition, there are always all kinds of events scheduled, and some of the botanical sculptures are a permanent fixture that can be admired year-round. Go to the
Atlanta Botanical Garden website
for more information.