In today's ever-evolving world, debating whether to incorporate sustainability into your business strategy is no longer an option. Considering a values-driven approach when developing business strategies can be vital to long-term success.
A 'What Can We Do' Approach
What if sustainability is looked at "what we can do more" and not "are we keeping the records ok" perspective? Sustainability in business is continuously looking for new ways to grow or operate more sustainably through smart actions, doing good for people, being a good community citizen, and not doing any harm to the environment.
Ticking the Boxes Is Not Enough
Integrating sustainability into business strategy and communicating about it is slowly getting standardized but we are not there yet. Consequently, businesses may think that simple acts are just enough but the reality is often more complex than that. As stakeholders' requirements are getting more and more around the environment, social, and economic sustainability, companies are searching for quick wins to tick the boxes. This often leads to greenwashing and making empty promises as we see with some sustainability record-keeping options.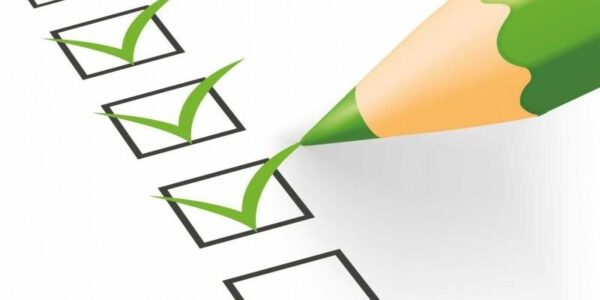 Importance of Sustainability in Business
As a flower & plant wholesaler, and as a florist that is looking for sustainable products, you've probably already heard of MPS. MPS is not a record-keeping that allows you to just 'ticking the boxes'. It's much more than that. MPS is a system that allows companies and organizations to built sustainability into their DNA to make sure everyone is engaged with better sustainability goals.
When Choosing for MPS
It can be stated clearly that if you choose MPS, you don't choose just an environmental label that is purely recording. Some companies only record and this, therefore, says nothing about how a company actually performs on environmental awareness. This is actually only administration and once in a while checked by means of an audit. So, it says nothing about really being sustainable. No, with MPS, you really choose to be sustainable and follow a trajectory that plans, acts, tracks, and communicates on your actions that make the world a safer, and greener place.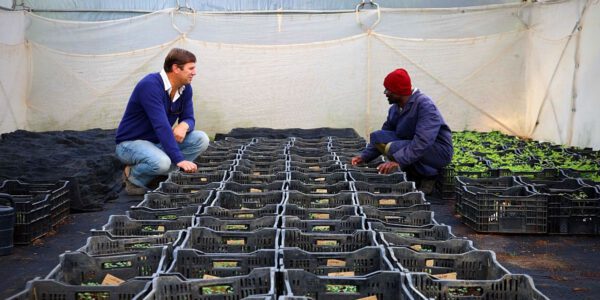 MPS Is Not Just a Record-Keeping Tool
MPS provides help with a sustainability guide for your business. It offers a framework within the industry where you operate with measurable and time-bound actions, targets, and your environmental impacts. Also relative to comparable business in the floral industry. Worldwide. That is quite unique. MPS is the only one in the world with this system. This means that a grower sees how he performs compared to fellow growers who grow the same type of product under the same conditions. With 5000 production locations worldwide and 25 years of data, MPS has a lot of experience in comparing data.
MPS Is the Better Choice
In contrast to 'just keeping a record', the MPS system works in a way that growers receive points for the use of more sustainable resources, and for the use of fewer resources. In this way, growers are guided to make more sustainable choices.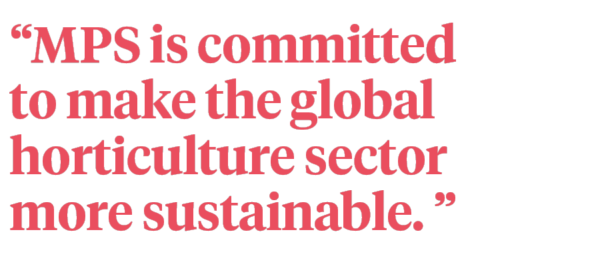 And if a company is MPS-ABC certified, this qualification tells you the company not only follows the legislation but also tells you about how the company is doing compared to comparable companies with the same products and production conditions. So MPS-A+ means that a company uses little energy/crop protection/fertilizers compared to his or her colleagues. And is, therefore, more sustainability aware with regard to these topics in its segment.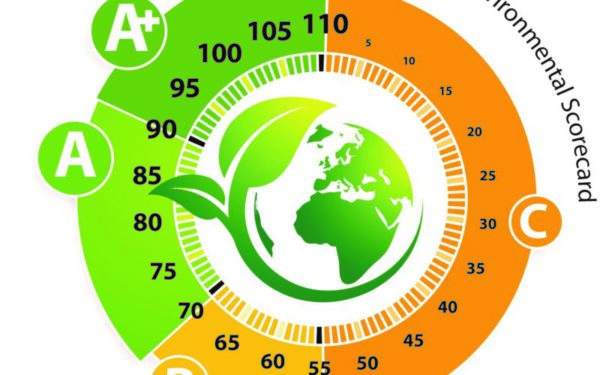 With MPS Growers Can Anticipate in Advance on Changes in Production
A grower that scores worse in the MPS system in relation to his colleague growers on certain points, can easily see how future changes will impact his sustainability score. This helps a great deal to produce more environmentally conscious in the long term. Raymond Scheepens, Area Manager at MPS:
"I had a grower on the phone who asked me what the impact would be if they started using a certain crop protection product. Together we looked up the environmental impact of the product in the system and I explained what the effect could be on the total impact and its points score for the crop protection theme. Also, a few months ago I had an appointment with a Turkish company regarding their MPS-ABC qualification. By going through the qualification overview and discussing where the "peaks" were, the grower can increase his score by changing his means of production in a more sustainable way. With this knowledge, created by the MPS system, growers can therefore opt for the least harmful products, which means that their environmental impact is lower. The MPS system triggers growers to think about this. And because points are also awarded for the use of less resources, energy, and fertilizers, the grower is encouraged to do better."

But the main goal, and the biggest difference between other sustainable record-keeping systems, is that MPS can revise the standards every year and therefore set the bar a little higher each time. As a result, we as a whole sector are making progress.
Benefits of MPS
MPS allows you to objectively see where your company stands in comparison to comparable businesses in the industry and results in several benefits. Here is a glimpse of those business benefits:
1. It provides a competitive advantage
Placing climate actions in business strategy, showing environmental impacts, and communicating transparently about what you do, gives you a competitive edge against competitors. A sustainable company attracts new talents, new customers, and new investors because they positively affect society. In other words, companies that make a difference for customers, employees, and other groups in society attract impact investors and increase the overall stakeholder engagement.
2. It increases the bottom line
Businesses that create sustainable growth will be eventually rewarded. Providing products and services that are sustainable throughout their life cycle and social aspects, attract clients who are increasingly aware of the responsible production and usage patterns. The fact is that customers are more and more seeking sustainable products and services and companies who answer to this need are growing quicker than their unsustainable competitors.
3. It reduces costs
All businesses look for growth but what matters is how it's achieved. Becoming more circular in the design state of everything by applying circular economy principles or making investments for equipment and innovations that optimize product manufacturing process all save costs. One single aspect that increases costs are stranded assets, unnecessary loss, and waste of materials that are composed in the production phase. By reducing or completely eliminating these waste and infra trails, business increases savings.
4. It builds employer image and brand
The company consists of values, goals, and practices that form the working culture. A sustainable business commits also to other important causes like zero tolerance of discrimination, bullying, illegal practices, and inequalities linked to diversity (sex, age, status, nationality, and disability) as well as making no harm to the environment. It builds your image as an employer and how people see your business.
5. It is absolutely necessary
Speaking of planetary boundaries, the global pressure, and what we already experience, there is only one option: to develop businesses in a more sustainable direction. Companies must adapt and improve reactivity in the rapidly changing world. Be Smart. Be Safe. Live Sustainably.