Who said lilies aren't perfect for the fall season and holidays that are lived in this gorgeous time of the year? They sure are perfect for any season, especially for what was already Halloween and what is coming up rather quickly- Thanksgiving.
Lilies and Thanksgiving Are a Perfect Match
The time to give thanks for the everyday blessings is nearing, and with it comes the opportunity of having the best flowers around. Yes, lilies it is for Thanksgiving! You're about to get a glance at a wonderful autumn lily guide to adorn your house the most charming way on autumn holidays.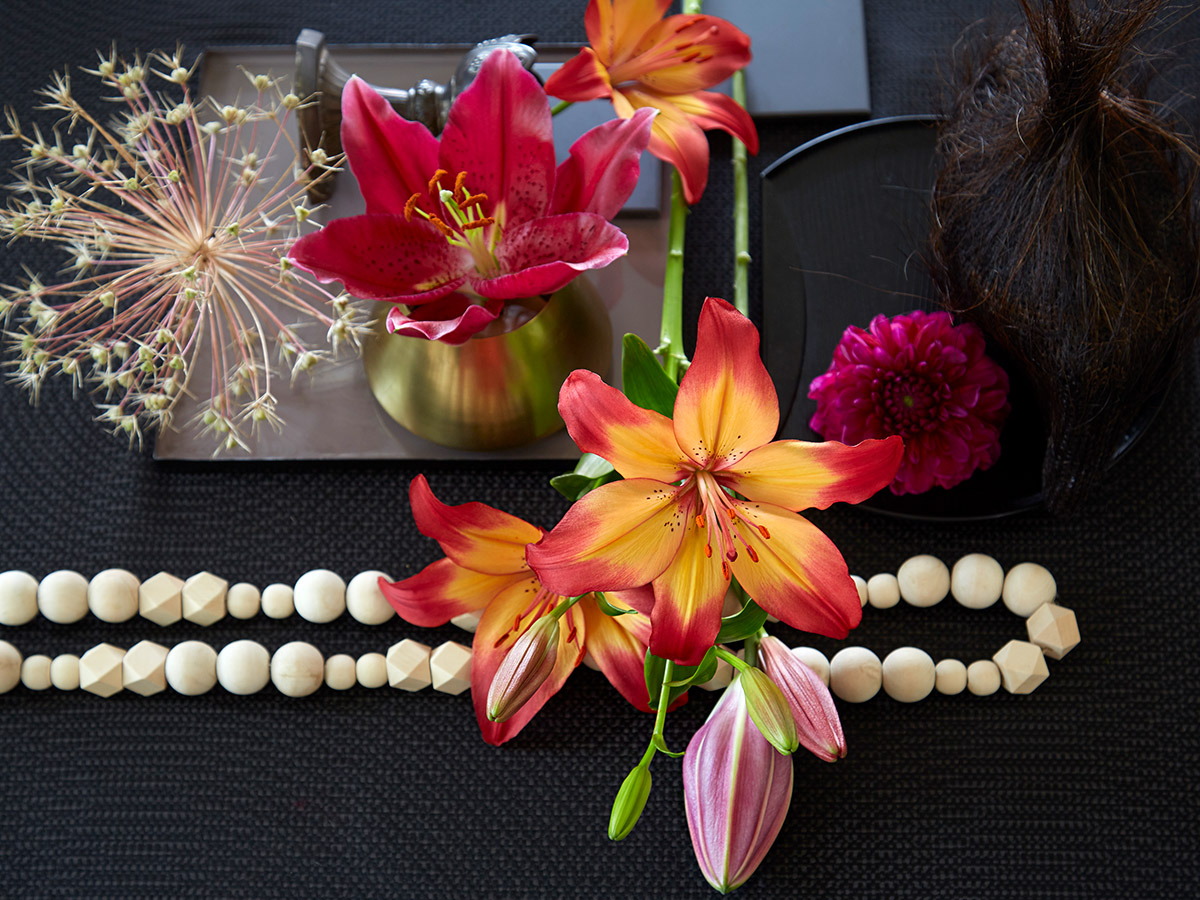 Why Lilies Are One of the Most Prefered Flowers
But first, let's do a little recap on why lilies are perfect for special occasions.
One of the most recognizable flowers on the market right now is the lily. It is no wonder they are gaining loads of popularity due to several reasons. To start off the lily love, their long-lasting blooms, year-round availability, and vast range of brilliant, magnificent hues have allowed it to become a top-selling cut flower for decades, besides the magical appearance they add to any space where they are placed. If you haven't yet tried the lily magic, you're in for an adventure.
A Diverse Range of Lilies to Choose From
Asiatic and Oriental Lilium species are the two most frequently utilized in the flower industry, although new varieties and improvements in lily breeding now give alternatives for stem length, blossom size, form, color, and perfume. Lilies are once again one of the most sought-after flowers in today's market thanks to new varieties such as OT and LA hybrids and LA, which provide clients with a variety of options. And don't forget those pretty longiflorums.

If you're ready to make the most out of your lily journey with the most beautiful bulbs coming from the European Union stay tuned to know more about what these spectacular lilies have to bring to your Thanksgiving table.
1. Oriental Lily
Oriental lilies are the greatest choice if you're a person looking for a slight, pleasant aroma. These have a wonderful smell that can fill a room when they are fresh. These types of lilies are great to showcase gorgeous fall decor because of their prolonged shelf life and availability all year round.

The oriental lily's key characteristics include starburst eyes, double blossoms, crisp edging, multicolored petals, mottled speckling, and stamen-free blooms.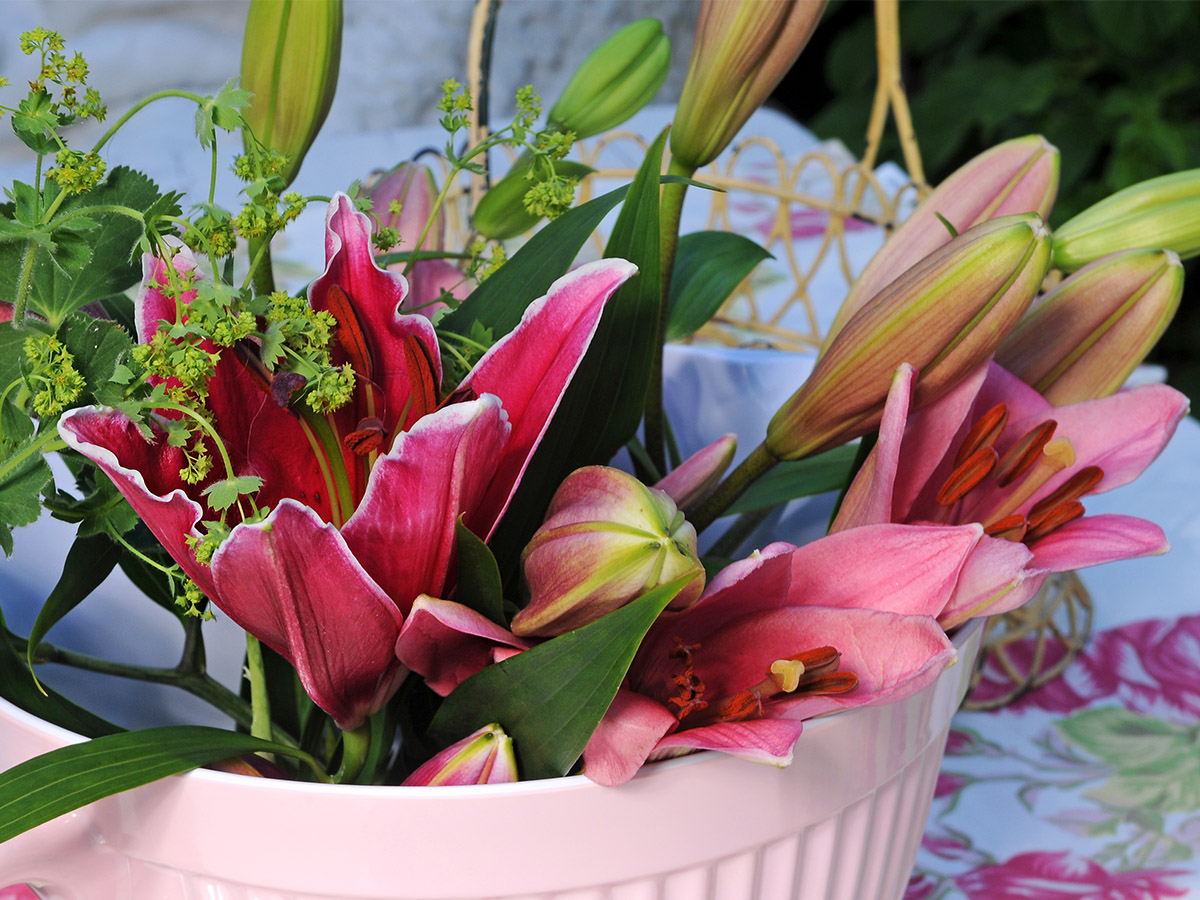 2. OT Hybrid Lily
Oriental and Trumpet lilies are crossed to create OT hybrids, which have very vibrant color patterns, perfect for fall and Thanksgiving celebrations. Some cultivars of these plants have more strongly scented flowers than others. The OT hybrid lilies are preferred amongst many given the fact they are indeed long-lasting, inexpensive, and widely accessible. They result in the best choice for clients seeking imposing, substantial, and fragrant blooms.
3. LA Hybrid Lily
Clients who are sensitive to strong smells but want a flower that has a long vase life might choose LA hybrid lilies. They are a cross between longiflorums and the Asiatic lily. Their greater blossom size and position are contributing factors to their rising appeal. These lilies' trumpet-shaped flowers that face upward and outward make them one of the most appealing characteristics to enjoy when having them around not only on a daily basis but for special holidays like Thanksgiving.
4. Asiatic Lily
The most recognizable lilies are Asiatic lilies, which have a wide range of colors from creamy white to almost black. Additionally, they are available in bright reds, warm yellows, hot pinks, soft peaches, and multicolor mixtures that add a splash of warmth and vibrancy to any arrangement and autumn holiday decor.
Asiatic lilies are distinguished by their straight, strong stems, many buds, and brilliantly marked slightly upward-tilting blossoms. They come in a variety of forms, from straightforward open bowls to curving petals. A benefit for individuals who dislike aroma is that these blossoms are frequently unscented.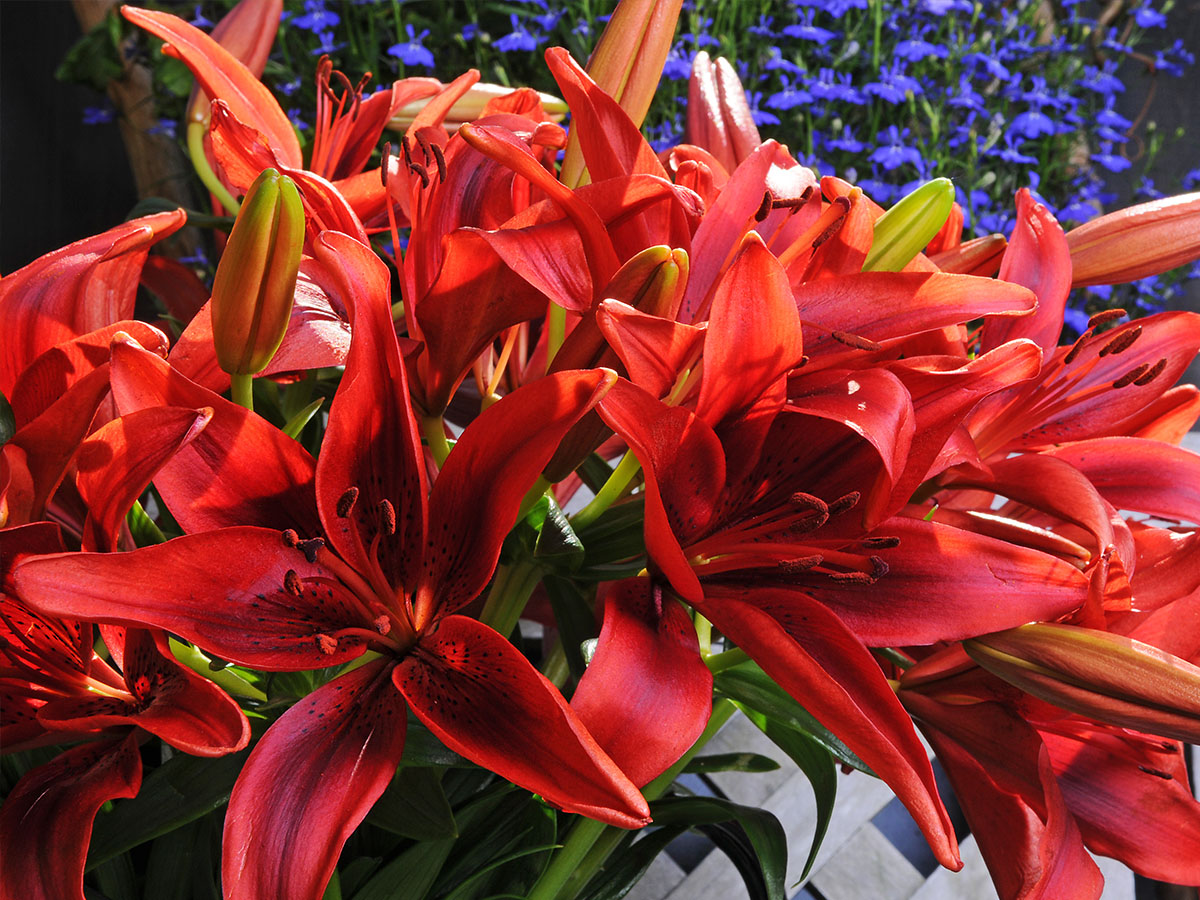 5. Longiflorum
Longiflorums are lilies with predominantly white trumpet-shaped, mildly sweet scented fragrant, outward-facing flowers. These trumpet lilies have the appearance of a horn and grow to the side.
Longis are real fashion models in the flower world. Its slender, graceful stem can grow up to 1.5 meters and its white flower exudes elegance. They carry fewer flowers per stem in comparison to the other varieties, mostly only one or two flowers. But the brilliance and size of these easily make up for that.
Lilies Available All Year Round
Besides the fact these good-looking lilies are available year-round, many varieties can last up to 14 days in a vase. Most importantly, they have a wide range of fragrance intensity to suit all customers' tastes.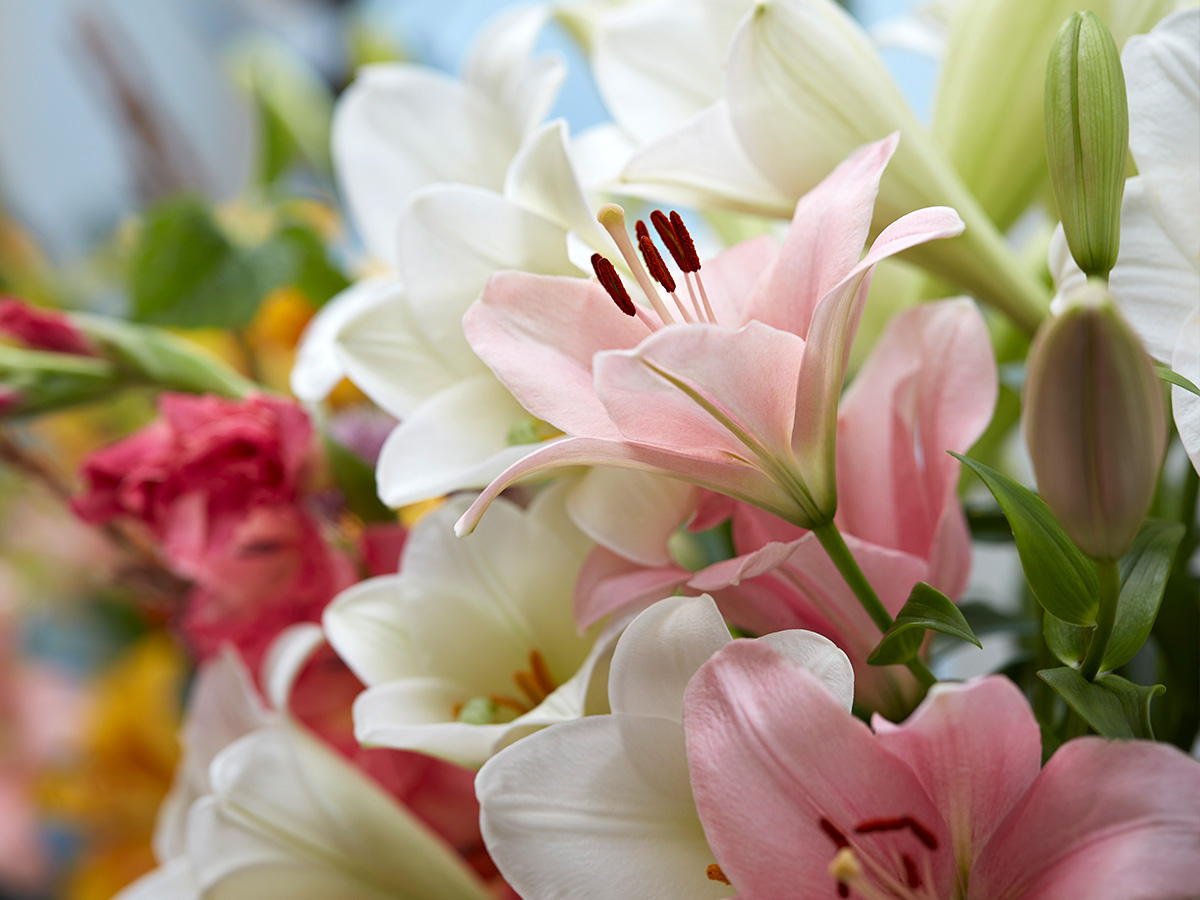 Lilies and Their Color Symbolism
Lilies symbolize devotion or purity, but each color also has a special meaning:
White lilies:

innocence, modesty, and grace

Yellow lilies:

happiness, gratitude, and healing

Light pink lilies:

elegance, femininity, and generosity

Dark pink lilies:

prosperity, abundance, and ambition

Red lilies:

passion, desire, and romance

Orange lilies: confidence, encouragement
To check out the complete range of autumn lilies ready to make the most out of your celebrations and holidays, make sure to visit Flowerbulbs.com