Wanna buy an all-new banana plant? Then try this novelty: Musa Basjoo by Decorum grower Persoon Potplanten. With the banana plant, you get an extremely strong, tough plant with large green leaves. The banana plants by Decorum can be placed both indoors and outdoors. Wherever you place the banana plant, this tropical gem will steal the show! And did you know that bananas can really grow on them?
Musa Basjoo
This Musa Basjoo is originally from Japan and has relatives in the Musaceae family. This is considered to be the most suitable and common banana for planting outdoors. The beautiful leaves give your garden a real 'jungle look'.
The Perfect Outdoor Musa
The capability of planting outdoors means the Musa Basjoo can be put in gardens pretty much in most parts of the world when the conditions over the year vary from -5 to +25 degrees Celsius. When this is done properly, the above-ground parts die off during the frost period, but the rhizomes will sprout again in the spring.
Image left by @jungleplantdaddy. Image right by huis-inrichten.com.

The better you protect the trunk and roots from the cold, the better your plant will recover during the spring. Protect the roots with a thick layer of straw or mulch around the base of the plant. Cut off the old leaves from the plant. You can protect the trunk by tying hay and reed mats around it.

This hardy banana grows quickly and produces huge pseudo-trunks about 2m in length, with a crown of very large, exotic, leathery leaves 2m in length and 70cm in width. After a few years, this plant can reach a height of four meters. Incredible if you imagine that you bought a 50cm plant in a 17cm diameter pot.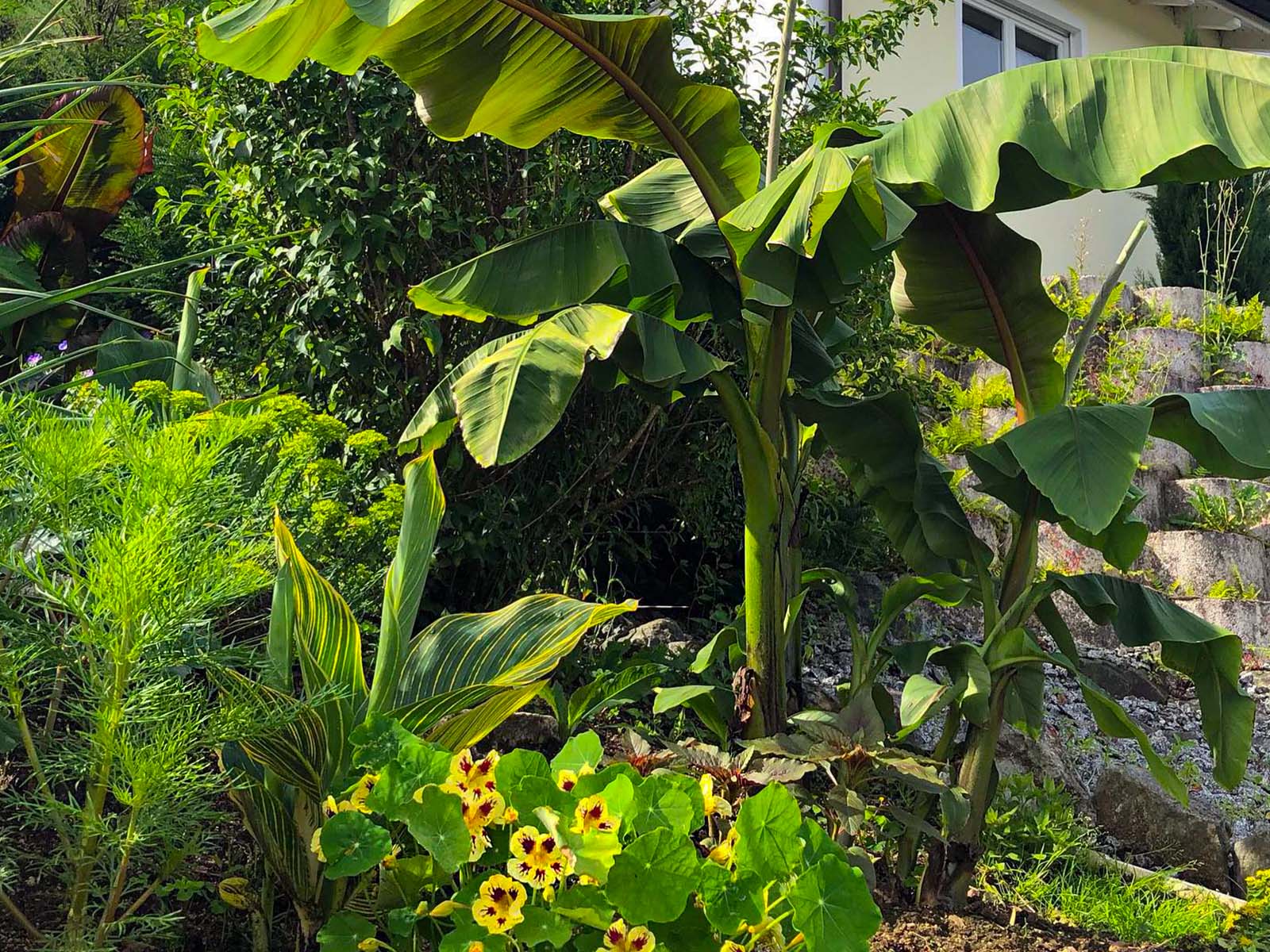 Edible Bananas
Musa Basjoo can develop banana flowers in perfect conditions, like when the plant has been kept frost-free. The purple flower develops into inedible bananas. These are small and green. Unfortunately, this rarely happens in the Netherlands, the home base of grower Persoon Potplanten. But do give it a try when you are located in a warmer part of the globe!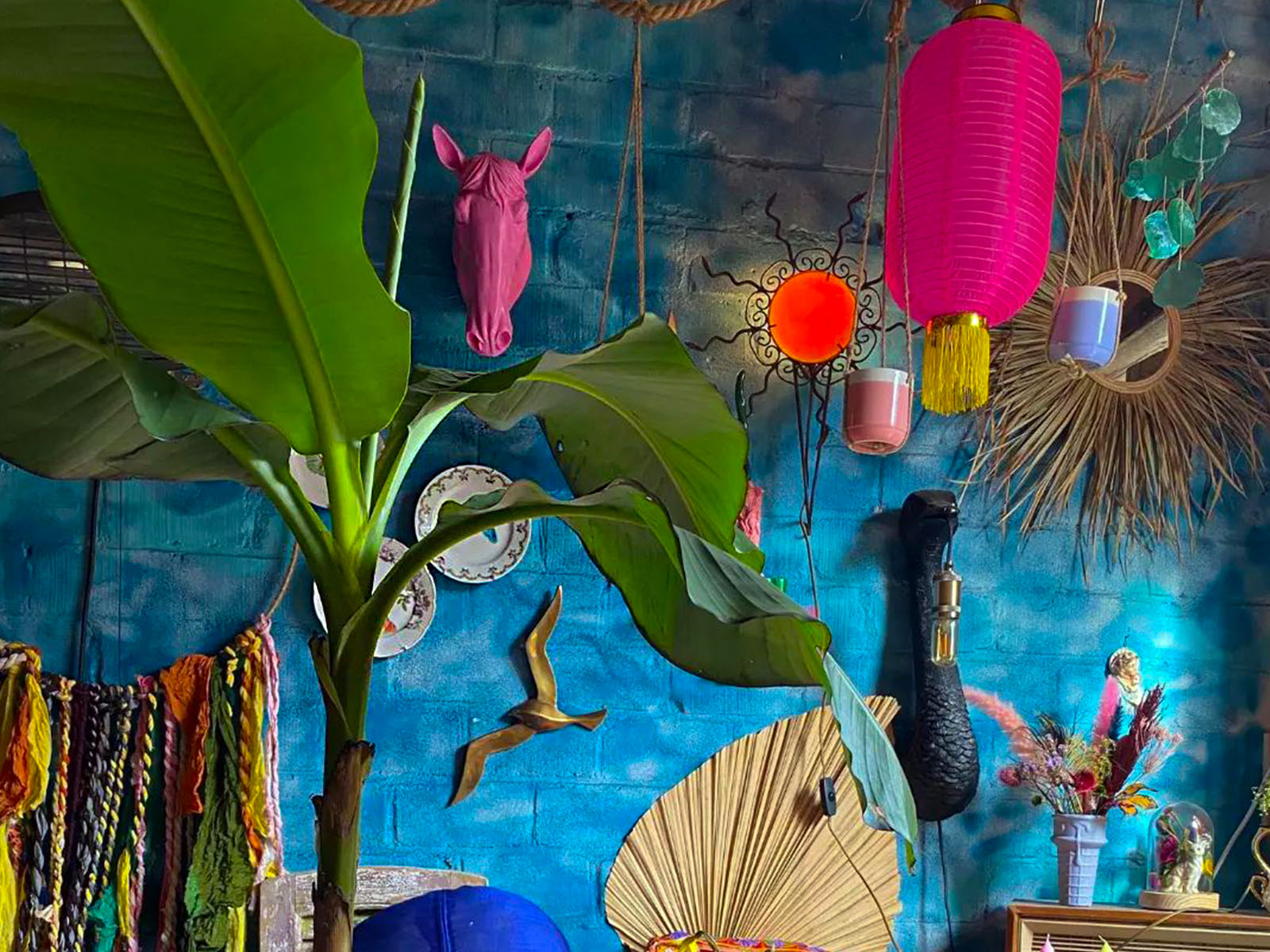 Musa Basjoo as a Pot Plant
Alternatively, the plant does well as potted plants indoors and on patios as well. The plant will not reach four meters unless you re-pot it constantly to bigger and bigger pots.
Taking Care of Musas
It is obvious that Musa Basjoo, like all banana plants, thrives with lots of light to half shade. It's a hungry and thirsty plant, so there's a bit of work to be done on your homemade jungle. Treat the plant with organic or liquid fertilizer every two weeks and water it generously. The soil must be kept moist at all times, and fertilized until July.
Image left by @ziga.plants. Image right by sam_gardens_.
Get Your Musa Basjoo at Decorum
The Musa Basjoo is available at Decorum. Grower Persoon Potplanten grows this plant that was initially bred by Evanthia. Each plant is manually selected and packaged by the brothers Aad and John Persoon and their staff of green plant specialists.
Check this 20-second YouTube film for an impression of the musas at Persoon Potplanten: