During the Flower Trials in week 24, breeder Floritec will proudly introduce a completely new look and a new slogan:
Customized Breeding
.
Mission, Vision, and core values
The contemporary logo has been developed from the new mission, vision, and core values. The basis for the new strategy was a customer survey in which the wishes and needs of customers and partners were mapped out. Issues such as identity and image, visibility in the market, and partnerships were discussed.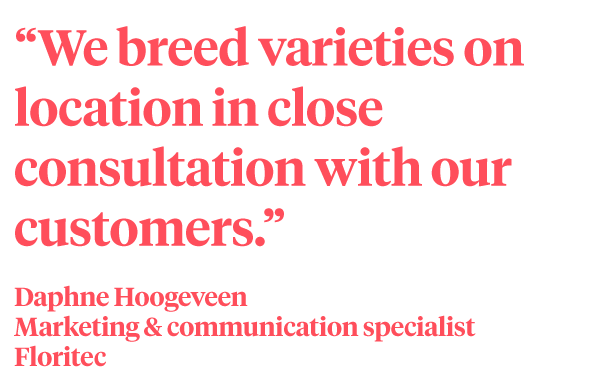 Customized Breeding
One of the immediately visible changes is that the slogan has been changed from "Breeding by Design" to "Customized Breeding". Marketing & communication specialist Daphne Hoogeveen: "The old slogan turned out to be open to several interpretations, both internally and externally. At its core, Floritec provides customization: we breed varieties on location in close consultation with our customers so that they specifically match the climate and cultivation conditions. of the customer in question. A service with which we distinguish ourselves and which is highly appreciated by customers. The slogan Customized Breeding fits in seamlessly with this."
Fingerprint Logo
The fingerprint as a logo symbolizes the close cooperation with customers and partners. It stands for customization and short lines. Bringing happiness worldwide with beautiful varieties of chrysanthemum, pot aster, and pot celosia. And of course for innovation and the DNA of Floritec. The color combination is different than we often see in the sector. With this Floritec does justice to the fact that the breeder works differently. For example, breeding is mainly done on location in partnership with customers. Fully customized.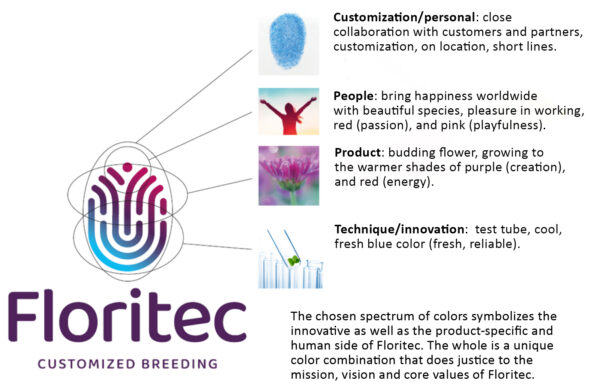 New Website
There is also a completely new website online. The range occupies an important place here. There is an extensive filter with data about the varieties, such as regions, colors, flower size, and technical specifications such as vigor and reaction time. The website is currently available in English and Dutch. Translations into Russian and Spanish will follow shortly. Daphne Hoogeveen: "With the new strategy, the new logo, and the slogan, we are taking a great new path into the future!"