Are you interested in both floristry and couture..? And do you enjoy modern, innovative approaches to floral design that try to transcend boundaries? Then we have some fashion inspiration for you that you are bound to love, via our friends from the Danish Florist Association!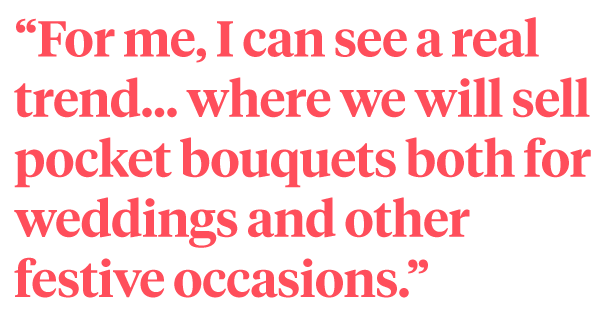 Linda Nielsen's View
Linda Nielsen – florist and creative trendsetter – has long thought that the traditional corsages were a little too tame for weddings and festive occasions. Instead, a pocket bouquet provides more balance, especially alongside the bridal bouquet. Plus, the pocket bouquet also seems much more contemporary than the corsage. "For me, I can see a real trend… where we will sell pocket bouquets both for weddings and other festive occasions", explains Linda Nielsen. The Danish star florist has also designed matching cufflinks that go with the pocket bouquets – a beautiful extra detail!
Garden Look With Added Romance
To make this pocket bouquet, a clove is cut off over the sepals and glued together while still being held together by hand. Then, it is glued to the cardboard. Afterward, you glue the other materials to it.
The Classic Red Rose
By using the tiniest roses, a mini-rosmelia can be glued! Isn't it compelling?
This Year's Trend Colors
This design was inspired by Pantone's two trend colors of 2021: the grey 'Ultimate Grey' and the yellow 'Illuminating'.
Vintage
The dried flowers get their "on-trend time" extended by adding a bit of vividness, as was done here with a piece of a succulent. We hope you like it!
Concept and photos by Linda Nielsen. Text by Jens Poulsen