We are pleased to premiere a new information video 'From Bud to Open Bloom' by David Austin Wedding Roses. Whether you are an experienced-hand, or are new to these glorious roses, the short video provides helpful 'top tips' and valuable information to benefit us all. A great start for the New Year. Take a few minutes to watch the new information video by the team at David Austin Wedding & Event Roses. 'From Bud to Open Bloom' not only features their glorious rose varieties but shares the team's top care and handling tips...one not to miss.
Sitting Down With David J C Austin
We are also pleased to publish a Q&A session with David J C Austin, who with his father, was instrumental in creating these iconic roses that are loved around the world.
What was the reason for creating the video 'From Bud to Open Bloom'?
"I'm very aware that we only have to be experts in roses, whereas a florist has to be an expert across all flowers. So this is our opportunity to share knowledge and to ensure that florists as well as their customers have the best possible experience. It's so important that we make this connection with floral designers, wherever they are in the world."
If you could share one fact or tip with floral designers what would it be?
"Allow time for our roses to open! A closed David Austin bloom is like receiving a beautifully packaged gift that you're not allowed to look inside! When my father [David C H Austin] and I set about creating a collection of cut roses nearly 30 years ago, our aim was to bring the beautiful forms and fragrances of old roses back into the world of modern commercial cut roses. We developed the roses to open just like the evolution of a rose in the garden. 'From Bud to Open Bloom' helps to highlight this transformation."
So how much time does it take for a David Austin cut rose to open?
"A good question, hence our new video. We are working with Mother Nature and so the answer is never black-and-white – something that florists have to deal with day in, and day out, which is never easy. Each of our varieties is different – think of them as individual personalities. Some are showy and cannot wait to reveal their beauty like Constance (Austruss) who will open within a day. Whereas the more shy and retiring types such as Tess (Ausyacht) may take up to three or four days to open. This is why we have divided our roses into two categories, shown in the video.

Personally, I never tire of seeing the roses arrive in bud form and watch them transform over a number of days. Take Constance – in bud she is quite a rich pink but when open she reveals an unexpected cream center, with blush pink diffusing through her petals like watercolors."
Based on your experience, how should floral designers plan their timetables to open your roses for a wedding or event?
"As a general rule of thumb, we recommend delivery of our roses approximately four days before an event. For a Saturday wedding, receive the roses on Tuesday. This gives you one day to fully hydrate the stems in cold storage followed by a couple of days to open before you start arranging. We use cold storage to control the speed of opening and ambient room temperature to encourage opening."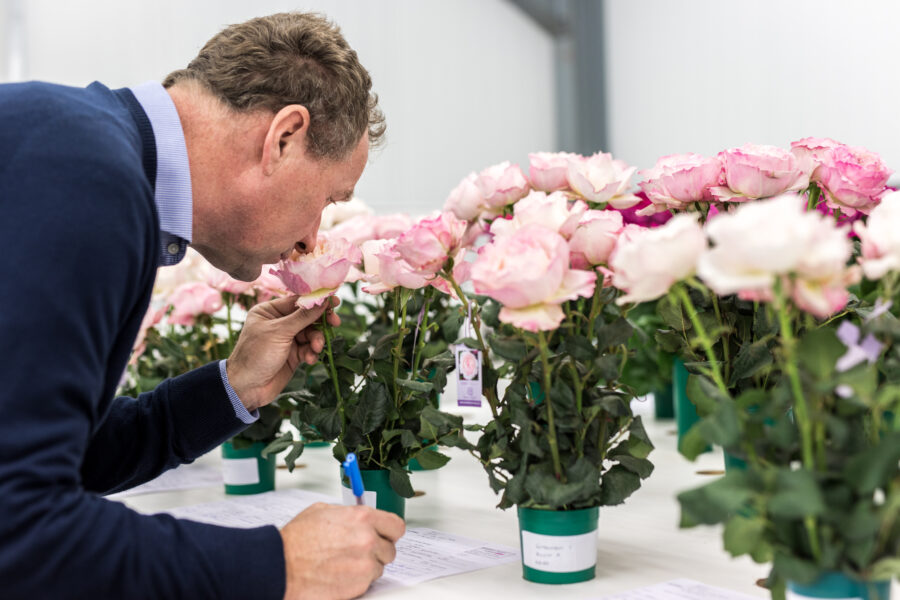 What's your advice to a floral designer who may not have used your roses before?
"Firstly, work closely with your wholesaler placing your order well in advance for delivery to you on the day you need them. It's also worth highlighting that our cut rose collection is available to you 12 months of the year. Secondly, don't hesitate to reach out to us or ask questions. Although the team is based in the UK, they are talking to florists across all time zones! Email them

[email protected]

or direct message them on social media @davidaustinweddingroses - they love talking roses! Thirdly, watch our new video 'From Bud to Open Bloom'! You may already know the information but on the other hand, you may pick up a useful tip or two that you can share with colleagues. For me, I never stop learning or hearing something new, and to share that information is incredibly valuable. Wishing everyone a very happy, healthy, and prosperous 2021 from us all here at David Austin Wedding Roses."
David David J C Austin, Managing Director www.davidaustin.com