'Creating the Difference' is the very strong pay-off from orchid grower Opti-flor. How do they shape this, and make it clear that their orchids really stand out? Two managers from Opti-flor, Rens van Antwerpen and Ruud Scheffers tell us all about their quest for top-quality uniqueness combined with reliability and sustainability.
Creating Something Special
Opti-flor is a Dutch orchid grower with three greenhouses, all located in the Westland, near the Naaldwijk auction. The company originated from the dream to create something really special, different than usual. Well, there's surely enough diversity, because, with over 25,000 species, the orchid is one of the largest plant families on earth. The many variations of the orchid continuously inspire Opti-flor to discover new aspects of its beauty. They create unique orchid collections of unsurpassed 5-star quality. By doing this better and recognizably different every day, consumers enjoy the most special orchids, at home or at work.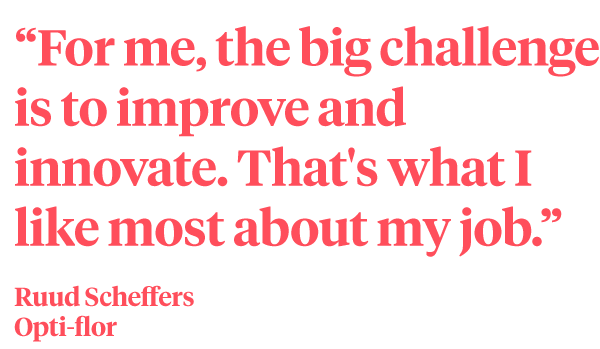 Ambitious and Innovative
Rens and Ruud are clearly at the right place in Opti-flor, with their ambitious and innovative drive. They are clearly proud of what their nursery brings to the market and in the sustainable manner that this is done. They speak openly about their company and the relationship with breeder Floricultura.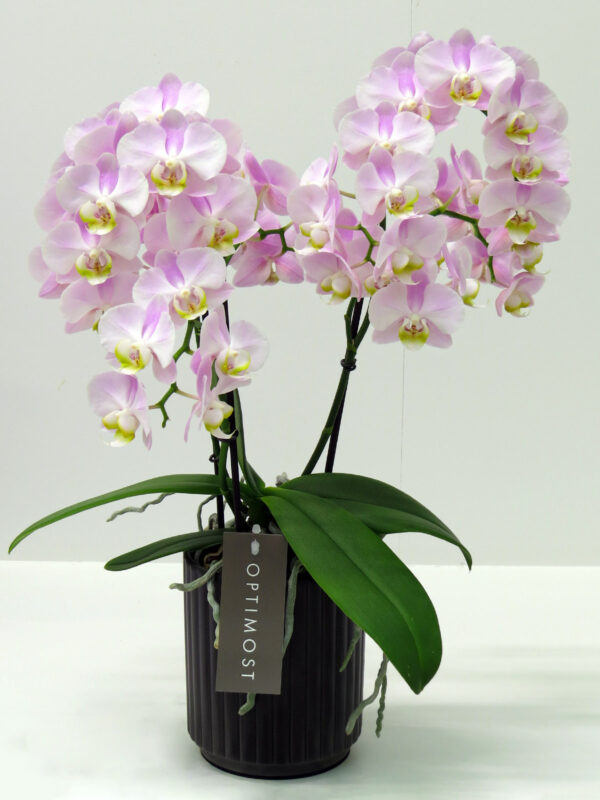 Who are Rens and Ruud?
Rens van Antwerpen and Ruud Scheffers are both deeply rooted in agriculture. For several years Rens is the Crop Manager R&D with Opti-flor. Ruud Scheffers is the Product Innovation Manager and works for Opti-flor already since 2011.
Rens: "The most beautiful compliment that you can get in horticulture is when you hear from a customer that your plant has stood for 'I-don't-know-how-long', that it simply wouldn't go down. Well, then you know that you did a good job all the way from pre-selecting to the end-user, making somebody really happy. Besides that, I really love orchids personally." Ruud: "For me, the big challenge is to improve and innovate. That's what I like most about my job. Combine the enjoyment of consumers with a piece of sustainability. We put a lot of time and energy into the product, so it is great when a customer appreciates this."
Tell us about the history of Opti-flor.
Ruud: "Our company started back in 1928 as lettuce, tomato, and broccoli nursery. By the end of the century, we started to grow orchids, and right from that new beginning with breeder Floricultura. We started our phalaenopsis cultivation with the basic standard assortment of 2-branch plants. But we went on to segment more and more on different product lines; from small-flowered to large-flowered, in different pot sizes. Step by step we developed and created the widest phalaenopsis assortment in Europe."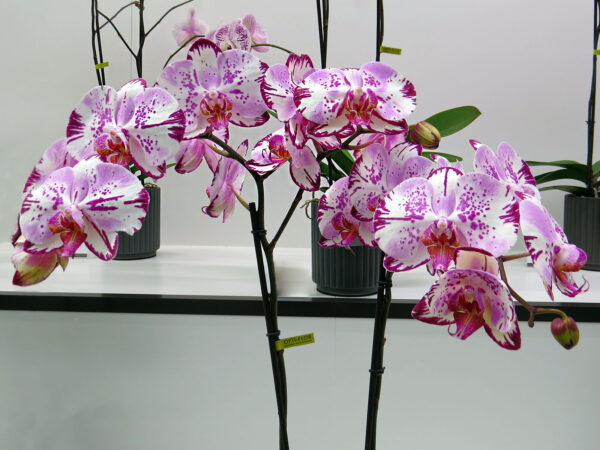 You have seven product collections. Why's that?
Ruud: "In fact, we have eight product collections, seven with orchid plants, and one with ceramics. These seven are called Royal, Native, Sense, Creative, Singolo, Select, and the recently added Unique Orchid. Each collection has its own characteristics; for example, the Royal Collection has various product lines of chic and grand flowers, the Sence Collection has romantic and soft-colored flowers, and the Creative Collection has a focus on unique shaped orchids. We are displaying most varieties of each collection here in our showroom. Our aim is at the specialty shops, florists, and garden centers of the higher segment." Rens: "Altogether, we now grow over 150 different varieties. Opti-flor is born from the dream to create the difference. Our mission is to give our customers a 5-stars experience. So, we strive not only to bring quality orchids to the market, but also a highly distinctive assortment. We do that by providing optimal circumstances for the plant to grow in a quiet, spacious, and attentive environment. There is no rush to grow the plants quickly for more yield. By giving the plant all the time, space, and care it needs we grow them to be more beautiful, stronger, and better. From Floricultura we have orchids from all of their series. We market phalaenopsis from their Elastica, Flowerful, AmorA, Multiflora, and Standard series. And we are currently testing some from the Lingua, and Eccentrix series."
How and where do you sell your products?
Ruud: "We have stopped putting our orchids at the clocks of Royal FloraHolland at the end of 2017. Nowadays we offer our products through the auction's virtual market place, and at several cash-and-carries. Our field employees maintain some of our shop-in-shop concepts. With this direct approach way we have more control over what we sell where, including the necessary feedback, so we can further finetune our assortment to the market demands." Rens: "Our clients are located all over Europe, many in Germany and France. But many as well in countries from Scandinavia, in Turkey, Russia, and even Israel, and the Middle-East."
You grow a lot of Floricultura varieties. How is the relationship with this breeder?
Rens: "Opti-flor shares around 25 years of history with Floricultura. They were very far with tissue culture at that time, and we wanted the best in the market. Floricultura is a very open and accessible company, this makes communications very easy. Talking to them helps us set our course for the future." Ruud: "It was clear 25 years ago that if you wanted good phalaenopsis, you had to get these from the market leader. And since we really wanted - and still want - to make a difference, Opti-flor joined Floricultura, in which we have found a good partner. More recent achievements; during the last few years, Floricultura has stepped up in its innovation program, which is very important to us. They dare to look at things differently, just like us. This way, we also have a good sparring partner in Floricultura. We discuss where the market is heading. In the end, we draw our own plan, but we surely learn from each other."
Where is the market heading, do you think?
Ruud: "You have to consider that in the long term people are going to live in smaller houses and apartments. Newly build houses often no longer have windowsills anymore. We have to anticipate all this, for instance, by putting more energy into growing smaller plants. "One year ago we introduced - together with Floricultura - our scented orchids. Scent has never been a feature of phalaenopsis, only in the last few years. It is a good development that scents are now gaining ground. Only a few varieties are able to be scented and still maintain their strength and shelf life. This usually doesn't go well together, but we have found several small-flowered scented varieties that do great, like from the Sense Collection we have Aromio Amber and Aromio Oriental."
Can you tell us something about the interaction between Opti-flor and Floricultura?
Ruud: "We are a part of their testing protocol. I think that we test around 400 species per year from Floricultura. Once a variety is selected by us for growing commercially, we put it in one of the seven collections and give it a name that fits within the already existing names in that collection. This may sound strange, but it occurs that the name we have given to the orchid is not the same name that breeder Floricultura has given."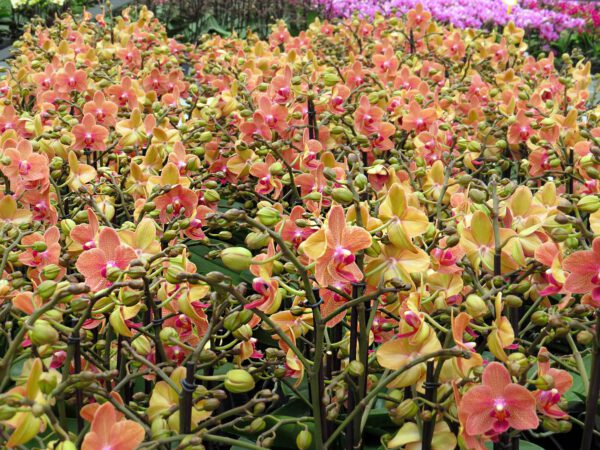 Why would a florist buy an orchid from Opti-flor?
Ruud and Rens: "They're reliable and strong, with consistent quality. And the varieties stand out. Opti-flor tries to grow anything but your standard 2-branch phalaenopsis, offering an ideal assortment for florists and high-end cash-and-carries."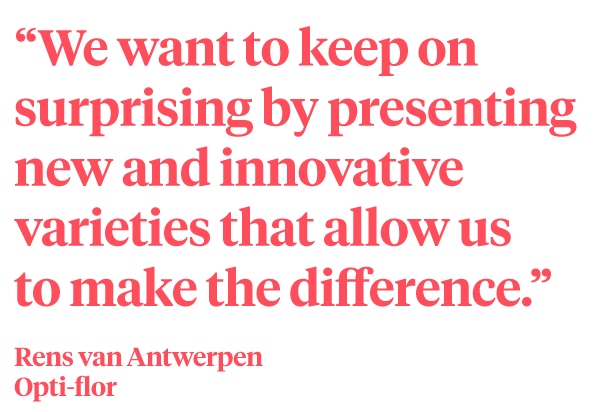 What does the future of Opti-flor look like?
Rens: "We want to keep on surprising by presenting new and innovative varieties that allow us to make the difference. That is not solely about varieties, but it is the full 5-star customer experience related to uniqueness and quality, from the plant itself to the sustainable packaging."
Final fun fact: Opti-flor is showing its creativity time after time. Last year they developed one truly special variety: Orchid Beer. This blonde beer with a 'flowery character', a soft, fresh taste, and 6% alcohol is available by the bottle at several catering establishments in the Westland area. Cheers!