Chrysant Specialists
Dutch flower wholesale exporter OZ Export has not just one, but a whole team of chrysant specialists. Each buyer has his own role at the clocks of Royal FloraHolland or doing direct business with growers and breeders. Henk Jan Stolker and Jan Koolhaas bring decades of chrysant buying experience. Hence, the right guys to talk about their experience with chrysant Pina Colada.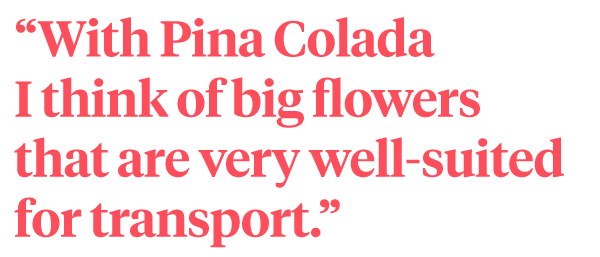 Promotional Campaign
Earlier this year OZ Export participated in a promotional campaign by Dümmen Orange to put Pina Colada under the attention of their customers. Sample boxes were sent to let the customers get a taste of this chrysant. Jan Koolhaas:
"The promotional campaign was good for product awareness. We have seen that this has brought about more demand for Pina Colada. Customers who were not buying Pina Colada yet are now actually also buying them."
Henk Jan Stolker:
"We buy Pina Colada partially as pre-ordered by our customers, but we also put them in our stock for expected additional orders."
OZ Export is one of the companies that still have an extensive climate-controlled warehouse and cold storage for flowers, so customers can order fresh flowers even last-minute. It takes quite some knowledge of the market to be able to forecast near-future sales, but the OZ buyers have mastered this with their years of experience and the help of data.
Well-suited for Transport
Henk Jan:
"Most Pina Colada that we buy are white, with yellow as a good second and somewhat less of the cream variety. And, finally, we also buy painted Pina Colada."
In general, there is no difference in quality amongst the various varieties. They're all very good, because of the high standards at the growers that have Pina Colada. What his colleague Stolker thinks of Pina Colada?
"I think of big flowers that are very well-suited for transport."
This is indeed a big plus for this chrysant. Especially for a company like OZ Export that has a large part of their customer base in Russia. For the sake of transport cost control, most flowers are not sent in water buckets but packed into large boxes stacked onto pallets. This often means that flowers have to be kept in good shape for 5, 6 days before arriving in Moscow or St. Petersburg.
But most of the Pina Coladas are not sold in Russia but in Hungary and Poland. The market there is much smaller for Dutch exporters, but - especially in Poland - consumers are very flower savvy. This might explain the success of a relatively new chrysant variety such as Pina Colada. Henk Jan: "My sales colleagues tend to demand heavier chrysants, like 90 to 105 grams. This works well for us. We get hardly any complaints, if at all, about Pina Colada chrysants. The right conclusion would be that both the OZ Export chrysant team and this company's customers are quite happy with Pina Colada's range, transportability, weight, and quality.