The members of the Suri tribe from Ethiopia showcase their intricate floral headpieces and breathtaking face paint in these stunning images. The children and teens appear innocent and beautiful, with their ornate body paintwork and exotic head decorations made of flowers. The place appears peaceful and untouched, but in reality, life here is harsh with the tribespeople at frequent wars with neighboring tribes over cattle grazing rights.
Suri Tribe Flowers
The Omo Valley in East Africa lies on the border of Kenya, Sudan, and Ethiopia. Here you can find various tribes, including the Suri tribe, each with its own history, customs, and philosophy. What they have in common is the creativity with which they use flowers and plants as well as mud and animals to prepare themselves for special occasions.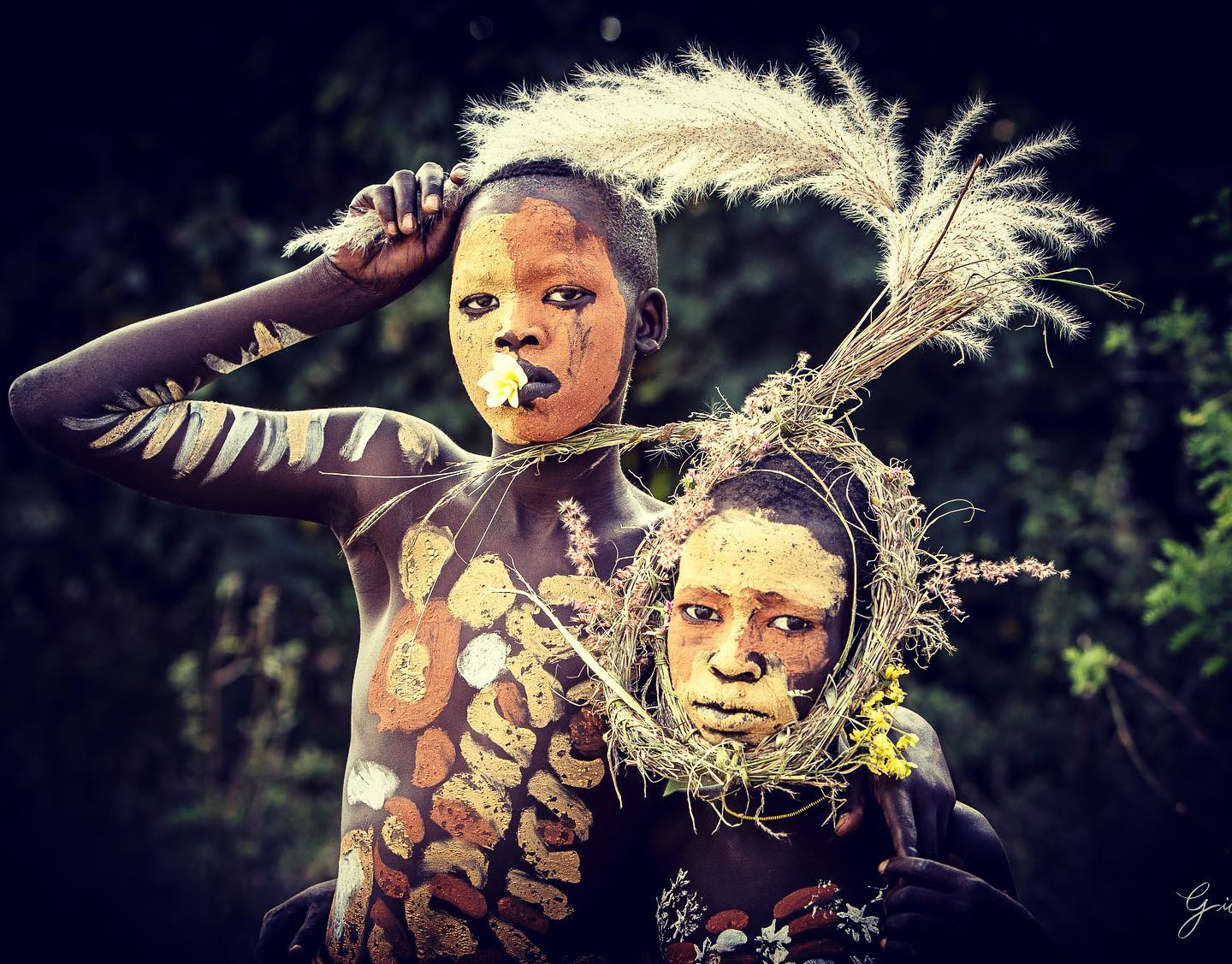 All images by Giovanna Aryafara
Giovanna Aryafara
The images in this article belong to photographer Giovanna Aryafara. Giovanna's life-long passion for photography started 40 years ago in Sydney, Australia, and continued in New Zealand where she was a school photographer for several years. Now resident in Bali, Giovanna travels to India and Ethiopia yearly, both for her business and photography.
As a photographer, Giovanna travels the world in search of subjects that awaken our emotions, invoke a sense of shared spirituality, and reveal our world through a minimalist, design-inspired lens. Her works offer access to the beauty of our Earth, inspired by her love of sharing the diversity of the human experience. Giovanna is dedicated to the promotion of awareness of these stories and supports human rights organizations around the world that help create a more just environment for all.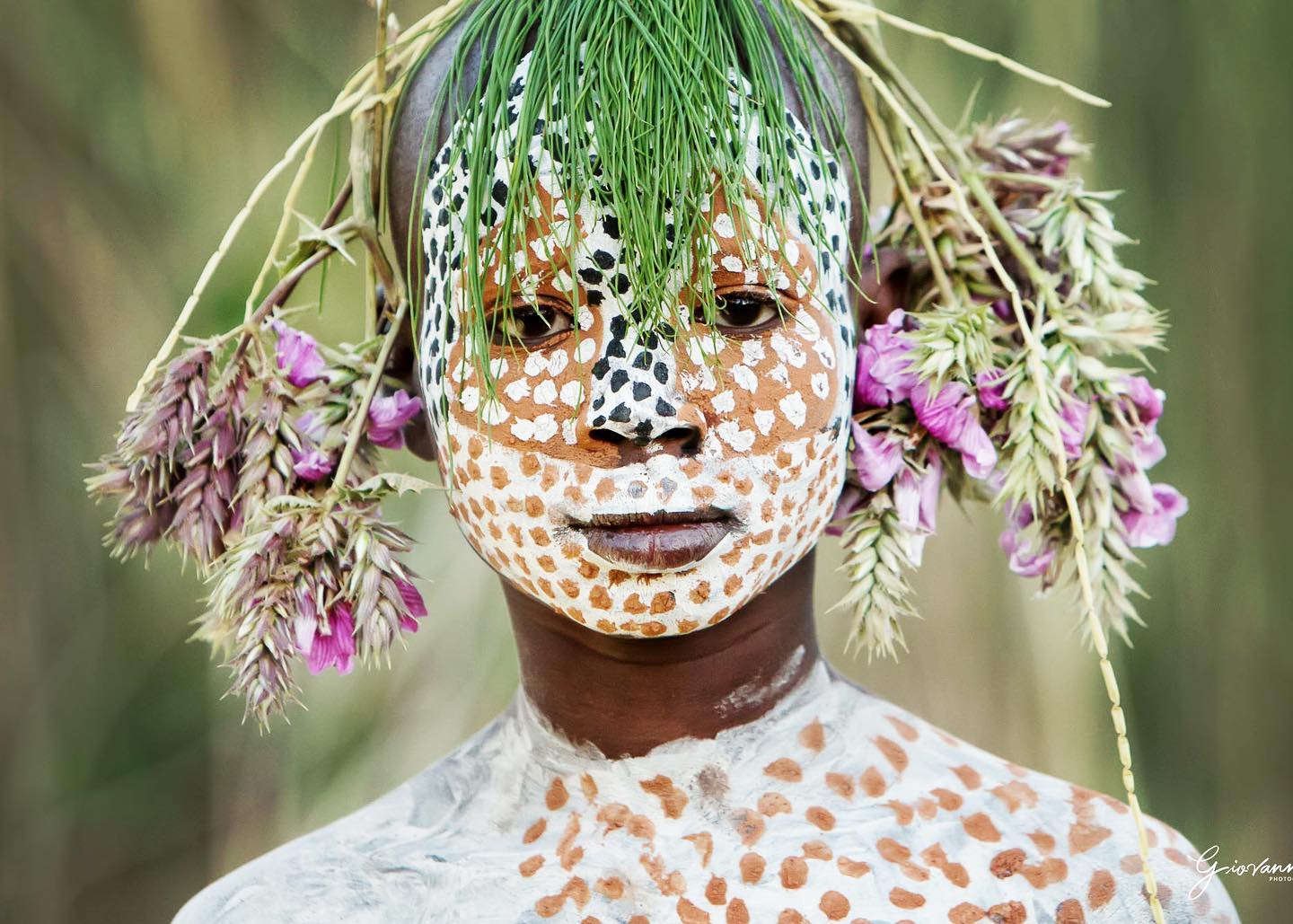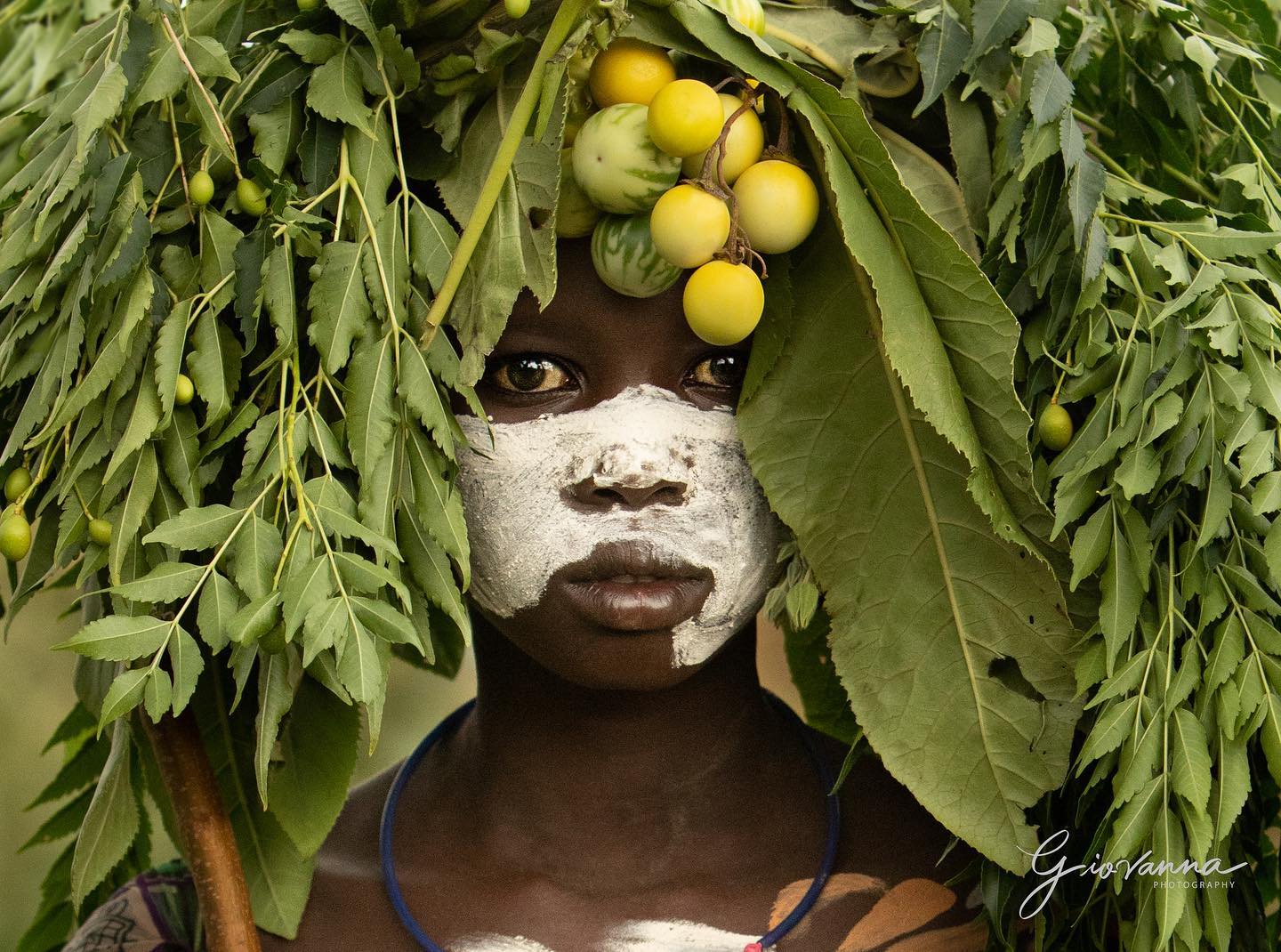 A Never-Ending Torrent of Creativity
Banana leaves as a scarf, dried grass as a headdress, carefully arranged flowers that serve as a crown, an architectural structure of branches on the head, a flower in the mouth - the members of these tribes are able to make the best of their available resources.
On her website Giovanna says:
"My inspiration for photographing the Suri is to capture the amazing connection they have with nature, which they express through their body art, using natural clay from the river. They grind it down to a paste with different colors and apply the body paint in a very artistic way, combining seasonal and exotic flowers, plants, berries, and seed pods, with patterns inspired by birds and other natural elements. They have been doing this for hundreds of years."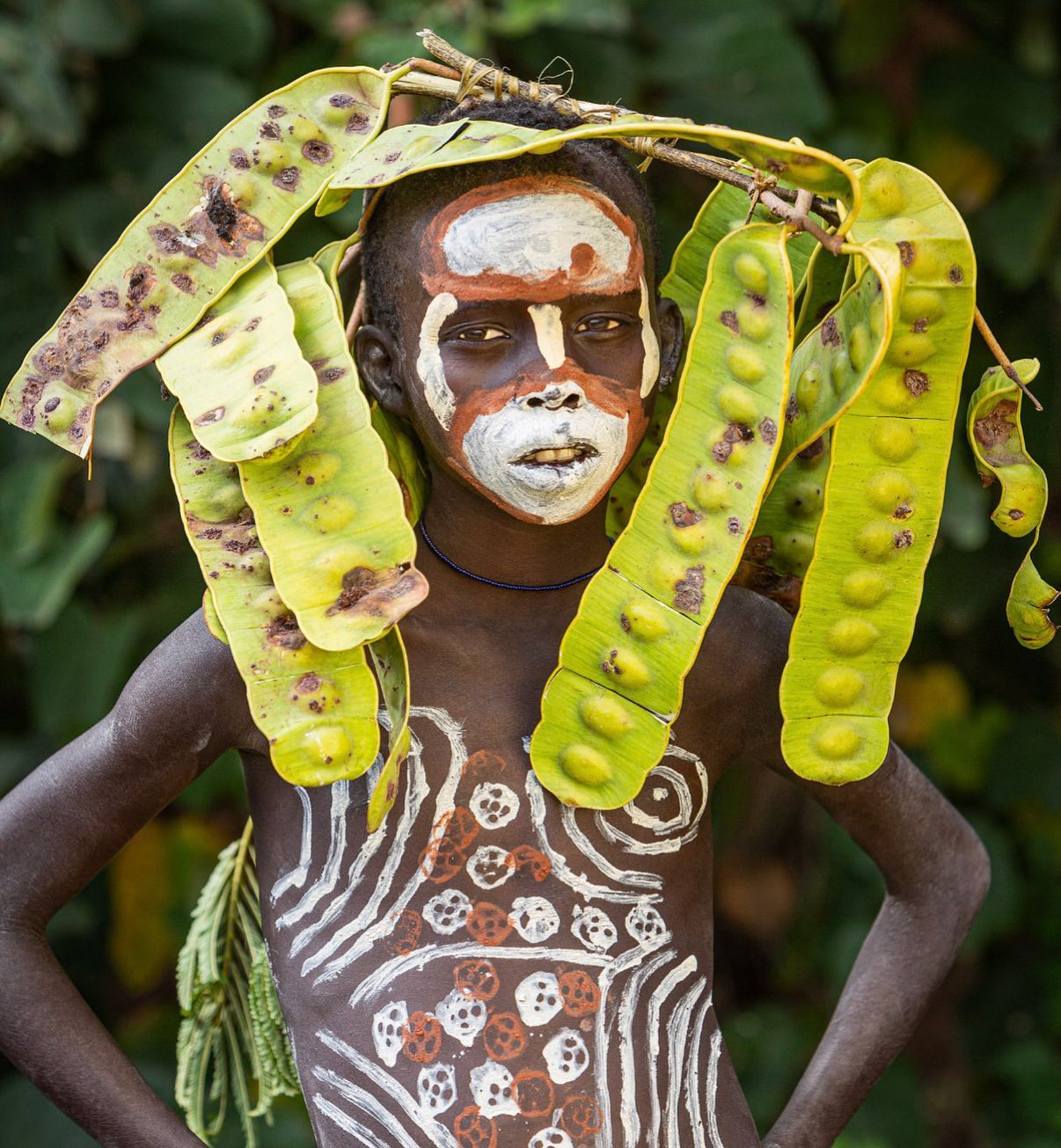 Looking for Different Means to Survive
The intricate artistry exhibited by the tribe - who live in the Omo Valley - is shown to tourists as tribespeople look for different means to survive amid rising violence and land wars. War in neighboring country Sudan has meant that grazing land has become less widely available, increasing a sense of competition between neighboring tribes. Cattle raiding is a major issue for the Suri people and the conflict this causes with surrounding tribes results in visitors needing armed protection.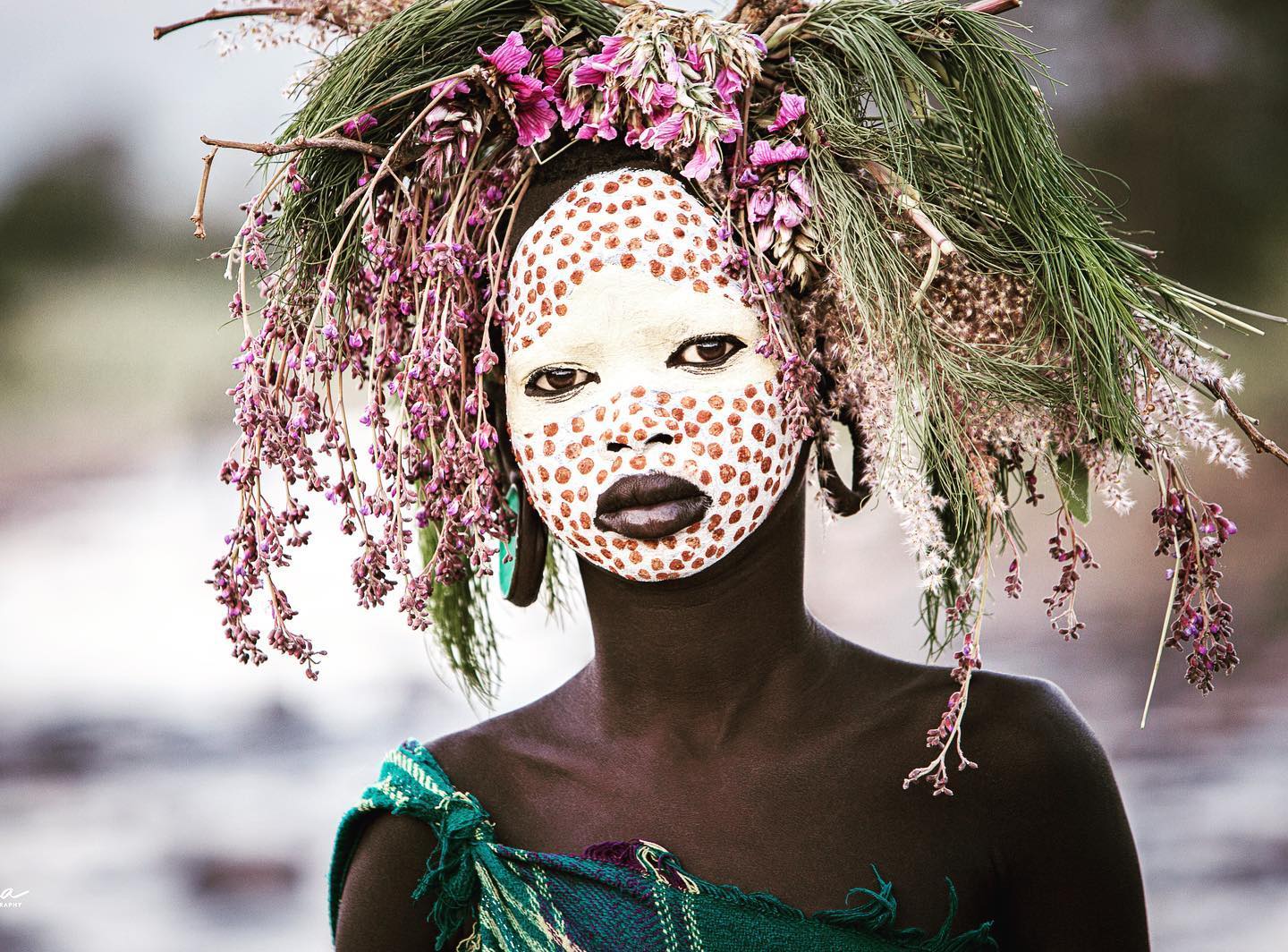 Inaccesible to Visitors
Apart from four months of the year, from March to November during the dry season, the Kibosh area where the Suri villages are located will be isolated from everything. The wet weather makes all roads inaccessible to visitors.
Exotic Decorations Made of Flowers
But if you do ever get a chance to visit, you will notice the bond between members of the tribe is strong. It's like going back in time, to a place where mankind and fashion likely began, where mothers paint their infants to start an important tradition, and where the people stand out with their ornate body paintwork and exotic head decorations made of flowers.