"And we couldn't agree more! All of our future lies heavily on this one all-important principle of sustainability. Your wedding can be everything you wanted, even more, while being kind to the Earth. We can meet the needs of the present without having to compromise on the ability of future generations to meet their own needs. The conscious choices we can make are within our ability to sustain a good life for all of us." This comment comes from Anuja Lunkad Joshi, Director of Marketing & Events at Interflora India. Anuja has a clear vision of making weddings more sustainable: "Planning a 'Green Wedding' doesn't have to be hard."
The Eco-Friendly Route
Anuja continues her plea:
"Weddings are often accused of being wasteful in several ways, but they don't have to be that way at all! In fact, there are a ton of ways you can go green without having to even give up on your dream décor! When we run eco-friendly wedding ideas with clients, they often think they might get a bouquet of dried wildflowers or décor made with drift wood-like structures. But the truth is, there is an eco-friendly route one can take to even achieving some of the most elaborate décor designs that could even include complex structures. And of course, this decision goes a long way in reducing the carbon footprint of your event."
Guiding Questions
Being conscious during the planning of your wedding all along can create a ripple effect, and so no choice is small, every little bit counts in doing our bit for the Earth. Here are guiding questions you can ask yourself every time you are faced with making a choice: • Can you recycle, reuse, resell or repurpose this item after the wedding? • What effect does the choice make on the environment? • How much waste will be produced? How will this waste be discarded? • Is there an eco-friendlier option that can produce similar if not the same result you intend?
Fourteen Recommendations
Here is a list of no less than fourteen recommendations by the floral décor designers of Interflora India that may help you make a greener choice: 1. Choose local flowers
Pick local and seasonal blooms; this helps reduce the environmental impact of the events in several ways. Right from transportation costs to strong chemical pesticides and fertilizers, the fancier options may come at a cost that our planet might be paying. Today, Indian growers cultivate similar, if not same exotic flowers, oftentimes at a much lower cost. Your designer could even suggest similar flowers that can be incorporated into the design without having to compromise the luxe overall look of it.
2. Pick an eco-friendly venue
Go for a venue that emphasizes on eco-friendly practices like distribution of left-over food, recycling, composting etc. Pick a location that can host all of the ceremonies and parties of the wedding, this helps in reducing carbon emission of cars on the streets.
3. Incorporate nature elements in all the details
Seen Flintstones or Avatar? Aren't some of the stuff they use like leaves for sticky notes really cool? Well, borrow some decorative details from nature and incorporate them into your wedding style. FYI, the movie references are used just for perception. Décor designers will be able to help you better with ideas!
4. Use upcycled wedding decorations
Upcycle items from your house or your floral designer's warehouse to something wonderful. There is no dearth to what creative intelligence can achieve. Think old chairs used for signage holders, colored glass vases for table centerpieces, old wine bottles for sundries, the options are endless. There is no need to spend more when you don't have to. Another way of doing it is by checking with former brides who had their weddings recently. Chances are you'll get awesome finds that can be repurposed into something you like, and you could do it all for a song.
5. Pick reusable or bio-degradable options over disposable/plastic ones
You can purchase bio-degradable tableware made of natural items like bark/leaf. Another option would be hiring fancy tableware - this could be a little more expensive, but is sure a green choice.
Use cloth napkins instead of disposable ones. Use eco-friendly fabrics like cotton for the drapes and table cloth instead of synthetic fabrics. Do consider using woody elements like twigs for the décor for a rustic boho vibe. Twigs are re-usable in so many ways!
7. Use potted plants
Potted plants are a great option when it comes to décor for the reception and the wedding ceremony. You can use succulents and fruits to achieve an interesting tablescape. The plants can be either rented or bought and distributed post-wedding. Herbs can also add interesting texture to the whole design. This is a great way to have the best of both worlds – a great décor and have take-away plant gifts for guests.
8. Petal it up
Flower petals have been used in Indian weddings since forever! Touchback to the roots with the use of petals, either fresh or frozen dry ones to create elaborate aisle style displays. They can be used to create colorful tablescapes too. Petals are of course biodegradable and are very interesting to work with.
9. Dried flowers
Talk to your florists about what options of dried flowers can be used. They do not wilt, are perfect for a hot climate, and work great for a fall theme. Post-wedding, these dried flowers can be sold to companies that use them or can be used in your home again.
Fabric flowers can withstand any temperature, can be reused, and can easily be worked with for great décor elements.
11. Branches
A technique called 'forcing' is used to create stunning effects with branches. They can be reused, can be sprayed in metallics or neons to match a theme or simply be left as is for a rustic feel. You could hang tapestries, garlands, use them as a frame for an arrangement. Well, the options are endless and the idea is sure worth a good thought.
12. Have a flower wrapping booth
You can set up a booth at the last event where all flowers used during the ceremonies can be repurposed into beautiful bouquets with interesting wrapping material like jute printed with your initials and a Thank You message. A lot of guests would sure love to take home happy blooms that remind them of you for their table.
13. Re-purposing the flowers
What happens to your blooms once the wedding is done? This is an important question you must ask your floral designer. Interflora is proud to have tie-ups with organizations that re-purpose flowers into hand-made craft products that use dry flowers. Our last resort, of course, is to supply them to compost making companies.
14. Pack-down and segregated disposal
All the waste created must be well segregated, whether it is the wires or metal pins, they must all be separated from the flowers and disposed of in an orderly fashion.
As you may see, there are a ton of ways to go green with your wedding flowers, and making the choice can actually be easier than you think. Whatever your vision for the décor, have a one-on-one sit-down with your florist and talk through all the details.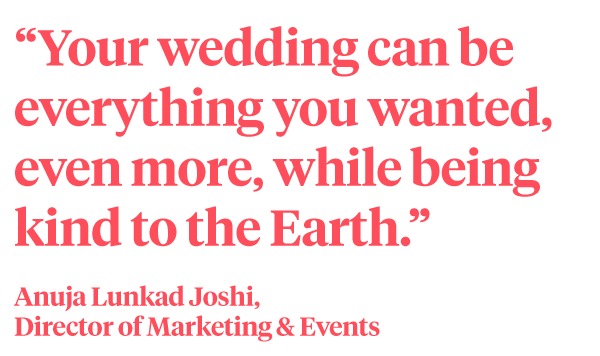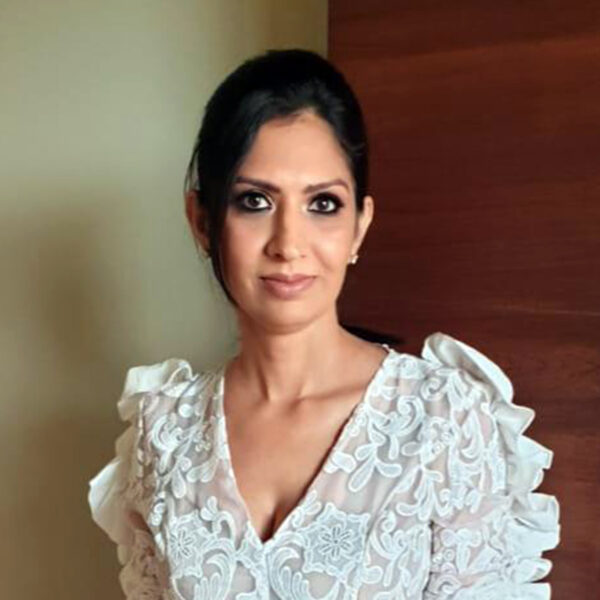 Special thanks to Green Wedding Shoes for sharing great images on Pinterest.