Figures evoking the body and natural system of humans have been seen explored in a different and creative way by Finnish artist Raija Jokinen. They are anatomical flax figures made of systems of roots and veins featuring botanical pieces such as colorful flowers that give the figures an extra uniqueness along with root-like shapes and veins sprawling through the entire body. Let's see what these artworks are all about.
Raija Jokinen Creates Innovative and Unique Anatomical Human System Involving Botanics
The bright artist has dedicated her passion to echoing the natural shapes of botanics and anatomy in each of her elaborately formed figures. They're clearly beyond amazing and are leaving people jaw-dropped, and in complete awe with the detail that is found in every single figure. Raija Jokinen makes her sculptural works of sprawling webs that appear like both root and vein systems, with flowers and more dense, fleshy patches emerging from either the arms or torso. What Raija Jokinen aims for with each piece is to be able to communicate the existing fuse between the physical and mental worlds. Her approach is based and focused on everyday feelings, situations, and thoughts that we, as humans have every single day.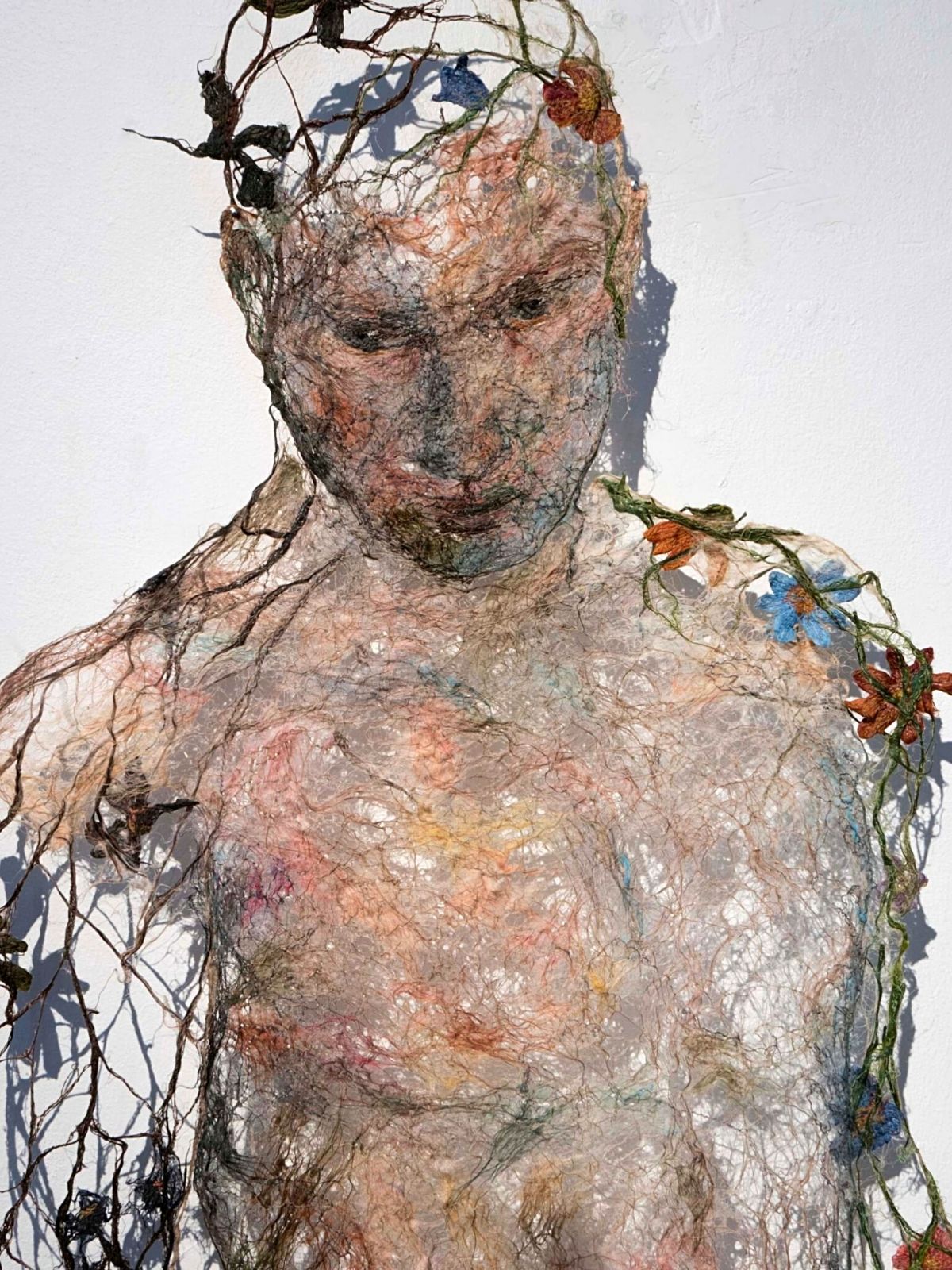 Behind the Scenes of the Hard Work Behind Each Flax Figure
Hours and countless hours are what takes Raija Jokinen to create and perfect each separate figure. She embodies a process that involves strict meticulous detail so she can obtain the far-fetched results you can see through the pictures. To talk a little more about how she creates her figures, Raija Jokinen mentions that the mesh works involved in her work are created from flax. Jokinen employs a technique similar to that used for handmade paper, meaning she dyes and molds into branches, twigs, and other organic forms as a first step.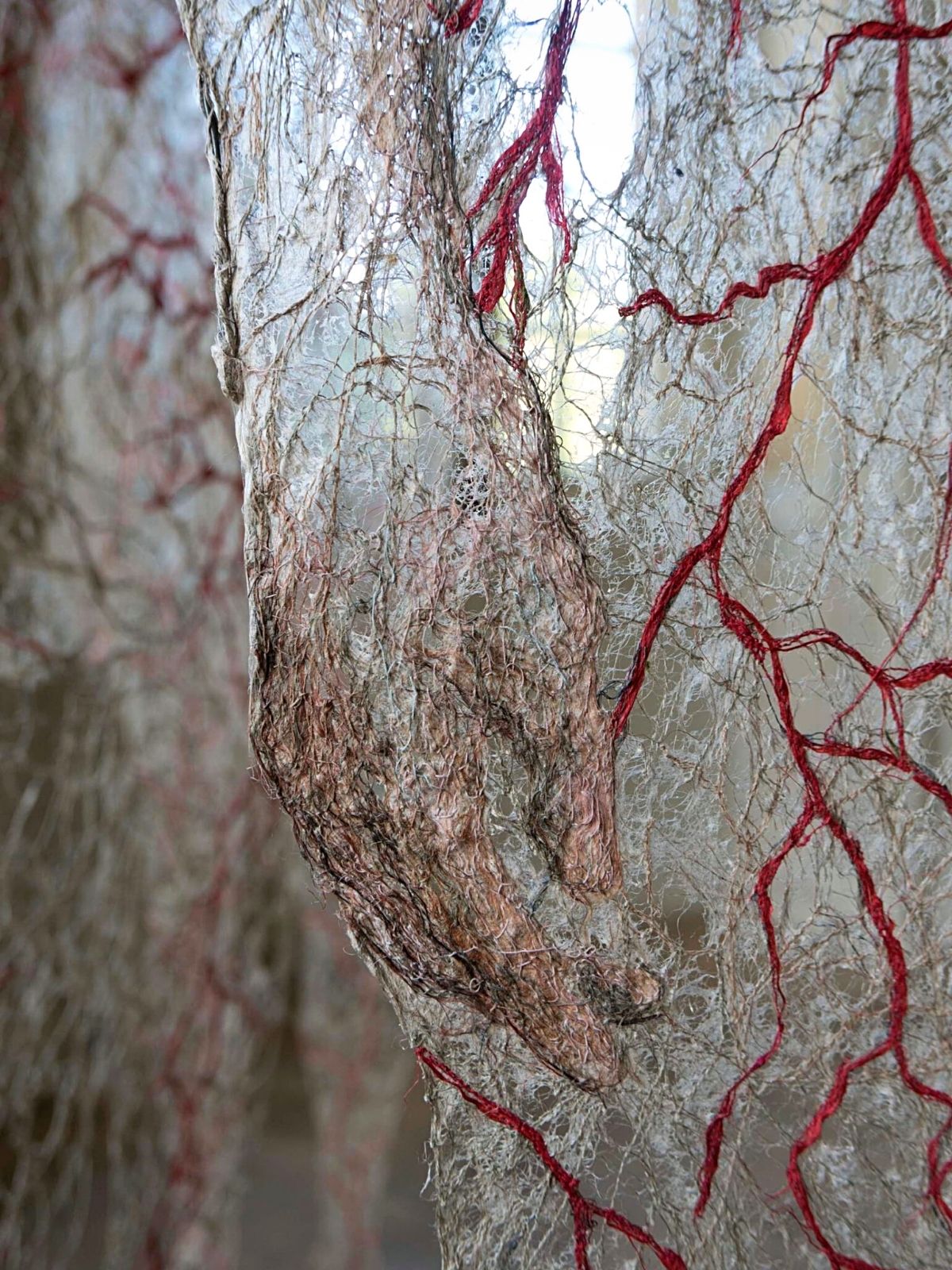 Consequently, she then adds floral and structural details through machine stitching, which also strengthens the fragile material. In an interview, Raija Jokinen mentions that through these methods, she is able to create free forms, like cut-outs, and transparent structures that allow strong shadows on the wall or occupy the space around it.
Human Roots and Veins System Portrayed Through Delicate Flowers
It's important to know that Raija Jokinen bases her artistic approach on the familiar feelings, thoughts, and situations we as humans undergo every day. Her work represents the infallible relationship that exists between the mind and body and how important it is to be connected with how we feel and think.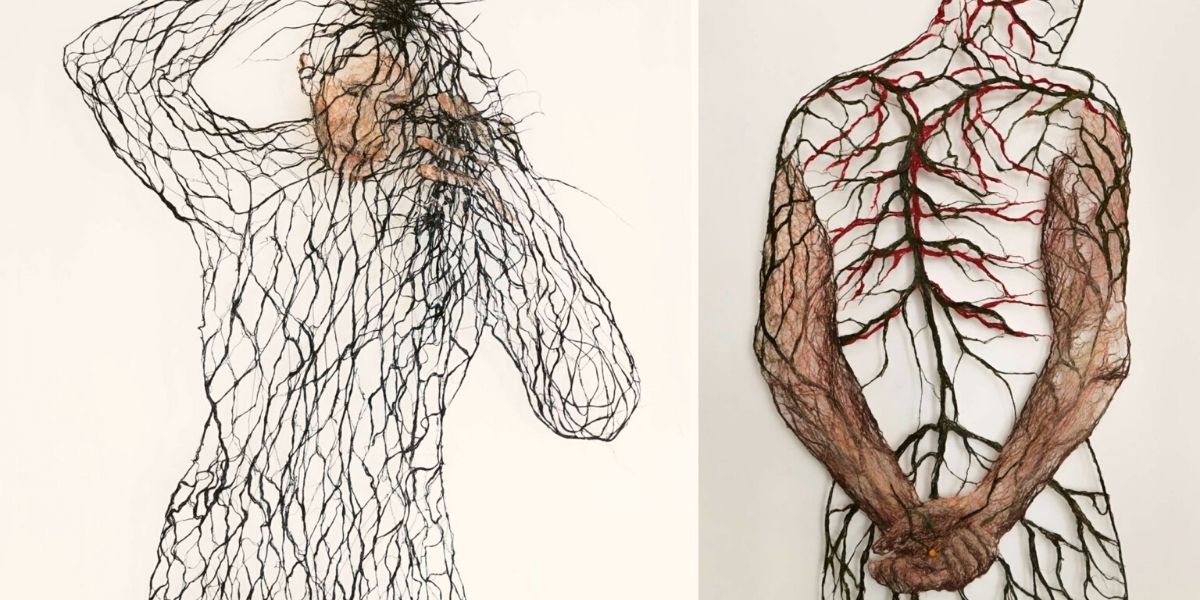 Raija Jokinen's works are often based on body-related details such as blood, skin, vessels, and nerve tracks which intertwine with the forms of roots or branches. What excited her the most about her work is the apparent similarity and variation of the life-support functions they represent and how the visual representation of the human system is found in every single body.
Meet Raija Jokinen and More About Her Upcoming Exhibitions
Many of Jokinen's figures shown here are on view as part of a solo exhibition through October 9 at Château de Trévarez in Brittany, and she will also have pieces included in the International Mini Textile Exhibition in Bratislava this November. To see more of her works, check out her website and Instagram account.
All photos by Raija Jokinen.