Arjan de Hoog knows his plants are a niche product within the huge market of orchids. And he likes to keep it that way because it keeps this flowering plant truly exclusive. De Hoog family has paved the road to their success with a quality label of their own, Florallure. And with a long-lasting partner such as Floricultura, the unique dendrobium nobile is ready to conquer the market.
De Hoog Dendrobium
It is a marvelous sight, the greenhouses at De Hoog Orchids; so many green plants as far as the eye can see are about to burst into color. Arjan de Hoog knows why he is a happy man when walking around between the large growing tables of his nursery:
"It was Floricultura who showed us for the first time a product that they had discovered at breeder Yamamoto in Hawaii: dendrobium nobile. This was back in 1990, so over thirty years ago.

We immediately fell in love with this beautiful plant, so soon after this introduction, we received the first cuttings.

Through years of development from our side, and getting to know the plant better, we managed to make dendrobium nobile a year-round product."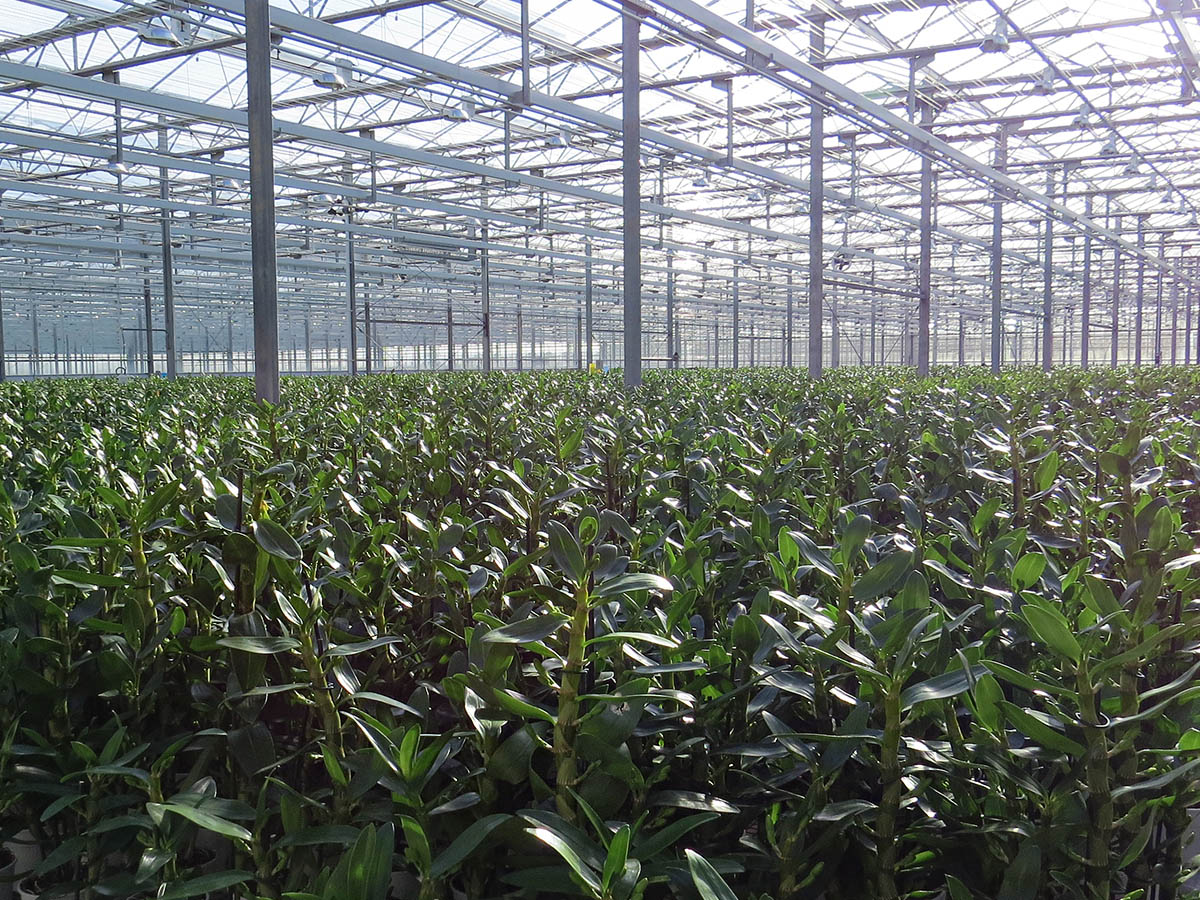 Regular Dendrobium vs. Dendrobium Nobile
Dendrobium nobile is not your regular dendrobium. It looks much different if you see them both together.
Arjan's father Nico de Hoog has joined the conversation to express his love for the product he started to grow over three decades ago:
"I see the dendrobium nobile as a bunch of flowers in a pot. The plant distinguishes itself from the regular dendrobium plants with its compact flowering.

There are a lot of orchids, like phalaenopsis that you see more and more in the large retail stores, also the market for dendrobiums is slowly changing in that direction. By offering a more exclusive line of dendrobiums we try to stay closer to the garden centers and florists. That's why we have built 'Florallure', our own label."
Florallure
Florallure is really a quality label for florists and specialized garden centers. The plant is our finest selection, with more buds per stem. With this label, De Hoog Orchids hands this segment a tool to stand out from the large retailers and hardware stores.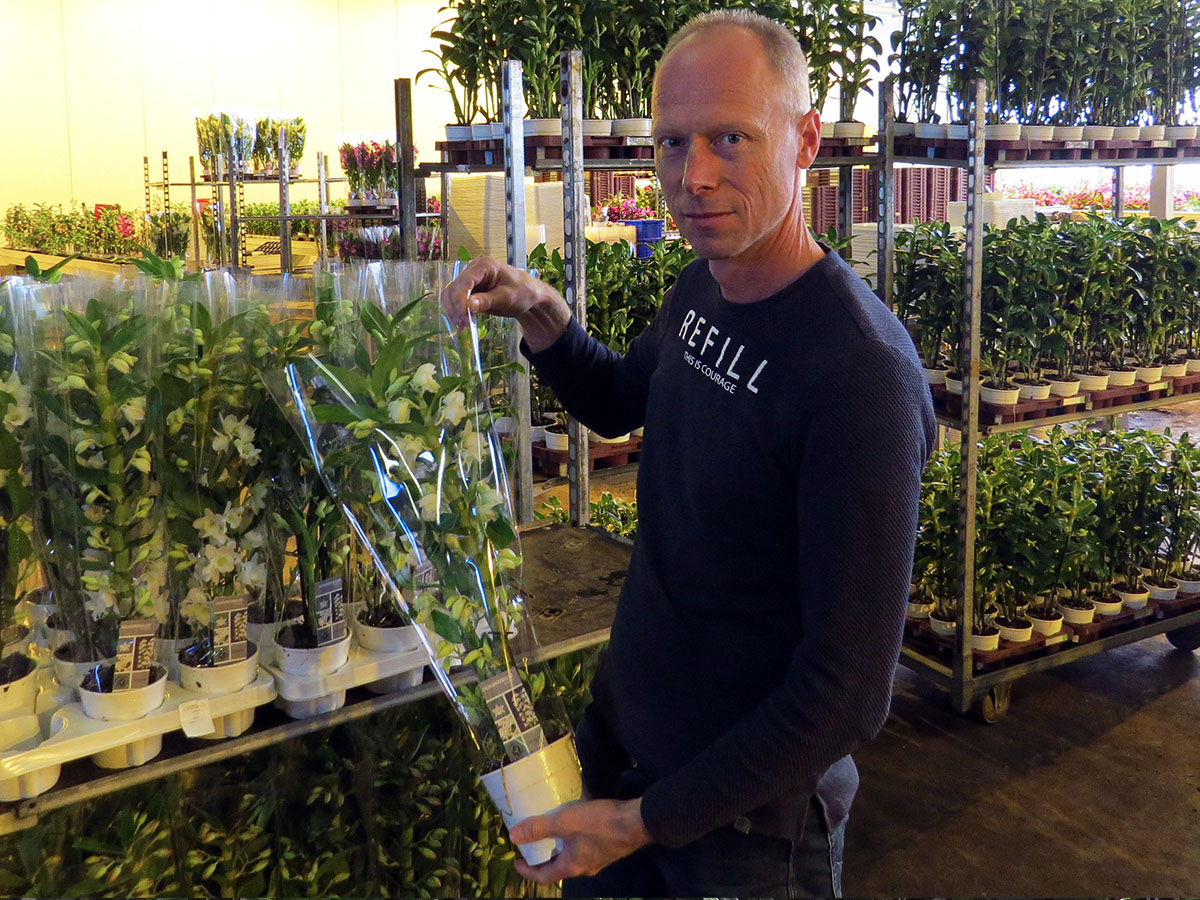 Growing Dendrobium Nobile
Floricultura has played a major role in the decision to start growing dendrobium nobile, and they have supported De Hoog Orchids throughout its long history.
Nico:
"It's not an easy plant to grow, especially not in the first years. We have always been one of the few nobile growers in the Netherlands, so we had to learn by trial and error how to get the perfect plant."
Arjan:
"It's hard work, but growing this plant is so rewarding. If you consider the challenge to grow the perfect quality year-round, to be always innovating, also during the current energy crisis. And if you then just see the end product, these dendrobiums nobile, and their magnificent flower shapes and colors, that's what makes life as a grower fun."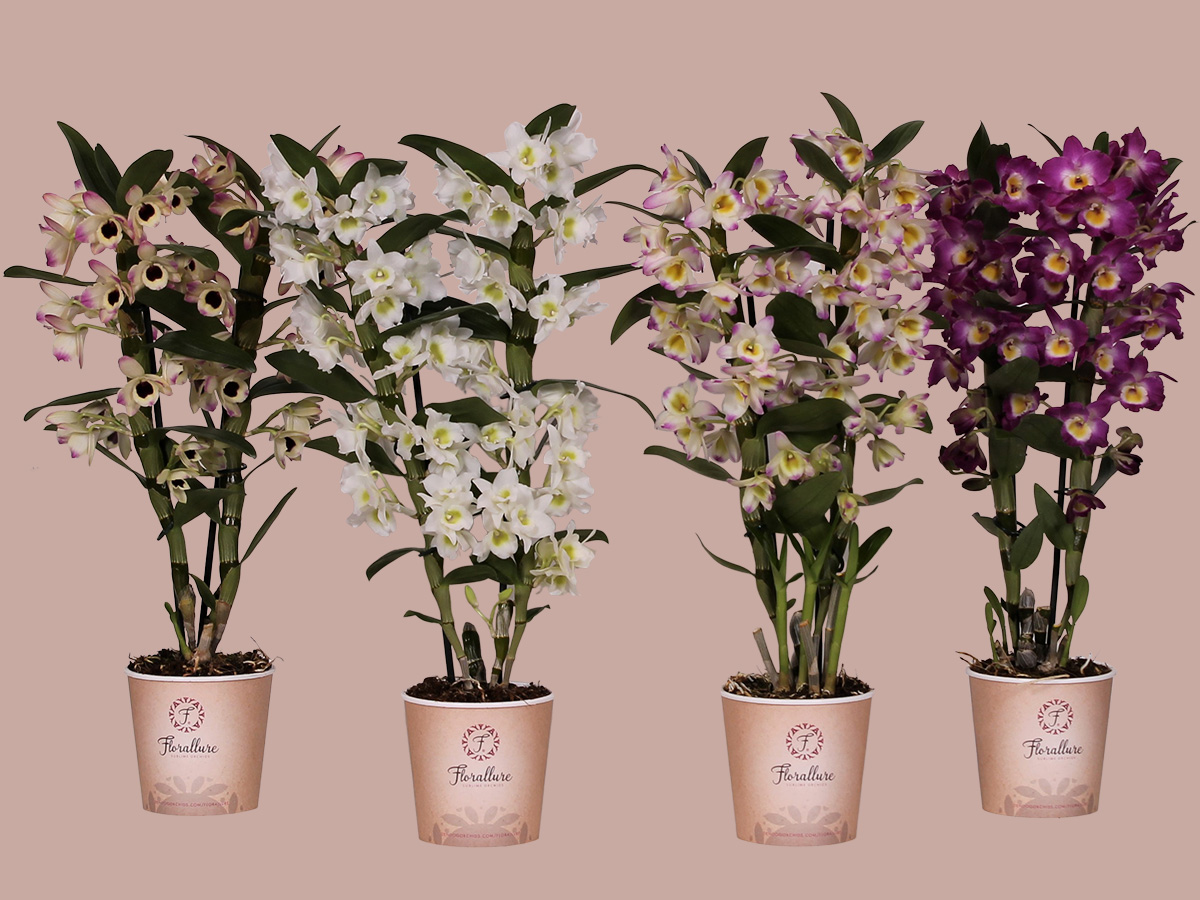 Collaboration With Floricultura
A good grower needs a good breeder. They reinforce each other. Arjan and Nico comment together on this:
"Floricultura has always been a very reliable partner. What they agree they do, just like we do what we agree from our side. Even before 1990, when we were still growing cymbidiums. We were a small company, and so was Floriculture. You might say that we learned from each other and grew big together. And good partnership helped us both to achieve what we did."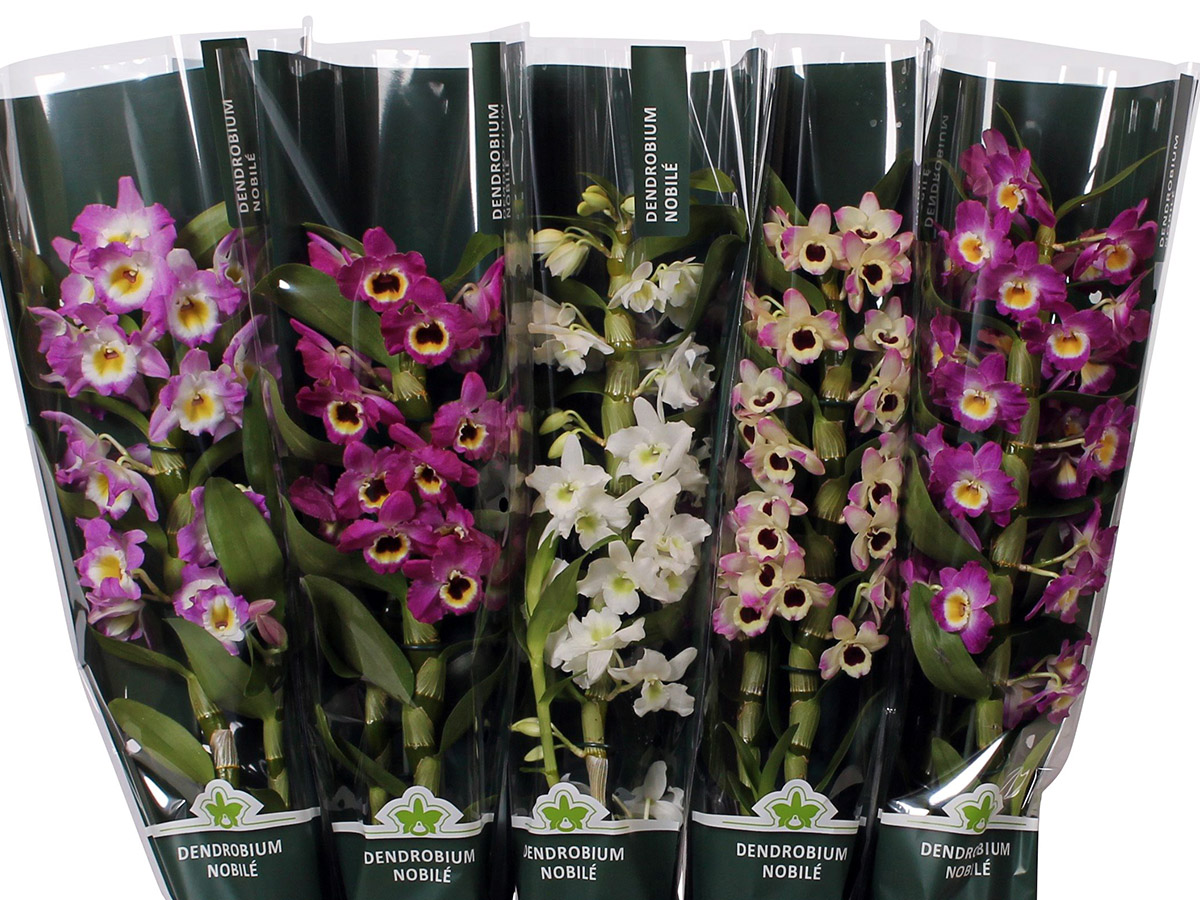 Growing Five Floricultura Varieties
The five varieties of dendrobiums from breeder Floricultura that De Hoog Orchids growers are varying from bright white to purple.
Dendrobium Nobile Akatsuki
Dendrobium Akatsuki is the darkest color, somewhere in the spectrum between very dark pink and a lighter hue of purple. Akatsuki is a real eye-catcher in your living room. The warm purple color, combined with the yellow heart, ensures that you create a warm atmosphere.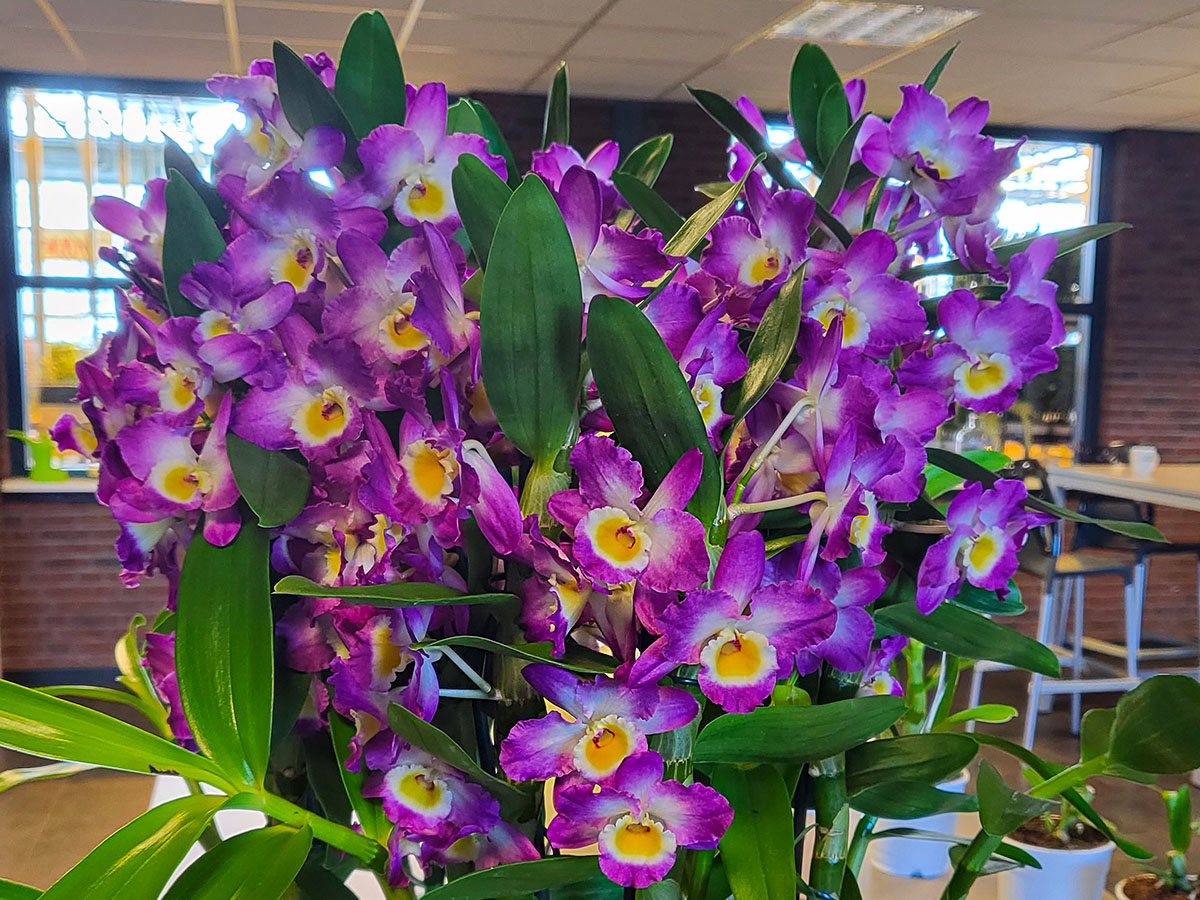 Dendrobium Nobile Kumiko
Some plants shout for attention. Kumiko doesn't. But don't worry, it's there alright! The rustic Dendrobium Kumiko has a soft pink color with a subtle yellow heart. Due to its high bud density, Kumiko is a veritable sea of flowers when it is in bloom. It fits perfectly in a calm interior.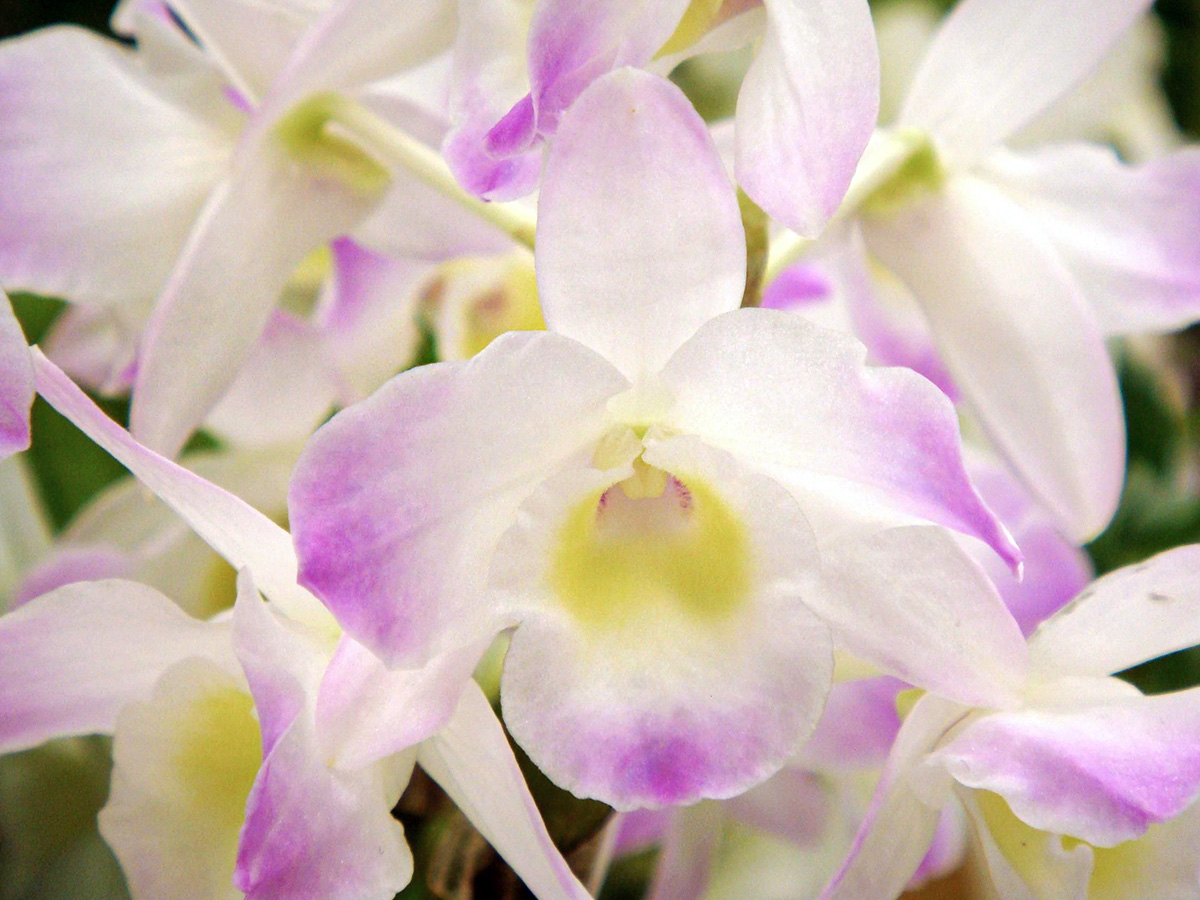 Dendrobium Nobile Apollon
Looking for a whiter-than-white dendrobium? Then this one's for you. Dendrobium Apollon is a versatile plant with stems completely covered with buds. The flowers are white as snow with a soft yellow heart. This makes the plant radiate luxury and tranquility.
Dendrobium Nobile Bright Eyes
What a romantic orchid this Dendrobium Bright Eyes is; a real seducer. Look into its eyes, and you'll be smiling. With Dendrobium Bright Eyes you bring happiness into your home. This dendrobium nobile has graceful white flowers with a beautiful pink edge. Fresh yet colorful.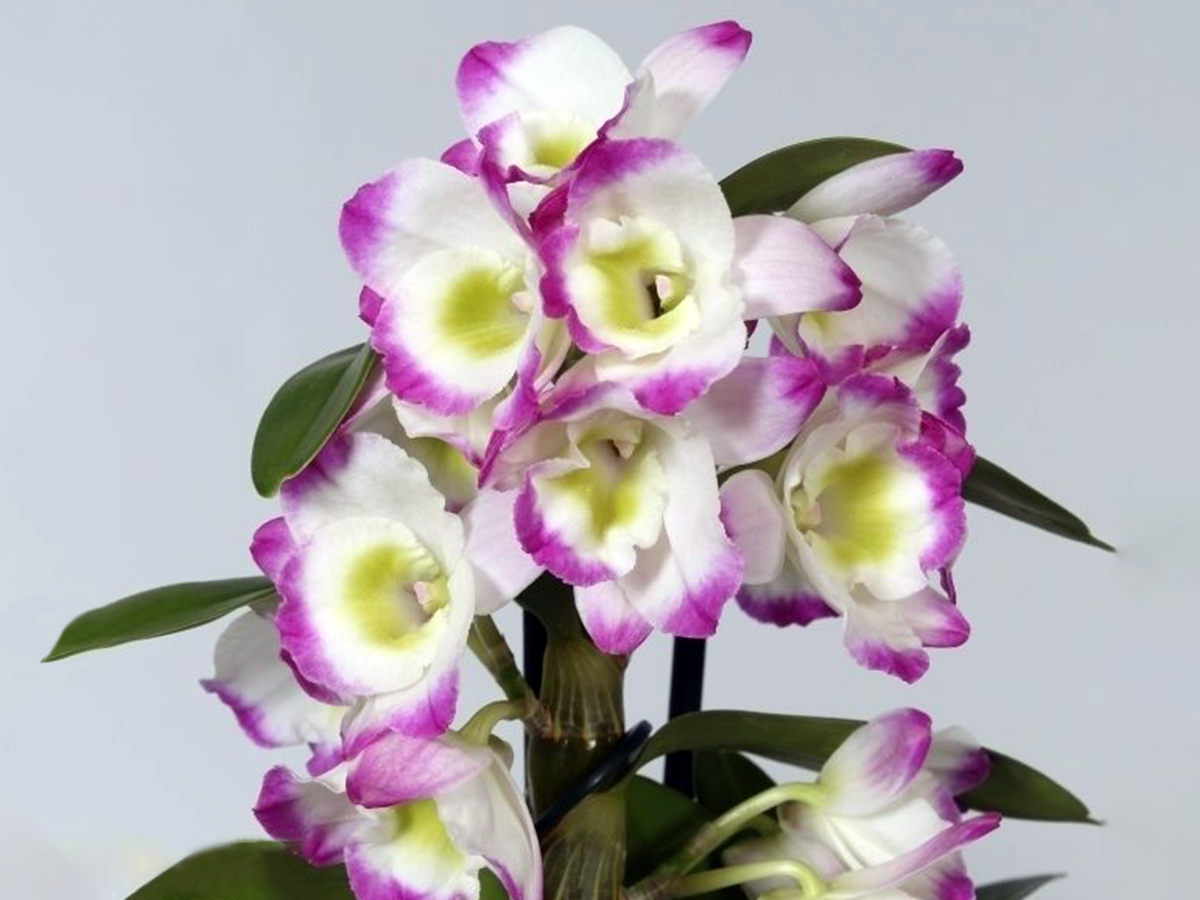 Dendrobium Nobile Sunny Eyes
Isn't it a cheerful plant? Dendrobium Sunny Eyes lets you get a taste of a perfect day. Its medium-sized flowers and very high bud density produce a beautifully striking flower that has a pearl-white base with a striking dark center and colorful pink edges.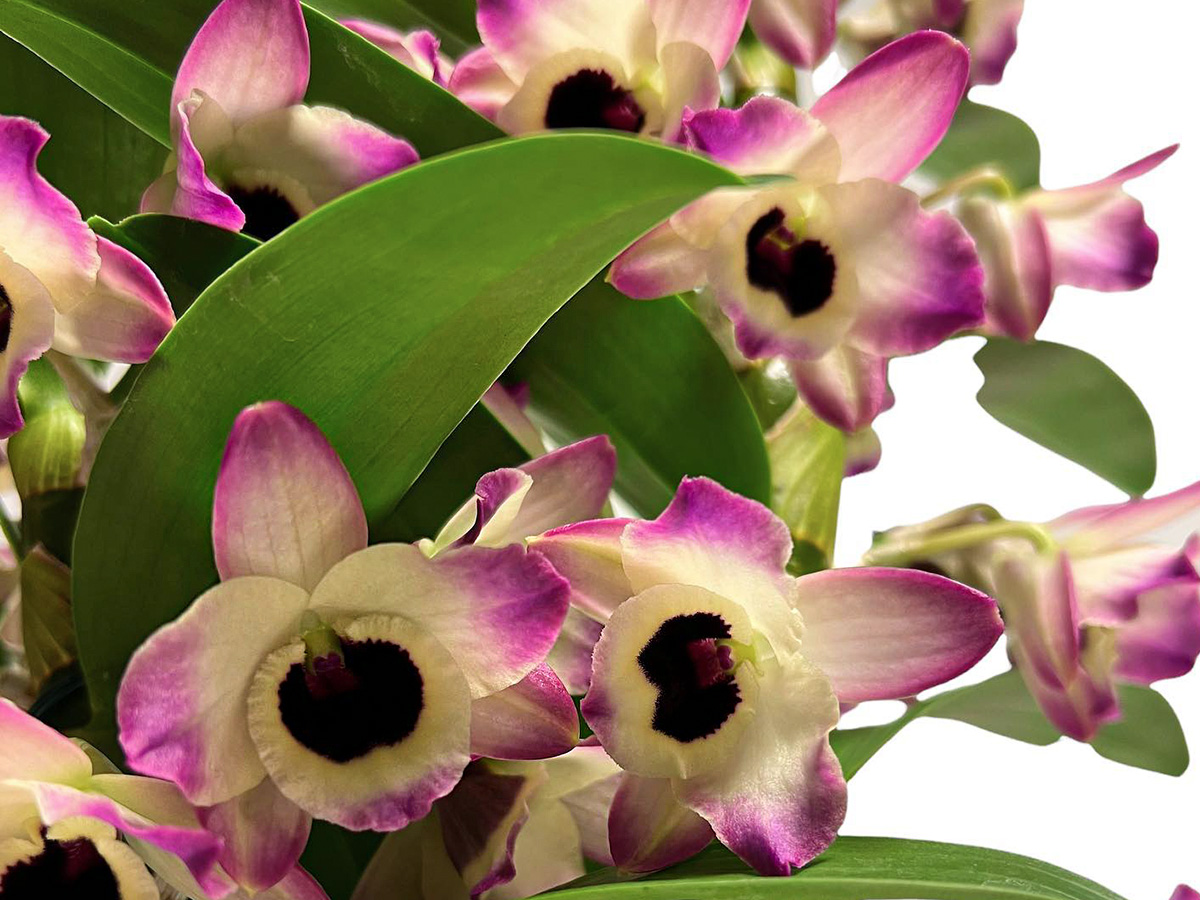 Available Throughout Europe
De Hoog Orchids sees its products exported to markets across Europe. They are widely available in the UK, France, and Belgium and increasingly in Germany. Southern and Northern Europe are relatively small markets that are slowly discovering the dendrobium nobile. So, how can this product be a success for a florist?
Arjan:
"You have to get to know the dendrobium mobile and understand that this plant has a distinguishing factor in comparison to other orchids such as the phalaenopsis and the regular dendrobium plants. If you see and understand this, you can sell it. Your consumers will love this plant."
Arjan's wife runs De Hoog's own little dendrobium store close to the nursery. This is the perfect place to get a first-hand response from consumers. It appears that the dendrobium nobile plant in the shape of an arch is very popular.
So, all you florists out there: no reason to not try this in your store. For optimal results and happiness, inform your customers that this plant does need a little more water than a phalaenopsis.