In the top ten of misspelled floral names, almost definitely the name 'Rhapis' will pop up. Or did you already spell it right? Just to be clear, the name starts with 'rh'. Agreed, it's a strange name for strange foliage. This is but the first curious thing about this foliage, as you will read.
Cut Greens?
The most common use for rhapis is as a lush green indoor plant. The decoration value of the plant translates easily to usage in floral artworks. The dark green and shiny leaves have an excellent size of 55-60 centimeters, ideal for mid-sized arrangements and large bouquets. The leaves are hard, so they will be the last stem standing in your floral arrangements.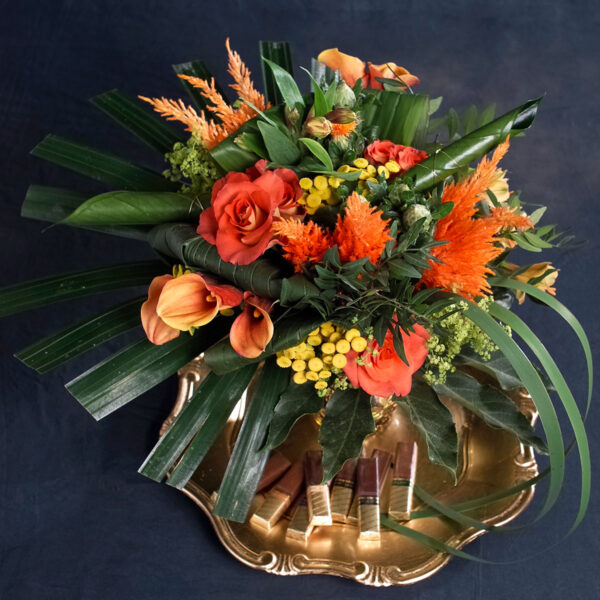 But there is a big - and at the same time odd - difference between the plant and the foliage. Where the plant has pointy leaves in a half umbrella shape, the edges of the cut leaves are cut off straight. This is only done with first-quality leaves that do not have nice pointy edges. In fact, 'rhapis' is ancient Greek for 'needle', but those pointy leaves become an edged half-circle. In your hands, you can still feel its exotic origin, like holding green rays of sunshine.
A plant can have one or two brown edges, but a bouquet cannot. And so the workers at the Sri Lankan facilities place the leaves into a mold and cut the foliage into shape. No advanced machines for this, just scissors. Nice to know is that the farm in Sri Lanka is an MPS & GAP certified nursery.
Imported by Adomex
The green specialists of Adomex import Rhapis year-round from Sri Lanka. The leaves are cut from the Rhapis Excelsa plant, a.k.a. lady palm or bamboo palm. In this tropical Southeast Asian climate, this plant thrives like nowhere else.