The most popular flower by far was and still is the rose. Why is that? Is it because of her looks? Is it the meaning of the flower that makes it a must-have for practically any floral arrangement? Is it the vast array of colors and sizes - both in regular and spray roses - to choose from that matches any style, shape, and size? One thing is for sure, roses are not the easiest flowers to maintain. But the reward is great when you enjoy these flowers for a long time. Rose grower Porta Nova and flower food producer Chrysal help you along the path of optimal care for your precious roses.
Rose Care Tips for Growers
It does not matter if you are an amateur grower or have a mega nursery. A rose is a rose.
A common problem with roses is called 'bent-neck'. The stem right under the bud is not strong enough to carry the weight of the growing flower, causing it to bend. A good post-harvest treatment prevents this problem. Using products like Chrysal RVB or RVB Clear Intensive (Chrysal Grow 20) is advised by Chrysal. These products improve water intake and flower development and prevent early aging and bent-neck.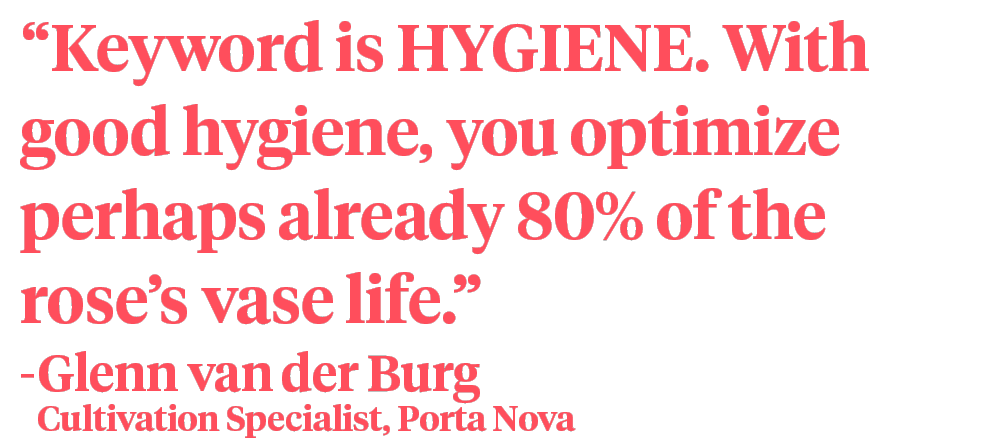 The stage at which the flowers are cut is also crucial for roses. If you cut flowers prematurely they are more susceptible to bent-neck, while roses that are cut too late have an increased risk of damage.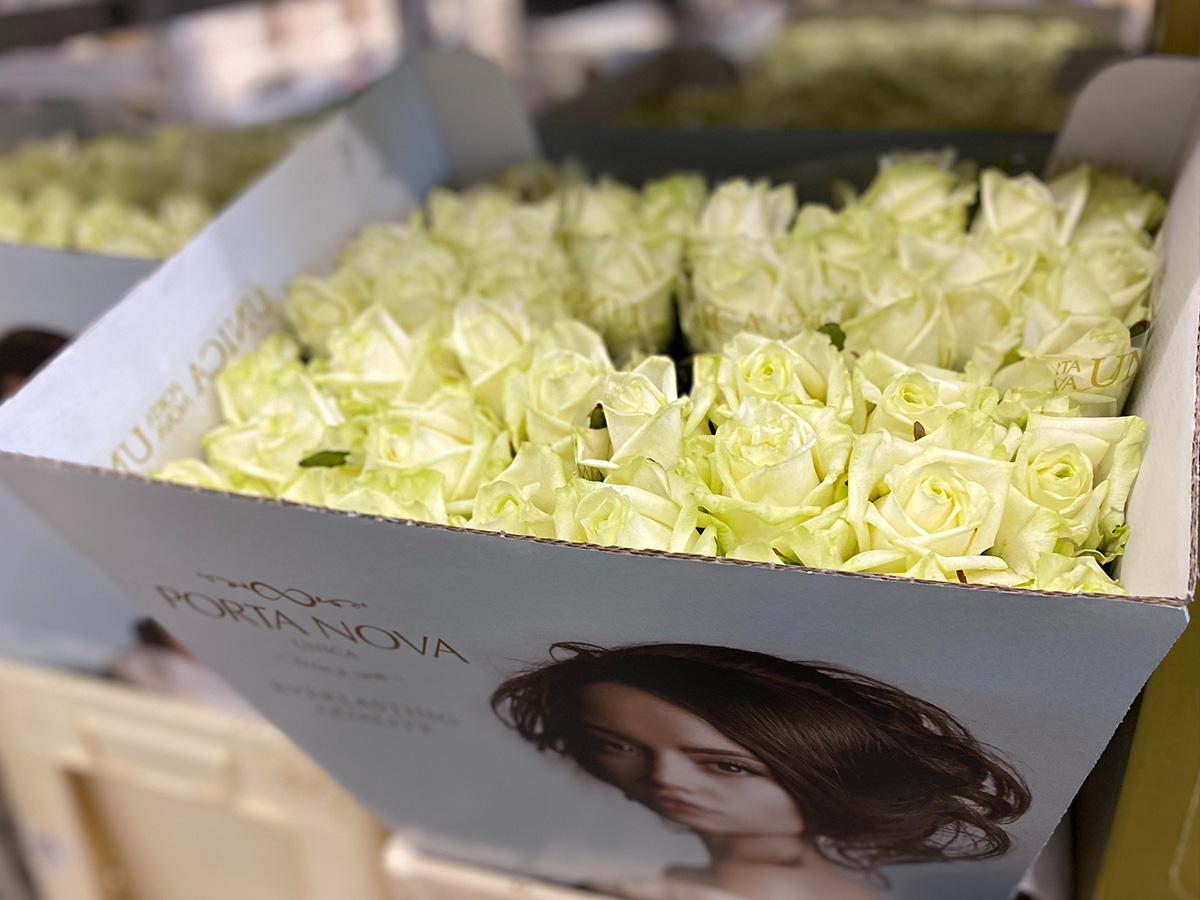 Care Tips by Porta Nova
Does the name Porta Nova ring a bell? It probably will, because this grower is top-of-the-bill for many years already when it comes to growing the perfect Red Naomi roses. Also their White Naomi has proven to be a big success after her introduction in 2011. Porta Nova's own labels Supra, Unica, and Magna are synonyms for superior quality in red and white roses.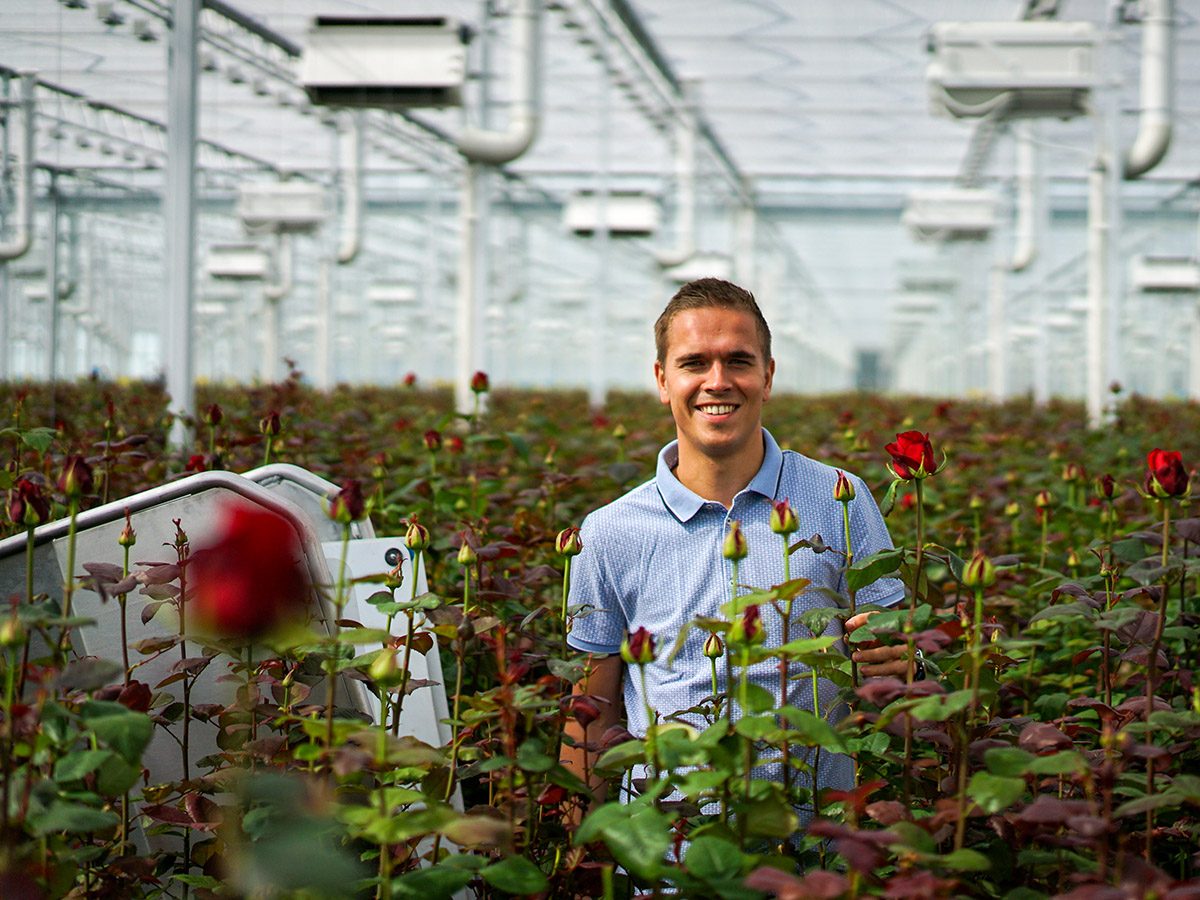 What can we learn from this grower? Cultivation specialist Glenn van der Burg explains how to enjoy roses to the max:
"After cutting the roses in the fields we start our post-harvesting process. Treating the freshly-cut roses well is very important for the rest of their lifespan. Keyword in this is HYGIENE. With good hygiene, you optimize perhaps already 80% of the rose's vase life.

Step one is right after harvesting. We rush our roses to the cold storage where they are put in ice-cold clean water that contains a little chlorine. The roses stay here overnight, before the next day, the selection process begins.

Then comes the second step in post-harvesting, putting the selected roses in water with Chrysal Grow 20. This keeps the water clean and stimulates the water uptake.

At Porta Nova, we even go one step further when it comes to hygiene. We use Chrysal Clean Touch. All the materials that touch the roses are cleaned with this product. All secateurs, conveyor belts, trolleys, and buckets are as clean as can be, almost sterile. Just to give the roses a perfect start."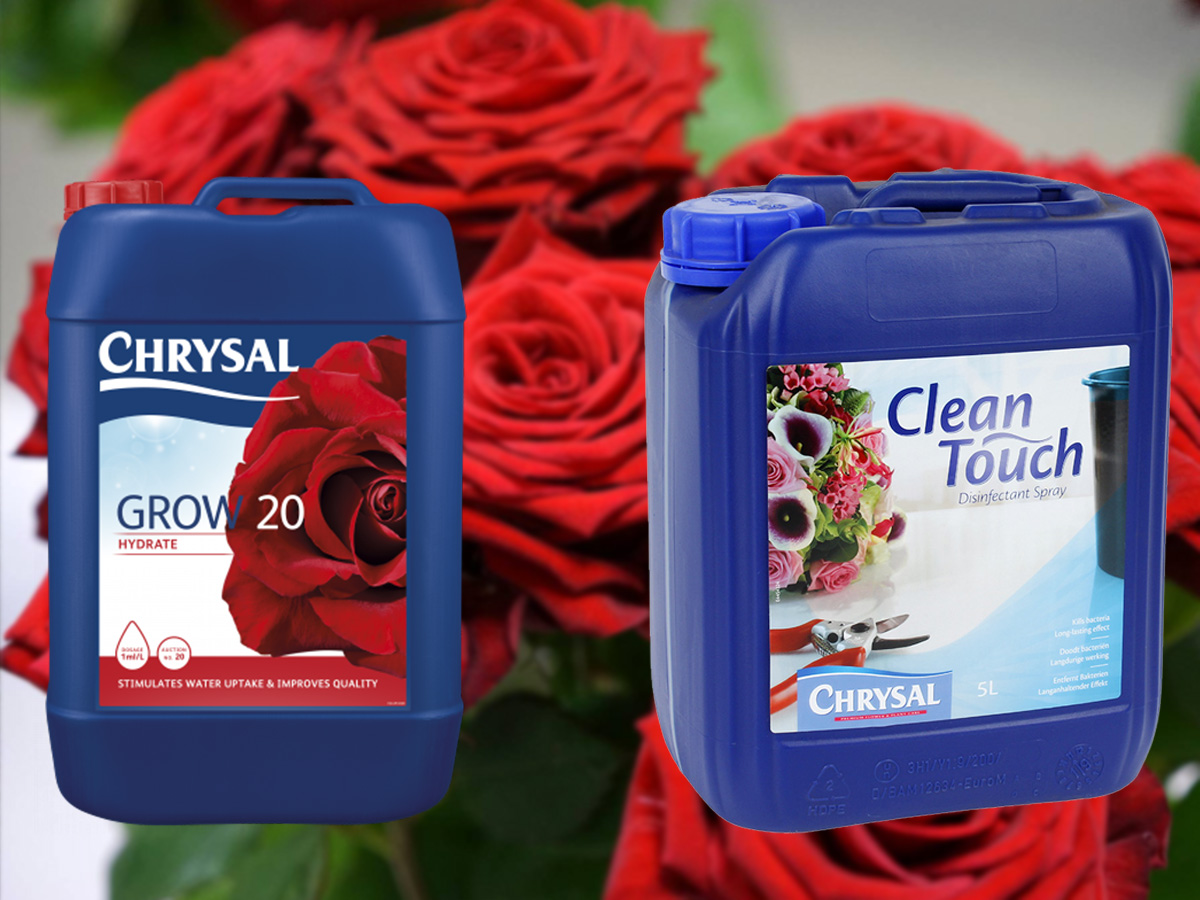 Tips for Florists & Consumers
At Porta Nova, quality goes beyond the post-harvesting process. They are consumers as well. So it makes sense that they want to know what happens next. Glenn explains:
"Yes, we are consumers too. We continuously test the flowering and vase life of our roses. In our testing facilities, we always have at least thirty vases of Red and White Naomi roses. We are convinced that when we send our roses out, a vase life of at least two weeks at home is guaranteed, especially when a wholesaler, florist, and consumer keeps the flowers clean as well."
Together with Chrysal and various universities, Porta Nova conducts year-round research into quality improvements, both in cultivation and post-harvest. In the photo above you see Nollie Marissen, a researcher with more than thirty years of experience in post-harvest.
Glenn's final advice:
"There are a few simple tips to maximize the flowering and vase life of roses. And the basis is, again, hygiene:

You can rinse the vase before with water and a drop of chlorine or dishwashing liquid
Then simply use clean tap water and add some flower food, like Chrysal Clear Rosa
Use a sharp knife to cut 4-5 cm of the rose stems at an angle (also in bouquets!)
Remove leaves from the stems so that no leaves are below the water level
Never scrape the skin off the stems since this will lead to increased bacterial growth
Place the vase of roses in a draught-free location to prevent them from becoming limp
Never place a vase of roses close to a window in the sun."
Photos courtesy of Porta Nova.