Rose breeding has been the passion at Rosen Tantau for over a century. Many things have changed ever since Mathias Tantau Sr. started his nursery back in 1906, both in the development of rose breeding and in marketing these flowers. The latest development is the launch of an all-new website for their cut rose assortment, still showing the love and passion for the rose that built the reputation of Rosen Tantau as a breeder of unique and first-class rose varieties.
More Emphasis on Digital
As everyone knows, the pandemic has changed many people's lives completely. In the past months, everyone had to reduce our personal contacts to an absolute minimum. That concerns not only the private life but of course also the daily business: less direct contact with clients and no physical trade fairs. Those shift of contact moments has lead to rethinking their business at
Rosen Tantau
, resulting in more emphasis on digital. Connecting with clients via email and messengers has been very common for many years already. So, the focus is now on video calls, social media, and of course e-commerce.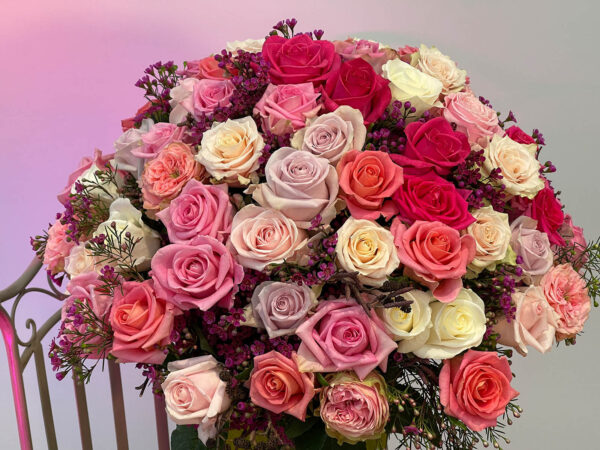 That's why Rosen Tantau now presents a brand new website, entirely dedicated to their beautiful cut roses. Go and see for yourself how inspiring and informative this new website is: It's easy to find at
cutroses.rosen-tantau.com
.
The Complete Range
The new cut roses website is very complete for all information about the cut roses from Rosen Tantau. You will not only find the complete range of different cut rose varieties and assortments but you will also always be informed about the newest breedings.
Floristry Inspiration
As cut rose flowers are not only bought as a single flower or in a bunch, it is important to show what professional florists designers can do with our varieties. Get inspired by the '
Floristry
' menu!
Young Plants
Rosen Tantau is not only a breeder of cut rose varieties, they are also producing young plants in their propagation in Uetersen, Germany. In the section '
Young plants
' you will get an overview of all their different plant types.
Three Novelties
On this special occasion of introducing their brand new website, Rosen Tantau presents three new cut rose varieties that perfectly reflect the current trend and demand on the European market in the premium sector besides the mass production for the supermarkets.
Rose Bella Natalie®
The first novelty is rose Bella Natalie®, a classic hybrid tea rose in a shiny, intense hot pink with dark-green, glossy foliage. This variety is especially demanded in Eastern Europe and Russia, a growing market for quality roses.
Rose Grandma's Finest® Lilly
Grandma's Finest® Lilly is a filled spray rose, a cream-white mutation of Rosen Tantau's well-known variety Grandma's Finest® Mary. She has a very good vase life and is perfect for wedding bouquets and decoration. Spray roses are strong in demand again in the last five years, so this is one to want.
Rose Green Island® Maleica
Green Island® Maleica is a brand-new variety in the famous Green Island®-assortment from Rosen Tantau. She has a warm apricot-salmon color with the typical green 'eye'. This beauty is characterized by vigorous growing with great stem quality.
By the way, Rosen Tantau still keeps on using their former website www.rosen-tantau.com on the side, but only for representing their garden rose varieties and as a B2C online shop.