Red roses for Christmas...it seems like such a natural fit. Whether you want to add an elegant touch to your own home or you want to send flowers to a friend or loved one for the festive season, red roses will do just the job. Red is a timeless Christmas color, from Santa's robe to Rudolf's nose, but also simply because red is the color of love and warmth.
Red Roses for Christmas This Year
Other than decorating the tree, flowers are great for festive centerpieces and arrangements in your home and on the dinner table during the holiday season. But what are the best red roses for Christmas you should get this year?
Red roses are probably the most popular flowers ever. The reason why they have garnered this much love all over the world is that their magnificence has stood the test of time. No other flower can express love, warmth, and affinity in such a luxurious way as the red rose can but with an abundance of cultivars to choose from, it's hard to find that perfect variety that lives up to all of your wishes. Scroll down to discover some of the most beautiful and cheerful varieties that will immediately get you in that festive holiday mood.
Rhodos Rose
The rose Rhodos, known for its large flower head and thornless stem, is grown in Kenya in greenhouses at 2,300 meters altitude. Here, it receives lots of natural sunlight which makes it grow to an impressive length of 60 to 90 cm. The large-headed rose has a head size of 5,5 cm and is characterized by its high petal count, which is spotted best in full-bloom.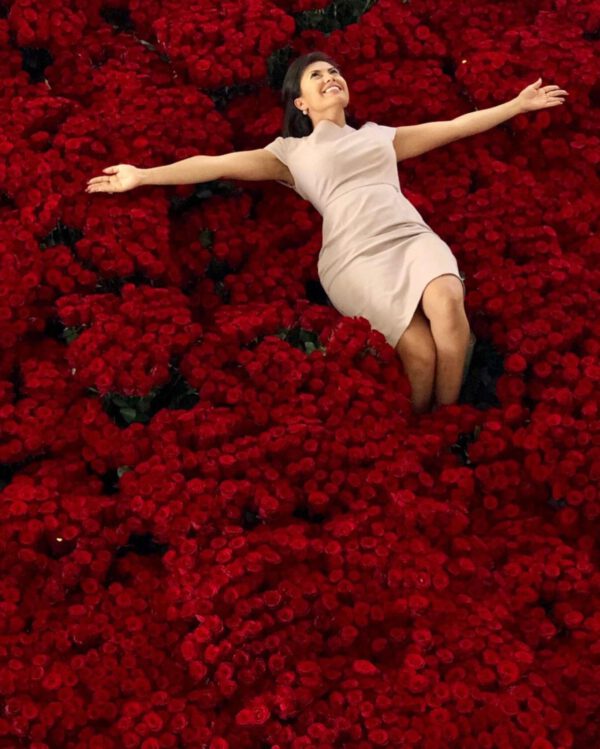 The powerful red of the Rhodos rose is slightly brighter than that of most other red roses. The stems of Rhodos are thornless and this rose is generally seen as one of the longest-lasting red roses available. This makes it one of the most popular red roses for the Christmas season.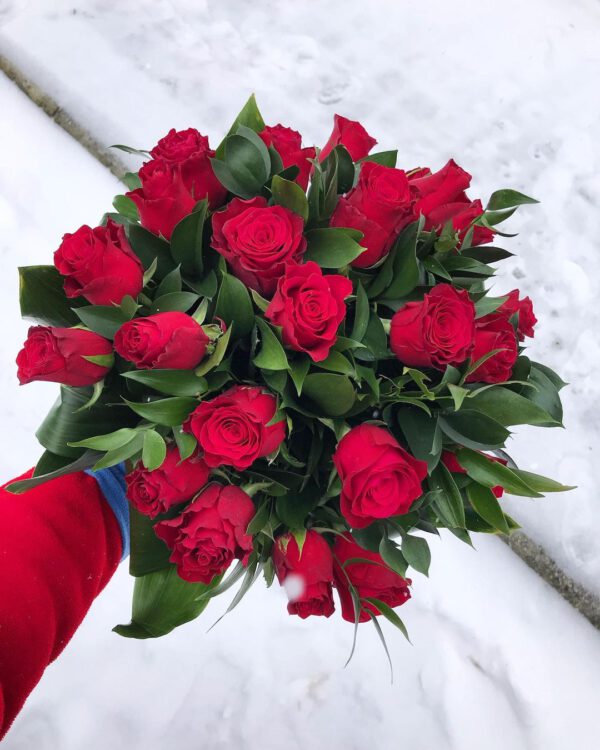 Madam Red Rose
Madam Red is a red large-flowered rose created by breeder United Selections. It is a rose that is very suitable for cultivation in Kenya. Fresco Flowers offers Madam Red from growers Kisima, Lolomarik, and Mount Kenya flowers and is mainly bought by wholesalers.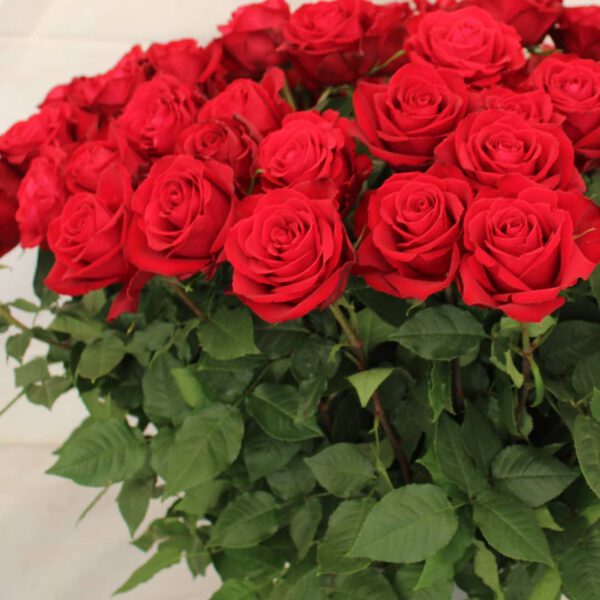 Madam Red roses have thick stems but no thorns, so no need for stripping and shiny dark leaves. A large-headed, versatile rose that's good for both hand ties and single-stem sales.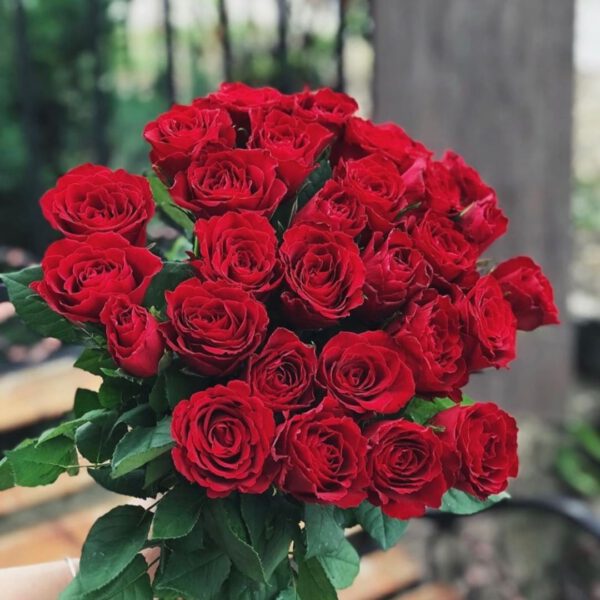 Red Calypso Rose
Add a touch of passion to your arrangements with Red Calypso roses. With its slightly smaller head than most standard roses, it has a delicate look. Red Calypso has a true red hue, which is perfect for adding a sensual pop of color to classic arrangements. Red Calypso opens its petals gradually and has virtually no black discoloration.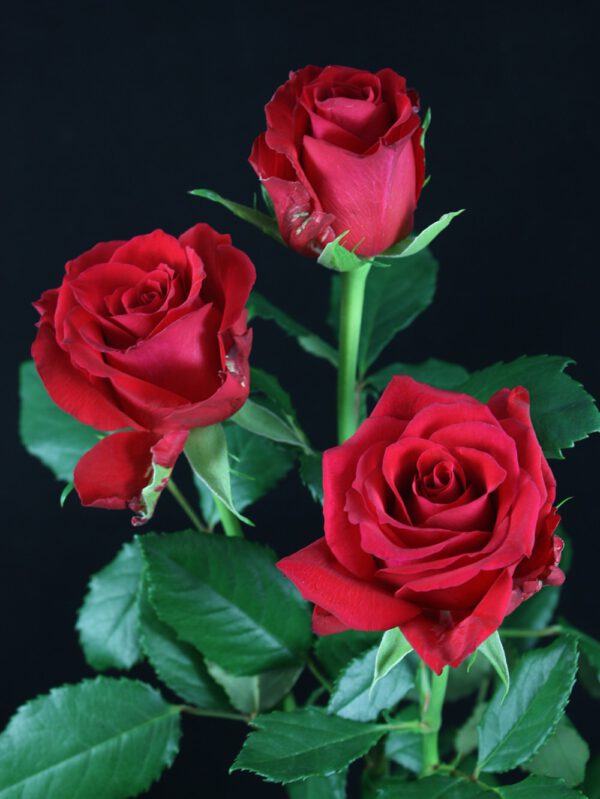 Unique selling points of Red Calypso Roses are that they have a vibrant red color and really good quality vase life. The commercial value for the florist is really good. Red Calypso, (as is Rhodos) is a De Ruiter variety and is grown by numerous farms around the world.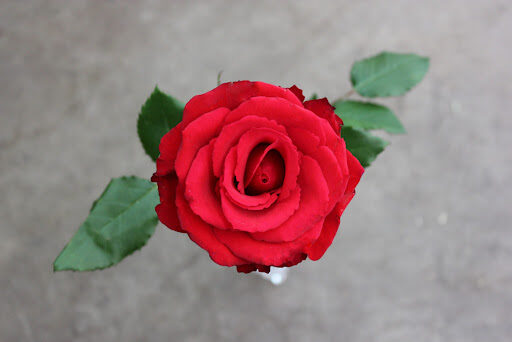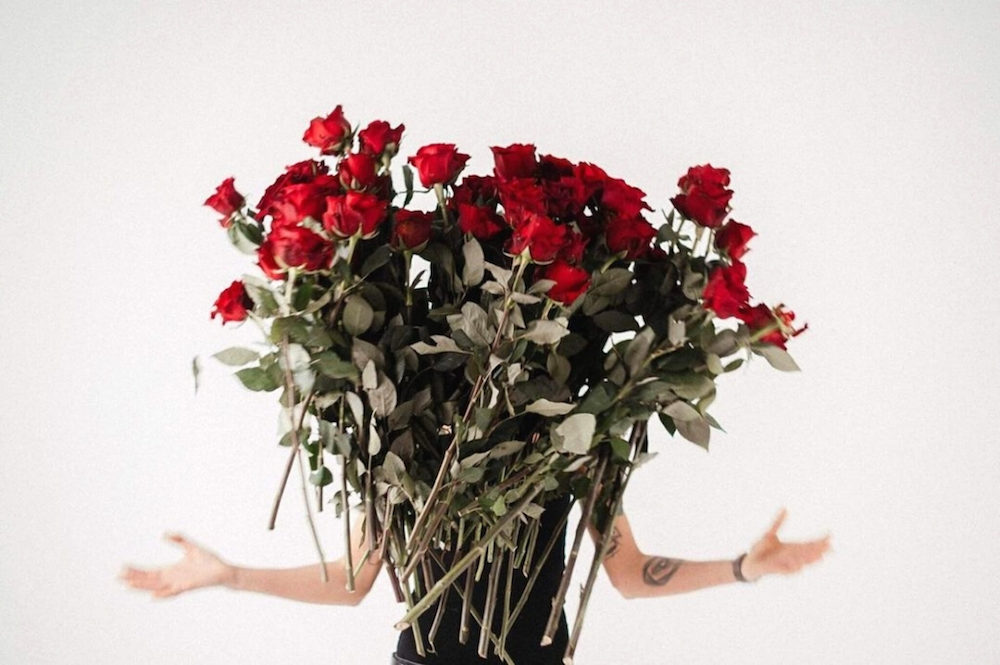 With its deep red velvet interior, it opens up gracefully as a red rose should. And as mentioned above, with a long and strong vase life of up to two weeks, Ever Red is a rose that definitely gives you bang for your buck.
Furiosa Rose
This lady in ruby red is a rose for whom aesthetic seduction is a given. The wine-colored petals offer the same allure of soft scarves drenched in the most sensual perfume. The pretty red blooms unfurl slowly into a classic rose and it has a very good vase life for lasting joy. A popular variety among florists, but also for supermarkets, weddings, and events.
Finally Rose
Words and pictures will never fully encompass the sheer beauty and grandeur of this rose. Romantic, sophisticated, and sensual, Finally is undeniably one of the most beautiful among all red roses for Christmas. With an intense crimson color that shades off to a darker tone, she speaks of love that awaits a passionate expression. A gorgeous variety from United Selections that can't be missed this holiday season.
Red Tacazzi+ Rose
The strong red rose Red Tacazzi+ opens with a beautiful swirl, hypnotizing you with its dark red color. As it is a new variety, Dümmen Orange and its first grower Holla Roses have made the promise to always open and have a vase life that exceeds 14 days! Swirling petals and a dark red color to enjoy for weeks after Christmas dinner.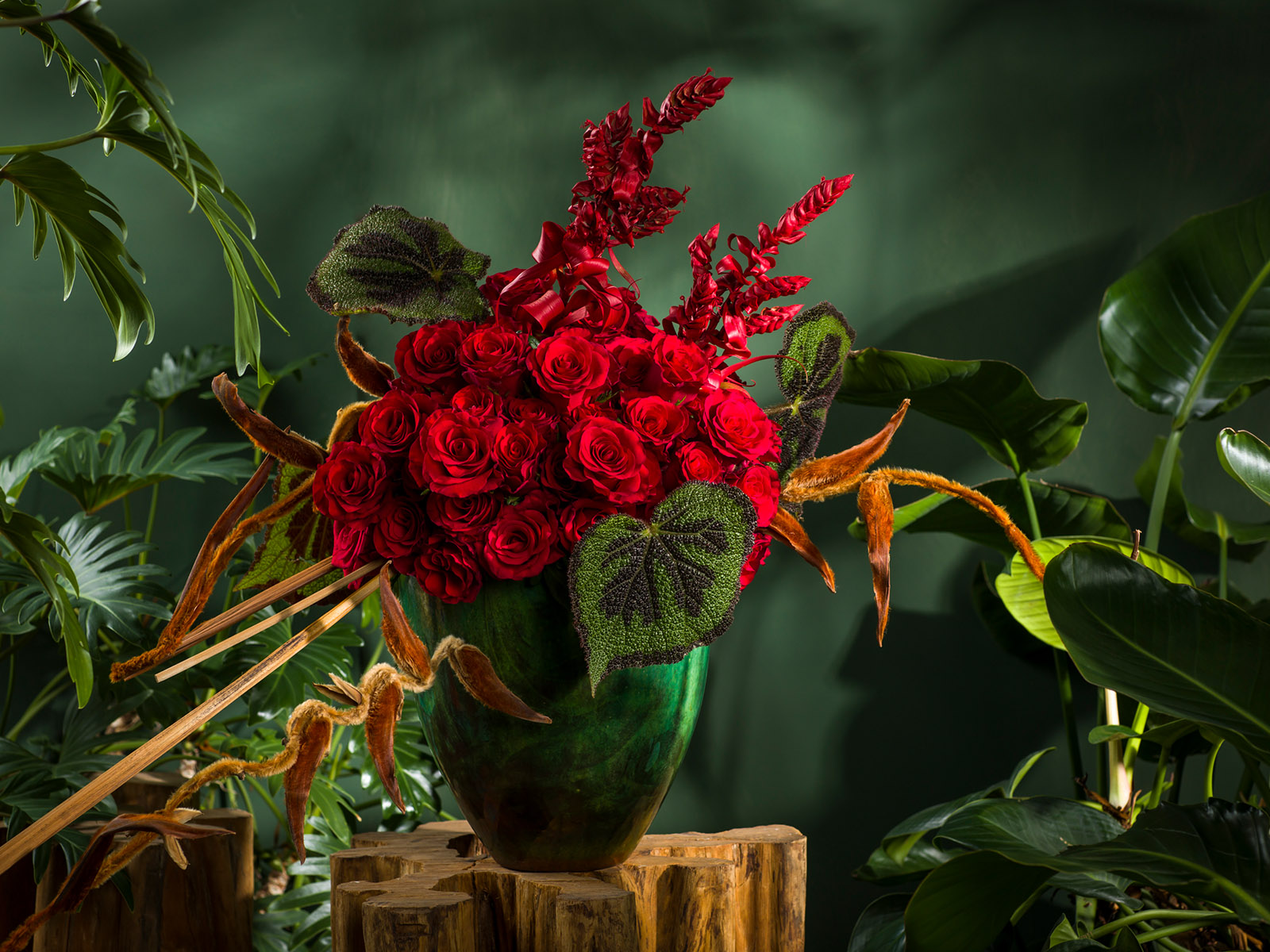 Just like its namesake, the African hummingbird 'Tacazze', this beautiful rose is one with many shades of red. It combines well with other colors but also a beautiful appearance in mono bouquets. The Tacazzi+ rose is nowadays a special rose, because this is one of the few roses that still subtly carries the original rose scent and has virtually no thorns. This rose is a clear addition to any wholesaler collection.
Ever Red Rose
Ever Red roses are the epitome of what a true red rose should look like. Pure beauty in a truly deep red shade. But besides those eye-pleasing characteristics, they have the added benefit of being globally available, come in lengths between 60cm and 90cm, and have a very good vase life of 10 to 14 days.
This red rose variety was also created by breeder De Ruiter and these days Ever Red roses are grown at many different farms in Kenya, Ethiopia, and even Russia. The beautiful blossoms of the Ever Red rose are largely available for floral designers at local wholesalers and for the general public at almost all flower shops in the world, making it one of those staple roses that everyone should have had in their hands at least once.
Your Red Rose Variety Here?
Get in touch with our editorial team at [email protected].