With a name like 'Showmakers'®, you'd better have something to show for it. In the floral world, the Showmakers® series really steals the show. This double-flowered aster series has become a must-have for garden enthusiasts, characterized by packed-with-petals flowers in mesmerizing shades of blues, violets, whites, and pinks.
A Real Diva in the Garden
Aster Showmakers® is a real diva, demanding the proper attention and care. However, Royal Van Zanten guarantees that it's worth it! They boast large double flowers, compact habit, and beautifully contrasting dark leaves. These plants offer a beautiful, long-lasting, and high-quality flower display in your garden, and on your balcony or patio.
Radiant white, sweet pink and various shades of blue-violet define Showmakers®. Blooming roughly from the second half of the summer until autumn, they flourish when most plants are past their prime. The generously filled flowers make this pot aster a real eye-catcher, perfect for brightening up your garden and patio.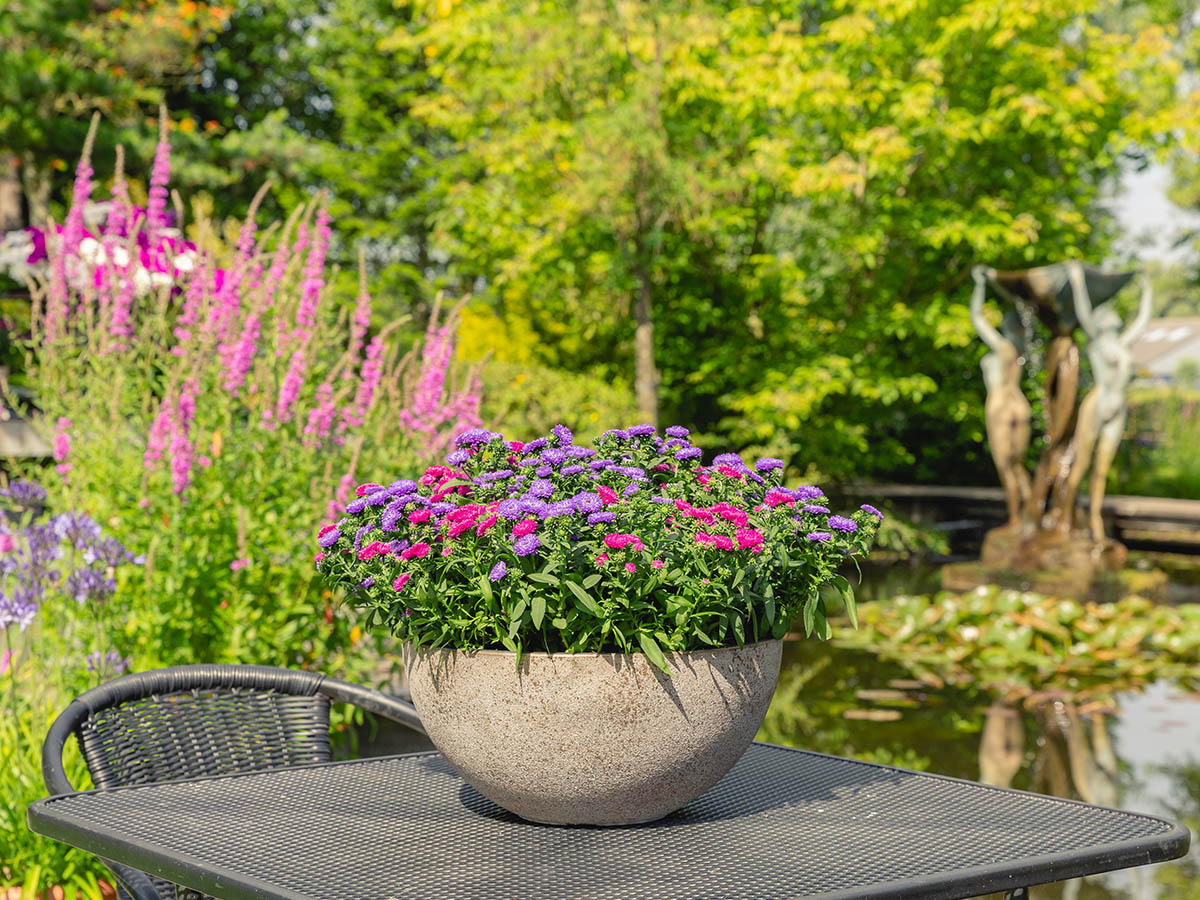 This series consists of seven varieties with unique colors that you will find in very few other flowering plants, allowing for a diverse garden design:
Also available as mix in the pot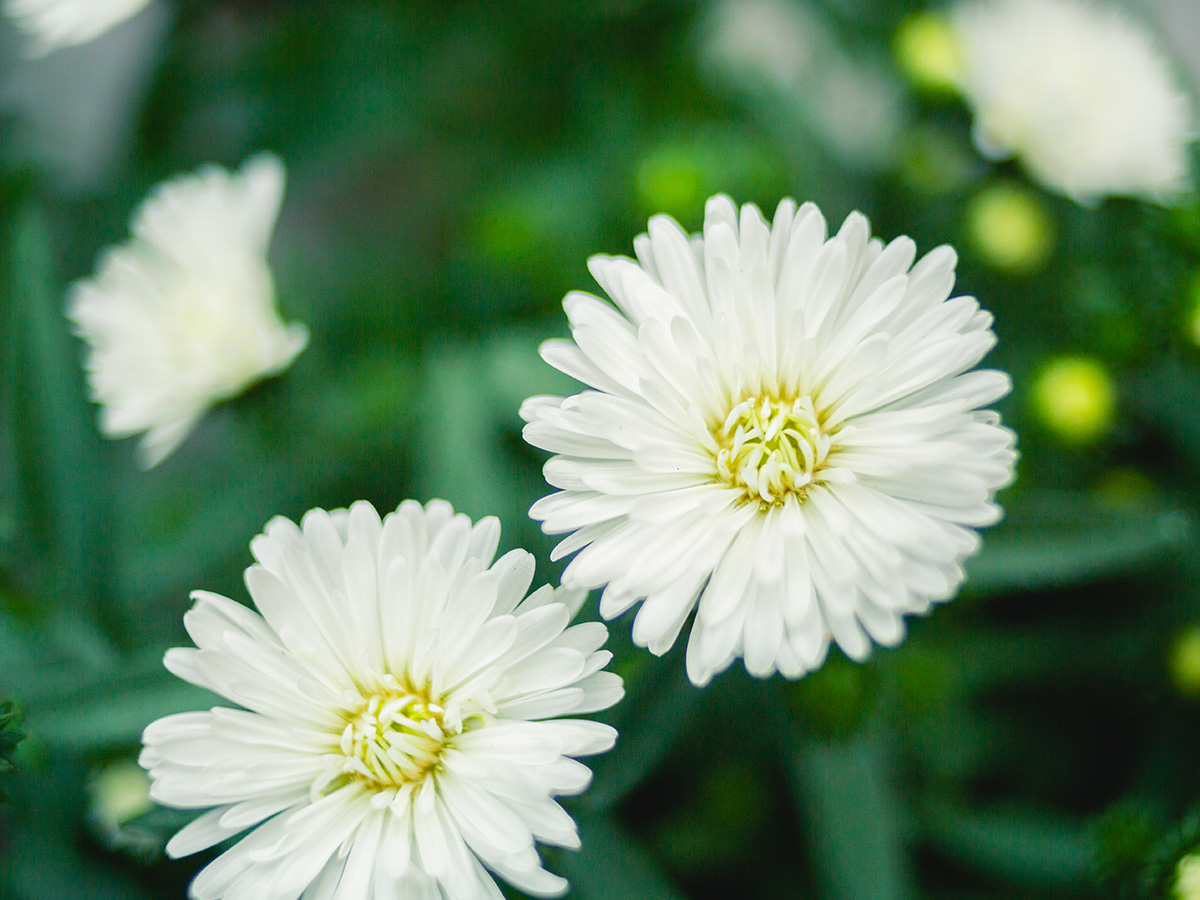 Garden Styling With Aster Showmakers®
When you plant Showmakers® in your garden, you will notice how nicely these semi-hardy plants pair with other (perennial) plants. Use them on their own in a pot for an eye-catching display on the patio or combine various colors for a stylish or summery effect. They are also perfect as a color accent in borders.
Are you ready to turn your outdoor space into a real extravaganza? Here's how to design your dreamy aster garden with Showmakers®:
Step 1: Picking Your Showmakers® Aster Series Stars
First things first, choose your star players! Is it going to be white, pink, or blue? Or a colorful mix? Head to your local garden center or hop online to find these stunning blooms that come in all sorts of cool colors. There's a shade for every dreamy garden vibe!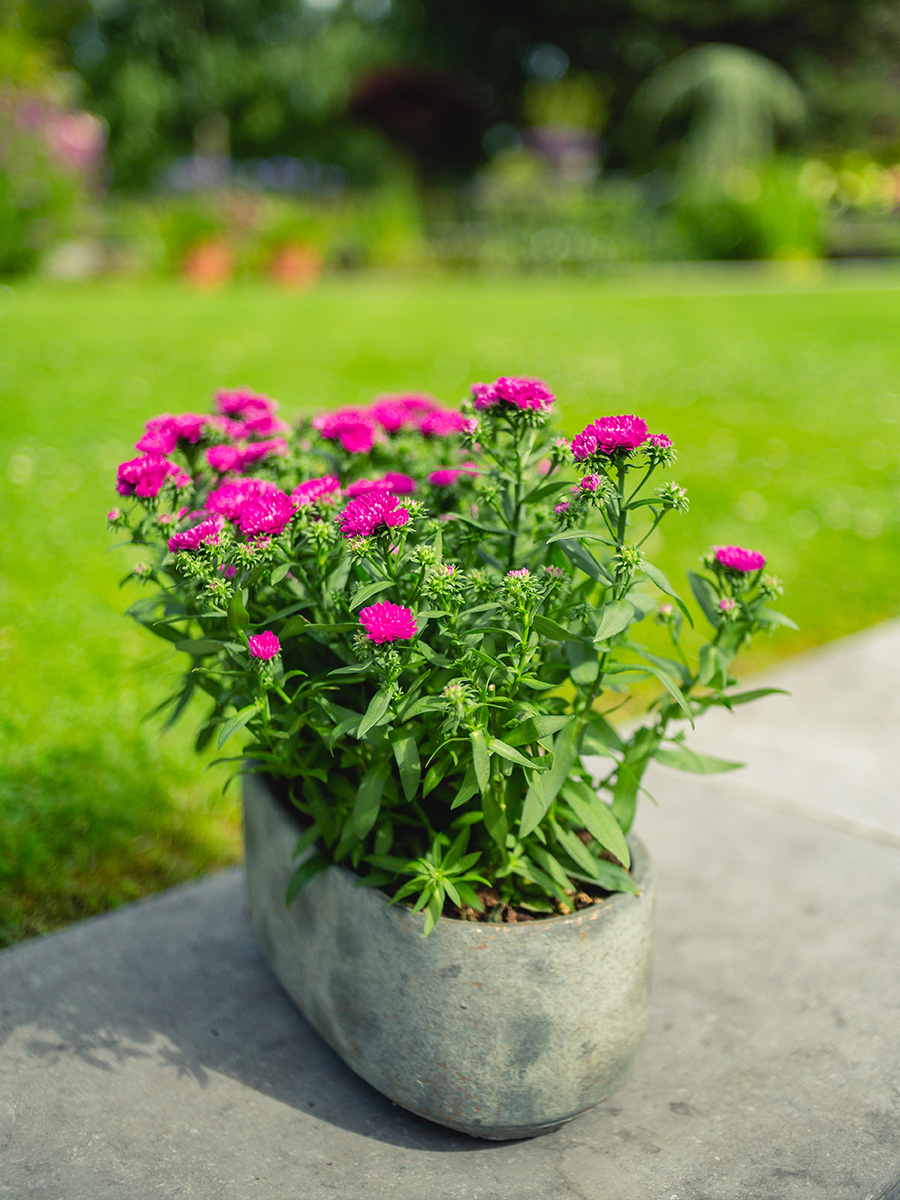 Step 2: Designing Your Dreamy Aster Garden
Now it's time to plan your garden layout! Don't worry, it's not as tricky as it sounds. Think about how much sunlight your garden gets and where you want to put your asters. Play around with the different colors and sizes to create a flower wonderland that's uniquely YOU!
Showmakers® like a place in the sun with a little shade now and then. In a really sunny position, they will need a bit more water than when placed in the shade. So, in this case, water them regularly.
Step 3: Getting Your Hands Dirty
Time to get your hands dirty! Prepare the soil by removing any pesky weeds and adding some compost or organic stuff. Once the soil is happy and ready, dig little holes for your asters and tuck them in nice and cozy. Don't forget to give them a good drink of water to help them settle in!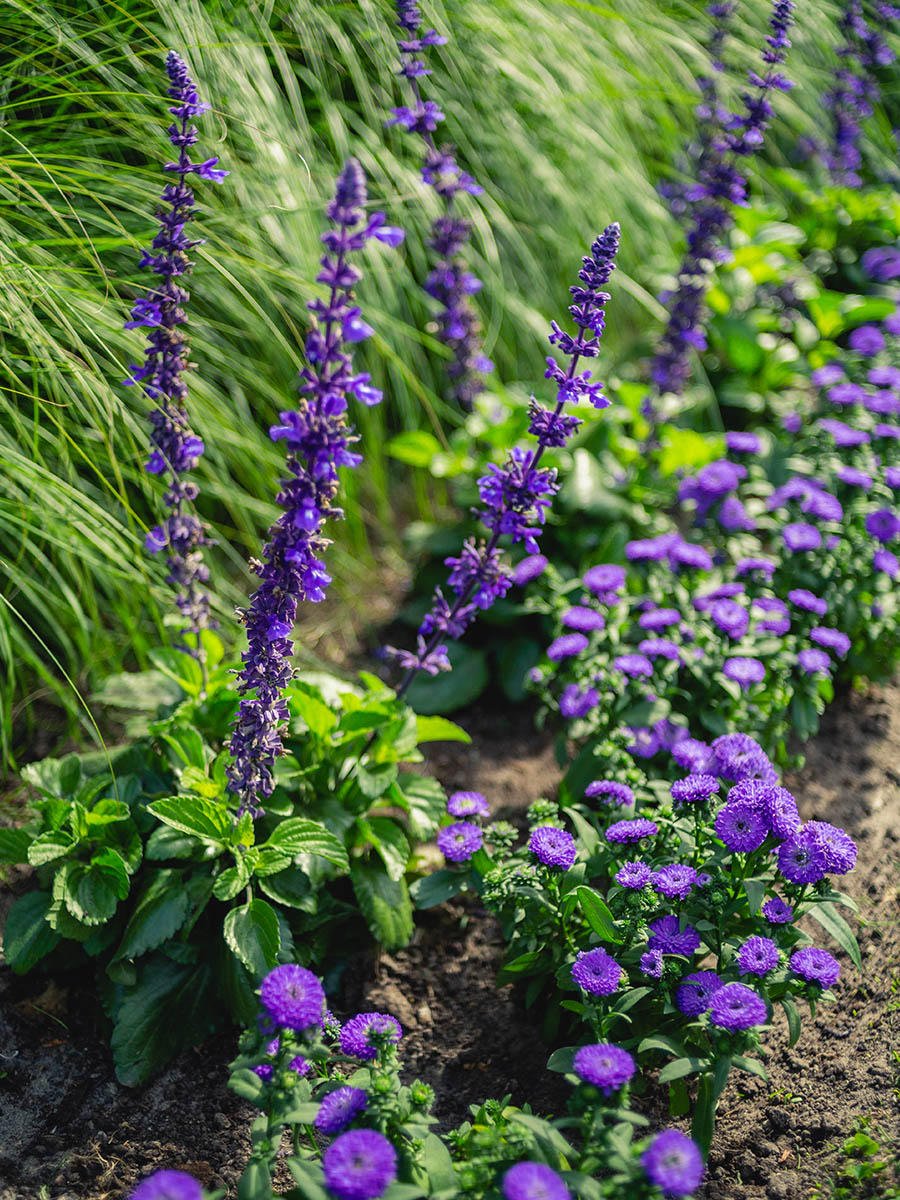 Step 4: Easy-Peasy Care and Maintenance
Good news – taking care of Showmakers® Aster Series flowers is a breeze! Just remember to water them regularly, especially when it's hot outside. Keep the soil moist, but don't go overboard – you don't want to flood your floral friends!
TIP: If you want to enjoy your plant even longer and see even more flowers appear, remove faded flowers on a regular basis.
Step 5: Mix & Match With Flower BFFs
Your garden is about to get even more awesome! Mix and match your Showmakers® Aster Series flowers with other cool summer blooms like celosia, zinnias, or pot chrysanthemum. The more, the merrier! And don't forget to add some fun touches, like cute garden decorations or twinkling fairy lights – they'll make your garden feel like a secret fairy realm when the sun sets!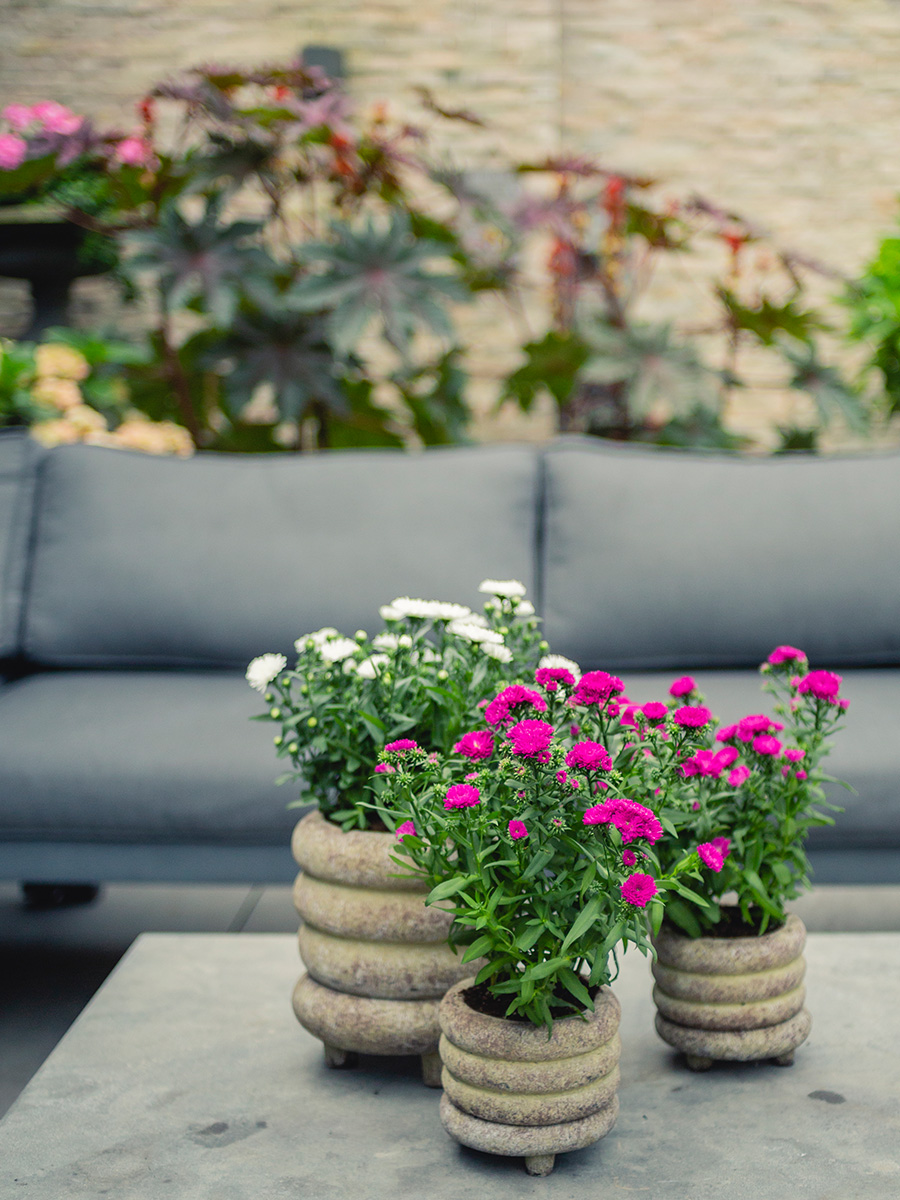 Step 6: Share the Love for Flowers
Your garden masterpiece is all set now! Why not invite your friends over for a garden picnic or a chill evening under the stars? Show off your DIY garden extravaganza and let the Showmakers® Aster Series steal the spotlight. Who knows, your friends might get inspired to create their own dreamy gardens too!
A Colorful Statement for Your Garden
Showmakers® Aster Series is more than just a plant; it's a colorful statement for your garden that offers diversity, beauty, and simplicity in care. Whether in a pot on the patio or as a colorful accent in borders, Showmakers® never fails to impress. Follow the tips and guide above to create your own vibrant garden and let the Showmakers® Aster Series steal the show! Head to your local garden center or shop online to start your Showmakers® journey today.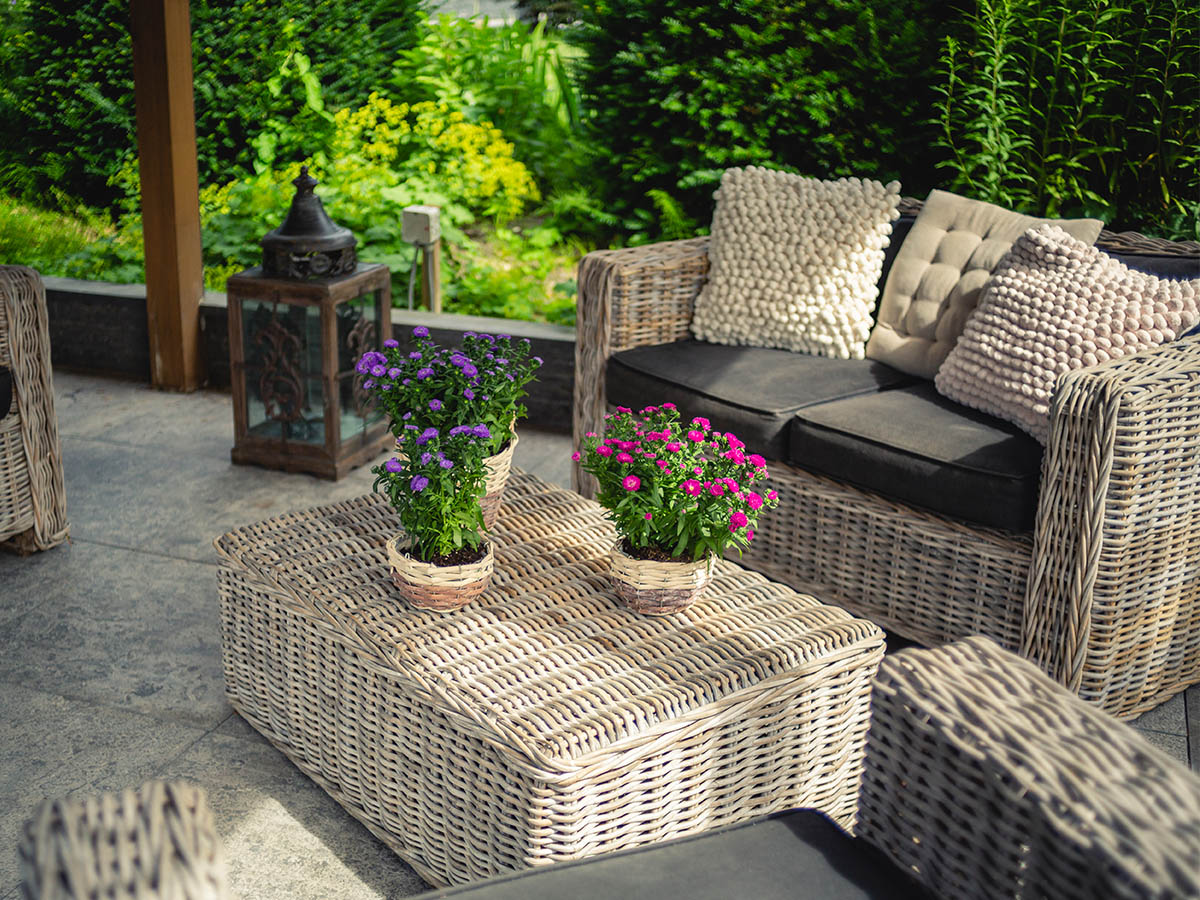 All photos courtesy of Royal Van Zanten.