We're celebrating the beautiful cerulean Hydrangea. This year she's striving to be bold yet elegant, fierce but not sweet and outspoken instead of lovely...
Cerulean reflection
The lovely Hydrangea reminds us of clear blue summer skies. Looking up to the sky, blue is the only colour we can see, but this heavenly cerulean contains a huge treasure. It has all colours of the rainbow in it, hidden for the human eye... Sky blue is known as a symbol of unlimited possibilities and freedom. It creates space and stands for protection and inner surrender. Sounds like the safety and freedom we are all so desperately longing for. "At a time when algorithms to a major impact, it is important to be inspired by nature and man", predicts Lidewij Edelkoort for spring 2020. And she's right. Slowly we are becoming aware of the fact that we have to follow new ways and beyond all we have to trust in them to be inspiring and full of wonders.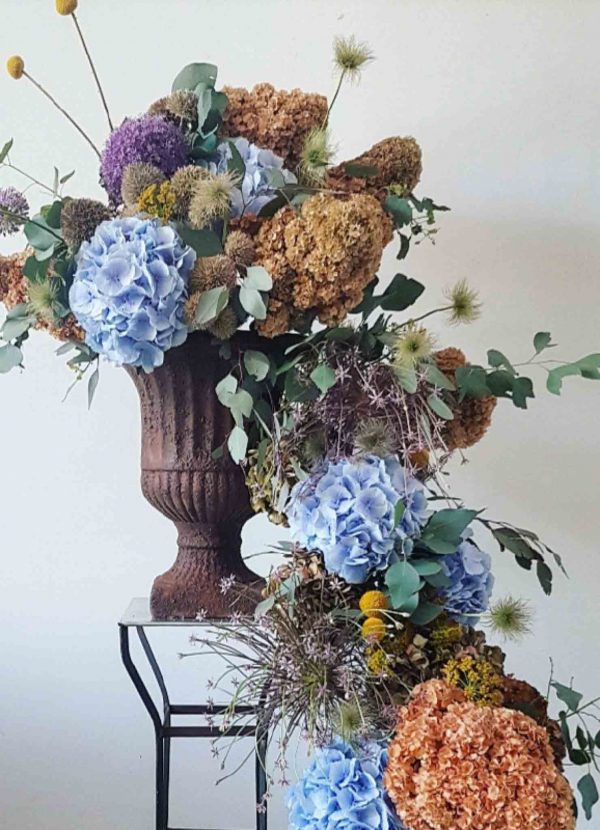 Merge of blues
Hydrangea dispels negative vibrations and sends them back to their source. Just the kind of thing we are looking for in these chaotic times. Nature is said to be JOMO now; 'the Joy Of Missing Out', according to trendwachter Aafje Nijman. 'There's a strong focus on round shapes and we love to see all things in one colour', she added. That's why we say: 'Hello Hydrangea'. And yes there's also an apparent 'merge of different blues going on', as Lidewij Edelkoort pointed out. We see blue bouquets claiming more and more space these days. We even paint our green leaves blue to accentuate the colour play and make all flowers in the bouquet shine even more.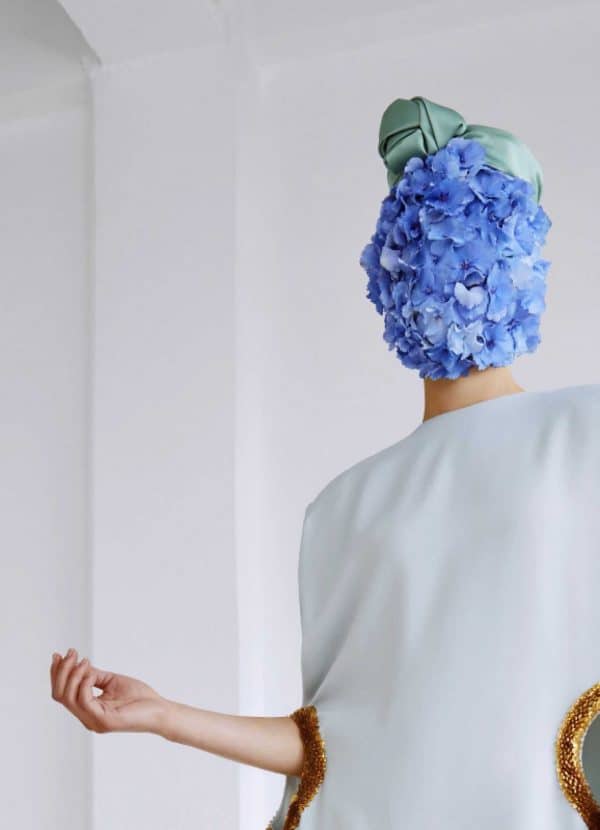 Sculptural flower
Cerulean bouquets rule, daring us to just be. Shining from our core, enjoying life as it is. Where free shapes are kin, and straitjacket is not. With its compact form, our lovely Hydrangea is doing just fine in these elongated horizontal bouquets, spreading a sense of movement. This sculptural bold flower, robust and tender all in one, with her vast convex typed forms includes an exuberant amount of small flowers taking shelter in it's whole. As 'flowers are a symbol of unity and diversity' - according to Edelkoort – the Hydrangea thrives. Her name literally means 'flower of blue water' - 'hydro' is water in Latin and the Latin name 'Hydrangea' is referring to it. In real life this popular eyecatcher indeed likes to be regularly watered. Her name was first used in 1771 by the French botanist Philibert Commerson. It is murmured that he named the flower after a woman whom he had a crush on; Hortense, the lovely daughter of Josephine de Beauharnais and Napoleon.