Tall flowers provide a lot of drama to any landscape, especially in gardens. The best idea for taking your gardens to new heights is to plant them in a focal point, a live backdrop for other plants, or in spaces that could help provide privacy near a patio or bench. These 10 tall flowers will definitely boost the charm of your outdoor spaces!
10 Tall Flowers That'll Take Your Garden to a New Level
Choose tall flowering plants with colorful blooming plumes that bend in the breeze, and you'll be invited to relax in your garden hammock. On the other hand, if you choose tall flowers with striking 'architectural' angles, you'll create a dazzling, visual stop for the eyes. You must remember that our eyes travel through a landscape in a garden absorbing texture, and it's those uprights — those narrow vertical flowers that slow the eye and make us appreciate the scene. That said, here are 10 flowering plants to take your garden to the next level.
1. Fairy Candle (Cimifuga Racemosa)
In a moonlight garden, Cimicifuga racemosa is unbeatable. The best option would be to scatter beautiful fairy candles over dark locations, where their white spikes, which grow to be 1-2 meters (4 to 6 feet) tall, appear nearly lighted. Their impact is amplified when planted alongside dark-hued flowers. As dusk approaches, the darker flowers fade out, and whites like this Cimicifuga seem to literally glow. Now you know why fairy candles are considered among the 10 tall flowers that'll elevate your garden to new heights!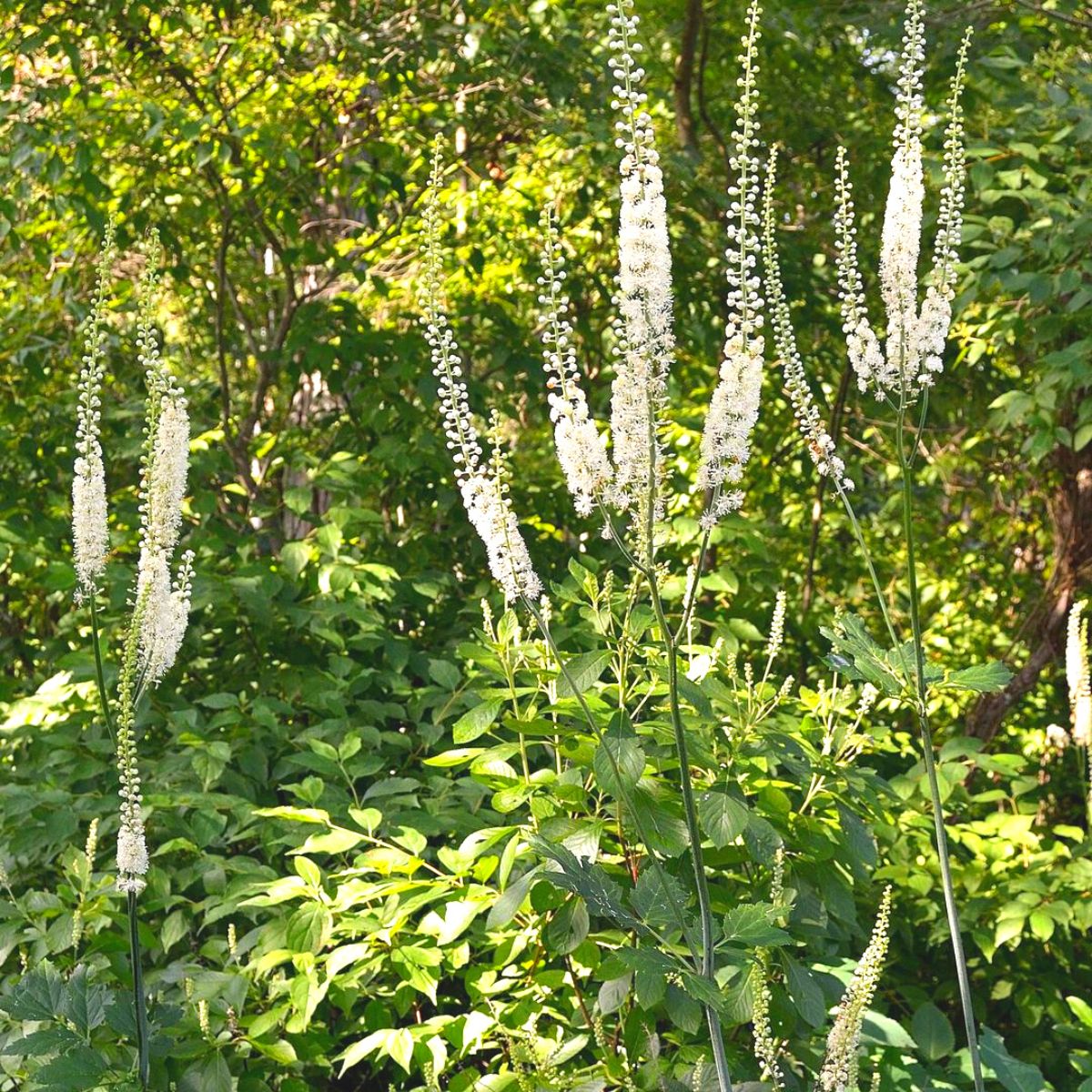 2. Hollyhock (Alcea Rosea)
Alcea rosea, or Hollyhocks, are herbaceous flowering plants that reseed themselves and can produce colonies of plants that return to the garden year after year. They are typically found in cultivated areas and rarely in 'the wild'. Their original habitat is unknown, but the plant is probably a cultigen that started out in Turkey. The tall flowering plant prefers full to partial sun, and heavy, rich, organic soil. It tolerates a wide range of soil conditions and some light shade, but will not tolerate wet winter soils.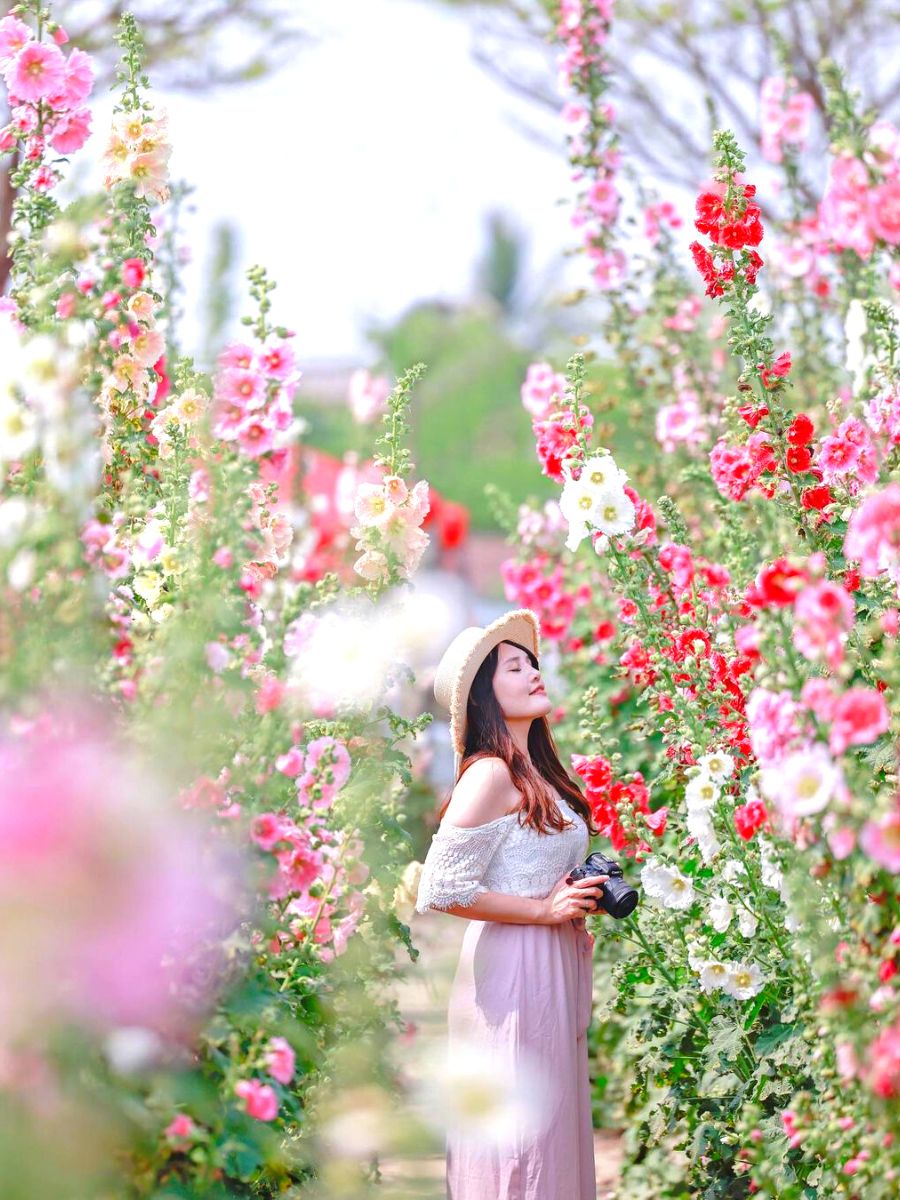 Important to remember that Alcea rosea has sixty different species, with many reaching heights of up to 2.5 meters (8 feet). Its large, gorgeous flowers frequently open at the same time, forming columns of blossoms that cottage gardeners like. Plant sweet peas amid your hollyhocks and the smaller plants will twist around the larger ones as they mature, creating two plants that look like one.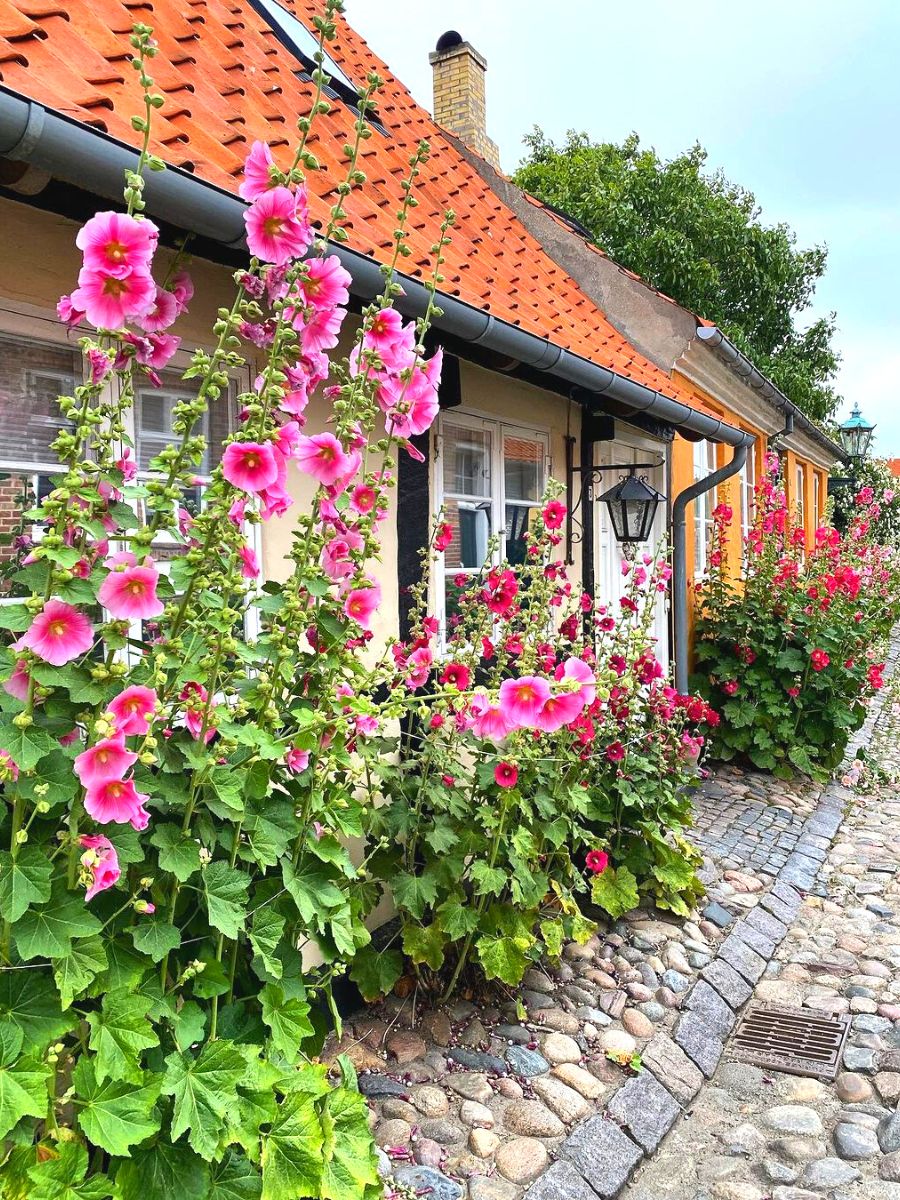 3. Japanese Anemone Honorene Jobert (Anemone Hybrida)
Anemone hybrida, often known as 'windflowers' as well, are herbaceous members of the buttercup family that bloom from late summer to fall. The Honorene Jobert cultivar is renowned for its long-blooming white flowers with yellow centers. If you decide to incorporate them in your garden, you'll get about two months of blooms hovering on a 1 and sometimes even a 1.5-meter tall flowering plant (3-5 feet). When the garden is kind of waning at the end of summer and fall is already beginning, you get this crystal clear white just kind of popping out in the garden. Definitely, an uncomparable white beauty to enhance and make your garden glare and flare!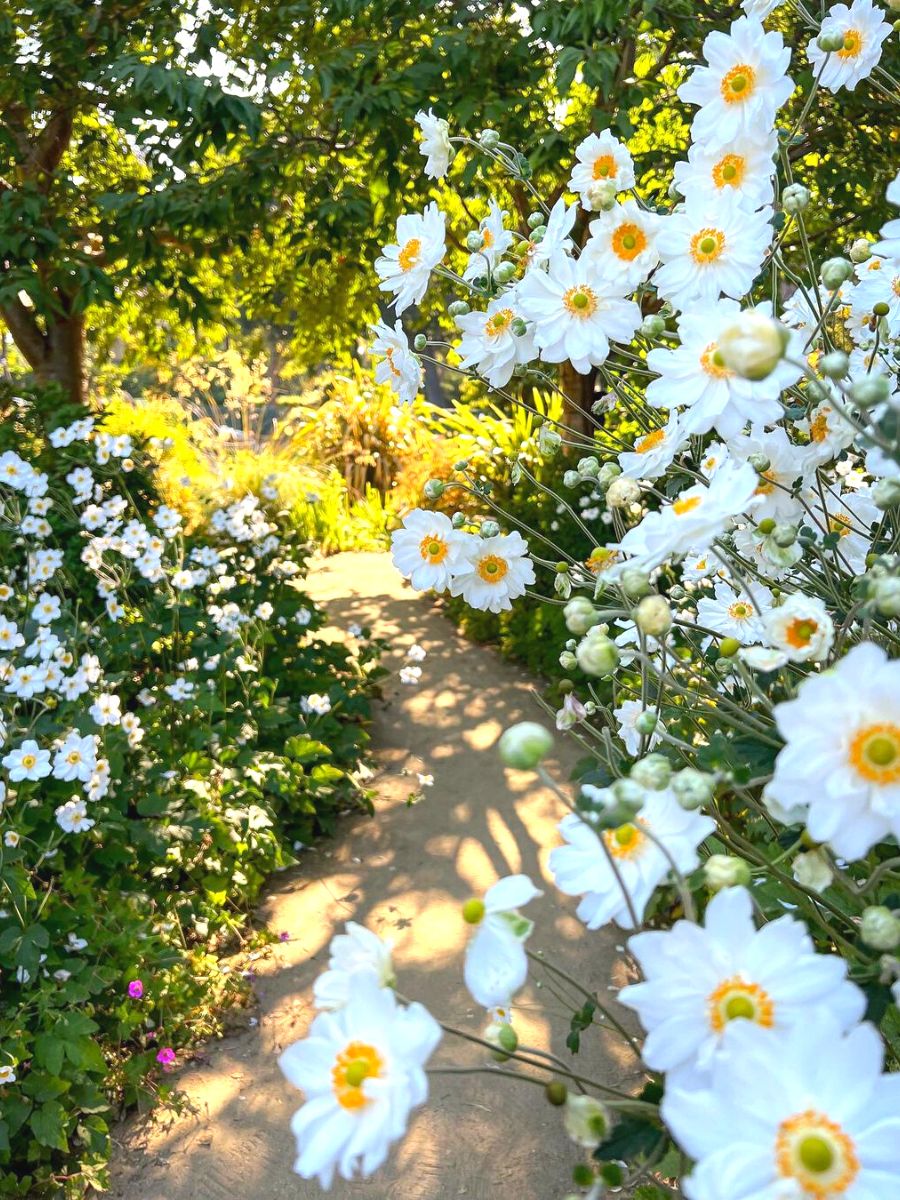 4. Meadow Rue Lavender Mist (Thalictrum Rochebrunianum)
Meadow Rue, also known as Lavender Mist, grows tall and robust stems with airy blooms that float above whatever composition you put it in. This early summer bloomer's delicate blue-green foliage adds to its ethereal air, its lavender haze not translucent but light enough to enable glimpses of its garden companions. Professionals usually catalog this tall flower at 1.5 to 2.5 meters (6-8 feet) but many assure they've seen it grow 3 meters (10 feet) tall. An absolute tall delight to have in your garden without a doubt.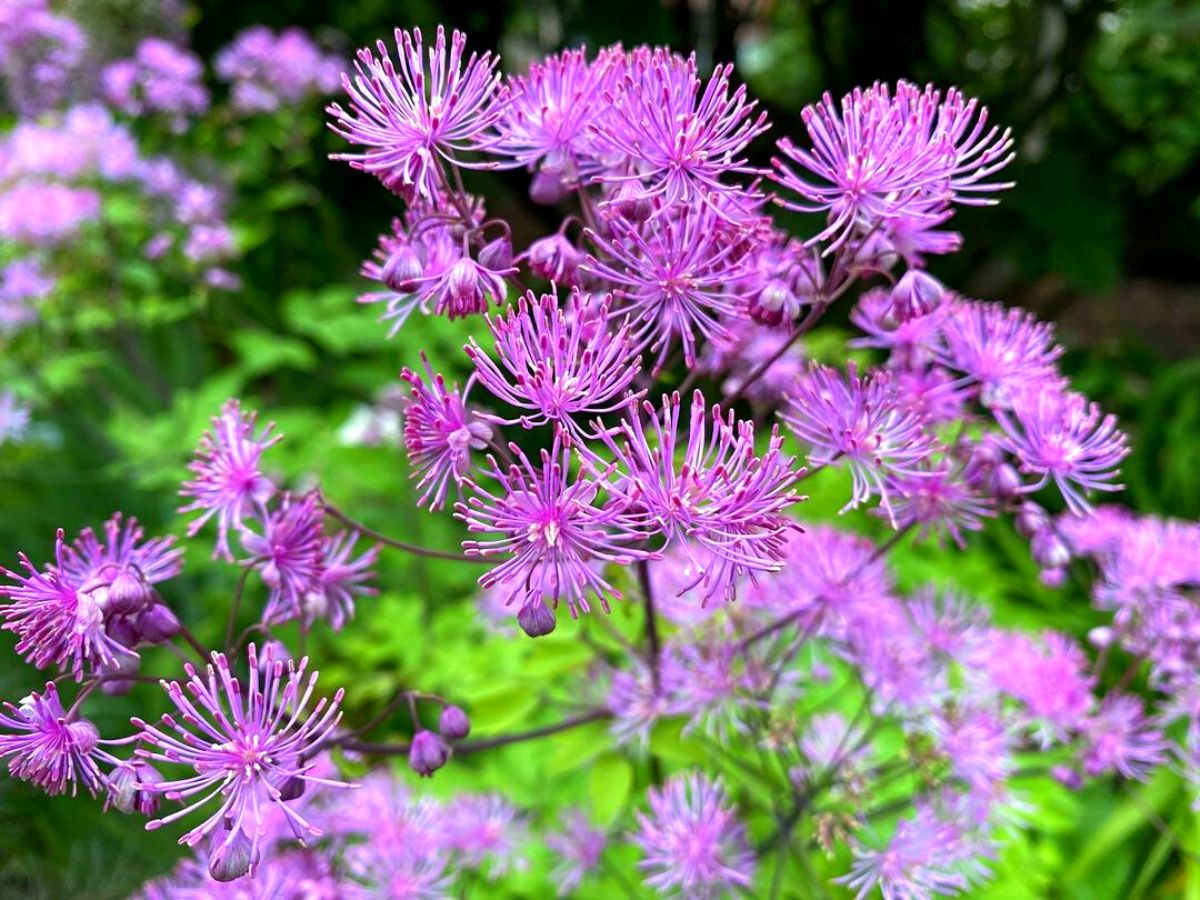 5. Pampas Grass (Cortaderia Selloana)
This is, without a doubt, one of the most popular tall flowers not only for gardens but for indoor decoration purposes as well. The best thing about wind-pollinated grasses is they do not require spectacular flowers to attract pollinators, instead blooming in fluffy plumes known as inflorescences. The thing about some of these taller grasses is that they are like watching a belly dancer, they twist and jingle in the wind as they bend and weave. They give the garden movement and extra life. Pampas grasses also serve as good screens and aid in creating a more private garden environment as well. Who's a fan of pampas grasses?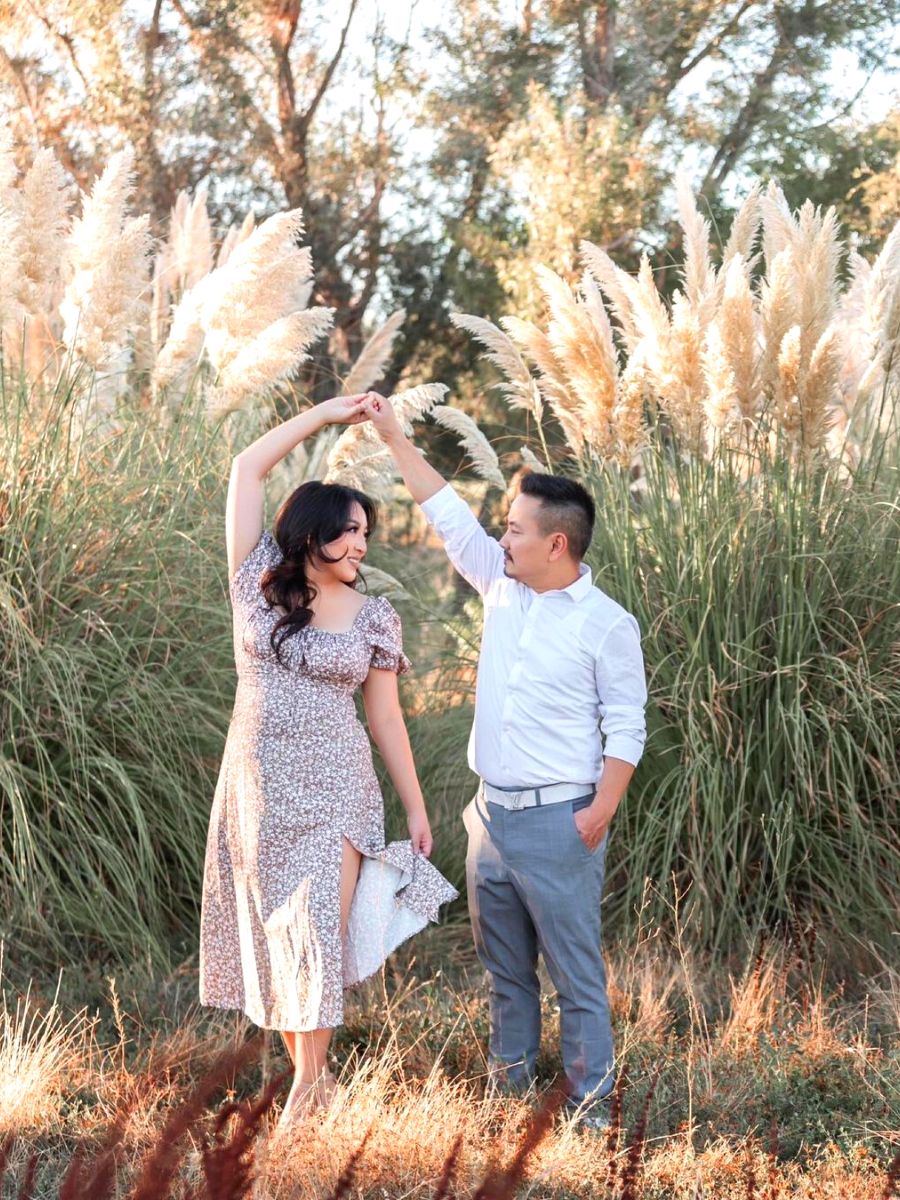 6. Red Hot Poker (Kniphofia Uvaria)
The popular name of the showstopping Kniphofia is derived from its poker-shaped spikes in gradient colors of yellow, orange, and red. There are about sixty species, including Kniphofia uvaria (Red Hot Poker), which can grow to be 1-1.2 meters tall (3-4 feet). It is recommended by plant and flower garden specialists to plant them against a fence or hedge to show off their cool, spiky blossoms, or parade them around like little soldiers.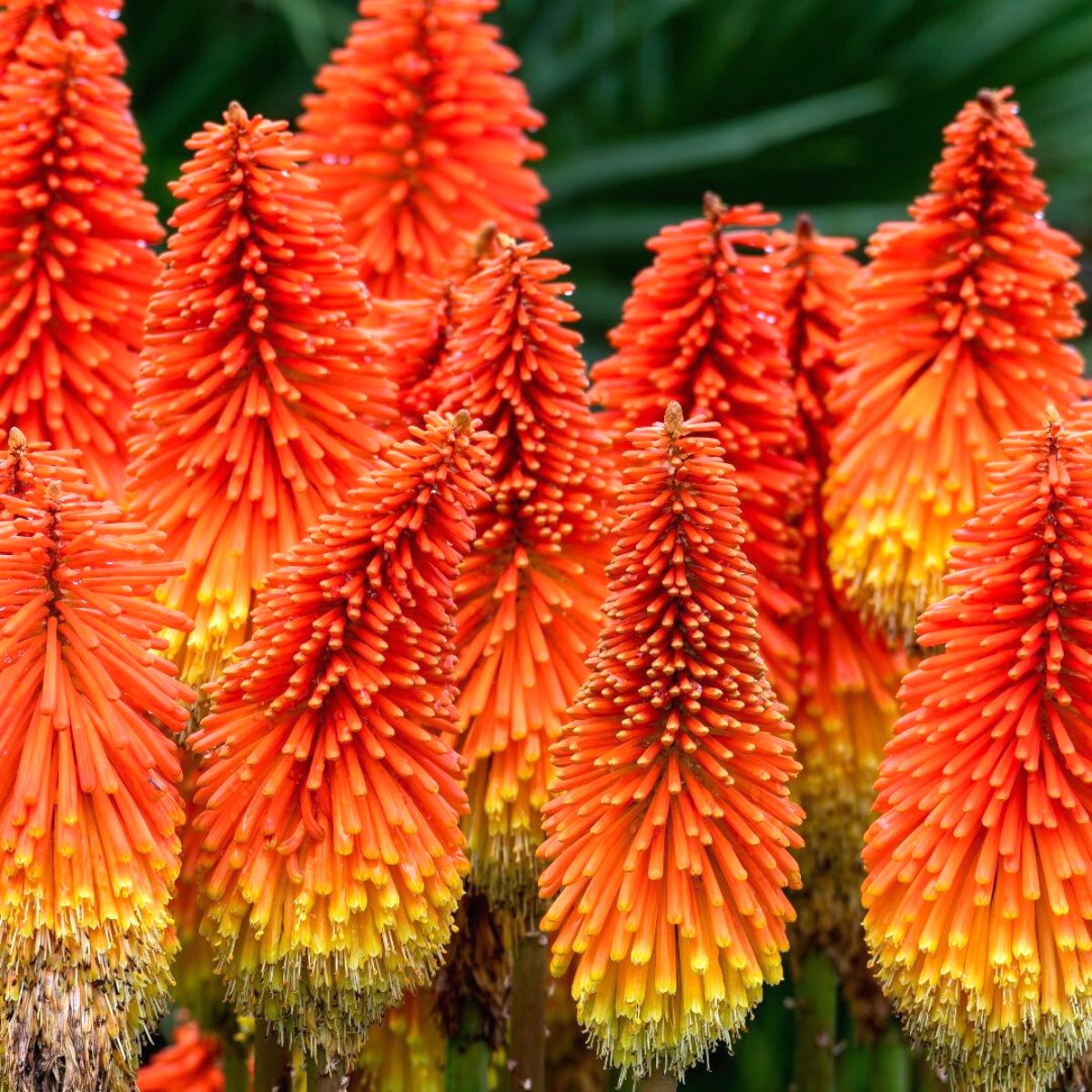 7. White Mugwort Guizhou (Artemisia Lactiflora)
If you want to take your garden to new heights, this is one you need to include in it! White Mugwort, scientifically known as Artemisia lactiflora, is best described as having thousands of tiny late-summer blossoms that form an amazing, wispy haze of white at the waist and even chest height. Its dark foliage heightens the drama even more. White is a color that is sometimes underutilized in the garden in general, but overall it helps unify the entire garden, whether it's a hot color scheme or a cool color scheme.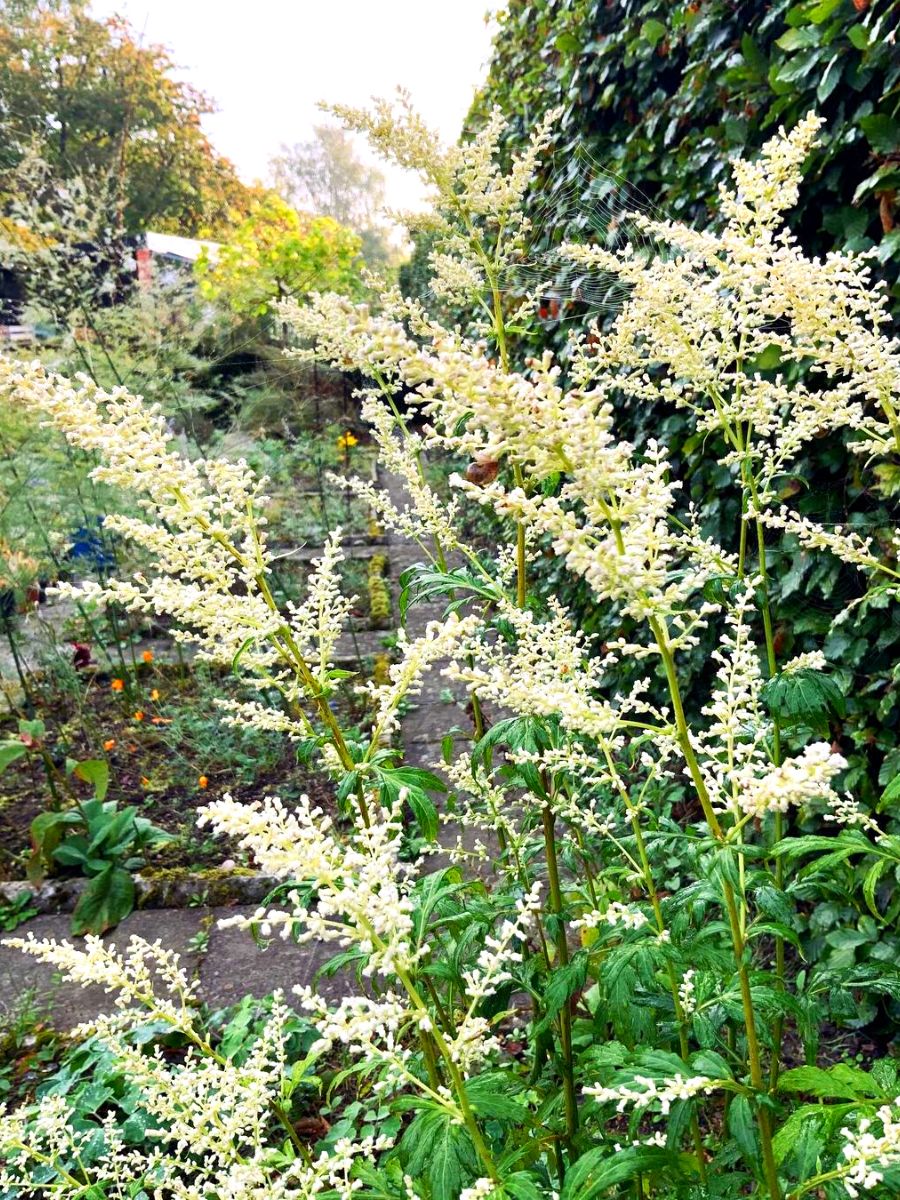 8. Sweet Coneflower Henry Eiler (Rudbeckia Subtomentosa)
These sweet yellow stunners will without a doubt make a statement in your garden. Why? Their shape and color are just too adorable not to love them and see them shine every day on your outdoor patio. If flowers were typography, Sweet Coneflowers would be an asterisk—the small star that social media users have adopted to express emphasis. This cultivar attracts attention with its tubular petals and girthy dimensions. Such a pretty addition to any outdoor landscape.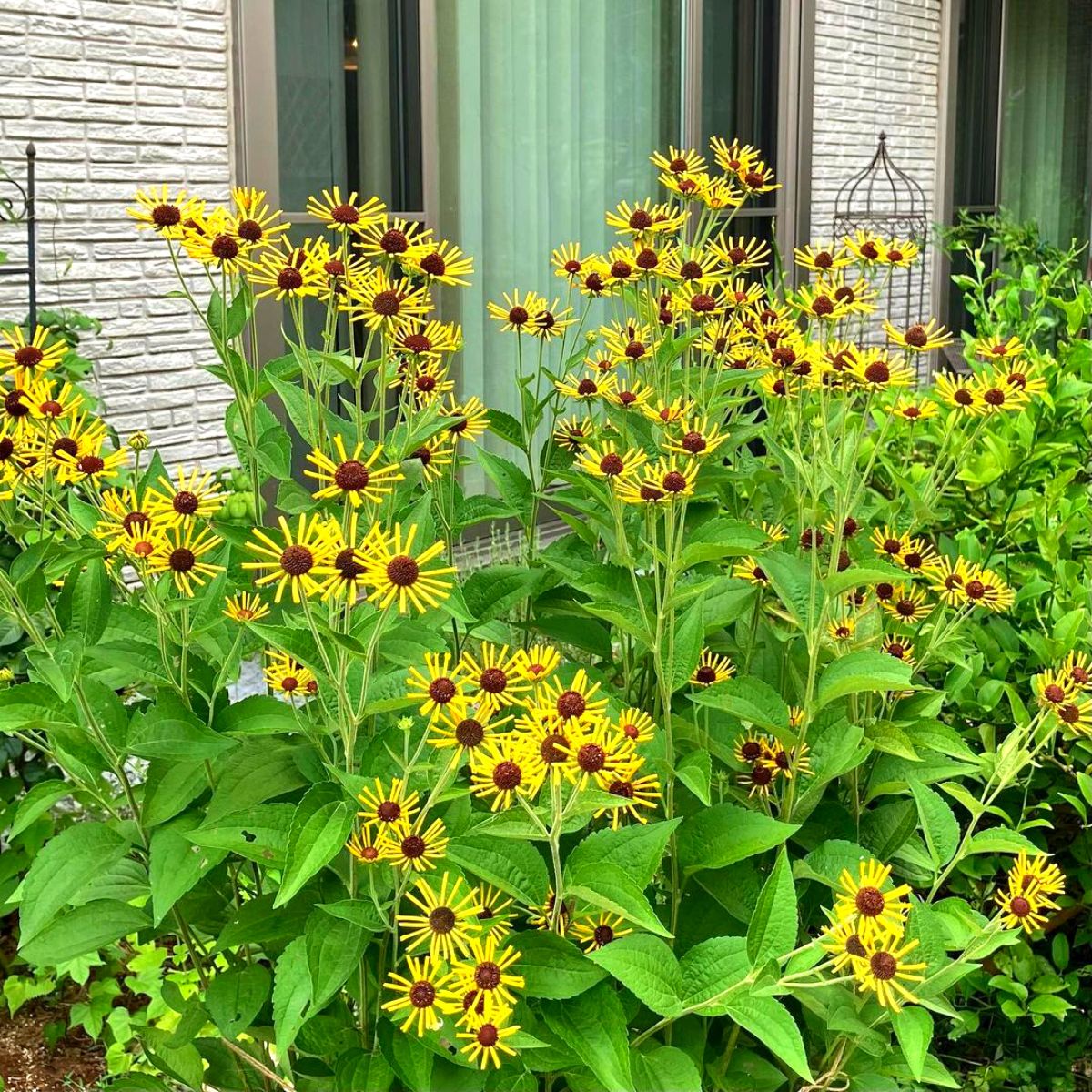 9. Gladiolus
Gladiolus is a perennial with tall, one-sided flower spikes that are ornamented with numerous individual flowers called florets. Flower spikes come in a stunning array of colors, including bicolored combinations, and their petals can have simple, wavy, or ruffled edges. Gladiolus' upright, long, pointed leaves earned them the moniker 'sword lilies' and can reach heights of about 1-2 meters (3-6 feet).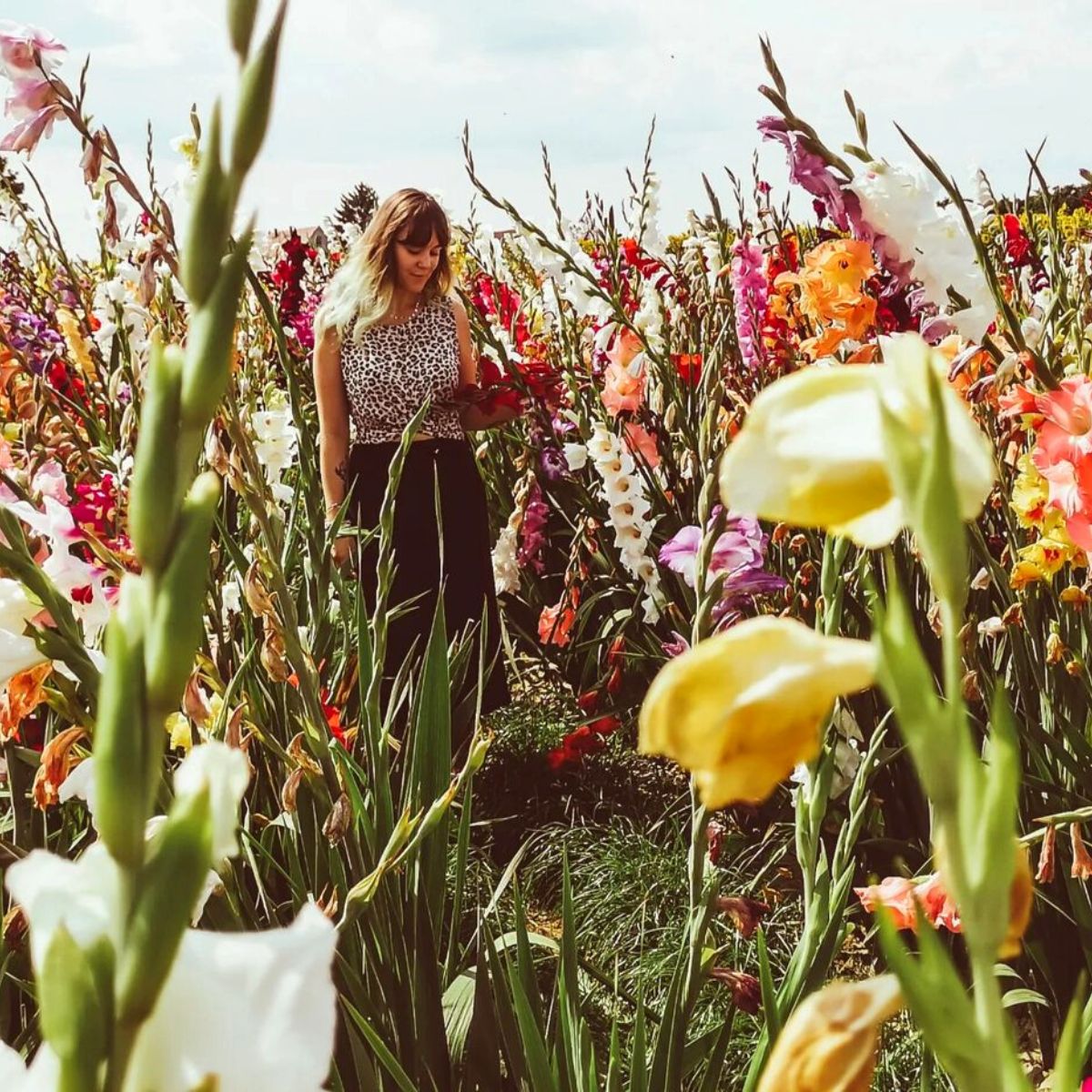 Gladiolus is great in the garden for filling gaps and weaving between shrubs and perennials due to its tall, slender flower spikes. It offers height and a vertical element to mixed borders and cottage gardens that are sometimes lacking. A great option to have in your garden if you're looking for tall, yet beautiful flowering plants.
10. Allium
If the words ' striking' and 'impressive' appeal to you, you should definitely get your hands on some big allium flowers because they're absolutely massive! Did you know their height reaches between 1-2 meters (3-6 feet)? Not only will these eye-catching alliums look great in your garden, but they'll also attract bees and butterflies. They'll be a generous supply of nectar for all your garden pollinators, with gigantic bloom heads made of multitudes of small lovely purple blossoms.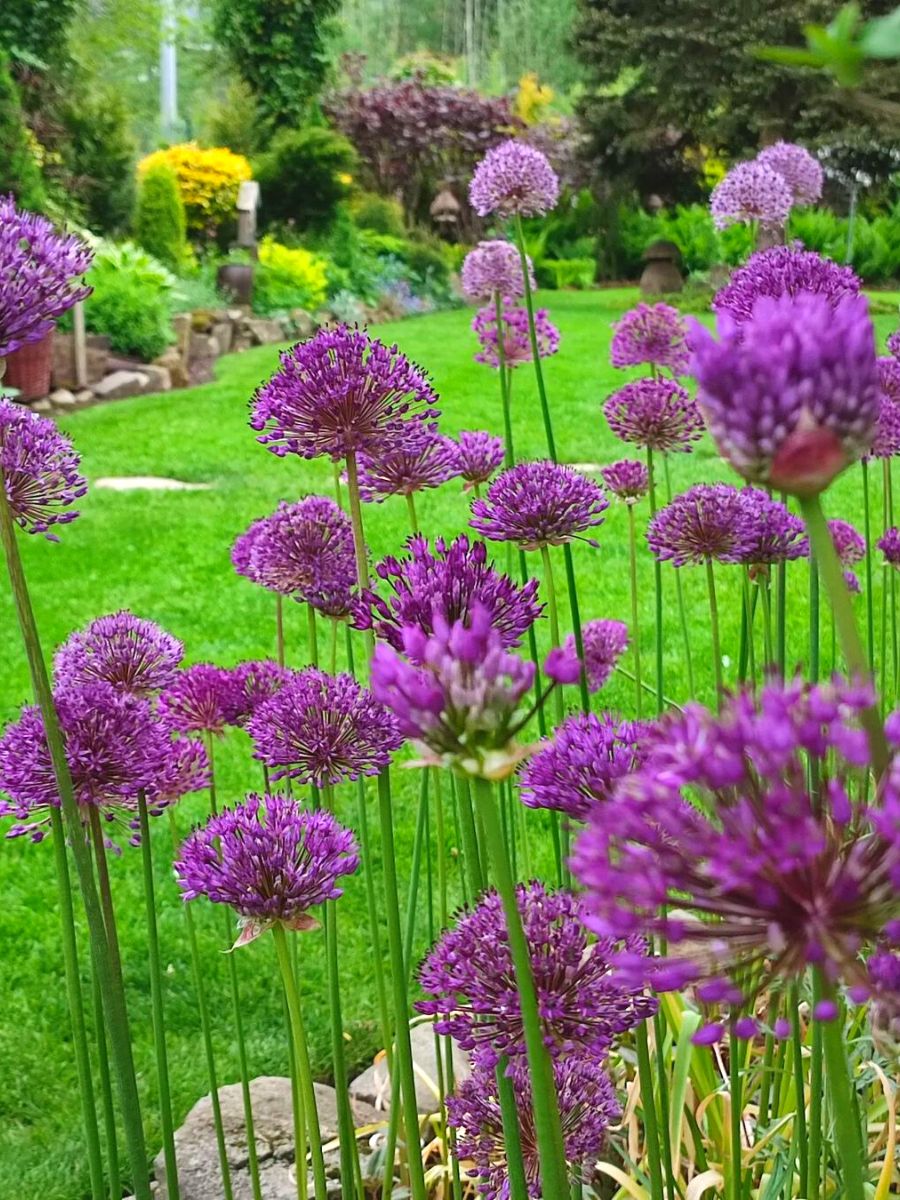 Now which will be your next tall flower choice? On your marks, get set, and choose!