Quality Brand for Unique Chrysanthemums
Zentoo
is the quality brand for unique chrysanthemums, offering a wide range of varieties from a wide range of growers. Almost 1 out of 3 Dutch chrysants are produced by Zentoo growers.
MG Grand
is a proud member of the Zentoo collective. Jochem den Bleker is the location manager at the huge greenhouse in a town called Monster, in the heart of the grower's area around Royal FloraHolland Naaldwijk's auction. He is happy to share his experience with the production of chrysanthemum
Pina Colada
, and
Pina Colada Yellow
.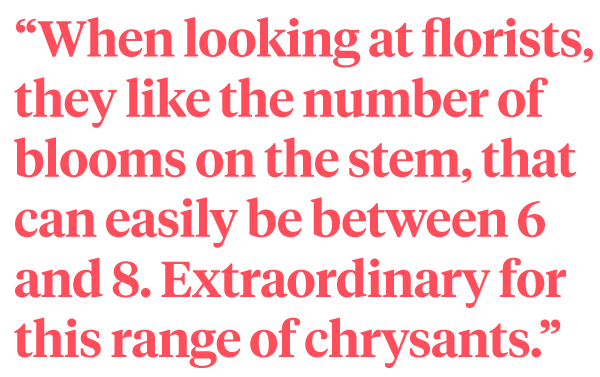 The Chrysant Is a Magnificent Flower
At the age of 25, Jochem finished his study at the agricultural high school and was thrown into the deep end when
MG Grand
handed the opportunity of kick-starting his career as a chrysant grower. Rapidly he also grew as a person, learning at the job and getting the responsibility for the production of 11 hectares of chrysants.
Jochem: "What I like most in working as a chrysant grower is that it is a magnificent flower. Second, no two days are alike, especially not when you look at all the aspects of running an entire location like this one."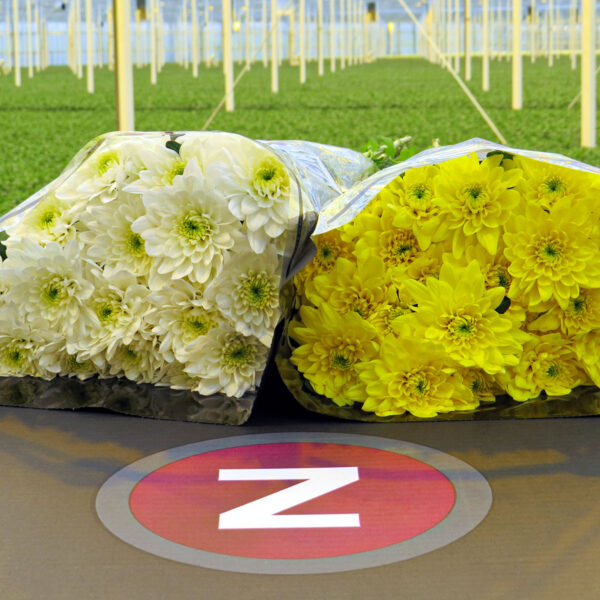 A Very Stable Flower
For two years now Pina Colada is a part of the 
Zentoo
assortment. When asked for his experience so far, Jochem starts his long praise:
"At this moment half of our production is Pina Colada, split 50-50 between the white and yellow varieties. And we are now testing the Pina Colada Cream. I find these beautiful chrysants to grow. Technically, Pina Colada is a super variety. Their quality ensure many kilos, which is a big plus for a grower. Next to that, it's a very stable flower, performing year-round quality. As an example, in summer it is typical for some chrysant varieties to be not so reliable, but Pina Colada does not have this at all. I must also mention the nice green heart of the Pina Colada. This green heart is clearly visible all year round, and that's special.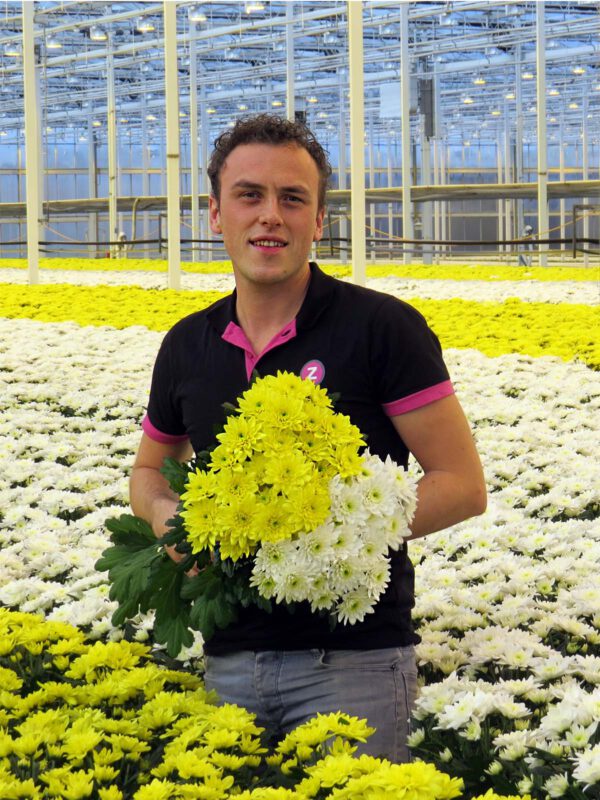 Resistant Against White Rust
Another very big advantage of Pina Colada is its resistance against white rust. Rust is a major issue in the production of chrysants. Every year there are still issues here and there with this disease, but not with Pina Coladas. This is already one less risk for your production. When looking at florists, they like the number of blooms on the stem, that can easily be between 6 and 8. Extraordinary for this range of chrysants. Florists appreciate having a stem with a body that can really fill a bouquet. This increases the ornamental value of this cut flower."
The growers collective of
Zentoo
started producing Pina Colada in 2016, two years after it was first introduced by
Dümmen Orange
. According to Zentoo's marketing manager Danny van Uffelen, this chrysant has all the right characteristics to be grown stable during the whole year. Reliability is very important when you have enormous competition in the field of filled white chrysanths.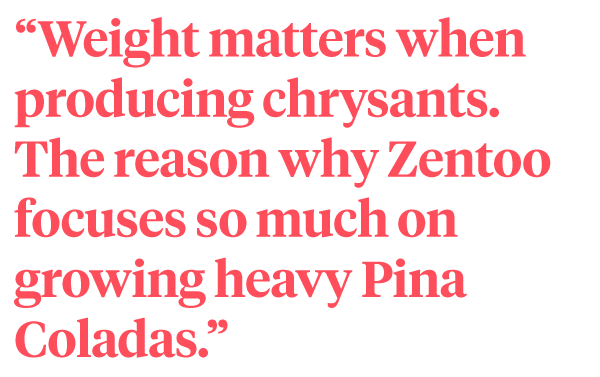 Weight Matters
Weight matters when producing chrysants. The reason why Zentoo focuses so much on growing heavy Pina Coladas is that the market in Eastern Europe demands this, and that's still where most of these flowers are s According to Jochem den Bleker that would be a weight of at least 95 grams. Zentoo's Danny van Uffelen clearly sees that Pina Colada is on the march towards central and eastern parts of Russia as well, where this flower is gradually discovered too. Also in the UK, Pina Colada is quite popular. Zentoo explains this interest because of its number of blooms on the stem. Pina Colada has slightly smaller yet more blooms per stem than chrysanthemums within the same range.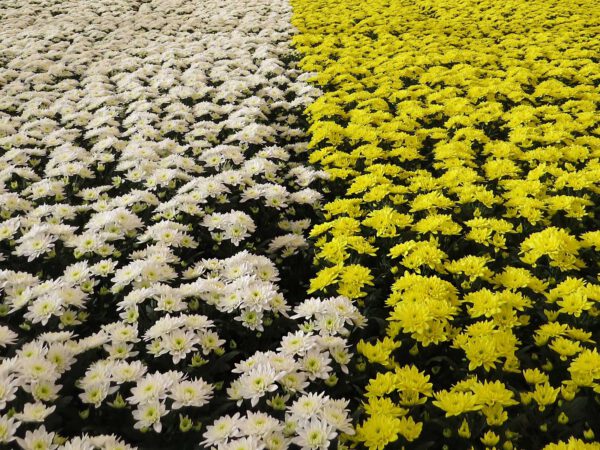 Intensive Support by Dümmen Orange
Dümmen Orange
is the breeder of Pina Colada. How do they assist their growers to produce the perfect flower?
Jochem: "We get very intensive support and guidance from Dümmen Orange. Every week they visit us for support, during which we walk through the greenhouse checking on the developments. We exchange information about the growth and get their advice on all stages of production from planting to cutting. This is important for us and highly appreciated. And it also benefits Dümmen Orange itself, of course, to monitor that their cuttings are grown optimally."
So this completes the circle. The grower learns from the breeder who learns from the grower. Always with the goal to grow the best-filled spray chrysants.