Breeder Royal Van Zanten has been very busy this year. Not just by inventing all new kinds of plants, but by doing it the right way too: sustainably! The Wild Celosia really stands out, because it offers everything a modern florist and consumer want: pleasure and principles.
Wild Celosia
It sounds already so cool and crazy: 'WILD' Celosia. And it is an exciting pot plant that precisely is what the name suggests: a pure, uninhibited, and untamed celosia. Just as it would grow in nature.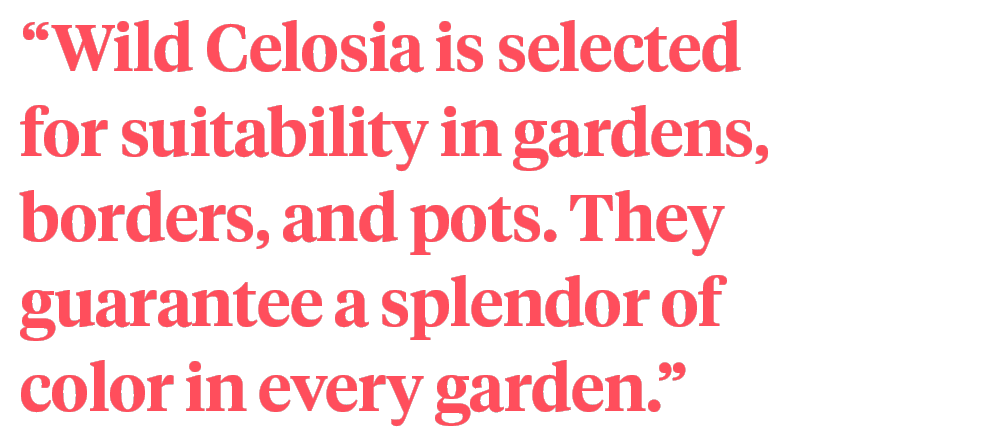 But that's not the only natural aspect of this plant. Also, the growing process is as natural as can be. Potted plants nursery and Decorum member Ammerlaan-Sosef grows this Wild Celosia without using any gas, and completely organically. The plant is strong enough to be grown at lower than usual temperatures. No growth regulators, just pure nature!
Jeffrey Ammerlaan from Ammerlaan-Sosef:
"The Wild Celosia is flowering wonderfully with dark pink flowers spread across the entire plant. It's like watching fireworks in the sky."
Maximum Pleasure, Minimum Footprint
It is no coincidence that a breeder like Royal Van Zanten has invented this Wild Celosia. The company has a history of innovation that goes back more than 160 years. By continuously inventing and implementing new varieties and technologies, Royal Van Zanten has earned its prominent position in the market for flower bulbs, cut flowers, and pot plants.
This Wild Celosia is just another example of one of those little sustainable steps that emphasize the role of a breeder in a greener future for horticulture: maximum pleasure and minimum footprint.

A Splendor of Color
Wild Celosia is selected for suitability in gardens, borders, and pots. They guarantee a splendor of color in every garden. This pure power is accompanied by a natural pink color and an uninhibited plant shape, which further underlines the natural feeling.
This celosia hit is available in pot 19. a perfect size for immediately creating something beautiful. Wild Celosia: Pure Nature.