The protea barbigera has one of the largest flower heads among proteas, with the king protea being the biggest. The barbigera, also known as the queen protea, is a spectacular and attractive flower that is hugely sought-after. No picture can describe how strikingly beautiful and fluffy this variety is, with its flower heads varying naturally in color. With its rounded bushy form, this protea will look great in any design or floral arrangement.
The Queen Protea Barbigera
The pink and white colors of the protea barbigera are perfect for the cool bride or the stylish interior designer. The protea is native to Africa and can be found for 90% in South Africa. It is therefore the National flower of South Africa. Because the juices of the Protea taste like sugar, this flower is also called 'Suikerbossie'. The Latin name, Protea, is derived from the Greek god Proteus, because he could change shape.
Huge Flower Heads
At first, the flower starts with a closed bud, but once it blooms it is a huge flower! This makes the flower very diverse. Due to the size of the head, it certainly makes an impression solo in a vase but in a bouquet, it is also a real eye-catcher! You can also dry the protea barbigera in the vase once it has finished flowering. Then give it a second life in a beautiful dried bouquet!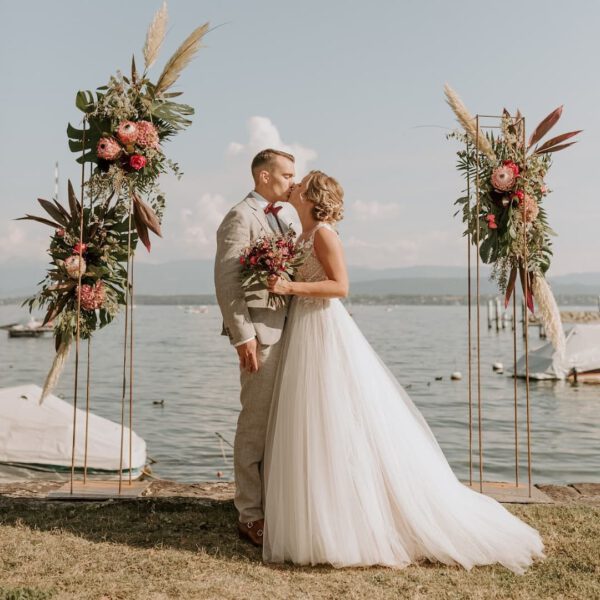 Protea Barbigera is Perfect For Dried Arrangements
Protea barbigera is cultivated as a cut flower for the export market because of its excellent characteristics of having long stems, long-lasting flower heads, and a good vase life. Its air and sea freight ability is very good. With regular requests for this protea from all over the world, it has a remarkably high economic potential. It is considered one of the most prized cut flowers due to its longevity and ability to be used in dried flower arrangements.