"Can I touch it?"
This is THE Dianthus Barbatus Green Ball question. Looking at the pictures of the Green Ball, I'm sure you can see why. The 'flower' looks like the floor of a mossy forest. (And the answer is: "Yes." The Green Ball is as soft as it looks).
The World-Renowned Green Ball Dianthus
The history of carnations - the more accepted name for this type of flower - dates back to over 2,000 years. It is one of the oldest cultivated flower varieties. Already the Greeks and Romans used it. The Latin name 'Dianthus' means 'Flowers of the Gods'. Also known as the poet's carnation. In art, and in floral arrangements, such as their iconic garlands. Nowadays, two millennia later, carnations are still highly desirable. But over ten years ago, a new mutation of Dianthus Barbatus was discovered at the breeding fields of flower breeder Ball. A variety that was first to be discarded by the people in the test fields, because it had no real flowers. Nature's mistake? No! We are happy the people at Ball saw the potential to floral designers; Dianthus Barbatus Green Ball came into existence, and has been available to the global flower market since 2011.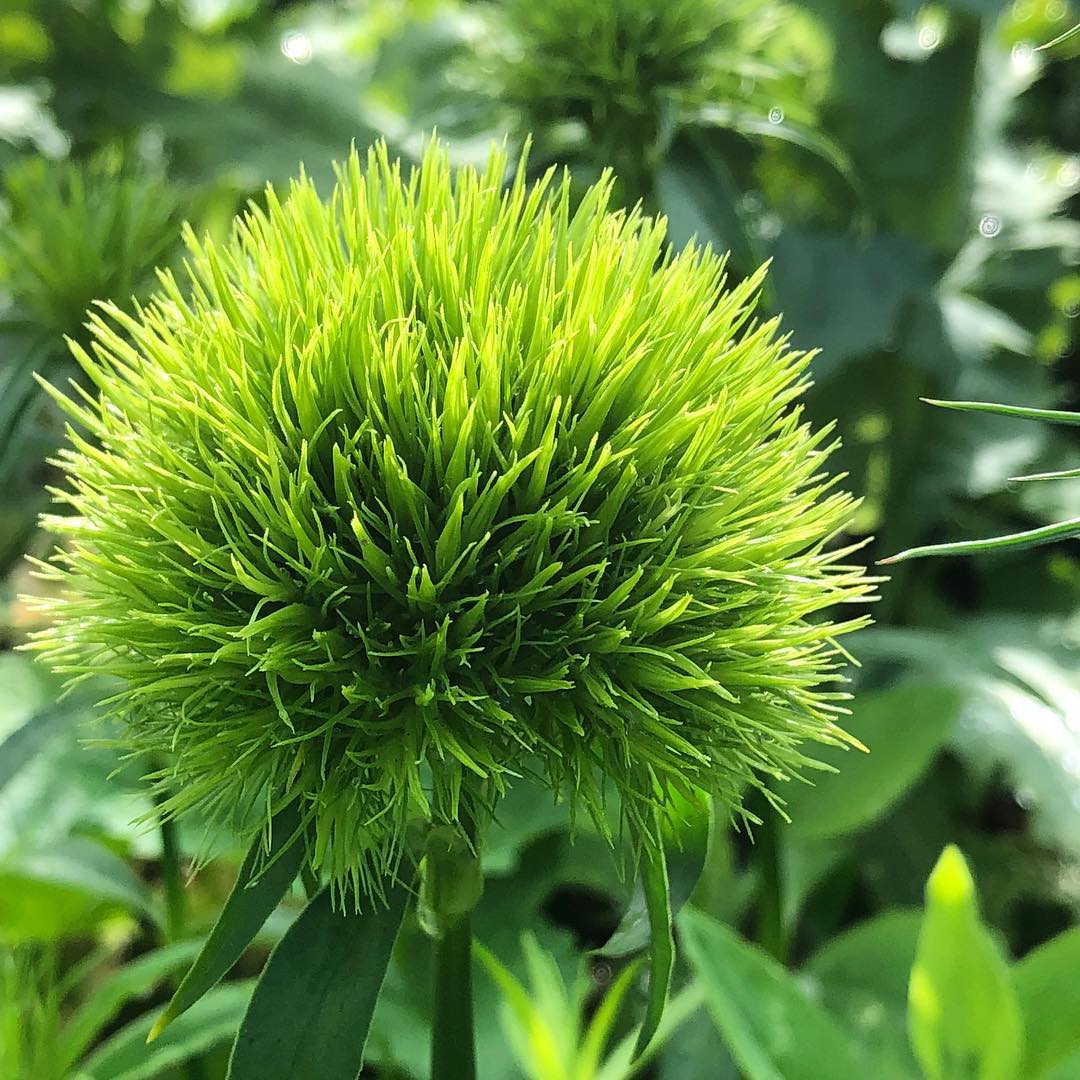 Dianthus Barbatus Green Ball - picture by @blithwold_mansion
Green Ball - A Great Success
The variety Green Ball immediately took the flower market by storm as a fun, and modern flower for cut arrangements. Dianthus Green Ball provided bouquets with a never-seen-before texture and aspect. With its round, furry, and green blooms, it provided floral designers with a new catchy focal flower. The 'flower' is very special and made up of soft filaments sitting atop a strong carnation-like stem.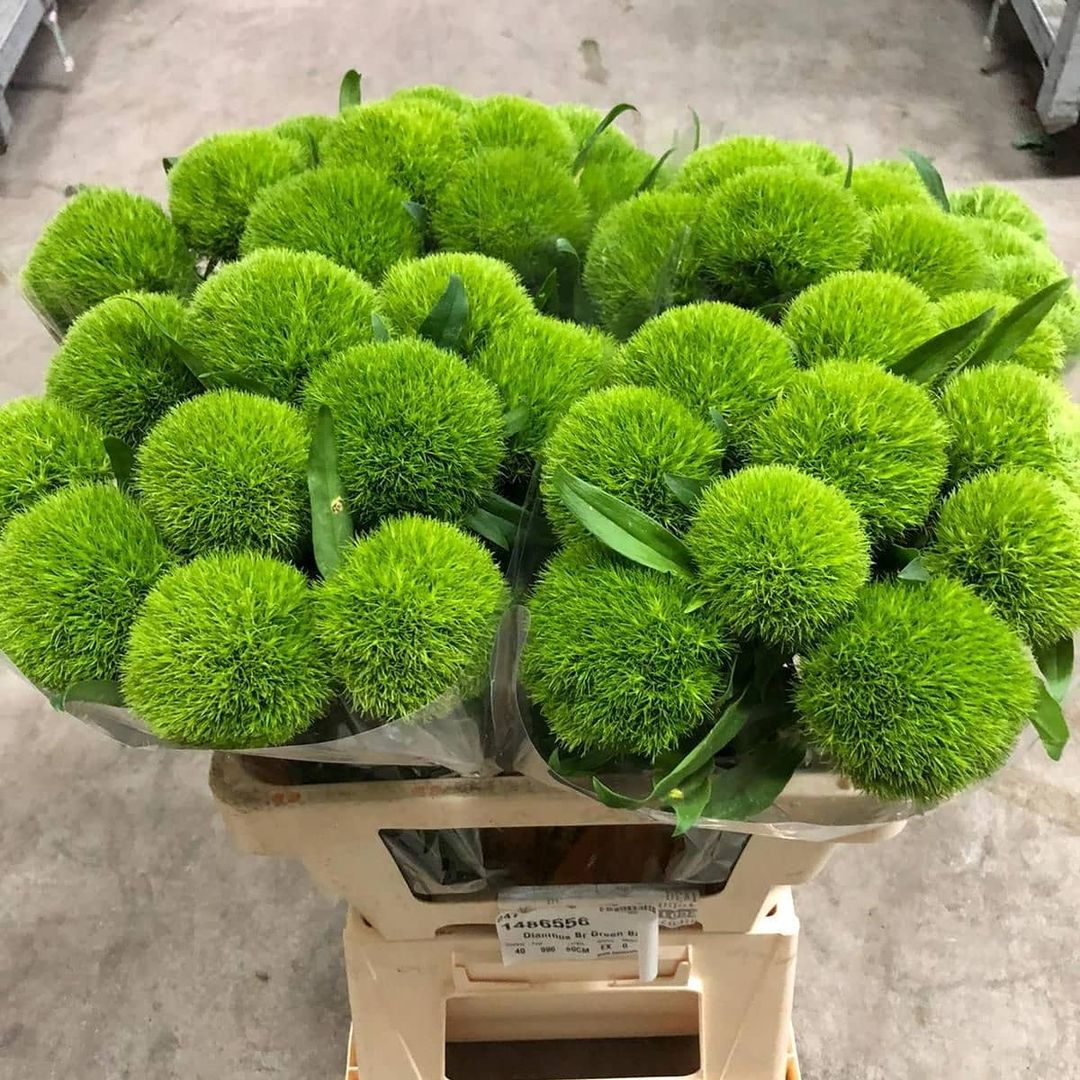 Dianthus Barbatus Green Ball - Picture by @lanuovafloricoltura
And Now?
At Ball, they are of the opinion that sometimes the way forward comes by looking at the past. That is why they have introduced two new types that look like the Green Ball carnations; Punky Ball, and Cocoa Ball. Two very promising varieties.
Punky Ball
A very interesting and promising new Dianthus Barbatus flower. The head is a bit flatter than the Green Ball, and the flower comes with a somewhat darker green color. Very interesting fact for growers is that the flower yields better (higher productivity) and has a cycle of just 19 weeks, with more vigorous cuttings. The Dianthus Barbatus Punky Ball is a youthful and rebellious flower that resembles 'an irresistible energy to those who want to take a walk on the wild side'!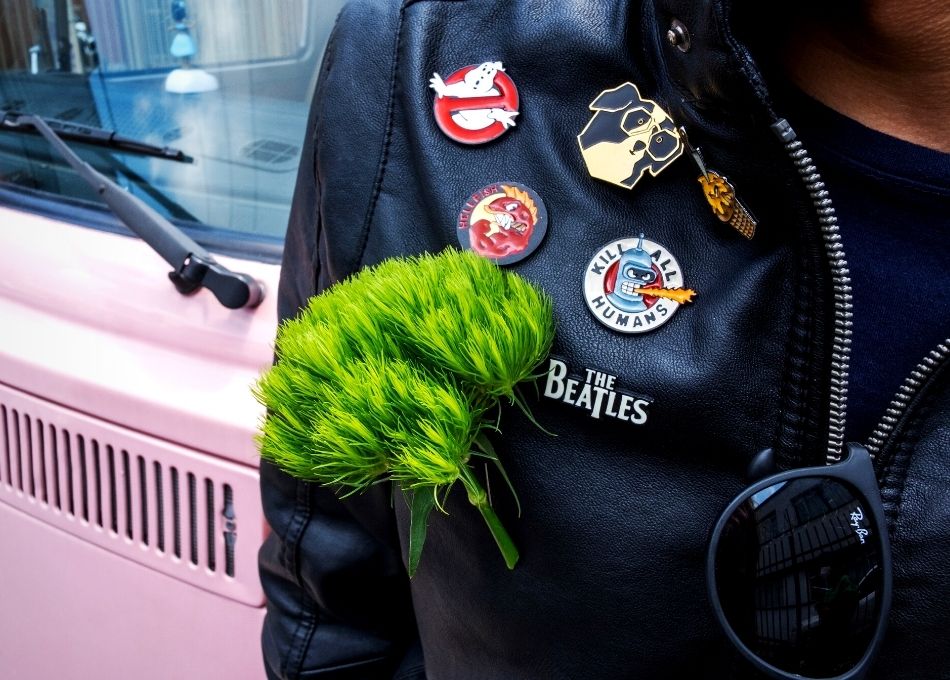 Cocoa Ball
This variety is perhaps even more promising, as the color fits really well in today's trend of earthy and brown tones in modern floral design. It gives flower arrangements quickly that fashionable vintage look. The spikes of the flower have brighter tips, with the base darker than that of the Green Ball. Because of this, the Dianthus Barbatus Cocoa Ball shows even more texture in floral arrangements which gives floral designers the ability to play with a classically aged look to their designs.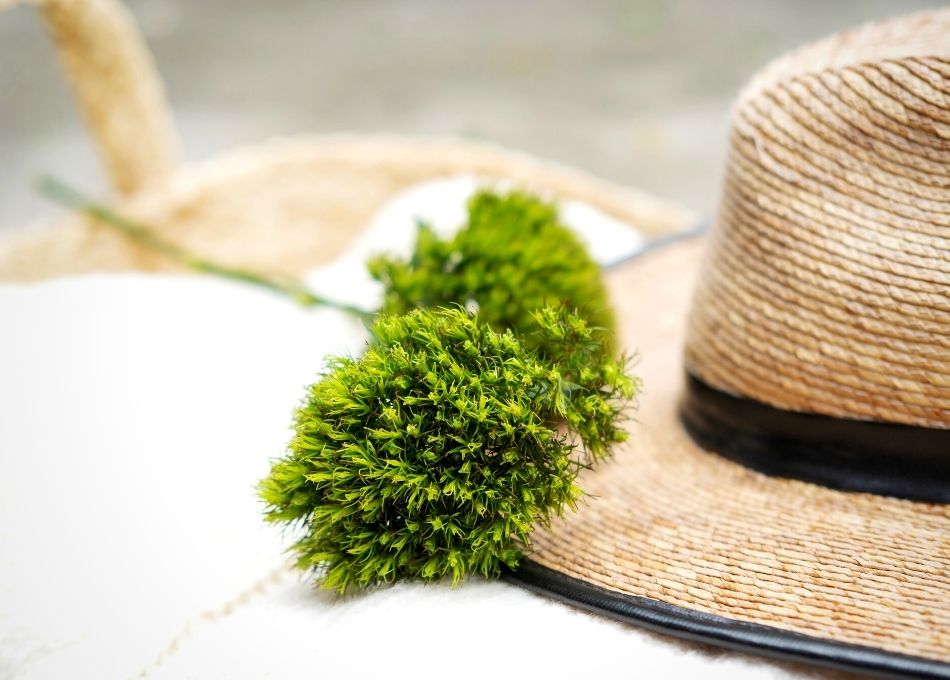 According to the developers at Ball, "the Cocoa Ball has a perfect combination within - both retro and refined - for old souls who like to get fancy".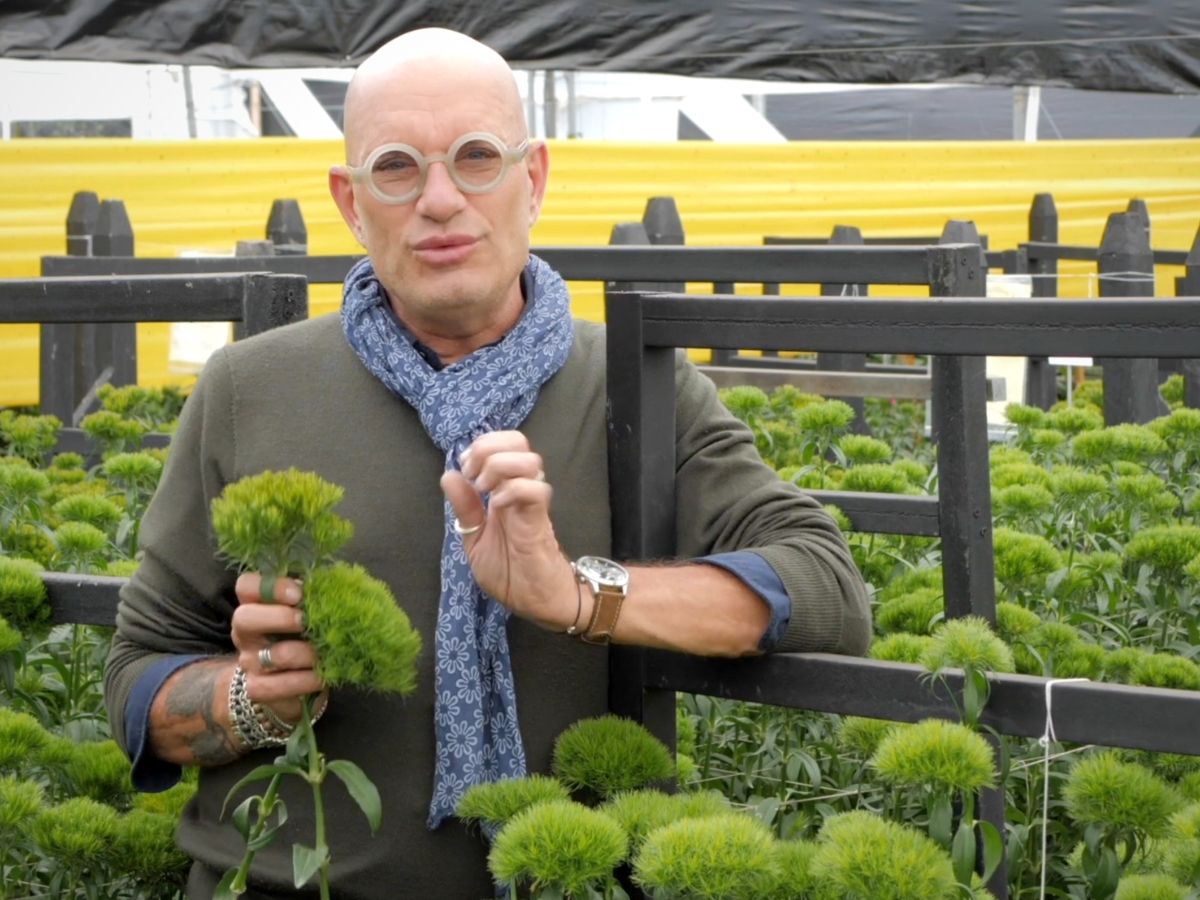 Floral consultant to Ball, Pieter Landman explaining in a video to launch about the use of Green Ball and Cocoa Ball
Extra? Crazy Ball Chocolate!
What do you think of this variety? In the markets nowadays, this variety is much harder to offer, mainly due to its darker color. Some people look at Dianthus Crazy Ball Chocolate as though it is a bit faded, and even some see them as not fresh anymore. But, don't you think this crazy-looking head and the brown colors can bring floral designers more possibilities in their arrangement?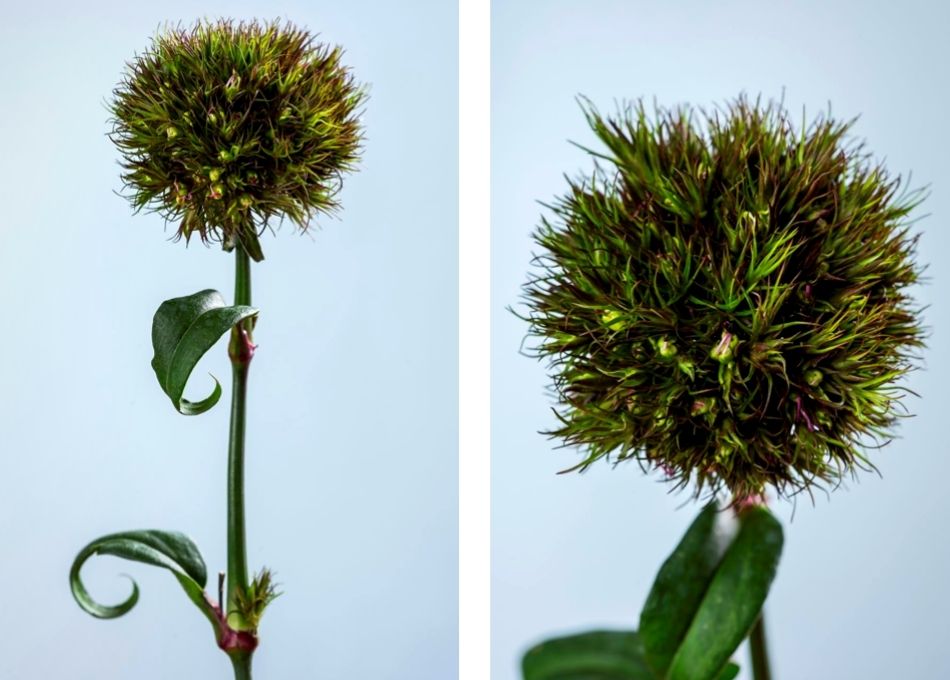 Dianthus Barbatus Crazy Chocolate Ball
The answer to this is still unsettled, and we will see what the future brings. Carnation growers, in general, are not really keen on taking the risk and growing this variety.
Yet?