Even though weddings will require a bit more planning this year than ever before, the 2021 floral wedding trends do not disappoint. Due to the pandemic, weddings these days are taking on all different kinds of shapes and forms, but flowers thankfully remain a staple for many celebrations.
Floral Wedding Trends That You'll Surely Spot This Year
As the pandemic hit last year, it forced a shift in many industries, including the wedding industry, and flowers were definitely affected by this as well. The demand went down, many flowers had to be thrown away, and growers, traders, and florists all had to make adjustments to make it through the year. We're not out of the woods yet in 2021 but with a bit more wiggle room, possibilities start blooming again.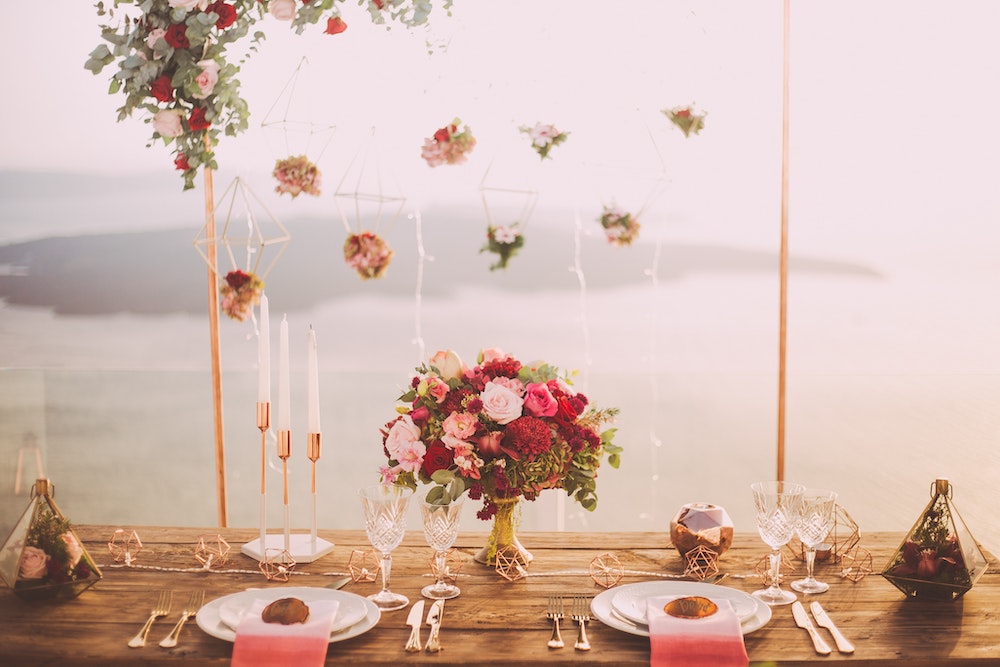 In whatever form or color, wedding flowers have always been there to make an impact. From romantic bouquets to lush, eye-catching backdrops, flowers are the perfect way to breathe some color and life into someone's special day. Especially in 2021, with generally smaller and more inmate wedding parties and slightly bigger flower budgets, it's time to go all out with spectacular florals in popping colors. With that being said, it's time to dive into this year's floral wedding trends.
Color, color, color
It's not hard to imagine that florists are thrilled about more and more couples wanting to incorporate color into their special day. This allows floral designers to dip into their creativity and come up with something different for each of their customers. You will see many designs with a cream or earthy tones base, accented with color. This is great for those who are a little out of their comfort zone with bold hues but still want to incorporate a pop of color. But more complex color mixes are making their way into wedding land as well, such as oranges and yellows mixed with pinks and reds or shades of light blue and lavender paired with crisp cobalt blue and vibrant greens.
Muted Tones
Muted and soft tones seem to be trending as well. Even though white and ivory are not going anywhere anytime soon, more neutral-toned flowers have been making their way to the flower market. Last fall there was an upswing in earthy colors such as mustard gold and copper and lots of couples have been adding these colors to the existing favorable neutral palettes. What was once the request for dusty pinks and mauves is now being replaced with demands for coppery terra cottas, rusty oranges, and honey yellows. Read more about popular flowers in muted tones in our article
'12 Flowers in Earthy Hues That You Will Love'
.
Leave a Trail
Trailing flowers dangling from ceilings or draped over long tables have been popular for a while and continue to be a favorite among floral wedding trends in 2021. It gives a sense of opulence and intimacy, while at the same time making the wedding venue feel alive. Large garlands of blooms trailing along and off the ends of tables onto the floor can help fill a large table. When choosing flowers, don't shy away from picking florals that are in season to base the designs for a wedding on.
Petite Bouquets
When it comes to a statement bouquet, it doesn't have to be massive in size. It is all about carefully choosing the right blooms and having them arranged in a way to best represent your personality, bridal style, and venue. Making a comeback in 2021: the classic round bouquet as well as asymmetric designs.
Artistic Arches
It's all about making a statement with your florals and a floral arch is a showstopping installation. Eternity arches were definitely having their time in the limelight for 2019 and into 2020. And while those installations are certainly stunning, many couples are requesting options that are even more creative. With couples being more open to letting their planners and florists run wild with ceremony concepts, floral arches are being taken to the next level this year.
In-Season Blooms
This will definitely be a trend that lives on forever, and 2021 is no different. But it's not just about in-season blooms, everything that focuses on local and sustainable is hot in the floral industry as well and will naturally be seen at wedding venues around the world. This is a great way to support local communities, celebrate native flowers, and support growers who focus on a sustainable future for the floral industry.
Style Play
If you love two contrasting styles, bring them together as one, it will create an incredible floral story.—for instance, boho and glam can be an incredible match. Let your florist get creative and create a custom vibe for you. What floral wedding trends have you spotted in 2021? If you would like to know what flowers to choose for weddings this year, then you read more about them in our article
'What Are the Wedding Flowers For 2021?'
.