Tom De Houwer has been named 'The World's Leading Floral Artist in Spacial Design" while in Kunming, China during the 2020 International Floral Trend Forum. According to many of his students, Tom is a master in teaching. His Bloom Up Masterclasses are really successful. He consistently brings a unique perspective to each of his designs all around the world. At the Forum he presented a new inspirational vision, and this time it went viral. The Chinese social media platform, WeChat, was flooded with vibrant images of the six designs he presented on stage.
A New Inspirational Vision by Tom de Houwer
With his Six-Day Immersive Masterclass Bloom Up, Tom wants to change the mindset of designers. And strengthen them as a person as well as a floral designer and business person.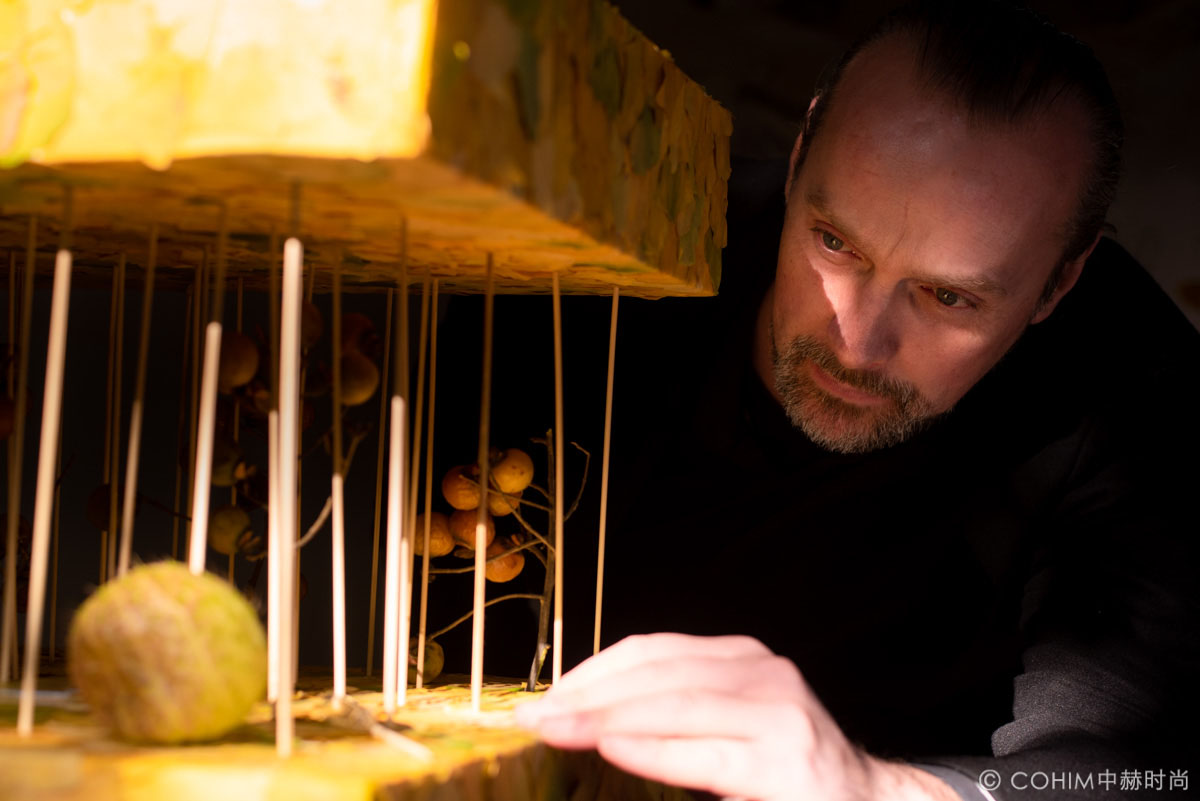 A Viral Effect
What caused the viral effect?
Tom explains:
"I must say I was quite surprised about this outcome. I would not have been aware of the enormity of the effect if it wasn't for Inner, one of my students at Cohim flower school, showing me on her phone. It's not always easy to put your finger on it. But I must say that I always try to look for connections in a variety of ways to create a holistic experience. Being as congruent as possible in the implementation of my design rules and the connection in the context I am working in."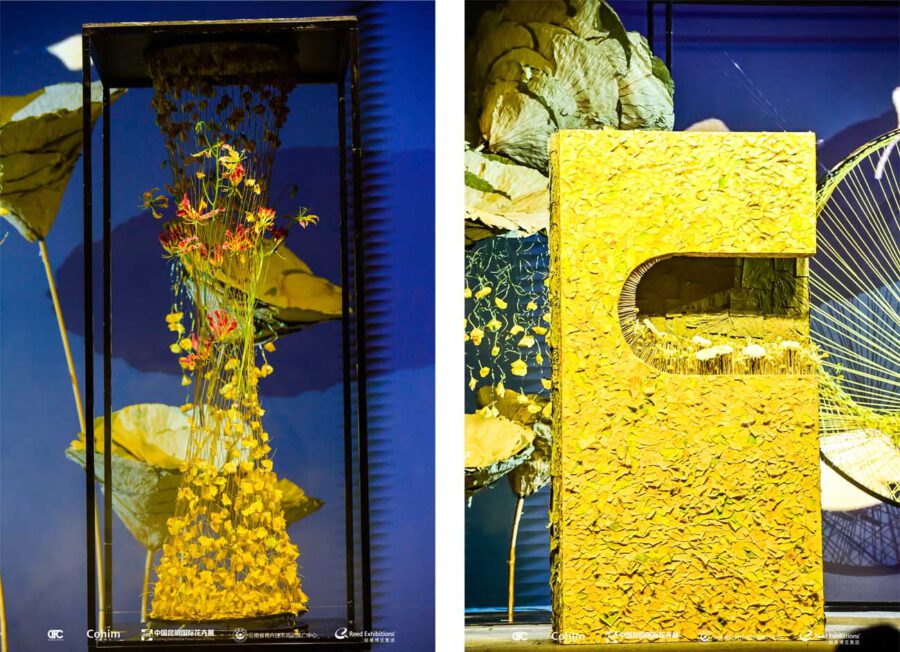 Tom's Personal Philosophy behind Each Design
Tom has a philosophy behind each design about combining several components.
Tom:
"Most importantly it is applying my own personal theory: The Eight Components For A Successful Creative Process And Execution - A theory I also teach my students in the Six-Day Immersive Masterclass, and in this case, also at the Floral Trend Forum in China. This means combining several components including; the six unique monochromatic designs for oneness, the personal philosophy behind each design, connecting East and West philosophy, and finally adding the foundation of elaborate mathematics and physics equations. Altogether this brings a mixture of the universal resemblance in people which connects the unexpected truths and surprising subtle tension in my work."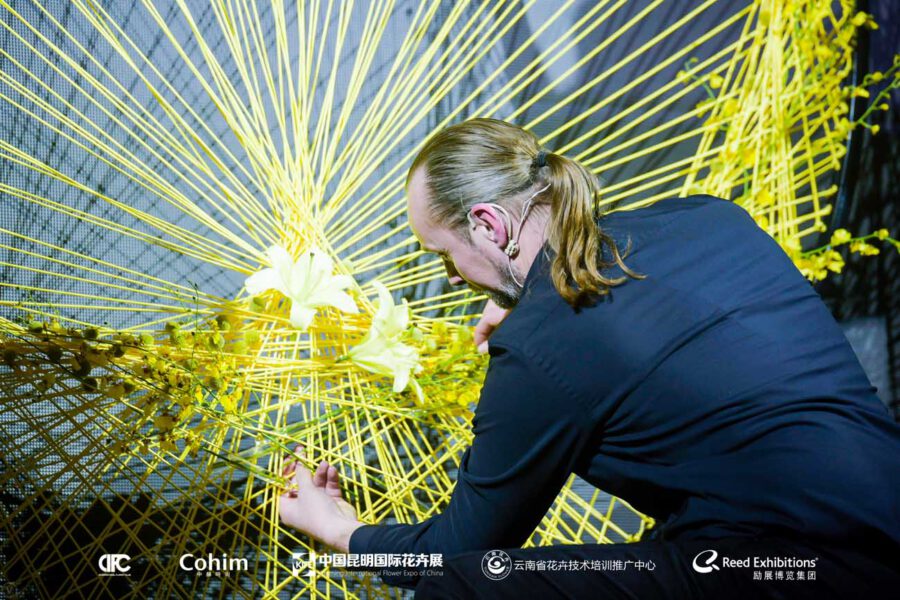 Theory of Silent Contrast
Tom continues to push the envelope with his designs and intentionally puts himself out of his comfort zone to produce such remarkable artistic constructions. After realizing that the color yellow was only used in less than one percent of his designs, he chose to use it with a neutral color such as black, to communicate the theory of "Silent Contrast"- a theory that runs deep in the veins of all of his work. He describes this theory in a way that is relatable to all aspects of one's life.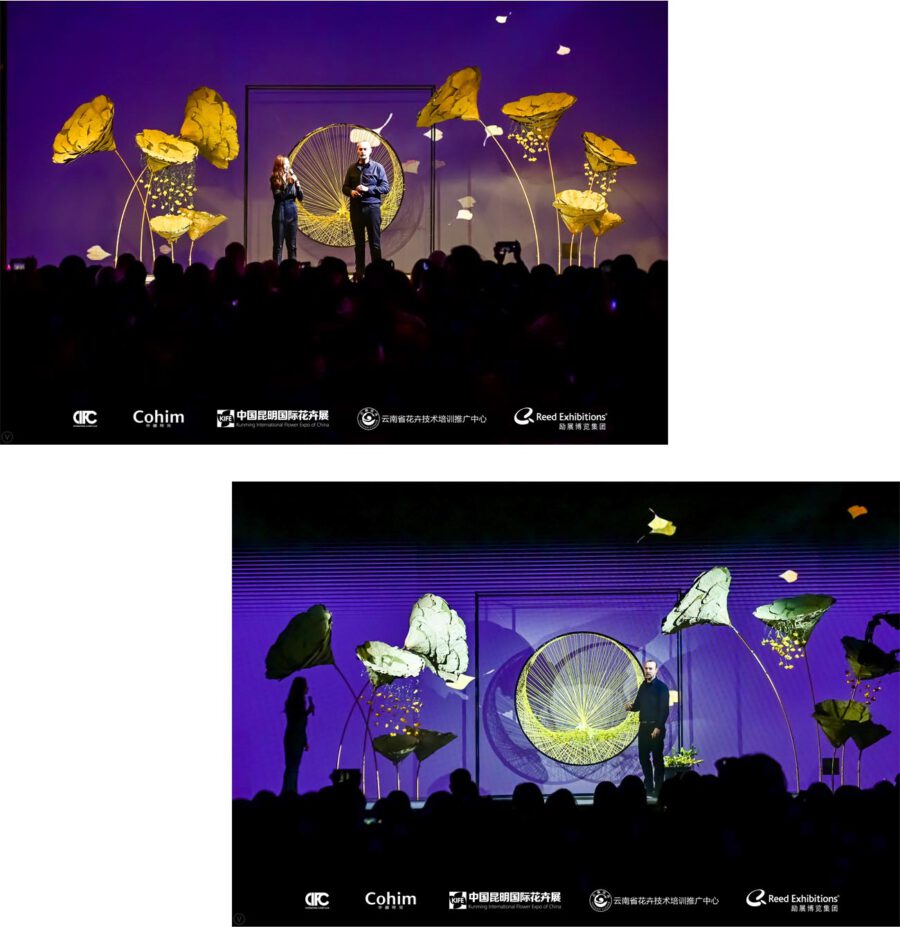 The Year 2020
While Tom continues to enjoy speaking and teaching, he is also stepping into the realm of programmed mentorship and immersive masterclasses. 2020 with the Covid-19 pandemic was a year of many launches of programs. And still, follow along at www.tomdehouwer.com as he continues to spread inspiration and help professional designers from all over the world reignite their passion; by bringing awareness, mastering skills through experience, and showing their work to the world for others to enjoy. As an inspiration for designers how to become the authentic creator, they were meant to be.