There are a lot of things to think about before your big day, and floral arrangements are one of them. Flowers are often used as the main source of the whole wedding decor. The right floral arrangements can enrich and enhance your wedding venue, create the needed atmosphere, whether rustic or urban, and add color and uniqueness to your big day. However, with so many options to choose from, it may be difficult to decide on the wedding flower decor without additional help.
Can't answer the question, "What flowers do you need for a wedding?" We hope some of the wedding flower decors below will inspire you and provide ideas for a perfect match with your wedding theme.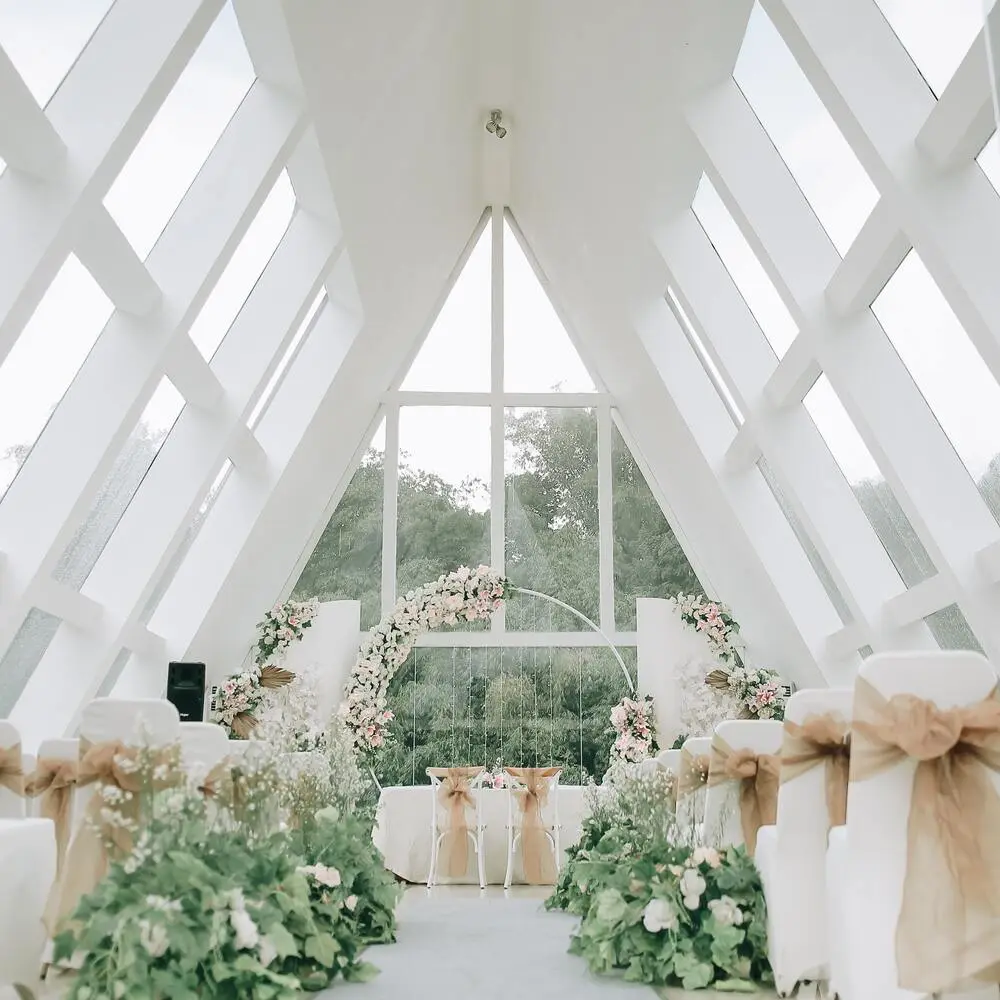 What Flowers Are Needed for a Wedding?
The first step in planning your wedding flower decor is to determine the types of flowers you'll need. Although it's always a personal choice, there are some bad and good wedding flowers for each season.
For example, hydrangeas and gardenias don't like hot temperatures, so they shouldn't be used for a summer wedding. If you're going to tie a knot in spring, it's not recommended to use tulips. This is because they always become heavy after being cut and will droop soon after. Also, try to avoid freesias in your floral centerpieces if you or your guests are prone to allergies.
Besides the season, some blooms also look more advantageous in certain types of floral arrangements. For example, baby's breath, ranunculus, calla lilies, and spray roses are often used for boutonnieres, while peonies, anemones, and garden roses are more likely to be used for brides' bouquets. However, the major factors that should impact your wedding flower choice are your wedding theme, color palette, and personal preferences.
How Much Do Wedding Flowers Cost?
Wedding flower costs can vary significantly depending on various factors. They include the type and quantity of wedding flowers, the complexity of the arrangements, and the availability of specific blooms. Thus, before calculating the costs, you need to have a rough idea of how you want the space to look on your wedding day. On average, couples spend around 10-15% of their wedding budget on wedding decor, flowers, and greenery.
It's essential to work closely with your florist to create a budget that aligns with your vision. A florist can offer you cost-effective alternatives to your dream flowers or recommend several financing options, including wedding financing with bad credit if your credit score is not good enough. Additionally, they can suggest seasonal flowers or give practical advice on arrangements based on their experience. Remember, open communication and flexibility are key when it comes to achieving beautiful floral decors within your budget.
Best Floral Arrangement Ideas to Add to Your Wedding Flower Checklist
Below you can find some epic-looking and modern ideas on how you can decorate the space with florals on your big day.
Personal Flowers
Wedding Bouquet Ideas
The wedding bouquet is an essential part of any wedding. Besides being just a beautiful focal point pleasing the bride's eyes, it also reflects her style and personality. Consider various bouquet styles, such as cascading, hand-tied, freeform, or posy bouquets. Incorporate a mix of flowers, greenery, and textures that complement your dress and overall wedding theme.
Bridesmaid Bouquets
Although the bridesmaid bouquets should complement the bridal ones, they still can have their own unique charm. They don't necessarily need to be just smaller versions of the bride's bouquet. You can also consider using different flowers within the same color palette. Also, pay attention to the bridesmaid dresses in order to correspond bouquets with them. You can either use similar shades or contrasting tones for an eye-catching effect.
Hair Flowers
This is a popular boho-style wedding hair accessory that is typically used in the form of a flower crown. However, you can easily incorporate it in a traditional-style wedding, provided that the flowers you choose will correspond to your dress and the overall theme and ambience. Besides the flower crown, you can also use a single bloom or a small cluster of blooms to add to your wedding hairstyle.
Corsage
Corsages are lovely floral bracelets that women wear on the wrist or pin to their dresses. Used to be worn by mothers and grandmothers, they are now a popular alternative to bridesmaids' bouquets, too. This is because they are hands-free and good-looking at the same time. Corsages can be an elegant arrangement if you coordinate them with the overall floral scheme. Consider using smaller blooms or matching corsages with flowers from the bridal bouquet for the same-style effect.
Boutonniere
Boutonnieres are accessories for the groom, groomsmen, and close male family members that are usually pinned to their jacket lapels. In most cases, boutonnieres are crafted using the same flowers that are used for a bridal bouquet. They are often used as a groom's visual highlight in order to match him with the bride. Boutonnieres don't need to be big. Most brooms go with a single flower or a small combination of blooms. To add some texture and interest to your boutonniere, consider adding elements like foliage, herbs, or small decorative accents.
Flowers for a Wedding Ceremony
The wedding ceremony is the key moment of your big day, so couples usually want it to go without a hitch. The flowers you use during the ceremony play a significant role in creating the right atmosphere.
Start with decorating the entrance by hanging wreaths or cascading blooms. Other popular options include floral arches and altar arrangements that match the overall theme and color palette. Additionally, flowers and greenery can be used to frame the space and add some color to the wedding ceremony. Consider arrangements like hanging installations, wedding aisle markers, or carpets from petals or pampas grass to decorate the bride's path.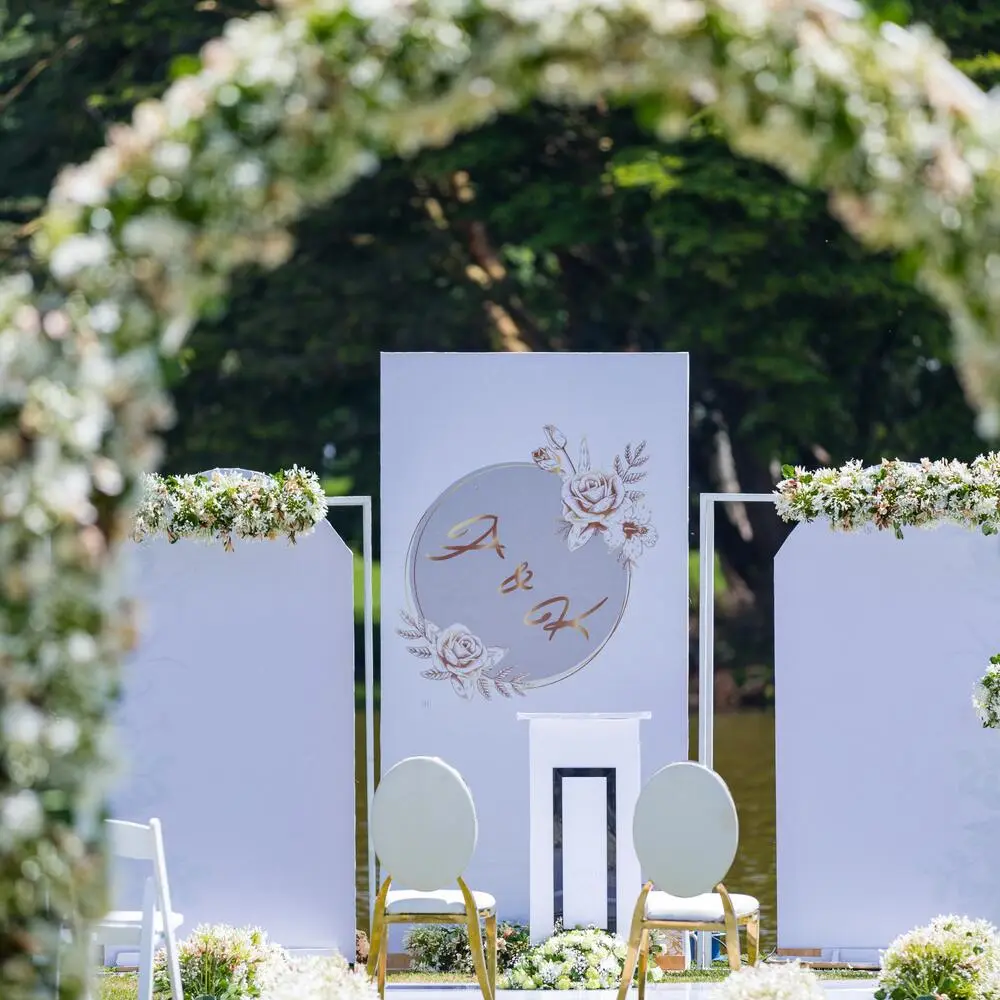 Flower Arrangements for Reception Space
Wedding Centerpieces
Wedding centerpieces are used to anchor the reception tables. In addition to their functionality, they also provide a stunning focal point. If you want to make the arrangement more interesting and eye-catching, choose arrangements that vary in height and size. Use a mix of flowers, foliage, and candles to create a romantic and enchanting atmosphere.
Flowers for Welcome and Dessert Tables
Welcome and dessert tables are often the first places guests visit. Adorn these tables with small floral arrangements that tie in with the overall floral scheme. You can also use bud vases with single blooms to make your tables look more interesting. Flowers and greenery can also be used to highlight the table's edges or drape garlands to create an organic and inviting feel.
Bar Decor
Enhance your bar area with tasteful floral accents. Consider using blooms that match the wedding color palette and arrange them in unique containers like vintage bottles or metallic vases. Flower-filled ice cubes can also add an unexpected touch to signature cocktails.
Floral Curtain
Floral curtains and garlands are essential elements of Indian haldi ceremonies that are now highly used for weddings all over the world. The best flowers to use for this floral design technique are roses, orchids, and carnations. You can also go with individual petals instead of using blooms.
Wedding Cake Flowers
Adding fresh flowers to your wedding cake can be a great idea. However, you need to coordinate it with the pastry chef in advance. If you're going to use some exotic flowers or want your cake flowers to match the rest of the arrangements perfectly, it's better to discuss it with your florist. This way, they can be able to order extra flowers specifically for your wedding cake. The cake will be delivered to you with no flower decor, and the florist will decorate it at the venue.
Wedding Flower Ideas for Chairs
If you want to make chairs look more interesting and eye-catching, consider decorating their backs with floral swags. These chair add-ons are small, usually crescent-shaped arrangements made of clusters of flowers and greenery.
Lounge Area Floral Decor
The lounge area is a space where your guests can take a breath and relax, so floral arrangements here are not really necessary. However, some couples still want to create a romantic atmosphere in the lounge area. This way, you can simply go with small vases with flowers or consider some extravagant installations, depending on your taste and price range.
Floral Arrangements for a Getaway Car
Although it's optional, flowers can add charm to your getaway car, along with ribbons, banners, and custom signages. Couples usually like to use floral arrangements for cars to get a more "just married" effect. Consider using a mix of fresh and dried florals or stick with just dried flowers when it comes to the car decor. This way, you will be able to keep the installation for a long time.